Our bank holiday partying schedule
Planning to party hard over the long weekend? Here's how we suggest you do it...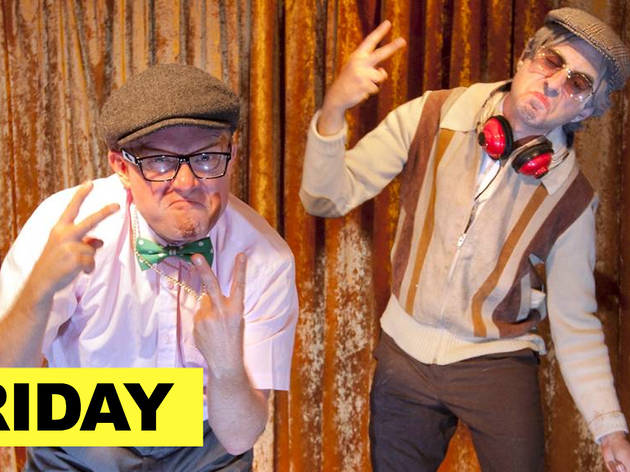 With work but a distant memory, go and lock horns with the clubbing gods at dance HQ FabricLive in Clerkenwell, where you can 'Bingo Bango' along with Basement Jaxx or groove to the tunes of weird and wonderful future house star Sophie. After something harder? Head to Deviation at Shoreditch's XOYO and take in two generations of drum and bass mastery – Zinc from the old-school and Special Request's contemporary wildness. Too hard? Okay gramps, head to over-28s night Coffin Dodgers Disco at central London boozer The Phoenix, and shuffle along to top indie and pop hits like they used to make 'em.
A dosey afternoon of disco napping should set you up nicely for a rare disco set from World Unknown's Andy Blake – who plays at
Kate Boss
at
Shoreditch's Book Club
. Saturday could also bring a top-notch dose of double trouble, as seminal Chicago house genius Curtis Jones plays a back-to-back set with… himself! How? Via his two awesome DJ aliases, Cajmere and Green Velvet, all taking place at the
Random Magic May Bank Holiday
extravaganza in south London club Fire. Meanwhile, over in Shoreditch's
Village Underground
you can do some time travelling and lose yourself in nostalgic 1920s speakeasy vibes at electro-swing night
White Mink
. By now you might need some light relief and perhaps a roomful of fake moustaches.
The Annual 'Anchorman' Party
at
Bloomsbury Bowling Lanes
will make you feel like kind of a big deal as you kick back to jazz flute and '70s funk. Stay classy and keep clubbing. Tired yet? Well WAKE THE HELL UP and get down to Secretsundaze's two-part opening party. It kicks off at 2pm on the terrace of
Greenwich mega-club Studio 338
, before moving to
Elephant and Castle's Corsica Studios
at 10pm. Both legs feature house and techno royalty, including deep house don DJ Qu and south east London soul man Andrew Ashong, who can hop on the N171 back to Forest Hill afterwards. If it's sunny you might want to get
Up On The Roof
of Brixton's
Prince of Wales
to soak up a soulful DJ set from veteran selector Norman Jay. Round off your Sunday manoeuvres by having your mind blown at
Subverticul
at
Oval Space
. It's an audiovisual showcase for
Audion
– the new alias of leftfield techno producer Matthew Dear – and promises a spinning, pulsing sculpture and more lights than Las Vegas. Congrats, party people, you've just achieved a powerhouse of a three-nighter. You probably feel like a gibbering, partied-out mess who wants to crawl under a duvet and die for a few days. Please don't. Why not try 'reggaerobics' instead – as practiced by the people behind
Dance Reggae Style
at quirky King's Cross venue
Drink Shop & Do
. The classes blend reggae dance moves and aerobics, meaning you can master the willie bounce (no sniggering, it's a dance move), as well as sweat out those clubbing toxins, ready for a return to normal life on Tuesday. Bank holiday weekend: owned.
Missing Time Out magazine?
You can still read our latest issue from the comfort of your couch
Read online