Heads up! We're working hard to be accurate – but these are unusual times, so please always check before heading out.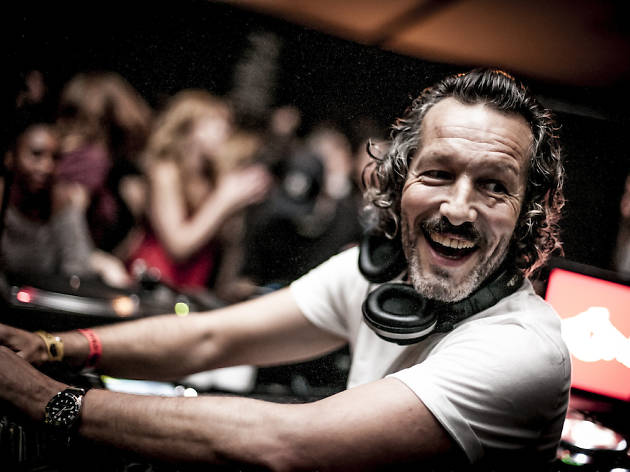 DJ Harvey interview
As he prepares for a rare London set, we speak to the Keith Richards of the decks
DJ Harvey's been sober for over a year now. No drink, no drugs. In the past, he famously said: 'You can't understand my music until you've had group sex on ecstasy,' but times have changed: 'I celebrated a year of sobriety by taking high tea at the Beverley Hills Hotel,' he tells me on the phone from LA. 'It was weird and wonderful. Priscilla Presley was in attendance.' If this sounds rather twee for a DJ god, he doesn't care: 'Cirrhosis of the liver isn't a pretty way to go out. It's really not big or clever to be projectile bleeding from every orifice.'
Today, Harvey is metaphorically – not literally – spilling his guts ahead of playing at this year's Lovebox festival. Approaching his fifties, Harvey Bassett (everybody just calls him Harvey) is not just one of Time Out's all-time favourite jockeys of discs, he's the closest thing the DJ world has to a Keith Richards figure. He's a bonhomous survivor with a face and wicked cackling laugh that tell of more than 30 years of fun, excess and countless nights out. He's also charmingly silly.
I suggest that when (not if) a film is made of his life, Russell Brand would be an ideal lead. He's into it, but then has a brainwave: 'Maybe The Rock could play me? A 3D action film of me, DJ Harvey, starring The Rock. That's fucking hilarious'.
Harvey's a true disco enigma. Not because he's coy, far from it. When I ask him what he made of Daft Punk's recent LP, he describes it as a 'Jamiroquai tribute album'. No, he's enigmatic because summing up his career in a soundbite is frankly impossible.
Born in London, he spent his teens drumming in a John Peel-endorsed punk band, but caught DJ fever in early '80s New York. He helped spread that fever across the UK with acid crew Tonka Soundsystem, but as the 1994 Criminal Justice Act forced rave culture overground, he rode the crest of a new wave of superclubs to become a resident at Ministry of Sound. Along the way, he built up a reputation as a fearless selector – able to play for ten hours or more, whilst perfectly blurring the lines between techno, glitterball disco, space rock, funk, jazz and groovy rock in the process. Today, he's regarded as one of the greatest DJs alive.
So why isn't he more well known? In part, it's because he's been trapped ('accidentally on purpose' as he puts it) in America for the last ten years. In the days following 9/11, when airports were deserted, he booked a one-way ticket Stateside. 'It was great – I had a whole row to myself for the price of one seat.' Without the proper visa, however, he was landlocked. 'I became what's politely known as an undocumented alien.'
Today, he's a whole-hearted Californian. His physical resemblance to Jeff Lebowski isn't misleading. He's an utter dude, with the motorbike and surf board to prove it. Despite being an 'alien', he's hardly been lying low. His all-night underground Sarcastic Disco parties are the toast of LA (even Beyoncé couldn't get in, so the rumour goes) yet he's the scourge of 'The Man'. 'In LA, you can have a car full of assault rifles, but you can't have a dance,' he says after 'a recent disco tragedy' – the first Sarcastic party to get shut down in eight years.
Having sorted his visa issues, it's not just LA that gets to enjoy a Harvey party. He finally returned to the UK late last year with a triumphant all-nighter at Oval Space. As is often his wont, he installed his own soundsystem and modestly positioned himself not on stage, but on the dancefloor. He says he feels like 'a little old lady making pizza' when people gawp at him, and prefers the focus to be on the floor – the way he remembers the vibe at both school discos and at Studio 54. Though his trademark is to DJ all night, it's not an ego trip – he just wants perfection: 'I totally give a fuck. I don't take it lightly at all. I want to uplift the people I'm playing for and a good party will do that.'
He's less certain on defining his sound, offering that disco can be 'anything from 1948 until today'. He does however describe himself as a 'personality DJ', which oddly makes perfect sense. Harvey has personality for days. During our chat, he'll veer from topics like the kind of lingerie his '70s porn idols wore, to the fact that a certain disco icon used to star in porn himself, under the name 'Rollerboy'.
At a time when DJs are increasingly shy and image-conscious, Harvey's ability to project personality, both at work and at play, is what keeps him beloved. And the drugs? Meh, who needs 'em: 'I'm having too much of a good time to throw it all down the pan. I decided to find different ways to risk my life instead, like riding my motorcycle too fast or dropping in on big waves.'
Discover London's best clubs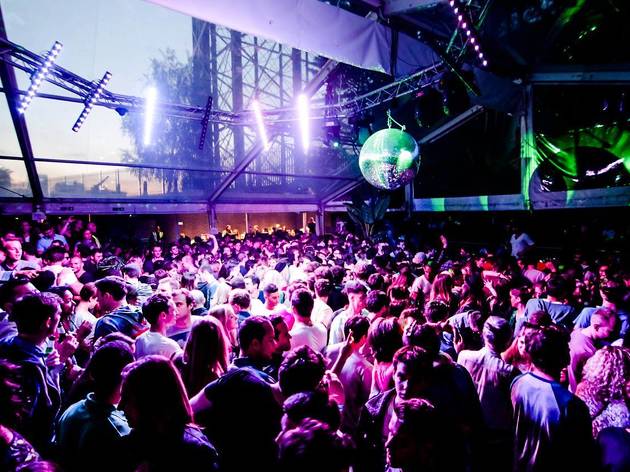 Whatever your taste in music, whatever kind of party you're looking for, our guide to the best clubs in London has everything you need to find an awesome night out in the capital.
Support Time Out
We see you're using an ad-blocker. Ad revenue is Time Out's main source of income. The content you're reading is made by independent, expert local journalists.
Support Time Out directly today and help us champion the people and places which make the city tick. Cheers!
Donate now