Heads up! We're working hard to be accurate – but these are unusual times, so please always check before heading out.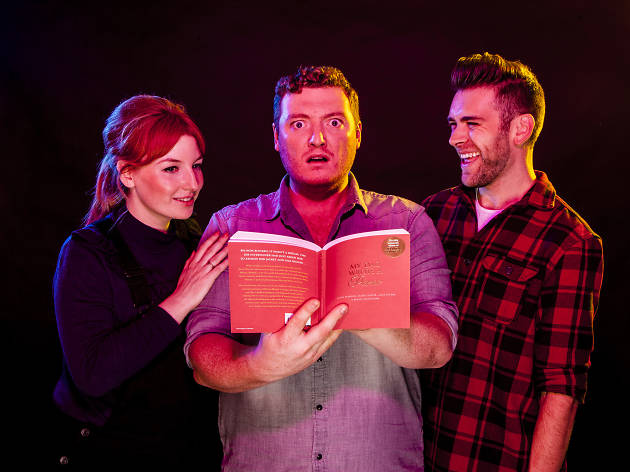 My Dad Wrote a Porno: how 2016's funniest podcast came to be
Jamie Morton has turned his dad's dodgy erotica into a steamy comedy podcast. We spoke to him to trace the bizarre genesis of this unique piece of aural pleasure
Imagine a sexy, sexy sex scene. Heaving bosoms. Thongs. Buff dudes with massive wangs. Whatever floats your boat. The important part of this scenario is that there are some very beautiful people involved in some very graphic sex. Got it? Good. Now picture your dad. Now picture your dad using the phrase: 'I need to feel your hand on my clitoris.'
Gross, huh? Then spare a thought for Jamie Morton, whose 60-year-old father decided that the perfect way to follow up his career as a builder was to pen his own erotic fiction. So he bashed out a few hundred pages of fairly cack-handed smut inspired by the success of 'Fifty Colours of Grey' (you are reading that right – he didn't even bother to check the title), and self-published it on Amazon under the title 'Belinda Blinked'. He also kindly emailed a copy to his son for him to take a look at it. Although he may have failed to mention the exact nature of the writing…
'I thought it was a proper novel about spies or pirates or something!' says Jamie about the awful moment that he realised he was taking a journey of sexual exploration inside the mind of his own father. 'When I opened it, I was just like: "What? I don't know if I can read this."'
'Belinda Blinked' charts the raunchy adventures of Belinda Blumenthal (we're not told if she's any relation to Heston), a high-powered, 'Apprentice'-style career gal who is sales director for a company that makes pots and pans. Linking her bonking sessions is a paper-thin plot stuffed with hilariously random details and dialogue.
Jamie decided to take the book along to his university mates' Christmas pub lunch. By the end of the meal, he was reading it aloud while his friends had fits of hysterics ('Everyone else was having a really posh pub lunch and we were like: "And then she gets her vulva out!"'). He realised that he'd hit on something, so with two of those friends, James Cooper and Radio 1 DJ Alice Levine, he decided to recreate it for a podcast, 'My Dad Wrote a Porno'.
A year later, Jamie's readings from his dad's smutty opus have over 8 million listeners. Their fame has even spread to Hollywood – Elijah Wood made a guest appearance on a show via Skype and Daisy Ridley turned up to record at James's flat armed with two bottles of prosecco, announcing that she'd love to strap on a big black dildo for a film adaptation. The celeb love doesn't end there, either. 'I've got Michael Sheen coming round to my flat next week!' says James. 'The really weird thing is to know that it's porn that's brought us all together,' Jamie adds. 'And it's my dad's porn.'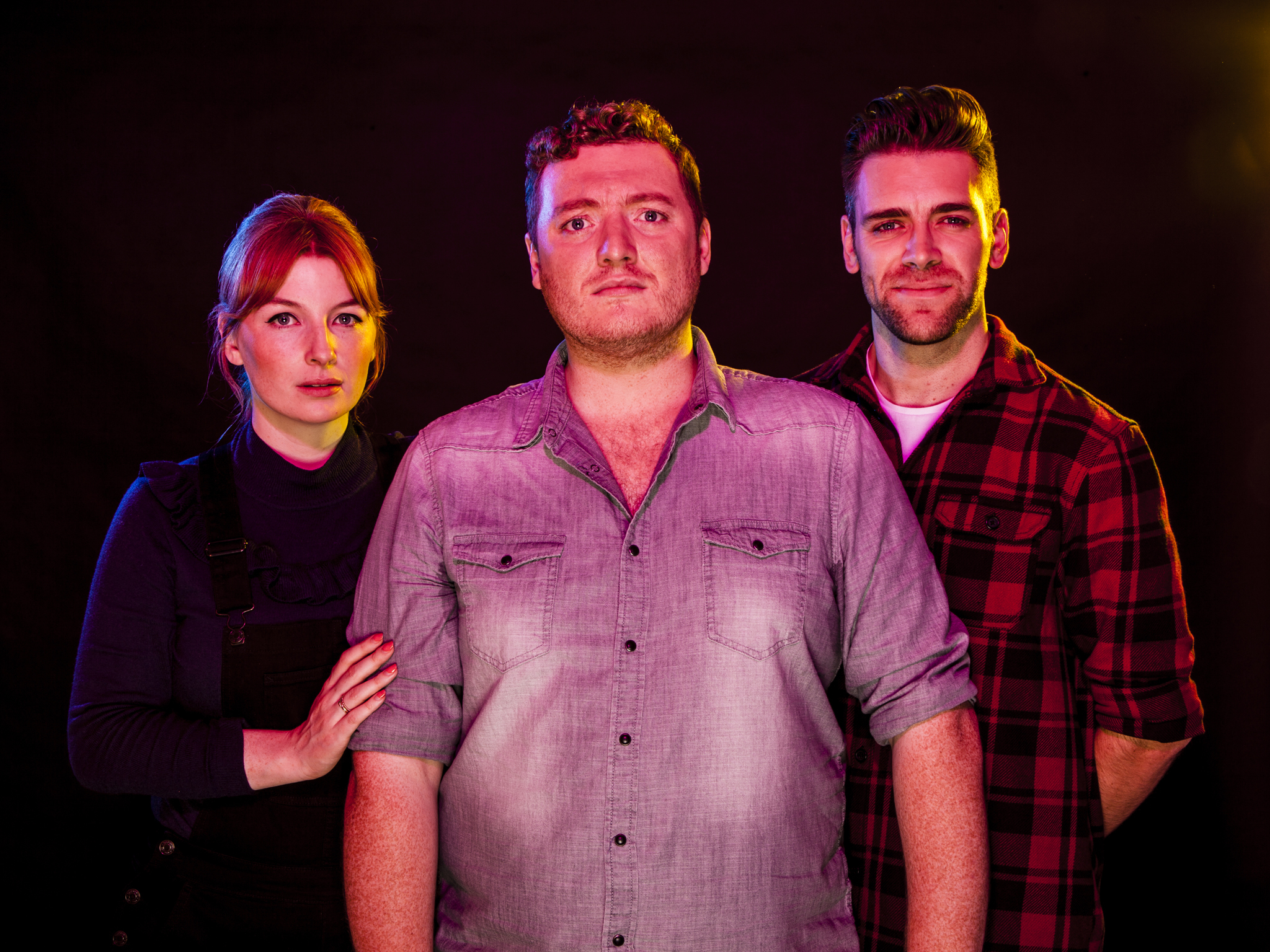 Alice, Jamie and James quail before the dad porn © Andy Parsons
'Her tits hung freely, like pomegranates'
And what unbelievable porn it is – if by 'unbelievable' you mean 'unwittingly hilarious'. The attempts at sensual prose include things like 'her tits hung freely like pomegranates' or descriptions of nipples being 'as long as the three-inch rivets which held the hull of the fateful Titanic together'. At points it gets so slapstick it's like some kind of horny 'Some Mothers Do 'Ave 'Em' – one character sprains her ankle slipping in a puddle of semen, another has such a vigorous boning sesh that all her hair literally drops off her head. Frankly, if you didn't know better, it'd be tempting to think that Belinda's adventures are actually the work of a troupe of very, very clever comedy writers. Particularly given that, on the podcast, we never hear from the book's author – who goes by the ludicrous nom de plume of Rocky Flintstone. 'Some people genuinely think we've invented Rocky and written it ourselves,' says Alice. 'I'm always really complimented by that. You think we could make this up?'
Maybe, actually. After all, unbelievably funny as the book is, half the joy of the podcast is in the reactions of its presenters: Jamie groaning in horror at some of the more graphic imaginings of his randy father and slugging back wine ('I need the alcohol – it numbs you'); James throwing out one-liners ('This character sounds like he's dressed like Steve Jobs! Steve Blowjobs!'); Alice varying between mock outrage ('Something is going on in the world of pots and pans, and the fact that a Panorama hasn't been made on it yet is frankly appalling') and attempting to debunk some of the more ropey understandings of the female anatomy (apparently, Mr Flintstone believes vaginas have 'lids' and that they can 'pop'). She's also not that helpful when it comes to Jamie's attempts to not think about how his dad got his inspiration. 'Alice likes to do this thing where she leans forward, and goes: "Your dad wrote that! Where do you think he got that from?"' says James. 'I'm just saying: it's come from somewhere!' says Alice, prompting Jamie to squeal. 'It clearly hasn't! It's definitely not come from any kind of truth!'
Their chemistry's created a legion of fans obsessed with the world of Steele's Pots and Pans. When, a few weeks ago, they encouraged their fans to buy the song 'A Walk in the Black Forest' by Latin-jazz musician Herb Alpert, after an incongruous mention in one scene, it topped the iTunes jazz charts. Ludicrously detailed pieces of fan art are created by listeners, including Tamal from 'Bake Off', who recently made a graphic cake-based recreation of a spread-legged Belinda ('His pubic icing was delicious,' says Alice). Now, after they release their podcast on a Monday (#pornoday), they've started receiving stories from listeners who've made Belinda-based friendships after striking up conversations with earphone-wearers they've seen laughing on the tube. 'We wanted to get some of those "Tube Chat" badges made saying: "Listening to porn",' says James. '"Porn on board"!'
The funniest outcome, though? Rocky Flintstone's shoddy erotica has now been published. A novel that was only downloaded three times before the podcast began is being printed as an actual book, featuring Jamie, James and Alice's 'York Notes'-style discussion points. To promote it, they've done a series of live events that have sold out so fast they've crashed ticketing websites. People have been coming along with their parents ('I don't understand that,' sighs Jamie), bringing their partners for date night ('Imagine finding it romantic!' squeals Alice) and dressing up as characters from the book ('We knew immediately that we were among friends!' says James). Their biggest event to date is being put on by (heh hem, shameless plug alert) Time Out at the Union Chapel this very evening, and really, that says it all about 'My Dad Wrote a Porno'. The venue's still a working church, in which they'll be holding a pornography-based event: so, so weird. But so, so brilliant. 'It feels wrong,' says Jamie. 'But, to be honest, so much about this whole thing is wrong.'
'My Dad Wrote a Porno: the fully annotated edition of Rocky Flinstone's Belinda Blinked' is available at www.amazon.co.uk.
Where to have a laugh in London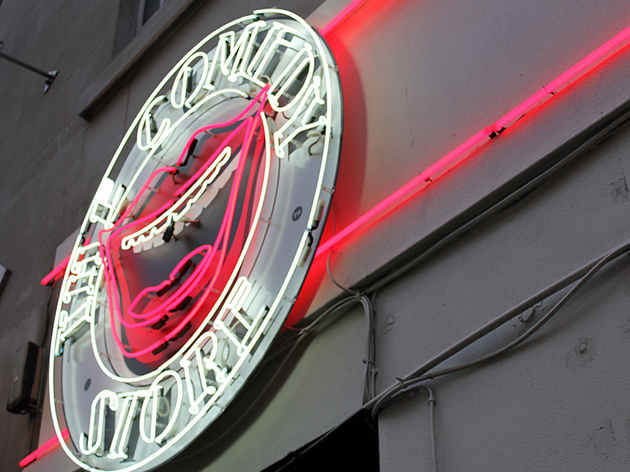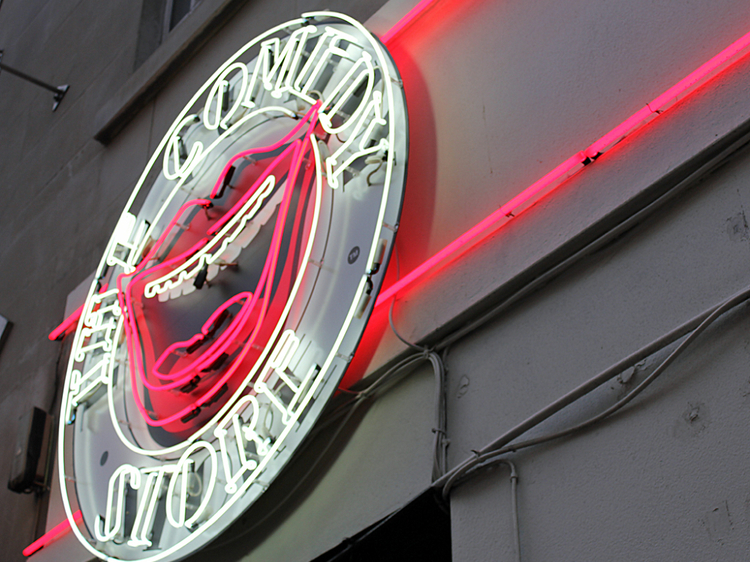 This city has the biggest and best comedy scene in the world. But where to start? Here's Time Out's round-up of the top 20 comedy clubs and comedy nights in London that'll keep you laughing throughout the year.
Support Time Out
We see you're using an ad-blocker. Ad revenue is Time Out's main source of income. The content you're reading is made by independent, expert local journalists.
Support Time Out directly today and help us champion the people and places which make the city tick. Cheers!
Donate now