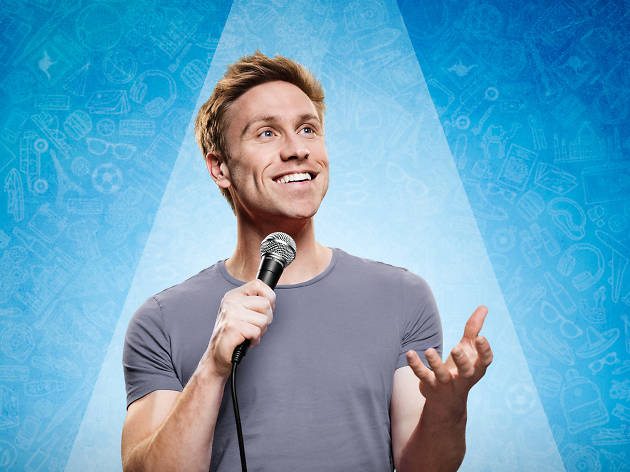 Hyperactive comedy superstar Russell Howard is embarking on his biggest ever world tour – inventively titled 'Round the World' – taking in the US, New Zealand, Australia and Europe. And for his London stint, the Bristolian arena-filler is playing a whopping ten-night run at the Royal Albert Hall.
The former 'Mock The Week' regular is one of the friendliest comics around, moving from topic to topic with effortless ease, and loves to examine life's simple pleasures, tell stories about his mad mum and basically fool around like a cheeky teenager.
Unless you've been living in a wifi-free cave, you'll know that his self-titled series 'Russell Howard's Good News' is wildly popular, pulling in millions of viewers and constantly ranking as the most watched programme on the BBC iPlayer. His new Comedy Central offering, 'Russell Howard's Stand Up Central', has been a huge hit, too.
But Howard's most at home live on stage. He's a fast-talking charmer, and always a huge amount of fun.
Rating Breakdown
5 star:

0

4 star:

1

3 star:

0

2 star:

1

1 star:

0
Attended Russell's Leeds Arena event last night. All in all, he lets himself down.
He has some smart thinking on current affairs and some good concepts I wanted to hear more of e.g. Fame imbalance between great normal people supporting society and celebrity fanfare. Yet 70/80% of the show sees him thrusting his hips and constant reference to mens genitals and even representation of womens genitals - once would have been funny. How excrutiatally dull. I was watch watching for 60 mins.
He has so much to offer in how he experiences the world, he can see how we could all make a difference for collective happiness. Yet he defaults to continual explicit sexual jokes to be heard. Although he points the finger at the over access to porn. Very hypocritical. The tickets state an age restriction of 14yrs. Wow!!! Is he serious? Easy to see he his not a parent himself.
My message and hope to Russell: Will the real Russell please stand up and show himself? I hope he chooses the guy who has inspirational vision: use this perspective to make us laugh!