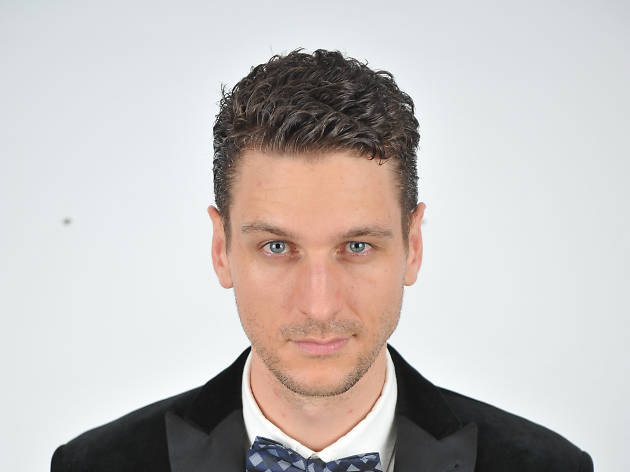 This Aussie character comic takes aim at his audience, and he kills it
Pay attention during Steen Raskopoulos's new show. If you're picked as one of the Australian character comic's onstage stooges, you'll need to remember previous skits to keep the scene moving along. But don't worry, it's not a test: it's just part of an intricately woven show where jokes refer back to previous sketches and foreshadow future ones, and it's joyfully silly.
Raskopoulos is fully aware that 'audience participation' are two words no punter wants to hear. 'I wouldn't make an audience member do anything I wouldn't do myself,' he claims at the top of the show, before pulling someone on to the stage. He seems genuine, too. While the idea of being called upon to compete in a freestyle rap battle seems terrifying, the reality – like most of Raskopoulos's audience work – isn't so frightening. Instead, the 28-year-old comic makes heroes of his new co-stars. He's a cute, playful puppy, not a growling Rottweiler.
We meet an executioner who's outsmarted by his Death Row prisoner, a workplace manager whose office seems to be located in the middle of a Zelda temple, and we discover why Raskopoulos – who's about to star in BBC Three's 'Top Coppers' – is terrible at bedroom role-play. Plus there's the return of Yianni Kostopopoulos, a Greek Orthodox priest who chants film reviews and a favourite from Raskopoulos's last show, this time tackling Disney's 'Frozen'.
There's sharp writing behind the silliness, but it's Raskopoulos's warm, endearing performance that keeps the energy up. His whip-smart improv skills help extract laughs from each participant, whether they're good sports or not, and his solo scenes show off impressive acting chops. A few too many sketches simply fizzle out with a slow blackout, which feels a bit careless. But largely 'Character Assassin' is daring yet breezy, and consistently funny. Take a deep breath, get over your fear and you could just become the star of the show.