Steen Raskopoulos – I'm Wearing Two Suits Because I Mean Business review
Underbelly, Bristo Square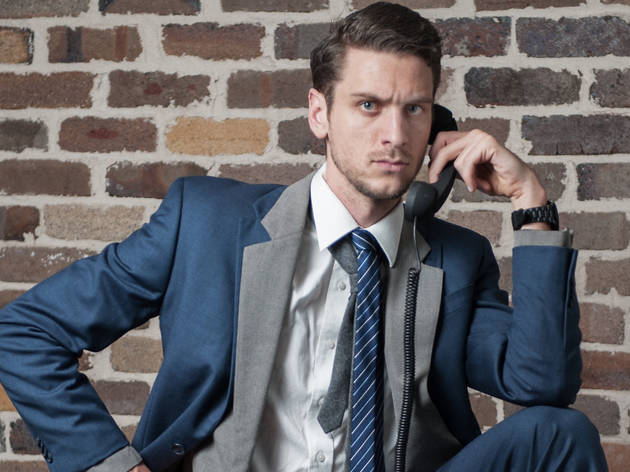 Aww, you can tell that Steen Raskopoulos is an Edinburgh newbie. Not because his debut show isn't up to scratch – it is, it's brilliantly silly – but because he's underestimated the scorching temperatures inside Fringe venues. The Aussie character comic walks on stage wearing his titular two suits, and sweat drips from his nose. It's a good job, then, that a few minutes later he's prepared a skit that requires him to go topless and be smothered with sun block.
And
he's
not doing the smothering, he coerces members of the audience to do it for him. Willing participation is crucial for his one-man sketches to take off, but whatever the comic asks his audience to do, the joke's always on Raskopoulos – he's playful, never nasty.
From his opening game that every member of the audience can play, the tone is set for a joyous hour of ludicrous messing about. We meet Toby Zegamo, a busy, lunging businessman with offbeat interview techniques. A slouching rapper makes an appearance, and he contradicts his creator's keenness for participation by berating the crowd for following his inane instructions. And if you don't fall in love with Timmy, an adorably thoughtful schoolboy who's been abandoned by his father, then you should check your pulse, as you must be heartless.
It's Raskopoulos's skillful, subtle performance that brings each character to life. He deftly embodies each of his creations, and his improvisation skills are as flexible as his 'very talented and beautiful' athlete character. It might be strictly business for Raskopoulos, but for his audience it's all pleasure.​
'Steen Raskopoulos – I'm Wearing Two Suits Because I Mean Business' is at Underbelly, Bristo Square, 8.10pm