Gay bars and clubs in Soho
Here's our pick of the best gay bars and clubs in Soho, the capital of LGBT nightlife and gay London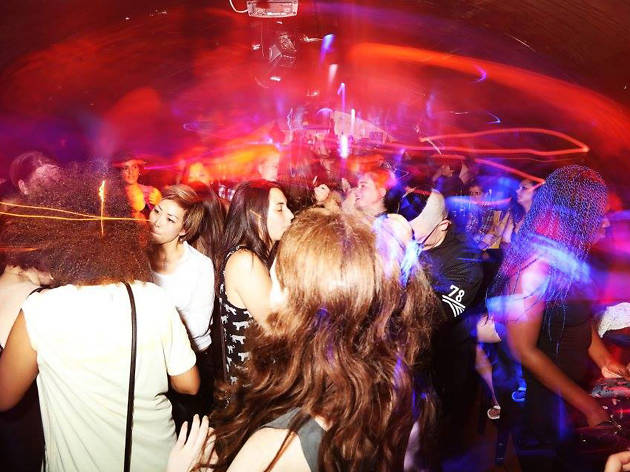 Soho is the home of London's main gay and LGBT scene and remains most visitors' first port of call, whether for drag nights or mingling. It's centred around Old Compton Street, where you can spend a raucous night at Soho legend Molly Moggs or down unpretentious drinks at pubs like The Admiral Duncan. Here's our pick of the best gay bars and clubs in Soho.
RECOMMENDED: Your guide to LGBT London
The best gay bars and clubs in Soho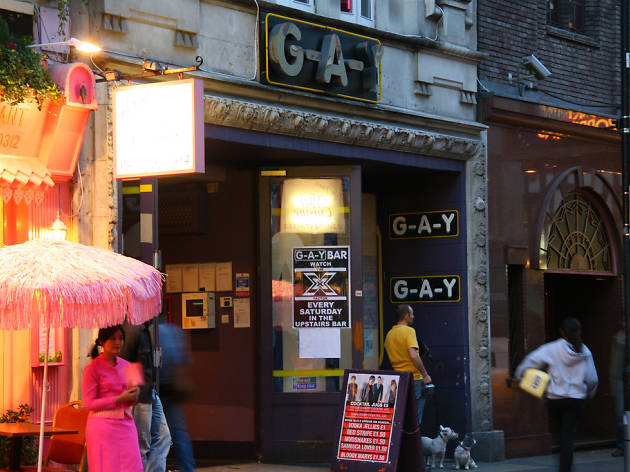 Soho's world-famous G-A-Y Bar has everything you'd expect: cheap drink offers, a young crowd and plenty of Britney. It's spread over three floors, with a dedicated girls' room downstairs, and never seems to empty out. Most Londoners over 25 profess to hate it, but they'll still end up here a few times a year, knocking back a WKD-based 'cocktail' and dancing to Little Mix. And fear not, because when this door closes, another opens at G-A-Y Late. Located around the corner at 5 Goslett Yard, it offers a similar experience, but with a later licence and even louder pop songs.
Read more
Friendly Society benefits from the power of surprise: after entering through a bland back-alley doorway, you're greeted at the bottom of the stairs by Soho's most idiosyncratic drinking den. Barbie dolls hang from the ceiling, there's a big fishbowl in the middle, and old movies are projected on to a back wall. Although the short cocktail menu has been the same for ever, the staff always seem perplexed when you order one (this is definitely part of the charm). The crowd here is gay in the broadest sense: anyone with a sense of fun will feel at home, whatever their gender and sexuality. If you fancy dancing to Donna Summer while sipping (relatively) inexpensive prosecco, this place is an essential pitstop.
Read more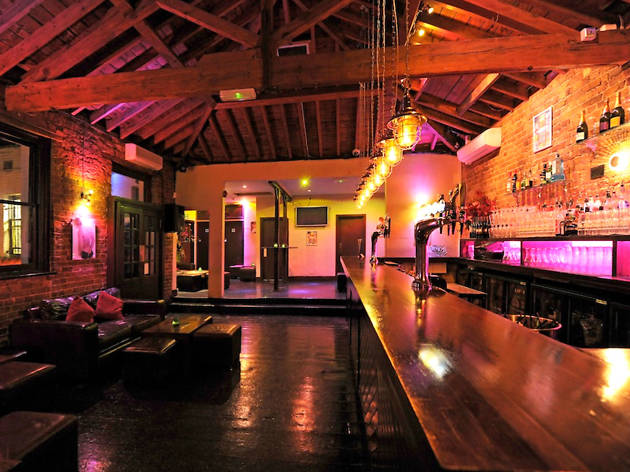 A courtyard and loft bar on a popular Soho street that generally attracts a slightly older LGBT crowd. The downstairs alfresco area boasts sedate lighting, wooden banquettes and a fair bit of flora, giving things an almost bucolic feel. The upstairs loft bar has smart leather sofas and a balcony that's popular with smokers. There's a pretty simple food menu but realistically, most people come here to drink and mingle. The Yard gets especially busy during warm summer evenings, when its airy ambience makes it a queer space you could bring your mum to.
Read more
Compton's of Soho
Long before Soho became known as London's gay village, long before the likes of Ku Bar and G-A-Y, there was Compton's. Once an old-fashioned gay club with blacked-out windows and sawdust on the floor, the venue has changed with the times and now has two floors, clear-glass windows and far nicer toilets. Compton's is still popular with a crowd of beer-drinking, blokey gay men and remains kinda cruisey. But don't let the throng of punters spilling on to the street put you off. The upstairs lounge is a good place for a date or conversation, and the ground floor is a surprisingly inviting bar space. It's definitely a venue to try if you haven't ventured inside yet.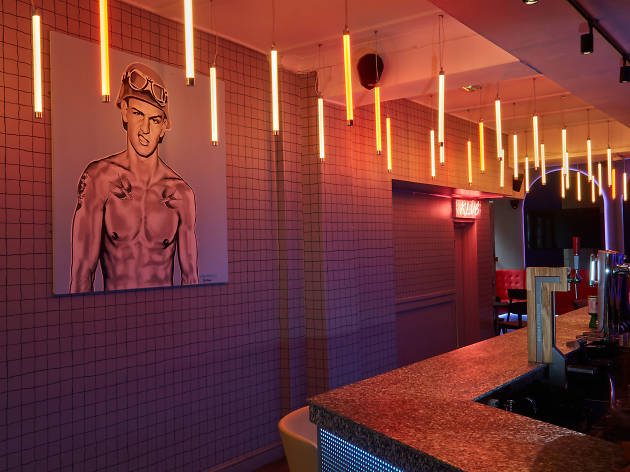 Occupying a prominent spot on Soho's Chinatown fringes, this large LGBT venue is regularly voted London's best. Ku is a little classier than local rival G-A-Y, but it attracts a broadly similar crowd and the young, up-for-it vibe is just as fun. The ground floor offers a bright and modern bar space with video screens playing chart hits; downstairs is a clubbier room where fresh-faced types of all genders dance to pop and dance remixes. A second Ku Bar on nearby Frith Street offers a more sedate spin on the same experience.
Read more
This old-school gay pub is situated halfway between Soho and Heaven, hence the name. It tends to attract a more mature crowd, and the drag performers will be doing Olivia, not Ariana. The ground floor is a laidback bar space, but the basement gets much clubbier and cruisier on Friday and Saturday nights. Halfway is definitely worth a pitstop whether you're heading to Heaven or not; just don't be surprised if you end up having a second round there after all.
Read more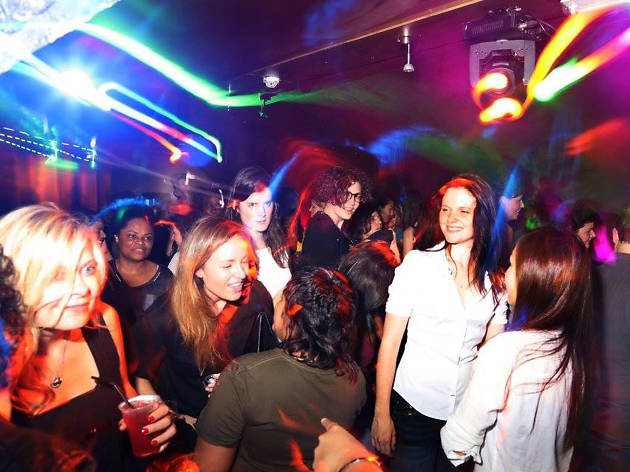 Shockingly, this cave-like Soho basement bar is now London's only exclusively lesbian venue, and it takes this responsibility seriously. Unless you identify as a queer female or arrive with plenty of queer female mates, you probably won't get in. Run by the team behind Ku Bar, SHE has a similar flair for laying on entertainment: as well as club nights, it regularly offers comedy, cabaret, karaoke and quiz evenings. BOi BOX, a monthly drag king talent contest, is definitely worth popping in your Google calendar.
Read more
Opened in 2011, Circa is one of Soho's more versatile LGBT spaces. Swing by in the afternoon and you'll find large leather sofas perfect for sinking into over a catch-up with mates. But later on, the dancefloor area at the back fills up as DJs spin club hits and pop remixes until 1am. It's worth noting that Circa attracts a more image-conscious crowd than many Soho drinking spots. This isn't a place where anyone goes in for 'geek chic' or 'normcore': tight T-shirts and skinny jeans are more the thing.
Read more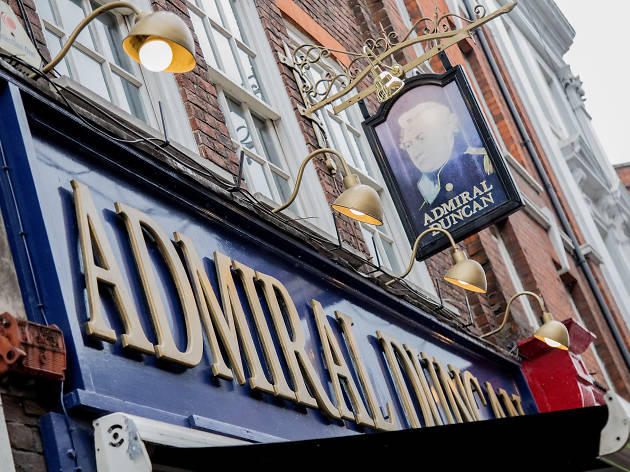 This famous gay pub in the heart of Soho has been operating continuously since the early nineteenth century. There's so much more to its history than the well-documented nail bomb attack of 1999: for example, it was once home a wooden-legged ex-sailor transported to Australia for throwing stones at King William IV. Today, the Admiral Duncan remains a friendly and unpretentious Soho stalwart that generally attracts a crowd of slightly older gay gents. If the jukebox isn't blasting out '80s and '90s hits, popular Soho drag queens like Baga Chipz will probably be on crooning duty instead.
Read more
If your idea of gay life was shaped by '90s TV show 'Queer as Folk', then Rupert Street is probably the bar for you. It's a little bit of Manchester's Canal Street in the heart of London's Soho. The staff are buff and brisk, and the punters fancier than average. It's the sort of place where gay young professionals share a bottle of prosecco after work before getting more flirtatious later on. In the summer, drinkers spill out on to the street and it's fun shuttling between Rupert Street and The Yard, which is handily located right across the road.
Read more
Show more
See our full guide to Soho
Not in Soho?
A comprehensive list of the capital's gay and gay-friendly bars and pubs.
Read more