The best gay bars in London
Discover the best gay, lesbian and LGBT-friendly bars and pubs in London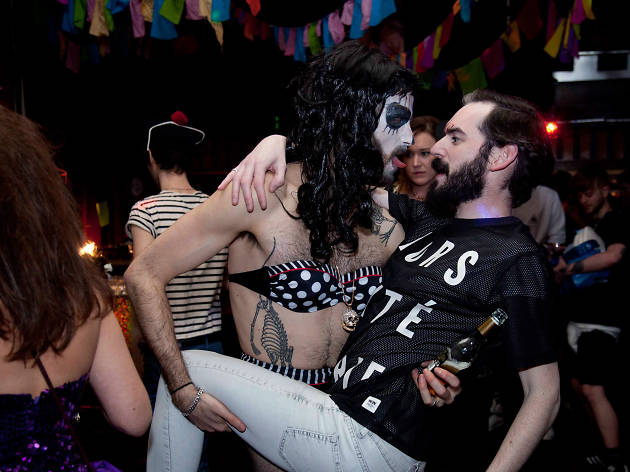 London's LGBT scene is bigger and more diverse than anywhere in the world. Here's a comprehensive list of the capital's gay and gay-friendly bars and pubs, including those predominantly for lesbians. Think we've missed a great gay, lesbian or LGBT bar in London? Let us know in the comment box below.
RECOMMENDED: Your guide to LGBT London.
The best gay bars in central London
The best gay bars in north London
Camden's most famous LGBT venue, drag mecca The Black Cap, was wiped out by property developers in 2015. But its flamboyant spirit lives on at this cute 'queer cabaret and cocktail venue' located just up the road. Her Upstairs is co-owned by Meth, one of London's best alternative drag queens, so the performances are fierce and forward-thinking: they aim to give a platform to female drag queens, drag kings and queer performers of colour. On Fridays and Saturdays, the space downstairs opens as a gay club called The Bloc, so you can make a real night of it.
Read more
The best gay bars in east London
The Queen Adelaide
After beloved east London gay pub The George and Dragon was forced to close down in 2015, The Queen Adelaide rose from its ashes a couple of weeks later. Opened by the same owner around a mile up the same road, it has similarly kitsch decor – look out for the famous horse's head – and the capital's queer hipsters have flocked back. Yet in a way, The Queen Adelaide is also a bit of an upgrade: this time, the merriment spreads out over two floors and there's a 3am licence at the weekends. Let the polysexual party rage on!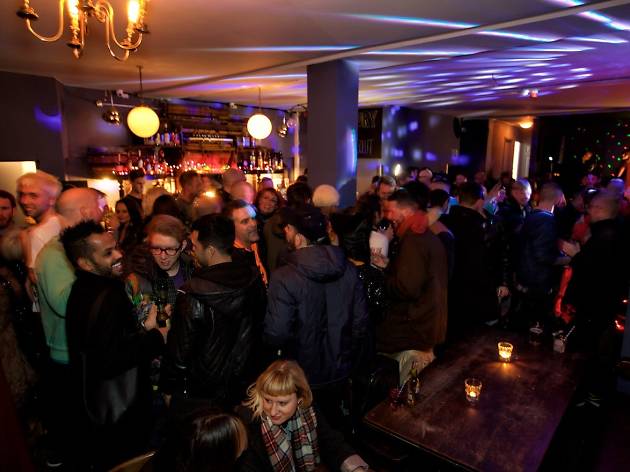 Since opening a little over two years ago, this east London pub, club and performance space has rapidly established itself as a jewel in London's LGBT crown. On the one hand it's a place you can nip into for a quick after-work drink: the bar staff offer proper cocktails as well as the usual beers, wines and spirits. But on the other, it's a platform for forward-thinking queer entertainment: recent offerings have included Butt Mitzvah, the UK's first ever gay Jewish night, and Björk Scratchings, a tribute to the eccentric Icelandic chanteuse. It's also a genuinely mixed space where the vibe is less 'anything goes', more 'everything encouraged'.
Read more
Located in once-grimy Limehouse, the White Swan is surely the East End's most famous gay boozer. The comedian Michael Barrymore famously came out on stage here, and Sir Ian McKellen used to swing by regularly. After some ill-advised refurbs, it now has a disappointing modern-yet-dated interior, but some great cabaret shows and cheap drink offers help to make amends. On Friday and Saturday nights, gay boys from the local area and nearby Essex dance to house classics and chart bangers in the basement club until 5am. If you like your nights out fun and unpretentious, give it a go.
Read more
The best gay bars in south London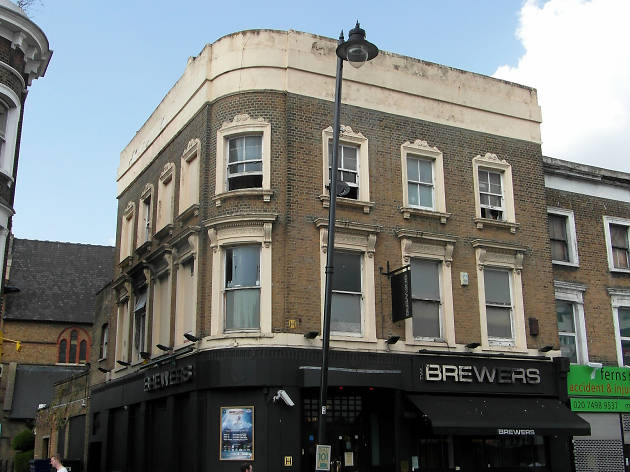 The Two Brewers
Though affectionately nicknamed 'The Two Sewer', this long-established LGBT venue is no dive bar. Instead, it bills itself as 'south London's premier cabaret bar and club' and offers regular drag shows, bingo and quiz nights. It's always packed on a Saturday, when DJs in the main bar drop pop bangers and the cavernous back room morphs into a proper club. Located in the posh suburb of Clapham, The Two Brewers has a more provincial feel than many of London's LGBT venues. Fortunately, that doesn't mean punters feel any greater need to behave themselves.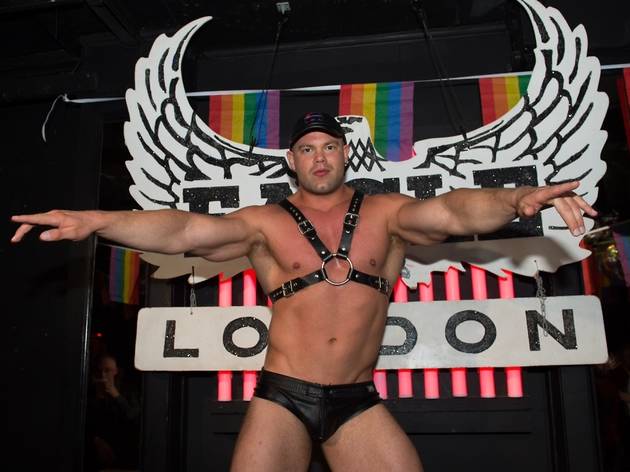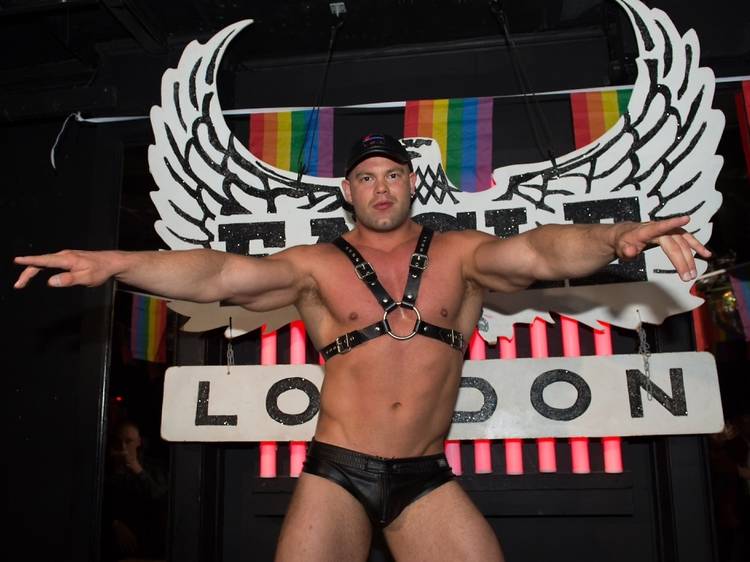 Venue says: "St. Patricks weekend special! Guinness £3, Baileys £3 and double Jamesons for the price of a single. Friday 16th and Saturday 17th March!"
This Vauxhall institution has recently had a facelift to rival Sharon Osbourne's. Out went the licence permitting sexual activity on the premises; in came trendy decor inspired by New York's Meatpacking District. Eagle's large horseshoe bar still attracts many an older, burlier gay gent, but the overall ambience now feels slick and sexy rather than, well, slightly sleazy. On Sunday nights, the dancefloor welcomes a younger and more fashion-conscious crowd for Horse Meat Disco, one of London's very best club nights. It also has a lovely private beer garden which lays on barbecues in the summer.
Read more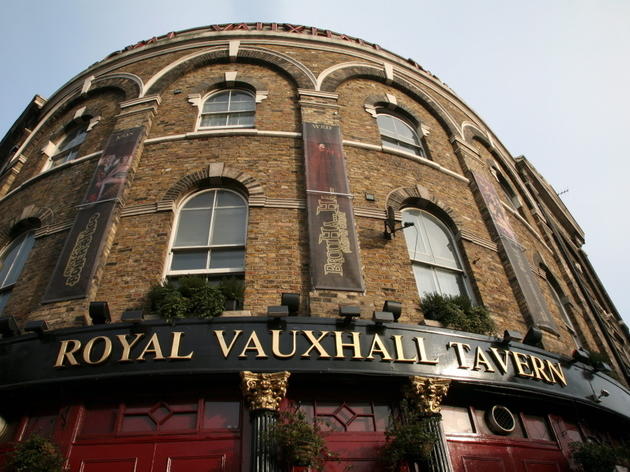 To paraphrase a famous saying: after a nuclear holocaust, all that will be left are cockroaches, Cher and the Royal Vauxhall Tavern. This pub-cum-legendary queer performance venue has been threatened for years by greedy property developers, but the RVT Future Committee refuses to let it die. People care about this place because it mixes a rich history – the gay Kray used to drink here and Lily Savage got her start behind the bar – with cutting-edge queer club nights like Duckie and Bar Wotever. The fabulously shabby, grade II-listed surroundings don't hurt, either. As Duckie's host (and London's Night Czar) Amy Lamé says: 'Everyone's welcome – just don't wear nice shoes.'
Read more
The best gay bars in west London
West 5 Bar
Now sadly one of west London's last remaining LGBT venues, West 5 will celebrate its twentieth birthday in 2018. And deservedly so: it's a proper, old-fashioned gay pub with a pool table, a grand piano and loads of loyal punters. Though it's located in South Ealing, a relatively sleepy suburb, it regularly attracts PAs from top 'RuPaul's Drag Race' stars like Courtney Act and Morgan McMichaels. If West 5 is your local, think yourself very lucky indeed. If you've never been before, it's well worth seeking out next time you don't fancy a night out in Soho or Vauxhall.
Going out out?
From disco basements to bars with giant penis murals on the walls
Read more