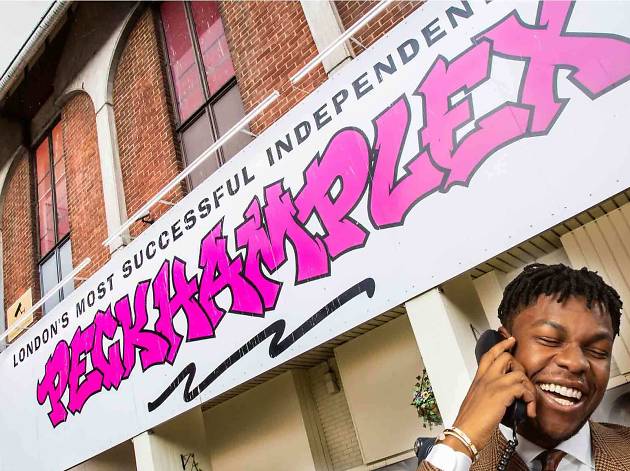 5 reasons why we love Peckhamplex
We even got John Boyega to wax lyrical about why this Peckham institution is a local legend
There's no doubt that Peckhamplex is one of London's most vital cinemas. Here we explore the secrets of SE15's mighty community palace, and why south-east London's own John Boyega also loves this fantastic independent cinema (Finn from 'Star Wars' can't be wrong).
Let's not beat around the bush: Peckhamplex is ace because it costs less than a fiver to get in. 'Star Wars', 'Avengers'… you name it, it's £4.99. 'There are no plans to change the ticket price,' says the cinema's director John Reiss. The popcorn won't empty your wallet, either.
2. It's lovably old-school
From the walls, which are a John Waters pink, to the queues that can form for the biggest releases (online booking is available), it's the kind of cinema you grew up with. Reiss says big refurb is planned for 2020, though poshing it up is not on the cards.
3. It supports local filmmakers
While other cinema chains were busy banning it, Peckhamplex hosted the premiere of gang drama 'Blue Story'. 'It's a home film for us,' says Reiss. 'It's a positive film with a message.'
They're a friendly bunch who know their onions. They're all paid the London Living Wage and there are bonuses three times a year. 'We're not a PLC,' says Reiss. 'We want to be profitable so everyone here can get a return.'
As Reiss notes, people come from all over town. On a good week, its six screens will host 10,000 filmgoers. On a really good week, you might spot superfan and local Olivia Colman. And you can't argue with the Queen.
6. And what does John Boyega make of it?
'It's the cheapest cinema in London!' he says.'The Peckhamplex is fantastic. It's right opposite the McDonald's. And growing up in south London that, to me, was genius because: "Babes, we can go and watch a film and I'll take you to McDonald's straight after and – guess what – the bus stop is only yards away."'
Plan a visit to more of London's top notch cinemas