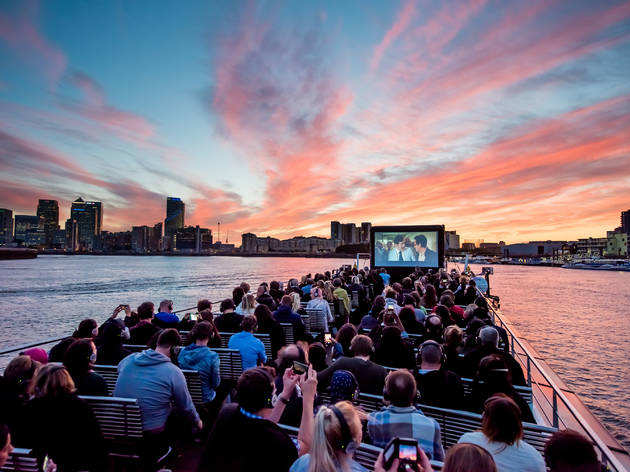 Time Out says
Watch a movie on the top deck of a boat after a cruise along the River Thames
Can you imagine watching a movie under the stars on the top deck of a boat, after a cruise along the Thames?
Time Out will make that dream a reality in the summer of 2019 with the return for a third annual season of Movies on the River – London's first ever cinema on the Thames.
For five nights a week from early June to August, our movie boat will offer a food and drink-fuelled sunset cruise from the Tower of London.
Once the sun disappears, we'll dock up in the shadow of some of London's most awe-inspiring sights and play a movie on our open-air top deck.
We've chosen classic movies you love, including 'Grease, 'Dirty Dancing' and 'Breakfast at Tiffany's', as well as recent hits including 'A Star Is Born', 'Bohemian Rhapsody' and 'The Greatest Showman'. Don't miss the boat!
Time Out Live presents Movies on the River with City Cruises runs five nights a week (Tue-Sat) from mid-June to mid-August, starting on Tuesday June 4. The boat boards at Tower Pier at 8pm. The boat returns to Tower Pier once the movie finishes.
Explore the full lineup for Movies on the River.
Details
Average User Rating
4.1 / 5
Rating Breakdown
5 star:

13

4 star:

15

3 star:

0

2 star:

4

1 star:

1
I must agree with Tom S below : Very nice idea, but not worth the money. I too was under the impression that I could watch a movie whilst enjoying the sights of London, in fact the picture above clearly does not show a film being shown whilst the boat is moored up alongside a barge which was filled with old paint tins which is what happened on my trip last Saturday night. Several people I spoke to also expected the boat to be moving along. I do understand that practically this might not work but then it should be better explained on the website. Saturday morning I was emailed that we would be moored up opposite the Houses of Parliament but we never even got half way to Westminster before turning back, again to moor up within 100 meters of the Tower Pier. The bars were understaffed and the wine was dreadful for the price they were charging. surely they could buy a £8 bottle of wine from Tesco and still charge £30 and make people happy. I wouldn't do it again and definitely wouldn't recommend it. .
Horrible experience! People just spreading out their bags resulting in us as a couple not finding a space to sit together. Organisers did not give a shit about it and continued standing in their corner joking around while we were left to sit facing away from the screen in order to sit together. So if you think this will be a romantic experience, be prepared for a big disappointment. (Goes without saying: we did not get our money back).
We had an excellent time at this event which is one of those things that London does so well in the summer. We took a short cruise along the Thames and then docked up to watch the Greatest Showman with lots of sights all around. It felt a bit crowed up on the top deck but the weather was amazing and I can truly say I've never watched a film like this before!
Great idea, and I had a great evening watching the Greatest Showman on Movies on the River. We took a short cruise past loads of London sights and then watched the film with views of many of them all around us. Everyone was singing along at one point. Lots of fun.
Very nice idea, but not worth the money. I was under the impression that I could watch a movie whilst enjoying the beautiful city sights of London on an evening. I took a date with me, paid £70 in tickets + snacks to have a 15 minute cruise down to the London eye, to circle back to literally 100 meters away from where we boarded, to moor up and watch a 2.5hr film. It wasn't the experience I was expecting or what the main image of this event lead me to believe. However, I did have a nice evening, the staff were nice, the snacks were relatively cheap and the film was good! But I wouldn't do it again or recommend it.
My cousin is staying in London for the summer, has come over from India, so I thought this would be a good evening out and I wasn't mistaken. We both absolutely loved it. We got dinner before going on the boat because they only sell snacks (crisps, popcorn) and drinks (it looked like a good selection of beers, wine, ciders, spritis etc) but I didn't buy anything on the boat so not sure about price.
We got on the boat, plenty of space for everyone to sit upstairs as our boat was pretty busy. They take you from Tower Bridge to the London Eye for some sightseeing and giving you plenty of opportunity to take photos for Insta. Then you dock up and they start the movie. We went to watch 'Mean Girls' which was great. You do forget you're on a boat until every now and then, you rock a little, reminding you to look around at the gorgeous lit up city.
Great experience! 4 stars because we left Tower Pier about 15/20 minutes late but other than that, myself and my cousin both really loved it. I'm still swaying a little this morning!
Absolutely loved Movies on the River. Nice little cruise up and down the Themes taking in all the sights and then getting to watch Clueless with Tower Bridge lit up in the background was amazing, one of the best views in London. Absolutely worth it. Definitely, a must do during the summer before the winter weather ruins all outdoor activities.
Me and my girlfriends went on the Movie Boat to see 'The Greatest Showman' on a gorgeous summers evening and we all absolutely loved it! Nice touch going up and down the Thames to see the London sites, then you pull up to watch the film with a fantastic view of the sunset and Tower Bridge. You wouldn't want the boat to move move when you are actually watching the film as it would be too windy on the Thames. As soon as the sun sets, you are able to see the picture perfectly on the projector, then sit back, put your headphones on and relax with a blanket (thats provided). Theres a bar on the boat so you can enjoy a nice cold glass of wine (or several) and purchase snacks! This would be the perfect date venue as well as something different to do with the girls! Good job Time Out, its great to see something so Unique in London! Would 100% recommend it.
Watching a great film on a lovely summer's evening on the Thames sounds idyllic but unfortunately in reality not the case as we found this weekend.Having struggled to get there courtesy of a signal failure on the tube and having to pay £25 for a black cab from Euston to Towerpier we arrived to find that there were insufficient seats to sit on the top deck, where the large screen was.This resulted in having to sit downstairs watching a screen not much bigger than some TVs at home.Having paid £38 per person this did not represent good value for money.When discussing the lack of seats upstairs we were told that there should be enough seats if there were 4 people sitting on each bench.Having not had our tickets checked not sure how the crew would know how many on board safety issue perhaps?
All in all disappointing experience not worth nearly£80 for 2people.
Only saving grace was the wonderful Greatest Showman film shame about the rest.
Had an amazing time. They took care of our every need. Danny in particular was responsible and caring. Thank you!