Spreadsheets and video conferencing got you down? Well, at least you're not dealing with decomposing rats and unattended bodies that have kind of melted into sofas. Yep, you read that right. However, some Londoners' everyday jobs do involve such grisly horrors – and yet they manage to stay positive. We asked them how they do it.
The ratcatcher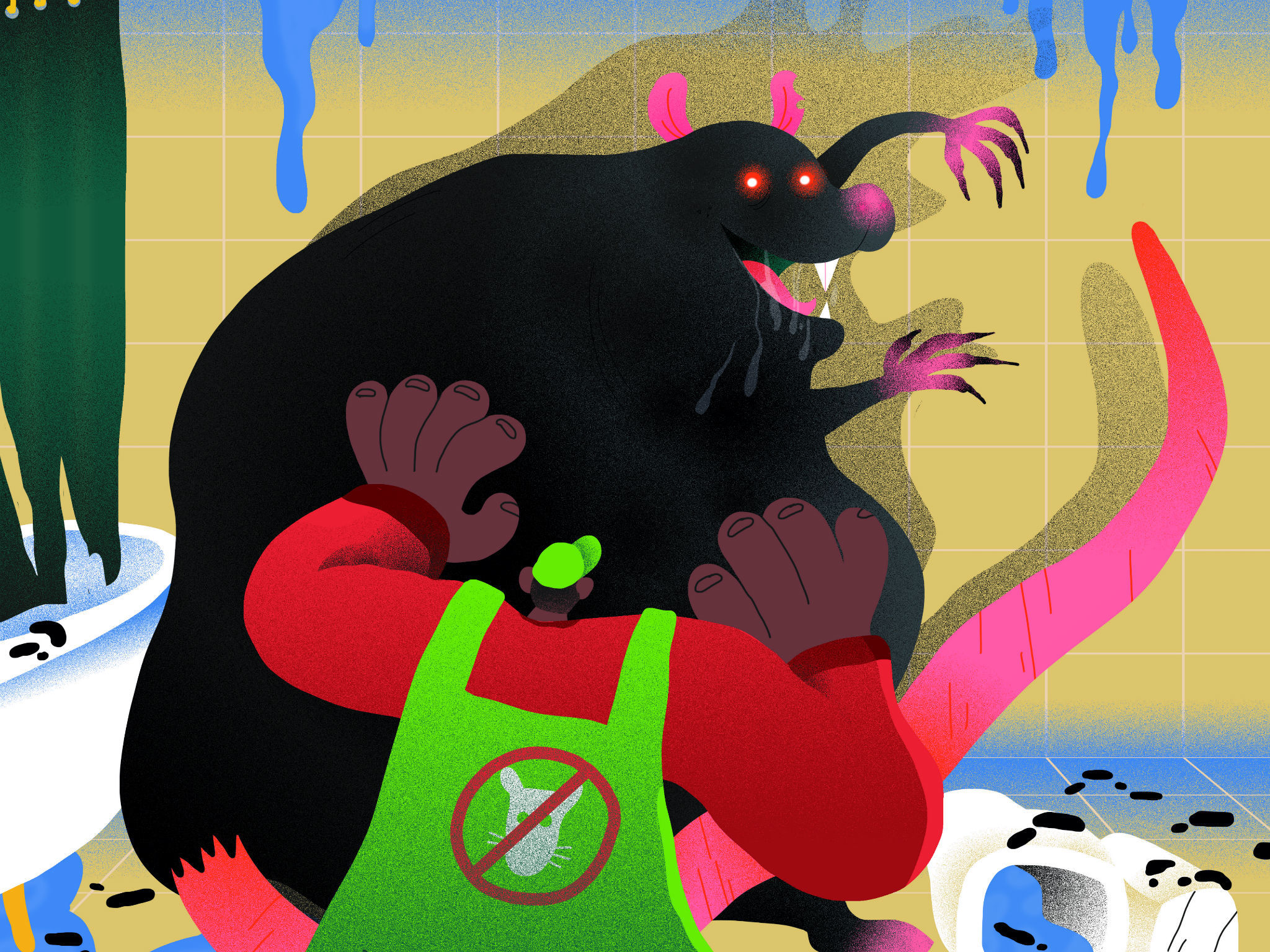 Illustration: Genie Espinosa
Ignat Charakchiev, 29, is a pest-control technician at Fantastic Services, which tackles everything from cleaning to rat-proofing
Pest control can be a dirty business. We deal with fleas, foxes, bed bugs, pigeons, squirrels and other infestations. But rats are the worst.
Rats are gross. They're smelly, diseased, they urinate everywhere, they can bite and however you block their holes, they can always find a way back.
But rats are also very clever. So to beat them, you've got to show them respect, learn how to think like them.
A lot of people think we're just out to kill things. But it's all about control. Poison
is always a last resort.
Humane traps aren't always that humane. Take sticky pads, for instance. I've found pads before with just a tail left on them, or a foot. How desperate has an animal got to be to chew its own foot off?
The smell of a decomposing rat is pure awful. It's hard to put into words. Just rotting flesh that's been left to fester for weeks. It really gets inside you.
Rats aren't always the most disgusting part. I remember visiting a house where rats had chewed through the toilet pipe. It was a three-bedroom house shared by around 13 people and it was pure squalor.
When I got into the bathroom, I realised they had stopped using the toilet and had been shitting in the bath. I just turned around and left. It was too disgusting.
I've learned to compartmentalise. To be happy in a grim job, you've got to focus on the good bits. For me, it's meeting people, discussing their issue over a cup of coffee, laughing and cheering them up.
We're like rat-busting superheroes. And that's a great feeling. Making other people happy makes me happy in return.
My secret to happiness? You need to switch off when the job is done. You need a distraction. I love cooking. I also travel a lot; whenever I can, I see a new city, a new country.
The trauma scene cleaner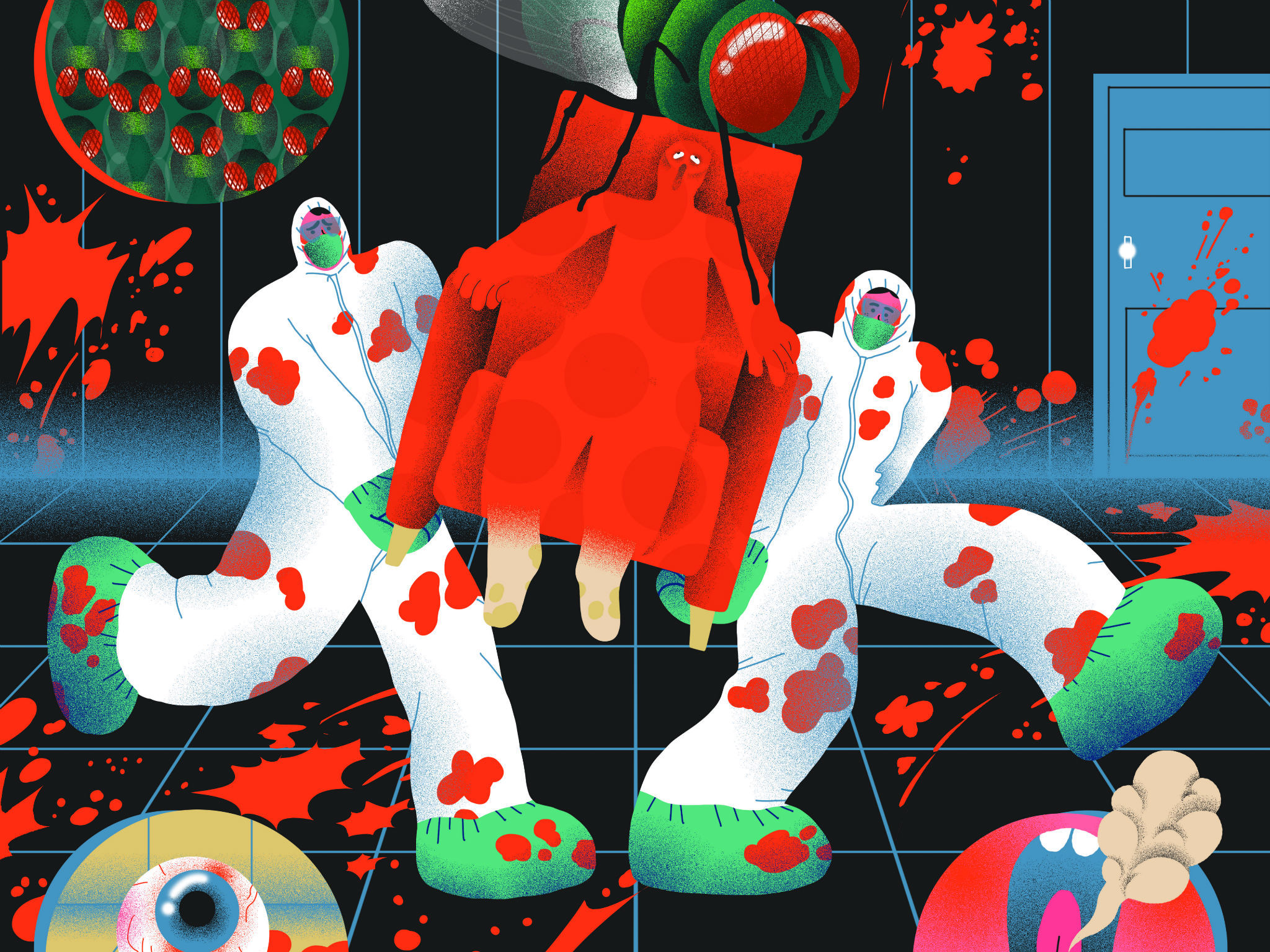 Illustration: Genie Espinosa
Ryan Colquitt, 39, is a regional operations manager for SafeGroup, specialising in remediating crime scenes, unattended deaths and extreme cleaning emergencies
We don't just do crime scenes. We clean anywhere there's been an unexpected death: an unattended body at home, a suicide in a hotel or a death under a train.
Usually the body will have been taken away but that doesn't mean there isn't a lot to clean up: body fluid, sometimes blood.
A big job is when we get called to a really bad decomposition or unattended death and find they've not only decomposed in a kitchen or bathroom but it's dripping through the floorboards.
I'll never forget the man who died watching TV. By the time he was discovered, he'd been there so long he'd sort of melted into the sofa. We had to take up the floorboards to clean body fluid off the pipes.
Then there was the man who died in the bath. He'd fallen out with his family so nobody found him for months. When we arrived, there were probably 6,000 bluebottles in the flat.
I don't know how long he'd been there but it was enough to fill the bathtub with six inches of body fluid. That was the worst I ever smelled. You quickly learn to breathe through your mouth on jobs like that.
Train traumas are different. You come across body parts on the tracks. Once,
one of my colleagues found an eyeball.
You can get used to the smells and the blood. It's the stories that can get to you, especially when it's a child. You start to picture what happened, putting it together in your head.
Relatives often want to tell you what happened, as if we can take some burden away from them. I think they want to get a sense that we'll take the bad memory of what they saw with us when we go.
My job has long hours and it's not making me rich, but I love it. Knowing I'm doing a fantastic job for people washes any bad stuff away. It's actually given me a more positive outlook on life.
That's how I never let the job get me down: the feeling that I am, in some small way, helping people with their emotional journey: to clean away the awfulness of
so they don't have to visualise it.
This job has taught me a lot about happiness. Life can end at any point, so now I never put off making important decisions about my life.
If there's one thing I've learned, it's this: people fall out for the silliest reasons.
And it's only when they can never see another person again that they realise they should have done something about it. It makes me think about my own life and the people in it.
The undertaker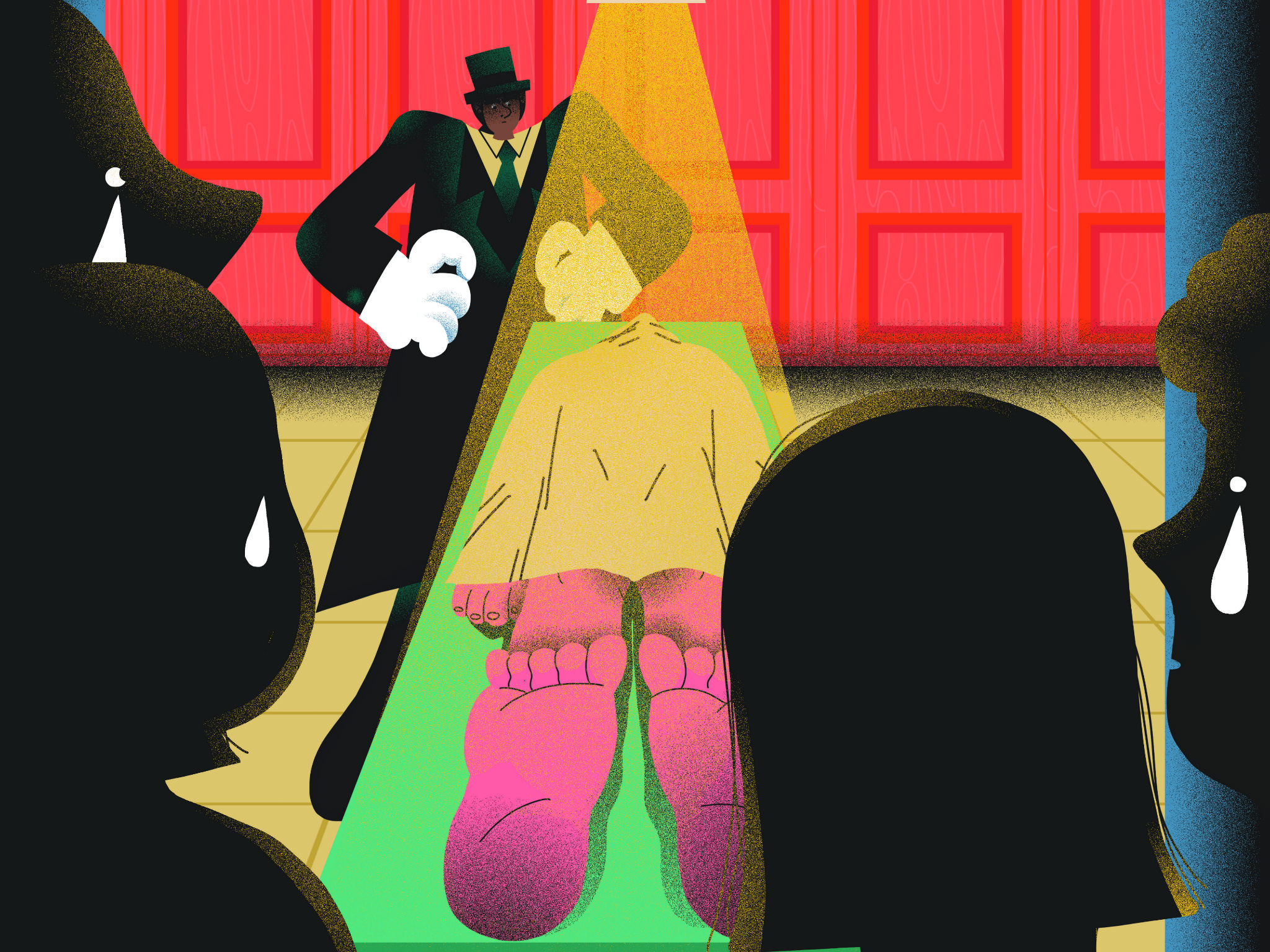 Illustration: Genie Espinosa
Mark Honeyman, 53, is a funeral director for Co-op Funeralcare in London. He's been in the business for eight years
I don't lie awake at night thinking of the people who've died. I don't mean that in a harsh way; it's because ultimately I am providing a service. Plus, the families are the ones who are going through the raw, emotional grief. My job is to be strong.
It's the living who can affect you most, not the people who have died. The most emotionally challenging side of the job is dealing with young parents who have lost a child. That can be very raw.
I like the job because I like caring for people, whether they're living, grieving or have died. If you can't care for people, you wouldn't enjoy this job.
People ask how I can stay positive in the face of so much death. But death is not something to be frightened of. Bodies aren't horrendous, they're just people
who have died.
You need a sense of humour to do this job. Never at the expense of someone who's died, that's completely unacceptable. But every morning we come into the office, have a coffee and tell jokes. Dad jokes, I'm afraid. Or football. Or Morecambe & Wise. You have to.
Young men often have the biggest problem letting go of their emotions. Often they are the ones desperate to have a cry but feel they can't because that's not what men do. I try to make it okay to cry in front of another man.
You get the greatest satisfaction at the end of a job, when you know it's gone well. When relatives of the deceased thank you for everything you've done.
What has death taught me about life? Nobody is guaranteed a tomorrow. That's not to say I'm off bungee jumping at the weekend, but it does allow me not to worry so much about things I can't change.
Nothing lasts for ever. A tough experience may not be as tough tomorrow, next week or next year. Surround yourself with people you trust and who are supportive.
The sewerman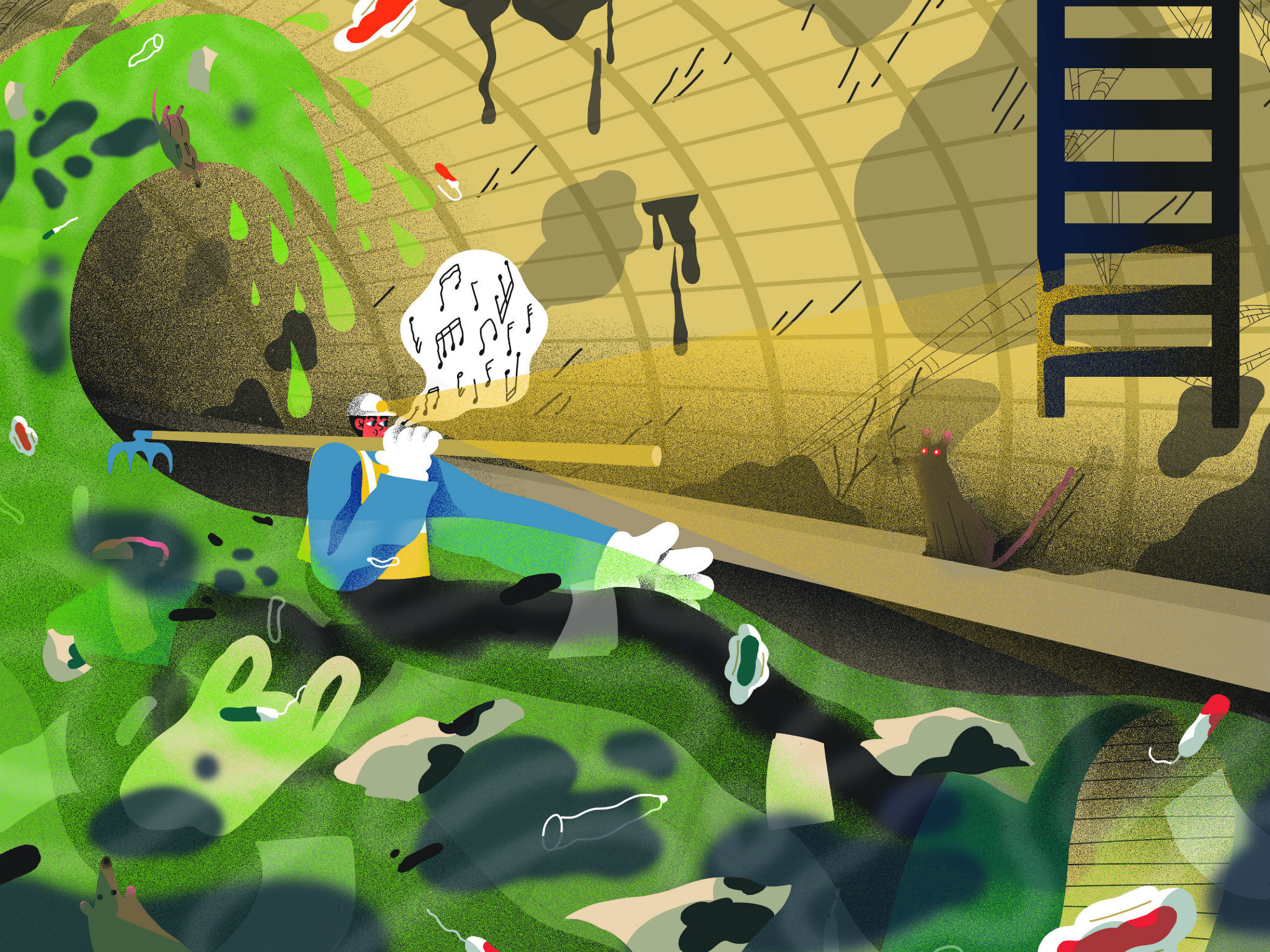 Illustration: Genie Espinosa
Andy Howard, 50, is a special projects manager at Lanes Group, the waste water maintenance partner of Thames Water. His team's job, in other words, is to keep London's sewers flowing
We're also known as sewer 'flushers'. If that means going underground to unblock a fatberg or just keep the waterways clean, we put on our suits and down we go.
I'm not going to lie to you: sewers stink. But you know what? You can smell faeces, vomit, urine and alcohol all day long. You get used to that. It's the smell of fat that drives you mental – a sort of combination of rotting meat and the inside of a smelly toilet.
When I say fat, it can be like wading through porridge or a chicken korma.
Wet wipes, condoms, congealed fat, as well as other things people flush down
the toilet – they're all mixed in.
That smell stays with you for days. You breathe it in, it gets into your skin and becomes part of you, oozing from your pores. People move away from you on the tube.
Every sewer has a different smell. Blackfriars has its own smell. Whitechapel has its own smell. They all do. Even when you break wind, you smell it and think: Oh, that's Whitechapel Road, that is!
You never look at sewage and see a turd floating down. Everything's mixed up, so it looks like dirty water. It sprays in your face, your eyes, your ears, your mouth.
Weil's disease is a big fear – you get it from rat urine. You can put your hand on an area that's been contaminated and it will just seep into your skin. It's a killer. I've known guys who've caught it and been in a coma for two weeks.
It takes professionalism and a good dollop of humour to spend your working days up to your knees in fat, wet wipes and poo.
Yes, it's dirty, smelly and dangerous, but I love it. Sewermen have a real passion for what they do. We are literally the last line of defence when there's an issue.
It's that sense of purpose that makes me happy. I've done a lot of jobs over the years – soldier, chef, lorry driver, steel erector – and if I've learned anything, it's that whatever you do, you should do it for you.