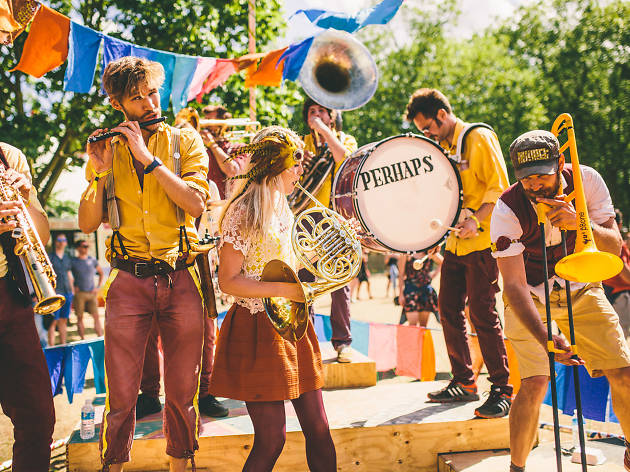 Citadel festival set times
Get the full stage times for London's ultimate Sunday music festival
After a storming debut last year, Citadel Festival returns to Victoria Park on Sunday July 17 for another outing of music, arts, culture, food and drink. This year's line-up includes a London exclusive performance from Sigúr Ros alongside Lianne La Havas, Caribou and some excellent rising stars. There's also comedy, sports and plenty more summer fun. Here are the full set times so you don't miss a thing.
Citadel 2016 set times
Main Stage
12.30pm Cosmic Strip
1.10pm Antimony
1.40pm Susanne Sundfor
3.10pm Cat's Eyes
4.3pm Calexico
5.30pm Nathaniel Rateliff
6.45pm Caribou
8.50pm Sigur Rós

Communion Stage
1.20pm James Canty
2.10pm Gillbanks
3pm Rukhsana Merrise
3.55pm Billie Martin
4.50pm Matthew and The Atlas
5.50pm Tom Misch
6.50pm Matt Corby
7.55pm Lianne La Havas

Soundcrash Stage
1pm Akala
1.40pm GoGo Penguin
2.30pm Tinariwen
3.25pm Beardyman
4.35pm Maribou State
5.50pm Battles
7.10pm Submotion Orchestra

Fabric
Noon Pedestrian
2pm The 2 Bears
4pm Jazzanova
7pm Andrew Weatherall

Corona Sunsets
12.15pm Whilk & Misky
1.05pm Rat on the Roof
1.45pm Throwing Shade
3.15pm Nick the Record & John Gomez
4.45pm Cal Jader & Spiritual South
5.45pm Kindness DJ Set
7.45pm Friendly Fires DJ Set
8.45pm Honne

Kopparberg Urban Forest
12.10pm Juha
1pm Project Fresh Socks
1.50pm Axel Flovent
2.40pm Palace Winter
3.30pm Island
4.20pm Pierce Brothers
5.10pm Nature
6pm Flyte
6.50pm Dagny
8pm Boxed In

Jose Cuervo Tequila Town
Noon El Peche
1.30pm Chilango
3pmRuss Jones
4pm Gypsy Box
5pm Andy Smith
6pm The Mighty Zaf
7pm Disco Bloodbath

The Park Bandstand
Noon Hoop Hop Jam
12.30pm Swing Patrol & The Broken Swing Band
2pm Chaps Choir
3pm Barbarella's Bang Bang
4.15pm The John Langan Band
5.25pm Ceilidh with Cut a Shine
6.40pm Immigrant Swing
8pm Hackney Colliery Band

Main Court
Noon Warm-Up Work Out with Frame
2pm Games with Lost & Found
3pm Victoria Park Volleyball Championships
5pm Games with Lost & Found
6pm Disco Dodgeball

Race Track
3pm Love Specs: Sacks of Love Races
4pm Love Specs: Tug of War with Love
6pm Love Specs Limbo
7pm Relay Races

Sunday Papers Live
3.35pm UK News: Brexit by the Frontline Club

Citadel Comedy Tent
12.30pm Citadel Present
3.55pm Underbelly Presents
7pm Sounds Familiar Music Quiz

Sunday Sports Day
Noon-8pm Badminton, Ping Pong, Garden Lawn Games
1pm-6pm Croquet East

Noon Kids & Family
Noon-6pm Hackney Playbus workshops/Treasure Hunt

The Artist Studio
4pm Eat You Art
6pm Art Macabre's Drawing Jukebox

The Meadow Stage
12.30pm Mass Yoga with Stretch
2pm Hoop Hop workshop with Charlene the Hoola Queen
4.40pm Swing Patrol
5.20pm Les Femmes Circus
6pm Folk Dance Remixed Workshops and Show
Discover this summer's best festivals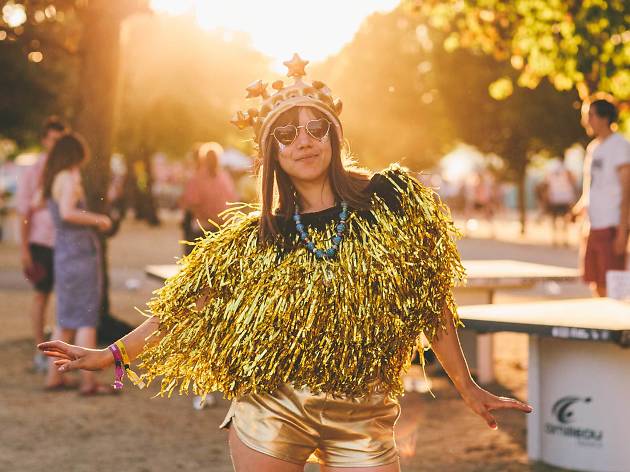 Some of 2016's top festivals take place right here in the capital.