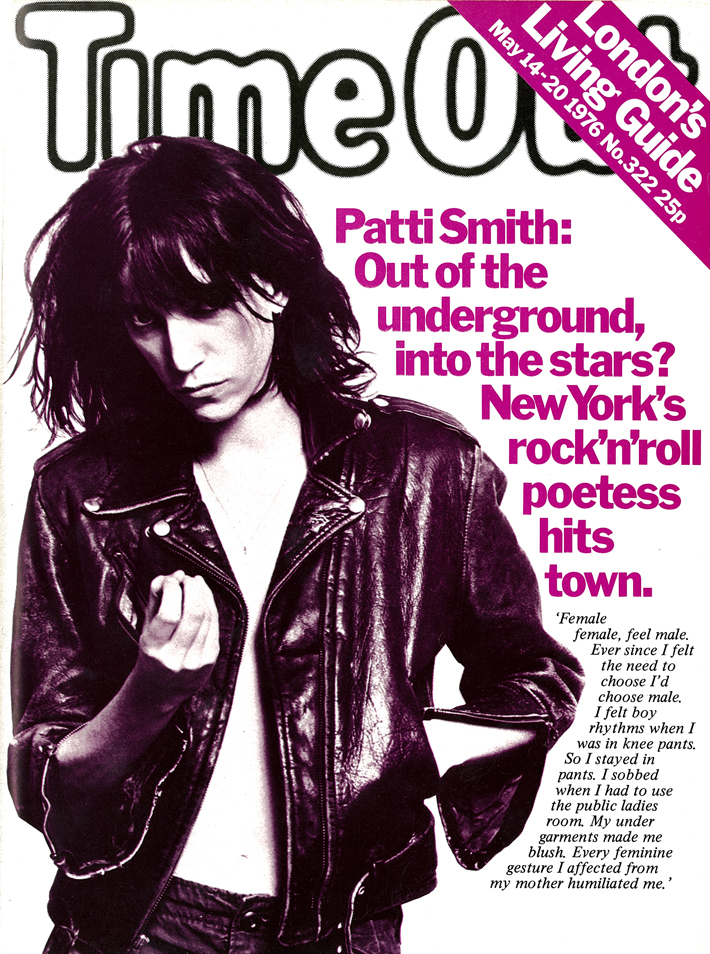 'Can a poet sing rhythm 'n' blues?' The cover star on the May 14-20 1976 issue of Time Out cut an unconventional figure. Dressed in a leather jacket and precious little else, the 'rock 'n' roll poetess' with the Keith Richards haircut stared moodily out of the front page.
Inside she appeared topless holding a hammer, in a still from an underground film called 'Robert Having a Nipple Pierced' – featuring Robert Mapplethorpe, later the focus of her memoir 'Just Kids'. In the accompanying interview, she declared that 'Mick Jagger is the greatest performer since Nijinsky' and promised that she would hunt down the record exec who had censored her latest single (a version of The Who's 'My Generation') and 'break his balls'. That was how, very nearly 40 years ago, Patti Smith introduced herself to London.

'Most fans think they know "Horses" back-to-front'
On May 16 and 17 1976, a few months after the release of her debut album 'Horses', Smith played two nights at the Roundhouse in Camden. Her sets (which you can hear on YouTube today, thanks to a bootlegger) incorporated plenty of songs from the album: 'Gloria', 'Redondo Beach', 'Free Money', 'Land' and 'Kimberly'. The crowd included a good chunk of London's nascent punk scene, including members of The Sex Pistols. On stage with the Pistols at the 100 Club a couple of days later, Johnny Rotten launched into a rant about the gig: 'In we go to the Roundhouse the other night, see the hippy shaking the tambourines. Horses, horses, horse-SHIT!' Awkwardly, two of the Patti Smith Band were standing in the audience.
This week, almost four decades on from those first shows, the 'rock 'n' roll poetess' will hit town again for two more nights at the Roundhouse. Her band still includes Lenny Kaye on guitar and drummer Jay Dee Daugherty. Even some of the set will be the same: Smith and her band are playing 'Horses' from start to finish on each night. Over the intervening years it's become a 'classic album', and most fans think they know it back-to-front. But if Smith's performance at Field Day festival back in June is anything to go by, even the diehards will be surprised at the ferocity and charisma that she brings to every second of those old songs. London has changed beyond recognition but Patti Smith is still Patti Smith, and she can still mix up high art with rock 'n' roll like nobody else.