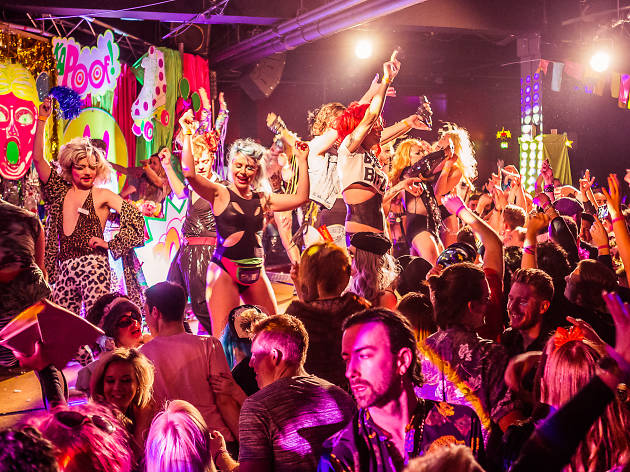 London finally has a festival that's queer and loves pop
Find out how The Mighty Hoopla is bringing Years & Years, All Saints and some of London's glitteriest, greatest club nights to Victoria Park
Growing up in London in the late '90s, the only gig that really mattered to me was Party in the Park. For one day every summer, Capital FM would stuff Hyde Park with an unlikely mix of 'CD:UK' regulars and legends on the comeback trail. Steps were on the same bill as Elvis Costello. Bon Jovi shared backstage space with Billie Piper. Martine McCutcheon covered a Donna Summer song wearing a 'Hot Stuff' T-shirt, just because she could. They were heady days, filled with Tango, terrible kissing and soggy hotdogs.
Capital FM now runs a similar event called the Summertime Ball. But it's held in a stadium, and it's pretty boring. Thankfully, if you're a Londoner who thinks 'Pure Shores' is better than anything by Radiohead, there is now another option.
This June, some of the coolest, queerest and most unique crews from the London club scene – Sink The Pink, Guilty Pleasures, The Glory, Ultimate Power, Massaoke, Figs in Wigs, R&SHe – have teamed up to host a proper pop festival in Victoria Park.
It's called The Mighty Hoopla and the line-up is pretty incredible. Years & Years are headlining with their only UK festival set of 2017. Actual All Saints are performing. Will Young and Sophie Ellis-Bextor are prepping a sequin-packed collaboration with the Sink The Pink queens. Charlotte Church is bringing her awesome covers show, Late Night Pop Dungeon, while rising stars Girli, Alma and Raye are delivering sets, too. And there's no bloody Bon Jovi to spoil the fun!
'Mighty Hoopla happened as a reaction,' says Glyn Fussell of gender-screwing, pansexual party collective Sink the Pink. 'I wanted to inject the fun back into festivals and for the day to feel like a high-energy celebration. Putting together the line-up was very natural; it's all music that makes people smile and dance! We're not taking ourselves too seriously and the whole day will have a carnivalesque sense of humour.'
In a way, Mighty Hoopla feels like Party in the Park's cooler, jumpsuit-wearing little sister. But also, it's a natural successor to Lovebox's old Sunday 'gay day', where DJs from the LGBT scene would spin as Scissor Sisters and Grace Jones slayed. They have one foot in HMV's singles section in 2002; the other in a dingy Dalston disco basement where everyone leaves covered in sweat and glitter.
Mighty Hoopla's queer roots don't make it exclusionary, though. 'I think this festival is going to appeal to groups of friends. In terms of who they are, why label it?' Fussell says. 'This is an event for all Londoners to rally their gangs and glitter up.' And try not to argue on the way there about the correct lyrics to 'Murder on the Dancefloor'.
The Mighty Hoopla is at Victoria Park, Sunday June 4.
Find your perfect music festival
That time of year is appoaching again and you need to be ready. The most important thing is knowing which festivals to hit – luckily, we've compiled all the information you'll need this summer, from the best London festivals to picturesque parties abroad.