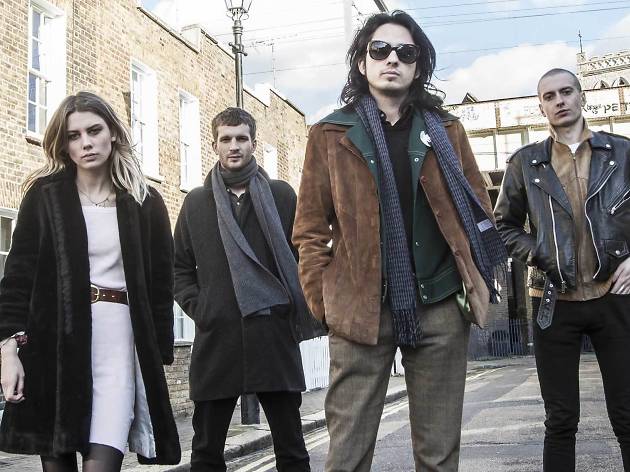 Wolf Alice: coming home to Camden
Indie superstars Wolf Alice return to north London for a huge residency this week. We met them for a cheeky half in Camden
And you thought indie rock was dead… Last summer Wolf Alice's debut 'My Love Is Cool' hit Number Two, just 528 copies away from the top of the album chart. In September they sold out Brixton Academy, this week they're headlining the 2,300-capacity Kentish Town Forum four times over, and they're playing Hyde Park for the second time this summer. They've been nominated for a Brit, a Grammy and a Mercury Prize. This is the sort of stuff that new British indie bands aren't supposed to be able to do any more.
So how did Wolf Alice manage it? That's the question in the air floating in the air with the smell of stale beer on a sunny afternoon at The Monarch. This Camden pub is run by Wolf Alice's old tour manager Dave Danger: the former drummer for The Holloways and booker at Nambucca, he's one of several links between Wolf Alice and the scuzzy north London indie scene of a decade ago.
Funnily enough, though, Wolf Alice weren't even a rock band until 2012. That was when Ellie Rowsell and Joff Oddie – a quiet folk duo who'd met online – added the fast-talking, joke-cracking rhythm section of Joel Amey and Theo Ellis and transformed into indie-grunge behemoths. They never wanted to become ambassadors for British rock music. Yet here they are, deep in London's designated indie heritage zone, trying to explain how they rebooted the sound for the twenty-tens.
What's so great about Camden?
Ellie Rowsell: 'It's unpretentious. I don't know why, but I find east London a tiny bit intimidating. And west London as well. And south London!'
Why do you find east London intimidating?
Joel Amey: 'When I started going to east London it was that cliché: everyone had to look a certain way. It was quite brutal to be in a band round there.'
ER: 'East London has more creative people from outside London, seeking out east London. Whereas no-one would seek out the Hawley Arms.'
Theo Ellis: 'Unless you're on a European tourist vibe. Then it's like, "Let's go to Camden and get a bong!"'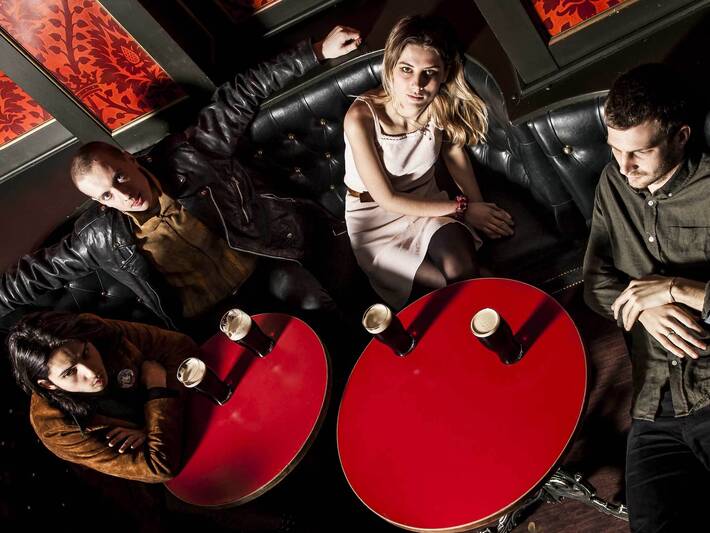 Wolf Alice at The Monarch, by Rob Greig
'It's hard to start a band in London. Your job can force you to make bad decisions'
Having grown up in Holloway. Ellie, how much would you say that influences your lyrics?
ER: 'I have a really deep affection for Holloway and I think it does seep into my songs. Like, I mention the 43 [in the lyrics to 'Bros']. Someone at our show in Portland, Oregon came up to me and asked, "Are you talking about the 43 bus that runs through Holloway down to Highbury & Islington?"'
That song's about your childhood friend Sadie, who left the band to go and study nursing. Was that difficult for you?
ER: 'I was really disappointed and really sad, but ultimately she was going away to do something really cool. I'd feel uncomfortable being like, "No, don't become a nurse and save people's lives – come and play shit indie music!"'
Is it really hard to start a band these days?
TE: 'It's hard in London because it's so expensive. if you haven't got much cash or haven't got a support network or a sofa to crash on, your job can force you to make bad decisions or play a whole load of shit gigs.'
ER: 'And with a job it's impossible to tour as much as you need to. If you get enough exposure to get signed by a record label, that doesn't mean, "Oh, I've made it: I can quit my job now and be in a band." You still have to have a job, your touring schedule goes up, and the time that your label wants you to spend on your band doesn't match the amount of money that they can give you. There's no way around it.'
How did you manage it?
ER: 'I was lucky: I had a boss who really loved music. He wished he had done what I was trying to do, so he understood.'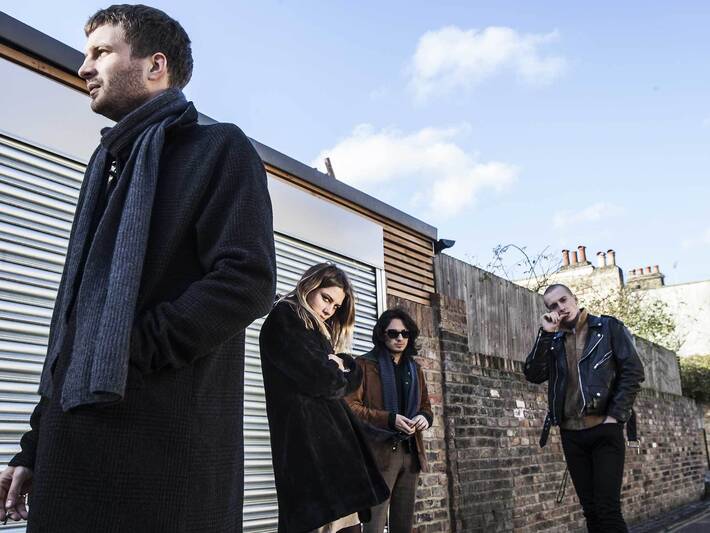 Wolf Alice in Camden, by Rob Greig
'We're really experienced at being shit'
You were playing shows to tiny audiences for ages, weren't you?
Joff Oddie: 'We played so many fucking shows.'
JA: 'Your crowds do grow. But if you want it to happen in a week then just don't bother.'
Was that period a learning curve?
ER: 'Making mistakes when there's no audience is better than making them when you've got loads of fans.'
TE: 'And we've done both of those things. Like, we're really experienced at being shit.'
Is there a new London indie scene?
ER: 'I always felt like there wasn't, but now I'm starting to think there is.'
TE: 'There were times when I and my old friends had this flat in Seven Sisters, and on a weekly basis there'd be a whole rotation of different bands all hanging out in one place. Superfood, Gengahr, us, Swim Deep, Splashh, Peace… I'm not saying that everyone's best mates, but it does create a sense of a scene.'
We ran a Fat White Family interview in January in which their singer Lias Saoudi called you and other bands 'absolute drivel for angry nine-year-olds', and said you were 'irresponsible' for not being politically engaged. Care to respond?
JA: 'Bring it on!'
ER: 'A feud through Time Out! There's an element of truth in what he's saying. But I don't think he should call out other bands, you know? It's a bit presumptuous of him and a bit mean. We're all learning and adjusting all the time. And also I listened to their album and I couldn't hear a word he was saying.'
TE: 'Also, fuck off.'
Have you met them?
TE: 'We fucking toured with them!'
JA: 'We had dinner with them four days a fucking week!'
ER: [sadly] 'I thought we were friends.'
TE: 'And we thought they were really good. I didn't hear them talking about anything politicised on stage, though.'
JA:'Or in the Time Out article either. Honestly, if the biggest problem you've got in your life is Wolf Alice and fucking indie music then you've got it fine.'
Finally: you're playing in Hyde Park this summer for the British Summer Time festival. What'll that be like?
JA: 'We've already done it, actually. We played at The Libertines' show [in 2014].
TE: 'We actually played an 800-cap venue inside Hyde Park.
JO: 'It was the oldest travelling stage in the UK. It was beautiful. And then the band after us broke it. Someone cleared out the monitor desk by throwing a pint at it. Everyone was going, "Whoops, shouldn't have used the UK's oldest stage."'
TE: 'At a Libertines gig! Where everyone is like, "Fred Perry! Smash!"'
Catch a gig in Camden
Camden Town has more than its fair share of iconic music venues. Here are the best venues and upcoming gigs in Camden.
Support Time Out
We see you're using an ad-blocker. Ad revenue is Time Out's main source of income. The content you're reading is made by independent, expert local journalists.
Support Time Out directly today and help us champion the people and places which make the city tick. Cheers!
Donate now