This is it. This is summer. And it's… well, it's alright, isn't it? Things are about to get slightly better as we slide into August, a month of excellent eats, largely down to this part of the year's fondness for a food festival.
Those who like a good old slab of meat will be happy to hear Meatopia is once again on the horizon, as is Smokestak's birthday celebration – both will see untold things being done in the barbecue realm. Then there's the three-day long British Street Food Awards, where you'll help a superstar judging panel decide on the UK's best dish.
Those who don't do flesh will be well taken care of too, as The Railway Tavern in Tulse Hill has revealed that En Root will be cooking up a permanent plant-based storm in their kitchen, with the likes of loaded vegan poppadom nachos and oyster mushroom wings on the menu.
Hungry for more? Here they are.
1. A bloody good flesh-fest
Meatopia, Tobacco Dock
I am the god of hellfire, and I bring you not just fire, but also a bounty of meat, all cooked upon my demonic flame. It's that time of year again, when the pyromaniacs and the carnivores come together to feast and be merry. This is the tenth annual Meatopia, and to celebrate there'll be 100 chefs and an extra day of fleshy festivities down at Tobacco Dock. Kicking off on August 31 and running for four days, you'll find the likes of Melissa Thompson, Ruben Dawnay of Ruben's Rubens, Tom Zahir Browne of Decatur (one of our Hottest Chefs in London) and Ana Da Costa grilling for their lives.
Tobacco Dock, E1W 2SF
2. The sleek South American steak shop
Fazenda, Bishopsgate
With restaurants in Leeds, Liverpool, Manchester, Birmingham and Edinburgh, Fazenda have finally decided to open up a joint in London on August 2. It'll be kind of a big deal, with 170 covers, three private dining rooms and a mezzanine lounge, as well as a menu simply heaving with Brazilian and Argentinian goodies. Try gamba patagonica (giant king prawn with spicy chimichurri) and caviar e churros (you can work that one out for yourself), as well as meats carved rodizio-style at the table), including beef rump, lamb cutlets, pork belly and chicken thighs.
100 Bishopsgate, EC2M 1GT
3. The smokin' street party
Smokestak, Shoreditch
What did you do for your 10th birthday? Took a few pals to McDonald's maybe, or ate so much cake you chundered? Barbecue titans Smokestak are being a bit classier for their decade 'do, and will be remembering their Street Feast roots by holding an all-day party outside their Shoreditch restaurant. Founder David Carter – who went on to open Manteca – will be heading up the timed and ticketed festivities, serving classic brisket buns, pork rib tip burnt-ends, while Joshua Moroney of Cue Point dishes out a ribwich and Elliot Cunningham of Lagom and Eld Pizza, makes birch-smoked chicken with white BBQ sauce, chillies and pickles.
35 Sclater St, E1 6LB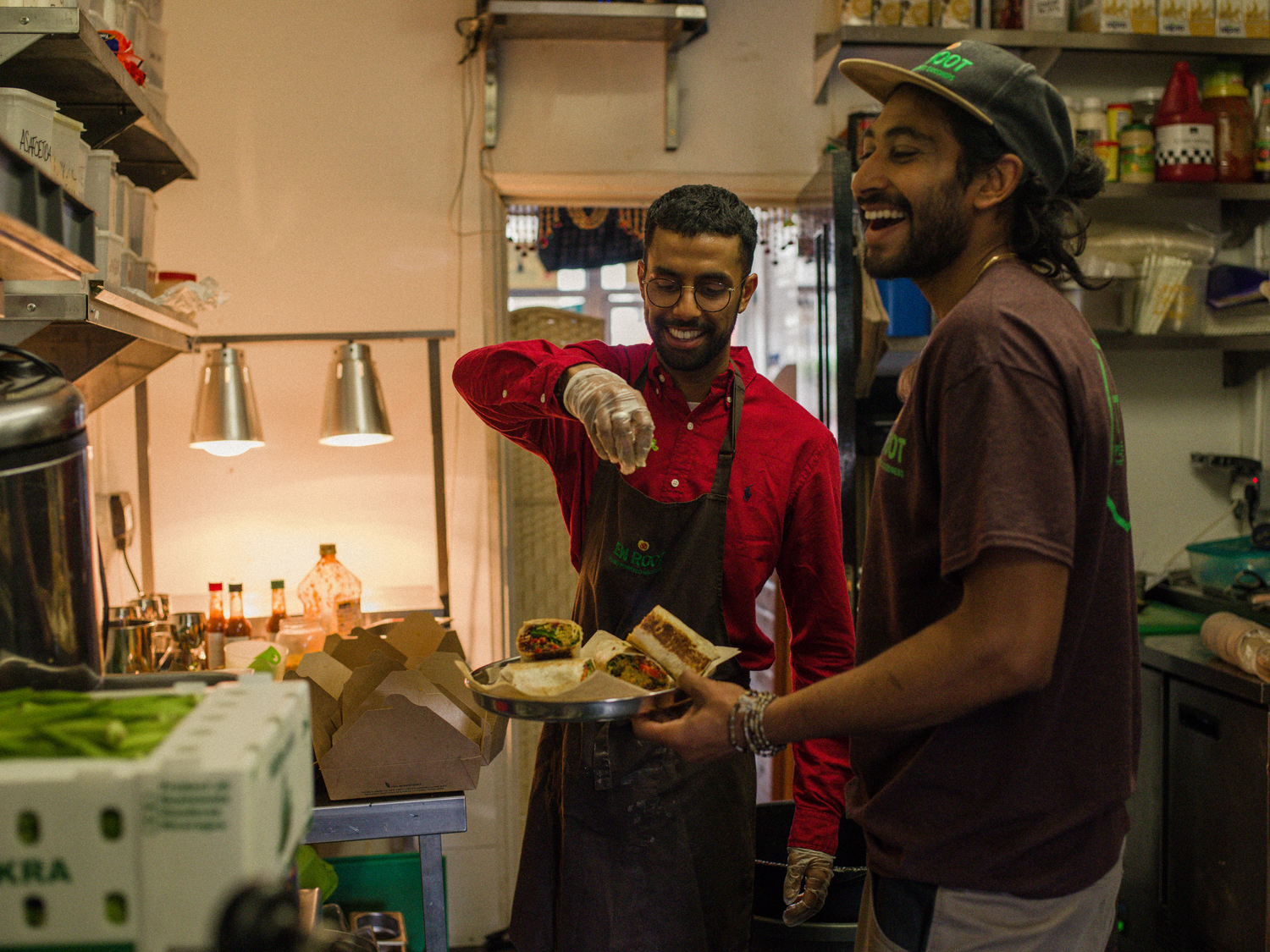 4. South London's first fully vegan pub goes permanent
En Root at The Railway Tavern, Tulse Hill
For the past three months, En Root have been plying their plant-based wares to hungry vegans at The Railway Tavern. It went well – so well in fact that as of this August they'll be a permanent fixture of this south London boozer. Following outlets in Clapham, Peckham and at Brixton's Ritzy cinema, En Root will be serving up their Indian eats, including tandoori wings (made of oyster mushrooms), as well as loaded fries and poppa nachos, where poppadoms come topped with dhal, pickled cabbage, avocado, raita and spice krispies. On Sundays it's roast-time, with a plant-based wellington on offer.
7 Station Rise, SE27 9BW
5. The extremely sick new chef residency
The Prince Arthur, Hackney
Hackney's Prince Arthur pub has been the place to go for fresh new chefs ever since lockdown. First it was the Hot 4 U crew, who went on to open London Fields' Papi, and now it's the turn of brand-new head chef Joe Couldridge, who starts there this summer. From stints at the double Michelin-starred Scandinavian restaurant Texture to Hawksmoor Spitalfields, another Michelin star spot in Leroy, and his most recent work as sous chef at The Clarence Tavern, Joe knows his sweetbreads from his tripe. He'll be serving up devilled crab hash browns, scotch bonnet cornbread, ribeye with gentleman's relish and slip sole with bone marrow butter, samphire and sea aster. Even better, from August 9-12, the menu will be soft-launching, with 50% off food and tables bookable via Resy.
95 Forest Rd, E8 3BH
6. Hotly contested snackery in Hackney
The British Street Food Awards, Hackney Bridge
The British Street Food Awards aren't just a few hours of 'wham, bam, thank you for dinner ma'am' ceremonials. For three days – from August 18-20 – judges Sophie Ellis Bextor and Andy Beynon of Behind and Tom Brown of Cornerstone will be deliberating the finest fast food and they want you to help. Try Cajun chicken bowls from LJ Hugs, char siu pork and tiger prawn rolls from Smoking Lobster, beef cheek hash browns from Hash Hut and Iraqi fusion from Amani Kitchen – your £8 entry fee gets you a free beer on arrival, too.
Units 1-28, Echo Building, E15 2SJ
7. Lovely, limited edition Italian grub
Luca, Clerkenwell
The proud owner of a brand new, sparkly Michelin star, Luca is having a very good year. To make things more delightful, this August head chef Robert Chambers is hosting a limited edition Ferragosto menu – Ferragosto being the Italian holiday where eating and drinking loads of gorgeous stuff isn't just actively encouraged, it's compulsory. At £85 a head you'll get five courses including tortellini of pistachio pesto with smoked sheep's ricotta, roasted pork chop with Italian peas and girolles as well as a rum baba with Kentish strawberries and mascarpone ice cream. Bellissimo!
88 St John St, EC1M 4EH
8. Boozy SE Asian small plates in E17
Tangy's at Exale Tap, Walthamstow
Previously the site of Auld Hag's exemplary Scottish scran, Exale is now letting Sophie Tang of Tangy's loose in their taproom kitchen. From August 10 she'll be slinging corn ribs, pork belly twizzlers, red curry prawn toast and pineapple kimchi, as well as bone marrow and beef shin curry. Keep an eye (and tastebud) out for the beer tempura spring onions and beer vinegar infused kimchi.
Unit 2C Uplands Business Park, E17 5QJ
These are the best new restaurants in London, no question.
Time Out has a lovely new podcast – listen to it!