Meal kits used to be a novel concept. Imagine that, eh? Now we just take for granted that dinner comes in sealed vacuum packs and 'cooking' is simply a fancy word for dipping said packs in boiling water for different amounts of time. Look, Mum, I'm Marcus Wareing!
You can get meal kits from some of London's best restaurants. We have tried and reviewed nearly all of them. We've even made a separate list for the ones that come in under 20 quid. We're nice like that.
A lot of it is what you would technically call 'quite posh food'. A lot of jus. Bits of lamb. Compote. All very nice, but sometimes one does tire of the fancy fare. Sometimes one craves… a sleazier food. Slide forward: the burger. London has a lot of patty options. Big ones, small ones, weird ones. The lot. Some of them are even available as DIY meal kits! Here are our five favourites. Beef!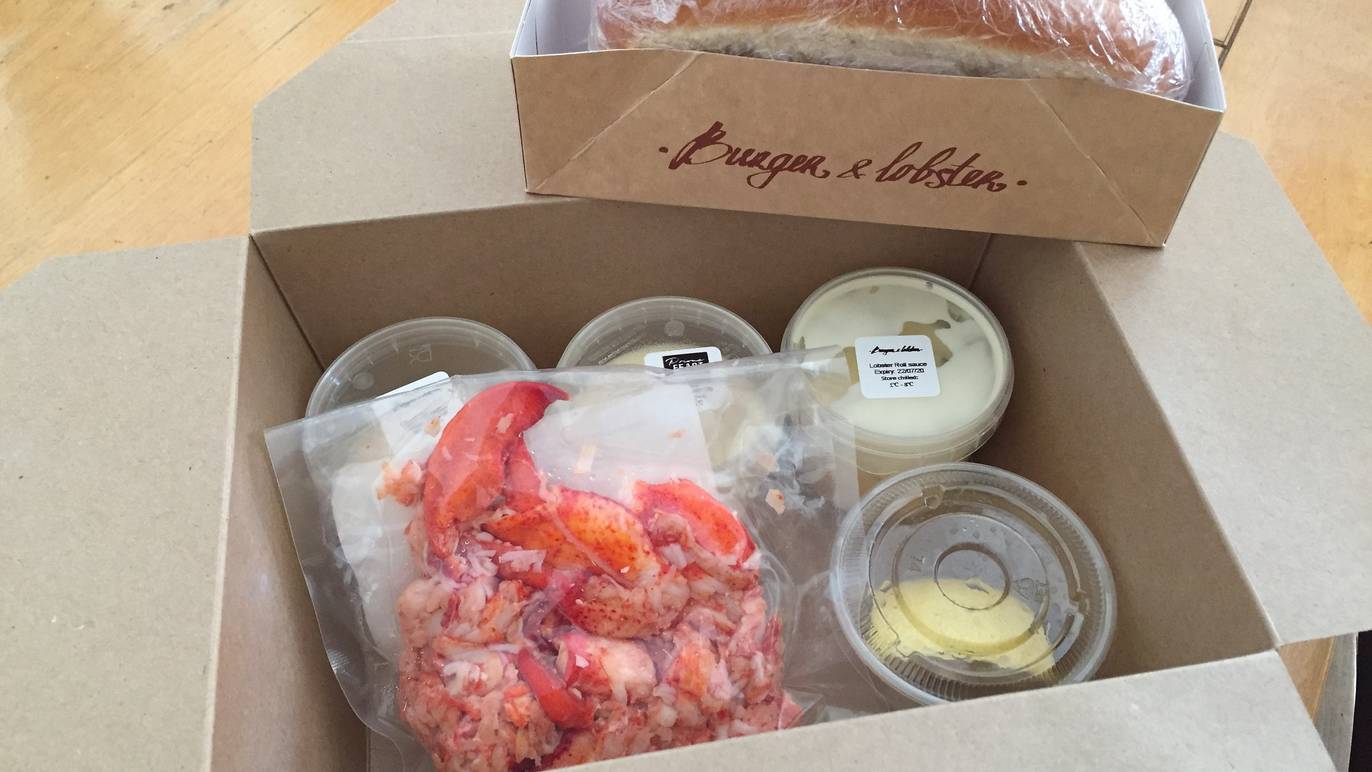 There's minimal cooking required to recreate this luxurious sandwich at home – just some roll toasting and sauce heating. The generous pack of lobster meat – enough for two portions – comes pre-boiled, ready to be mixed with the tangy dressing and piled into the brioches.
For maximum authenticity, the finished items can be placed in the Burger & Lobster-branded hotdog-style boxes that come with this £28 kit – a nice touch. But they're not there to look pretty, these babies need eating, and what a treat that was: fresh lobster for Monday night dinner – lush.
Nothing has caused more excitement in this Time Outer's flat than the arrival of the Honest Burgers kit (£24 plus delivery). In it: four patties, four brioche buns and everything you need to make it taste like you're eating in at the restaurant. Think red-onion relish (that even makes the fridge smell amazing), cheese slices and smoked bacon. (You have to provide your own chips, but they do give you rosemary salt to sprinkle on them.)
The instructions are so detailed that they even have a diagram showing how to layer your burger. And the result? Perfectly cooked burgers that tasted so much fresher than takeaway ones and were decadently messy to eat.


It's just a burger, right? Weeeeellll… not exactly. Patty & Bun serves up top-dollar meat sandwiches, and if you fancy making one yourself (or just finding out what goes into them – it's definitely not health food) then this kit is a doddle to put together.
Twenty-five quid gets you four posh patties and brioche buns, plus bacon, cheese, pickled onions and trademark P&B mayo. (Vegan alternatives are available.) That adds up to two Ari Gold and two Smokey Robinson burgers, with detailed instructions on which order to stack the ingredients in. Warning: your kitchen will smell of beef fat for days.
If your perception of veganism is all Buddha bowls, açaí smoothies and watery dhal, then you've clearly not been paying attention. Like all humans, sometimes vegans just want to chomp into a juicy, salty burger. Rudy's Vegan Diner answered this call back in 2018, opening London's first eatery of its kind in Camden Market. Now, the plant-based pioneers are offering a four-person Dirty Burger kit for £36, and let me tell you, it's worth every penny. The assembly is about as simple as it gets: chuck those vegan milk buns in a pan, add the patties (which, if you're new to Rudy's, are borderline alarming in their meat-like texture and flavour), melt the 'cheese' on top and top it with 'bacon', pickles, mayo and lettuce. The 'bacon' doesn't have quite the same juicy realism as the patties, but does add the all-important crispy texture. Burgers are notoriously terrible at travelling, so getting them delivered as a meal kit instead of ready-made is a godsend. How did no one think of this earlier?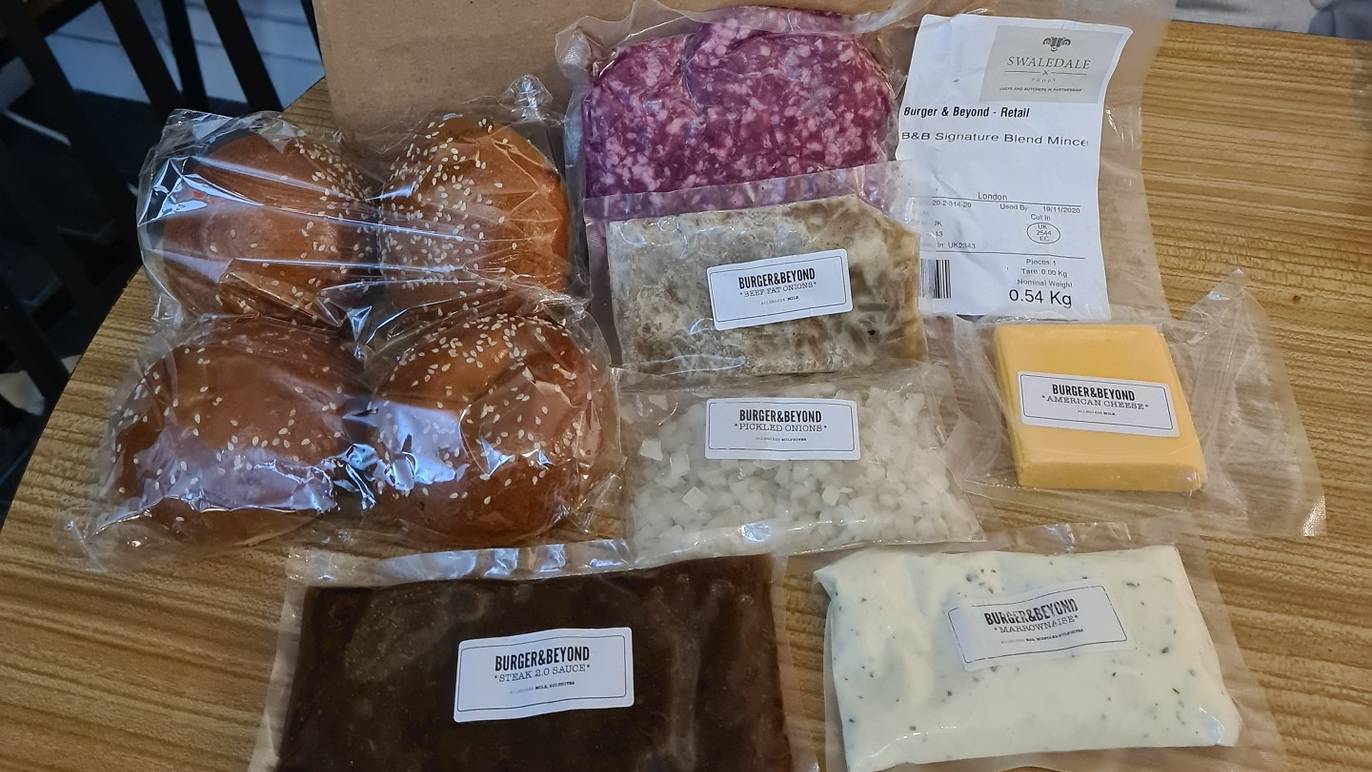 Considering you've got beef-fat onions, 'marrownaise', pickled onions and Burger & Beyond's Steak 2.0 sauce in these burgers before you've even thought about meat or cheese, 'bougie' is the perfect way to describe the contents of this kit. As well as the aforementioned ingredients, you get brioche buns, two types of American cheese and 35-day aged minced-beef blend – enough for four burgs. I'm a pretty big eater, but I'm not about to take down four of these beefy bad boys, so I called in three hungry housemates to help. I found making all four burgers at the same time on my own a bit of a challenge – there are quite a few pans involved – so getting some back-up is a good shout. The instructions are perfectly clear, but with so many ingredients, there's a lot going on. It was totally worth it for the end result, though, which all four of us agreed was damn tasty, if a little messy (some opted for the oft-shunned knife-and-fork option). Oh, and the price? £25 for the lot.
Not in the mood for burgers? How about a list of all the restaurant meal kits available in London?
The best pizzas you can get delivered in London these days.