It's not officially summer until the Royal Academy opens its annual extravaganza of floor-to-ceiling art, so get your lollies out and get ready to slap on the sunscreen, because next week, the Summer Exhibition flings open its doors to the public once again. This is a place where amateurs rub shoulders with megastars, where watercolourists from South Shields get to show their art next to Tracey Emin, and we've had a sneak peek.
This year's is the best we've seen in a while, (although Grayson Perry's eye-meltingly tedious 2022 curation is a low bar to meet). There is, as ever, a genuinely incomprehensible amount of reprehensible works by Michael Craig-Martin, but there's also a lot of great stuff to see. And there's something else going on, a kind of miserable, sombre vibe that we've never encountered at the Summer Exhibition, which makes for a nice change from the hectic, colourful maelstrom it normally is.
Here are ten things we loved at this year's Summer Exhibition
A lot of darkness
The last three rooms are full of images of empty streets, barren fields, dead trees, skull and lonely figures in dark rooms. There's a sad, suffocating atmosphere, a despair and loneliness that you just never see in the Summer Exhibition. If the show is meant to be a sort of state of the nation, reflecting the mood of the country, then things are looking pretty dour.
Various bogs
A couple of toilets (by A. Lincoln Taber), a urinal (by Thomas Wright) and some loo roll (by James Lloyd) really bring proceedings down to earth in a gallery filled with paintings of flowers and lemons.
Barbara Walker, 'The Sitter'
This painting is surrounded by big names - Tracey Emin, Chantal Joffe – but Walker's work stands head and shoulders above pretty much everything else it's shown next to. It's beautifully painted, tender, confident, and full of emotion and visual depth.
Jenkin Van Zyl, 'I Only Have Eyes For You' and 'Oblivion Industry'
Tim Shaw has curated a room full of weird, perverse, war-tastic, hyper-sexual artworks, but young British artist Jenkin Van Zyl still manages to stand apart with a sculpture of two biomorphic weirdos engaged in some kind of tango and a twisted, demonic photo.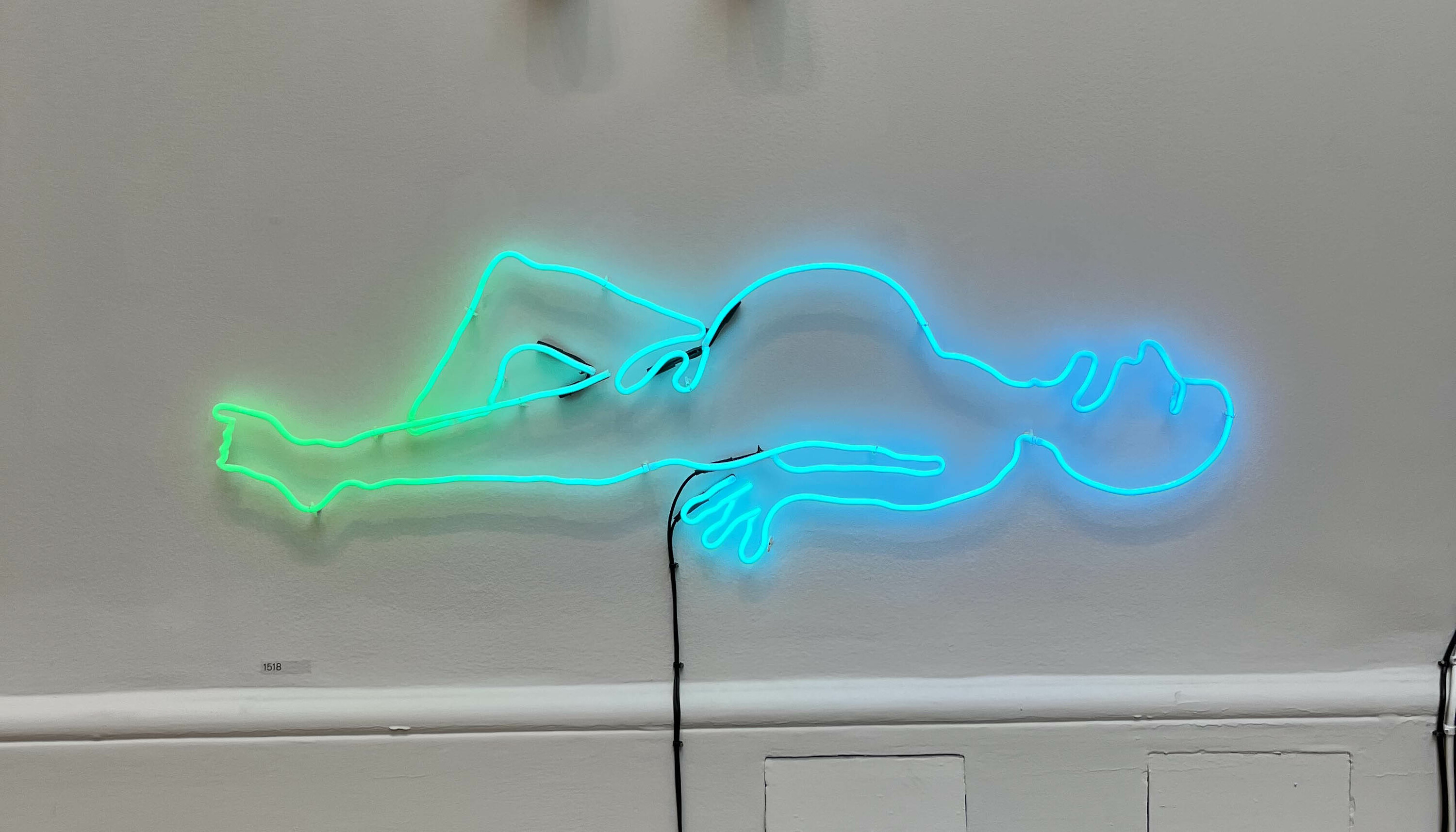 Daisy Doig, 'The Alcoholic'
Naughty neons are usually meant to tantalise, but Doig's does anything but: this is a neon all about shame, hangovers and boozed up misery.
Allen Jones, 'Arcade'
Jones has fallen out of favour since his 1960s heyday due to his perceived sexism and misogyny. He's not done himself a lot of favours with this massive vitrine of a nude cyber-woman on display, but you have to admire the singular dedication to his schtick.
Hang Zhang, 'Sam, The Red Flour Beetle'
Hanging high above the gallery, ready to pounce, is this insectoid visitor friend or foe? Is it going to cuddle or throttle you once it drops? I'm happy with either outcome.
Edmund de Waal, 'Five Stone Wind (for John Cage)'
I am an unapologetic sucker for de Waal, and this gorgeous, haunting, barely-there vitrine stacked with fragile porcelain absolutely does it for me.
Harriet Porter, 'The Blessing'
This neatly executed still life is ultra-quiet and super-minimal. But what it lacks in shoutiness, it gains in austere, calm beauty.
Rory Prout, 'Takakkaw Falls' and Marcus Walder, 'Pylon'
These two small works hung next to each other perfectly encapsulate the sombreness of much of the Summer Exhibition this year.
The Summer Exhibition opens Jun 13, more details here.
Can't wait? Here are the top ten exhibitions in London you can see right now.
Want more, but free? Here you go.