Free art in London
See great free art in London without splashing the cash on an admission fee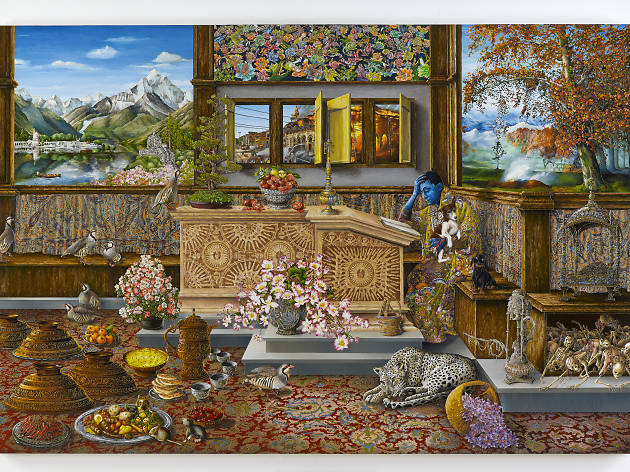 Looking at great art needn't cost the same as buying great art. With a shed-load of free art exhibitions in London, wandering through sculptures, being blinded by neon or admiring some of the best photography in London needn't cost a penny. Here's our pick of the best free art exhibitions this week and beyond.
RECOMMENDED: explore our full guide to free London
Free art exhibitions in London
There's nothing more revoltingly pointless than an inspirational quote. The kind of thing your aunt posts on Facebook: 'Life's not about the destination, it's about figuring out how to use the touchscreen ticket machine at the station' or some nonsense, slapped on a picture of a tranquil beach or a weeping kitten. American artist Jenny Holzer's work is decades' worth of statements, aphorisms, quotes and poetry. She takes words and sentences and plasters them over the streets, prints them on cups and condoms, engraves them into marble, and sends them stuttering at lightspeed along LED columns. Stood here surrounded by words in this small new display, what strikes you is both the power and powerlessness of language. The first room is covered in collected statements, things like 'the land belongs to no one', 'women love power', 'you should study as much as possible'. They're sentences presented and said as truth, advice, things to live your life by. But they contradict each other, cancel each other out. Some implore peace, others call for violence. You end up nodding at the ones that resonate, shaking your head at the rest. For you, those specific words work, for someone else they won't. Then you worry that just maybe none of it means anything. The only works that feel firm in their definition are the ones based on testimony from the Iraq War; here, lived experiences usurp interpretation. But everything else – the LEDs, the marble benches, the plaques – just makes you query
We're a gluttonous species, us humans. All we want is stuff. Stuff to fill our flats with, stuff to wear, stuff to stuff our faces with. The whole world is geared towards making stuff, selling stuff and buying stuff. Pretty sure that's the first thing you learn in economics class. Argentinian artist Mika Rottenberg knows all about stuff, capitalism, consumerism and all that business. Her show here at the brand new Goldsmiths Centre for Contemporary Art is rammed full of videos and installations that needle, twist and poke at economics, consumerism and commodities. One film finds rows of Chinese women sorting pearls, in turn powering a wheel which puffs flower pollen at a woman with hay fever; every time she sneezes, she produces a plate of noodles. It's a cycle of production for the sake of consumption where women are used and exploited. Again, it's just economics, and it happens over and over in Rottenberg's films here, whether it's a woman hawking her wares along the US/Mexico border or female wrestlers forming a production line that turns fingernails into maraschino cherries. It all just repeats and repeats. A lot of care has been taken here. You enter the pearl film through a pearl shop, the border film through a tunnel, a film about bingo via a giant rotating bingo machine. It's smart, it frames the films and sucks you into their worlds. Not going to lie though, I preferred the installations to the films. An air conditioner steadily drips water into a pot plant, a
You know nature is full of patterns – but turns out there's also loads that simply can't be seen with the naked eye. That's where science comes in: this exhibition reveals the pretty patterns that make up our world on a molecular and cellular level. But the Crick Institute has also commissioned artists to respond to them, with sound artist Chu-Li Shewring and poet Sarah Howe inspired by genomic data sets, and Helen Pynor's photographic installation exploring the movement patterns of the fruit fly. We're buzzing for it.