1/17
2/17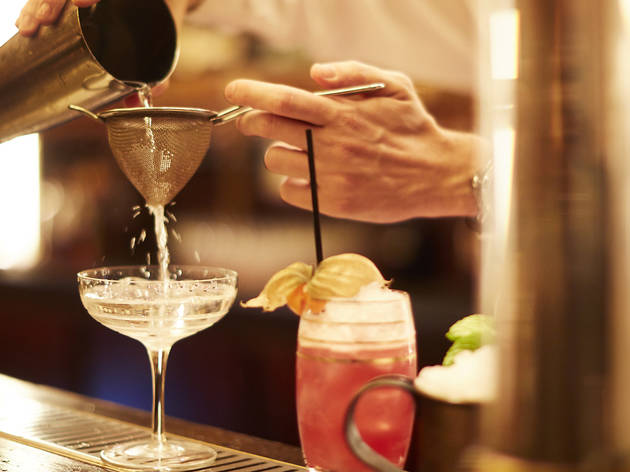 3/17
4/17
5/17
6/17
7/17
8/17
9/17
DAVID LOFTUS
10/17
11/17
12/17
13/17
14/17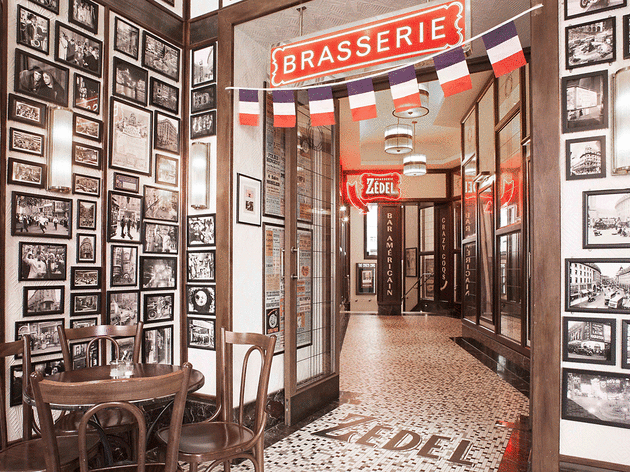 15/17
16/17
17/17
Time Out says
Restaurateurs Chris Corbin and Jeremy King, creators of the Wolseley and the Delaunay, have struck gold with this grand art deco basement brasserie. It's a huge set-up and attracts a mix of tourists, office types and couples. Affordable French staples are the big draw and set menus start at under a tenner for two courses. In the months after it opened, we'd been impressed by the quality of cooking and on-the-ball service, but recently we've detected a dip in standards.
In a meal of hits and misses, highlights included a generous main course of beef bourguignon – meaty chunks simmered in a robust red wine-onion-garlic sauce, accompanied by buttery mash. The haché steak was less impressive, though; instead of chopped meat being shaped and loosely held together, we were presented with a salty, overcooked burger patty. Chocolate profiteroles helped to restore faith – the perfectly baked crisp globes of choux pastry, crammed with splendid whipped vanilla cream, went down a treat with an indulgent chocolate sauce.
The house wine, priced at bargain basement rates, provides great value. Let's hope the kitchen brigade is back on track soon, and service staff numbers are increased at busy times.
Brasserie Zédel says
Located in the heart of Piccadilly, Brasserie Zédel is a grand and bustling Parisian brasserie with a spectacular 1930's original interior. With a relaxed and lively atmosphere, it is perhaps best known for serving traditional French food at remarkably good value.

Classics such as Soupe à l'Oignon, Steak Haché and Ile Flottante can be enjoyed for both lunch and dinner, with a two-course prix fixe menu available for just £10.50. From 9.30pm each evening, live music is played in the brasserie for diners to enjoy until close.

Alongside the brasserie, the building also plays host to an authentic American Bar – Bar Américain. In its glamorous Art Deco setting, the dark wood-panelled space is perfect for a pre- or post-dinner drink. Classic cocktails such as Hemingway Daiquiris and Planters Punch are served nightly, alongside a selection of wine, champagne and beers.

Just across the foyer, you will find The Crazy Coqs – an intimate live music venue. With a different show at 7pm and 9.15pm most evenings, expect cabaret, musical theatre, comedy and more. And every Saturday night, following the last ticketed event, 'Round Midnight takes to the stage – a free of charge, late-night music show for all to enjoy.

And don't forget the ZL Café – a relaxed French café and entrance to the Brasserie, which is open from 8am on a weekday (9am at the weekend). Enjoy a croissant with your morning paper, a salad niçoise for lunch or a glass of wine on the terrace in the evening.
Details
Address:
Brasserie Zédel
20 Sherwood Street
London
W1F 7ED

Transport:
Tube: Piccadilly Circus
Contact:
Do you own this business?
Average User Rating
3.7 / 5
Rating Breakdown
5 star:

15

4 star:

29

3 star:

7

2 star:

7

1 star:

5
Ate there last night with three friends inc. 2 veggies. Four people, three courses each, wine and kir = £95. Absolutely astoundingly good value, especially for Piccadilly. The food was delicious, especially the onglet. Vegetarian menu wasn't very extensive but the food was well received. And the dining hall... it's gorgeous. Who cares if it's a bit Vegas? It reminded me of Chartier in Paris for the glamour and sheer scale, but the service is London. Polite, attentive and friendly. I'm still getting over how good it was. Go!
A perfect lunch venue with ambience and no pressure to rush. The Prixe Fixe menu ideal and good quality.
Fantastic value for money. Lovely staff - I have already booked to go again!
We were a party of 8, the service was very good without being intrusive. The food was excellent at very keen prices. We had a good evening in very pleasant surroundings. We would highly recommend this lastest addition to the London scene.
worth it, just for the Wow factor. We ordered Steak Frites (without looking at the menu) and ended up with with a filet and chips... very good, and affordable at c£16. Cheapest wine on menu tasted delicous. I'll be back.
Wondering what to do with a free weekend that's a little bit different? Go to Zedel.
This gorgeous little gem tucked away from the hustle and bustle above it serves up something unique, fun and affordable (with a fixed menu starting at just £9.95)
It's pleasantly busy and the food will melt in your mouth but best of all is the decor. you'll feel like you just fell in to Great Gatsby with its stunning high ceilings, grand staircases and plush seating.
I would say that in the peak time, not surprisingly, the staff were a little distracted. Most notably clearing the table while I was still eating which is a big no in my books. Though aside from that they were quick to re-lay the table and kept us topped up with wine and water.
It's a treat for the eyes and the stomach – definitely would recommend
The classic French food is decent, and the prices – especially the set menus – are uncommonly reasonable for the West End. But the real reason to go is the setting. The very fact that such a huge, opulently decorated room exists so close to the gaudy noise of Piccadilly Circus is extraordinary. The fact that you can eat in it without having to sell an internal organ simply beggars belief. Take your parents – they'll lap up the classy ambience so much that they'll probably even offer to pick up the bill.
Hidden beneath Piccadilly Circus, this cavernous but gorgeous room lets you feel fancy without breaking the bank. The price fixe menu is perfectly reasonable and are actually items you would want to order (not like other places that put the duff meals on the cheap menu). I've taken various groups of people and they've all been thoroughly impressed. Don't scared to chance a walk-in here, the huge room means you won't have to wait long.
Decor: as you walk down the staircase you're literally travelling back in time. The beautiful interior makes you temporary forget you're actually in grime of tourist central. Food: probably one of the best value for quality in central London. My favourite is the beef bourguignon - perfect every time. I've never had a bad time there, and every friend I bring there always says they can't believe they there is a place like this in central and they can't wait to bring someone else here!
Tacky decor, much too large for any ambience, surly service, and bland food.
I love Brasserie Zedel! Not because the food is outstanding (it isn't) but because the setting, atmosphere and service are brilliant. Even waiting for a table to become free in the American Bar or upstairs (if there's room) is a pleasure. The food is basic French fare and can be a little hit or miss. The wine list is extensive and so there is something for everyone. The setting can't be beaten.

Seriously good value food in a stunningly beautiful room. They do turn tables quite quickly when it's really busy but given the prices and the sheer scale of the room that's understandable. And when it's less busy there's no rush at all. The steak hache is brilliant.
Great value for money and is a nice escape from the hustle and bustle of Piccadilly Circus. They have a great bar downstairs next to the main restaurant which has great cocktails and actually could be a good place for a date if you have decided for some reason to go super central! The restaurant hall is impressive (yes hall, it is huge) but not ideal if you are looking for something cosy and personal.
You can't really go far wrong with a Corbin and King venue but usually they're pretty pricey. Instead, this place is astoundingly good value - especially when you consider the glorious setting. Sure they turn tables really quickly - even when there are plenty of tables free (it's huge, so it's rarely completely full) - but you can hardly argue too much with that given the prices. Go for the steak hache - it's delicious.
I'm giving it 4 stars for the art deco design of this beautiful underground venue! The dining area is huge, the food is fairly standard but service is efficient. Took some friends from Oz and they still rave about it.