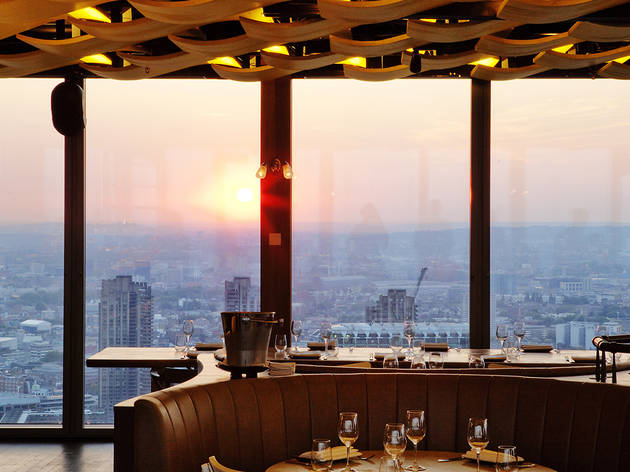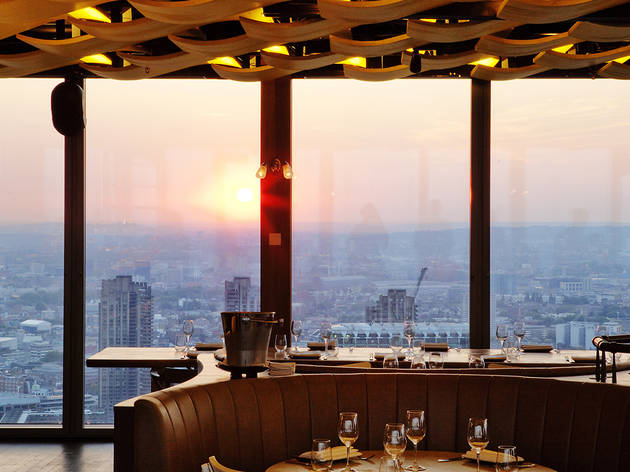 1/15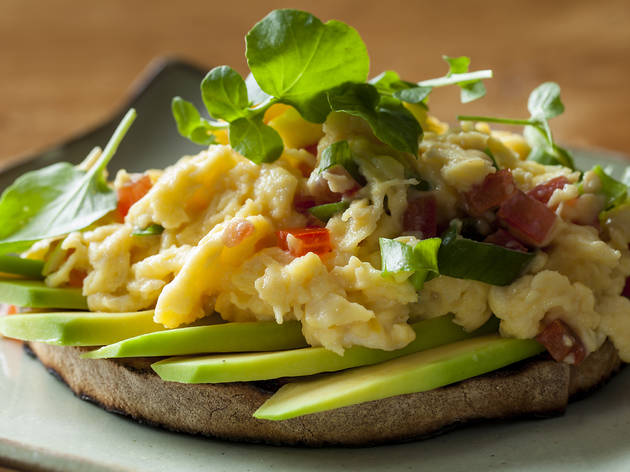 2/15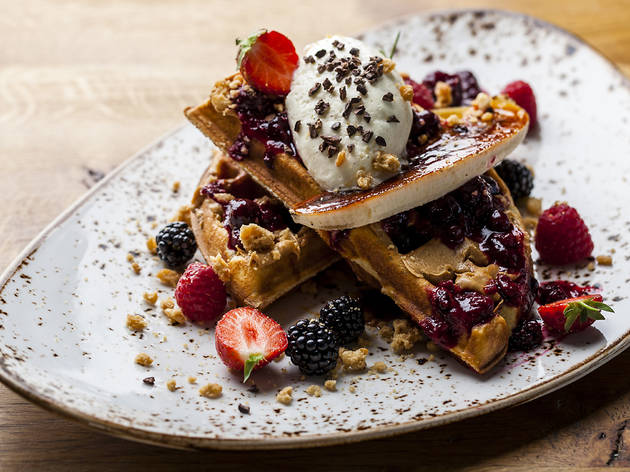 3/15
4/15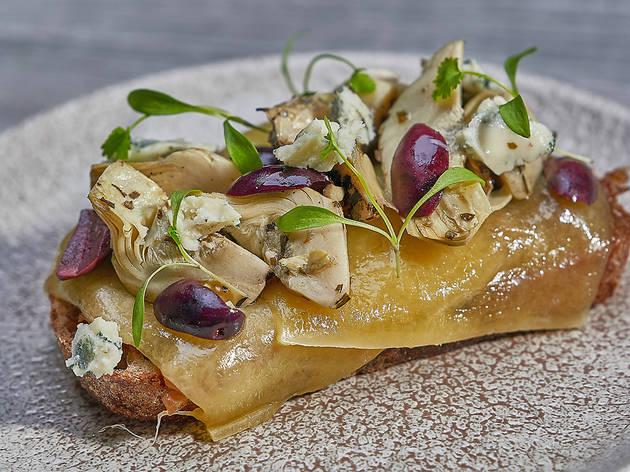 5/15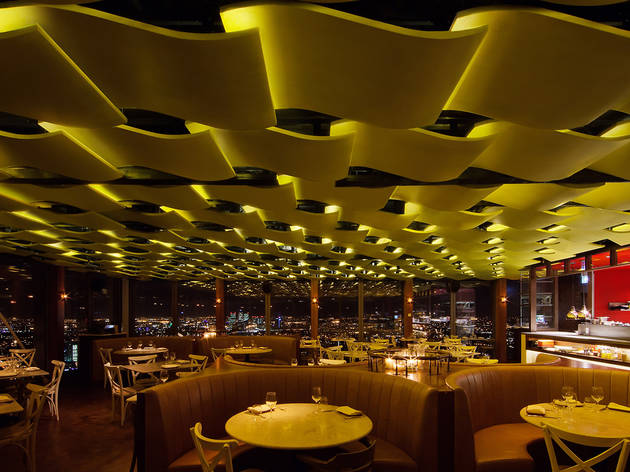 6/15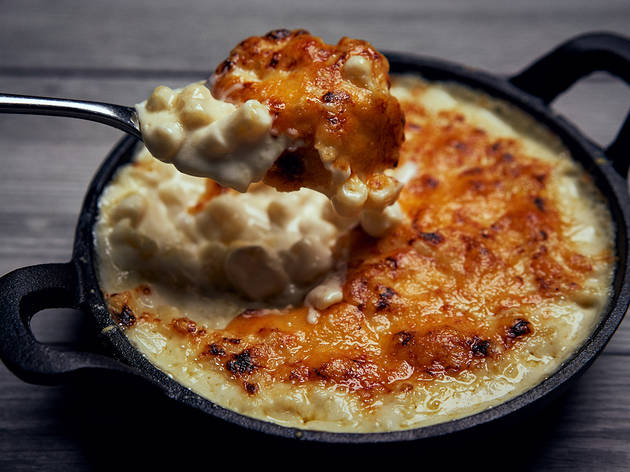 7/15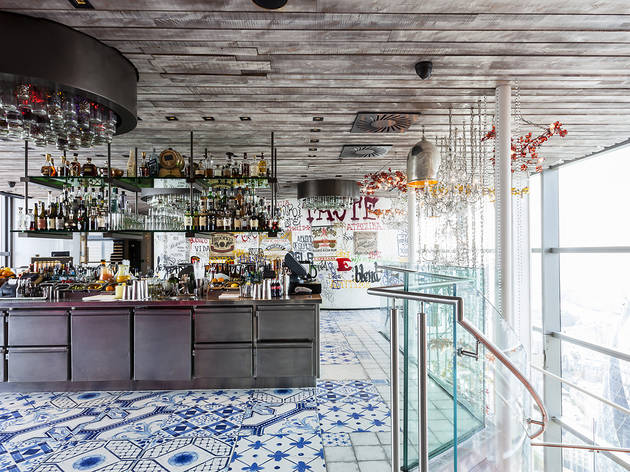 8/15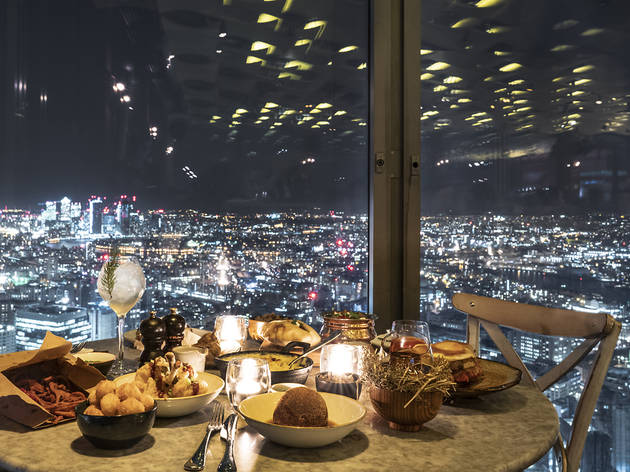 9/15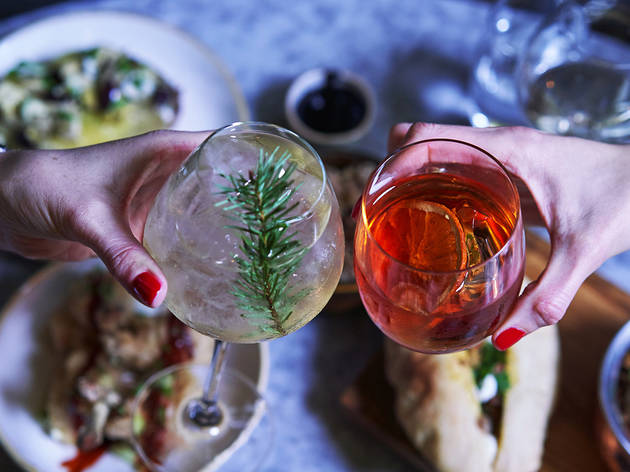 10/15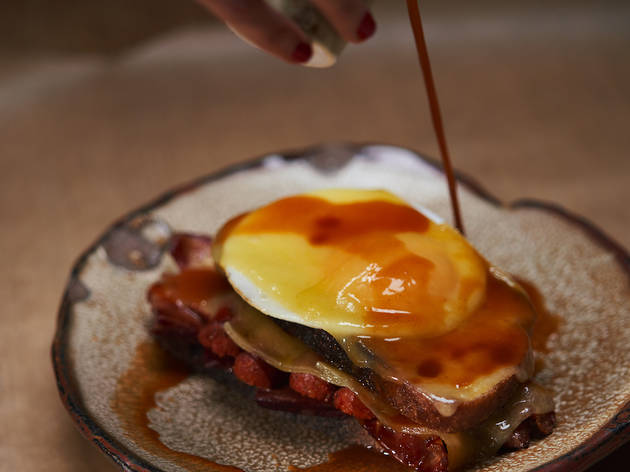 11/15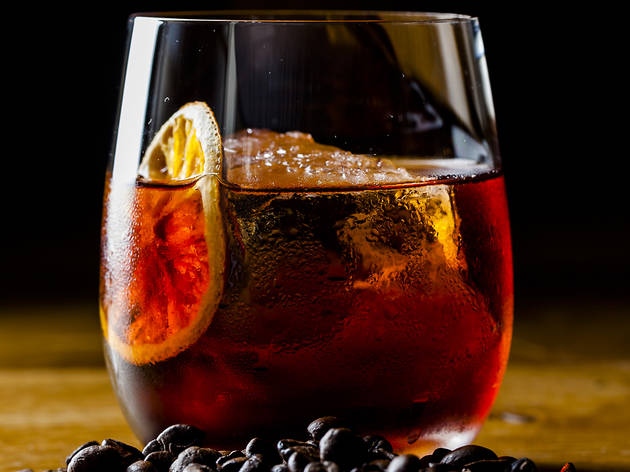 12/15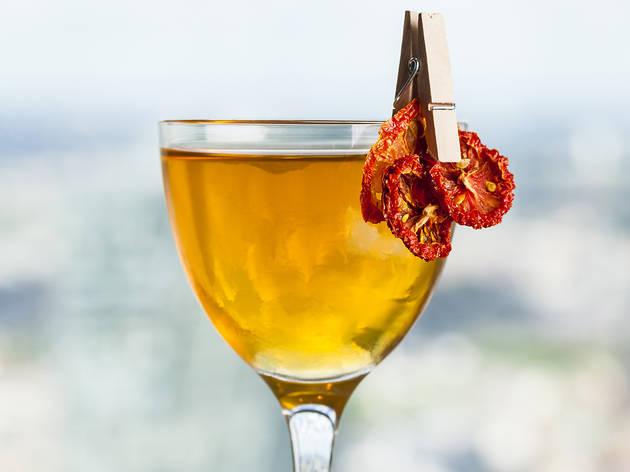 13/15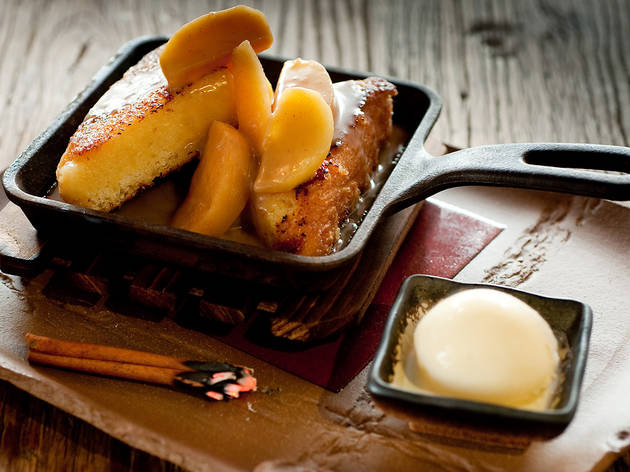 14/15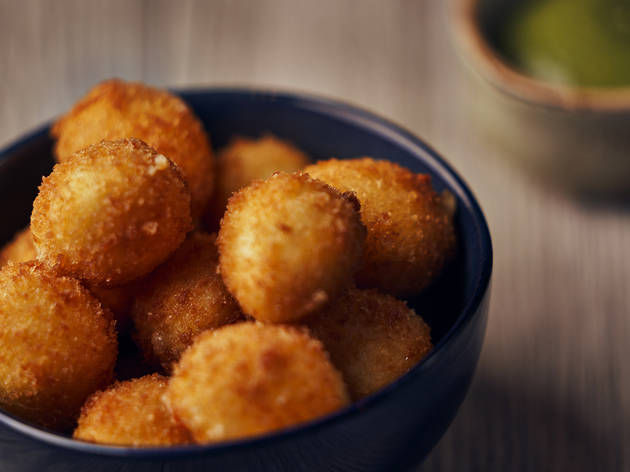 15/15
Time Out says
There's a dedicated entrance for the restaurants in Heron Tower, from where a glass lift will whizz you in seconds up to Duck & Waffle on the 40th floor, or its glitzier sibling Sushisamba two floors below. The views are, as you might expect, stunning – if you're pointed in the right direction and, preferably, sitting at a window table (many of which are for two diners only). Alternatively, linger in the entrance bar, where you can press your nose against the glass and gawp unhindered. Food is an on-trend mix of small plates, raw offerings (oysters, ceviche) and a few main courses (including roast chicken and the namesake duck confit and waffle). Our dishes ranged widely, from the spot-on (three dense pollock balls in creamy lobster sauce) to bonkers (who thought it a good idea to combine beetroot chunks with watery goat's curd and sticky knobs of honeycomb crisp?). Prices are as sky-high as the setting; it cost £8 for a harissa-tinged herdwick mutton slider that was undoubtedly tasty, but came unadorned and vanished in a mouthful. Desserts of cold rice pudding, and chocolate brownie sundae, were better (and bigger). Service wavered between keen and offhand. Another downer: all that glass, plus marble and wood tables and a low ceiling (with yellow 'waffle' design) mean the acoustics are terrible. D&W is open 24/7, so breakfast or late-night snacks are further possibilities.
Duck & Waffle says
Duck & Waffle offers a playful take on traditional British cuisine with broad European influences emphasizing local, rustic, seasonal and sustainable ingredients.Designed for sampling and sharing and are complemented by an iconoclastic cocktail experience served in a vibrant atmosphere.
Details
Address:
Heron Tower
110 Bishopsgate
London
EC2N 4AY

Transport:
Tube: Liverpool Street
Contact:

New

Private events:

This venue has areas available to hire for private events

More info

Do you own this business?
Average User Rating
3.9 / 5
Rating Breakdown
5 star:

29

4 star:

28

3 star:

11

2 star:

7

1 star:

4
Obsessed with this place, and I'll definitely be returning. I took friends visiting from NZ just after Christmas, the only reservation we could get was 7.30am so it was an early morning, but well worth it. Between the three of us we tried the duck option and the banana/chocolate sweet option, and both were fantastic, as were the waiters and general atmosphere. The sun rose over the city around 8.15am too so we were treated to a wonderful view. I'll be taking all my friends who come to visit!
Duck & Waffle has been on my "wish list" of restaurants for so long and I'd heard such great things about it so I had mega high expectations going in. The fancy building and super-fast lift was very impressive and I like the decor on the inside. I was also surprised to see how small it was which probably explains how hard it is to book online! Because of the height you're at, the views of London are spectacular and pretty much all the tables have some view of it.
Food-wise, we (I went with my boyfriend) went for the pig ears, the nduja & gruyere bread, the ox cheek doughnut, foie gras creme brulee and of course a duck & waffle. The pig ears were quite good with a nice amount of spices to season it but it got quite samey very quickly rather than being the moreish snack I was hoping for. The bread was delicious, freshly baked, it was the perfect softnes and the nduja gave it a great flavour. The ox cheek doughnut was disappointing since I am a huge fan of ox cheek but it was huge and too densely packed. I found the apricot jam overpowering and it overshadowed the ox cheek which was a shame. The foie gras creme brulee was just a bit much for two people, the foie gras was delicious but had a very strong flavour so we found it hard to finish it all. The redeeming dish was the duck and waffle, the duck was perfectly cooked and when eaten with the waffle, the flavours melded together really well. It was a good portion size and this is the only reason I'd go back.
All in all, I was quite disappointed, having heard such great things and it's not exactly cheap but I would recommend going for the duck & waffle and the freshly baked bread.
To celebrate my birthday, a few friends and I visited Duck & Waffle for Sunday brunch. I booked weeks in advance to ensure we'd get a reservation.
On entry to the building, you are greeted and reservation checked before being directed to the bank of lifts. Hold on to your stomachs because the elevation speed is pretty intense but the views are pretty outstanding. This one is not for anyone scared of heights or a poor traveller.
You exit the lift into a casual bar area with the restaurant at the back.
Food was enjoyable, service was ok (a little snooty, not super friendly) and the price was what you'd imagine. I had a coconut cocktail which was delightful and the 'Full Elvis' pancakes were pretty awesome.
Great spot for a celebration or indulgent meal out but I wouldn't rush back.
The 8-week wait for the dinner experience here on the 40th floor of Heron Tower was well worth it. The signature duck and waffle is a must-try main, it's strange how poultry, waffle and maple syrup really go together! Aside from the food, the views really are spectacular on a clear day. I highly recommend trying to book a table for a time close to sunset as it will make your experience that much more memorable and worthy of the price. Don't expect the restaurant to be very spacious or quiet as it was noisier and smaller than I was expecting, nevertheless I enjoyed the experience and hopefully, I will be able to try their brunch next time~
I have been to Duck & Waffle for two birthdays, one for breakfast and the other for their late night menu. Trying to organise breakfast for my birthday is always complicated because of friends schedules etc but the team at Duck & Waffle were extremely helpful and patient. Breathtaking views of London and I think their late night menu is such a cool concept filled with innovative ideas and super tasty twists on classics like the foie gras creme brulee and BBQ spiced pig ears. I love following Tom Cenci (who is their Executive Chef) on twitter and instragram, here's fair warning though because his posts will make you hungry!
Great place to eat, the food is really different and I really enjoyed the flavours. I myself cant go past anything that has 'creme brulee' in the title even if it is 'foie gras' inspired and let me tell you I was glad I had it. However when it came to the drinks side of things that's where they get you. A bottle of wine being minimum £50 and the cocktails are well, erm hard core being the only phrase that can do them justice. All in all my friends and I will be returning as its a great atmosphere and relatively okay for the price if you convince yourself its for an occasion. Agree with previous comments that the food is 'heavy' so consider sharing a starter and main and desert some way or another if not just to be able to try more things then save the ££ for the wine. Not day to day budget friendly but splash out and book a table at crazy o'clock as its the reason I wanted to check it out cos its open 24/7.
Contemporary elegance meets fine dining. I made sure to book a month in advance to ensure a table right next to the window, which is definitely worth doing as the views are extraordinary! The staff treated us like royalty from start to finish and even offered to take photos of our group without us having to ask. We started the meal with some of their weird yet beautifully crafted Christmas cocktails, I had the pumpkin and chestnut Bellini which both looked and tasted amazing! For the main I ordered the duck and waffle....which is go die for! On first thoughts, the idea of a crispy duck leg on a sweet waffle topped with a fried egg and maple syrup didn't really appeal to me, but I urge everyone to try it, the combination of flavours are overwhelming and unique. We had some more cocktails after the meal and enjoyed the rest of our time in the chilled and relaxing atmosphere. What topped the visit for me even further was the fact that the hole room was festively decorated, making us feel really Christmassy! Although not ideal for people on a budget, an amazing night out overall which must be experienced!
Food was good, our waiters were really kind and polite but the manager slightly ruined our experience. We got in with a reservation for 10.30am on Wednesday 8/11 and we got a table in the middle of the room. However, as soon as we started to look at the menu, 2 tables by the window became available so we kindly asked to be seated in one of them. Our waiter said that would be possible but then came back after speaking with the manager saying that it wasn't going to be possible after all. After that, during our meal, 3 more tables became available and for one hour no one was sat there so in total, there was 5 tables by the window available just empty!!! At the end of our meal, we were given a feedback card and obviously after this situation we wrote our feedback and also our experience about not being able to move to 1 of the 5 window tables available. Our waiter, politely handed over the card to his manager, who, after reading it threw it in the bin straight away! As you can understand, we don't expect this from a restaurant like Duck & Waffle and being the first time there, we were not impressed that we weren't even given a reason why we couldn't move tables and that the manager treated us unkindly. For this reason, we are attributing it only 2 stars.
Views with a side of incredible food, don't forget to take Rennie with you.
Really clever menu with an interesting mix of flavours and ingredients. The signature dish, Duck & Waffle, is a must! Prices are high but to be expected given the quality of food (although portions often on the small side), attentive service and stunning view. Bar is super busy, so be prepared to hover if you want to have a pre-dinner cocktail!
I was desperate to try the Duck & Waffle, and my new boyfriend took me for my 30th birthday. I was treated like a princess, the staff were amazing from the moment we arrived and had saved us the best table right by the window (which is not recommended if you are scared of heights!) Our meal was flawless and the wine was fantastic. Really lovely treat and not expensive for London prices!
Didn't get to eat as my friend and I were told we'd have to wait an hour before even getting on the waiting list. Opted for a cocktail at the bar, both of which were appalling. The ristretto negroni is an abomination I'm sorry to say, truly foul.
However, the saving grace were a couple of portions of the crispy pigs ears. Smokey and crunchy, coupled with the views, just about brought me back round. I will try D&W again, but I'm not desperate to rush back.