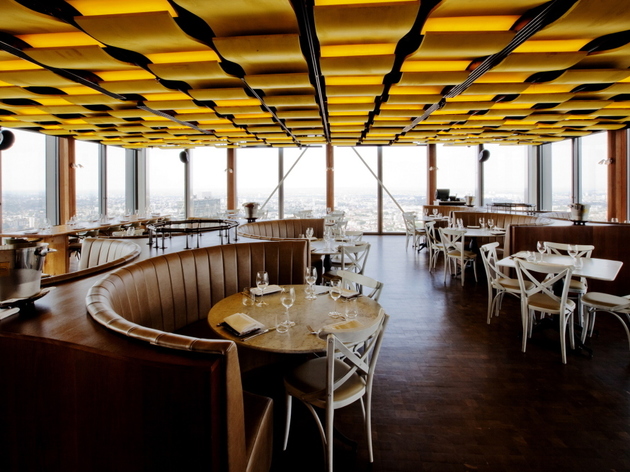 There's a dedicated entrance for the restaurants in Heron Tower, from where a glass lift will whizz you in seconds up to Duck & Waffle on the 40th floor, or its glitzier sibling Sushisamba two floors below. The views are, as you might expect, stunning – if you're pointed in the right direction and, preferably, sitting at a window table (many of which are for two diners only). Alternatively, linger in the entrance bar, where you can press your nose against the glass and gawp unhindered. Food is an on-trend mix of small plates, raw offerings (oysters, ceviche) and a few main courses (including roast chicken and the namesake duck confit and waffle). Our dishes ranged widely, from the spot-on (three dense pollock balls in creamy lobster sauce) to bonkers (who thought it a good idea to combine beetroot chunks with watery goat's curd and sticky knobs of honeycomb crisp?). Prices are as sky-high as the setting; it cost £8 for a harissa-tinged herdwick mutton slider that was undoubtedly tasty, but came unadorned and vanished in a mouthful. Desserts of cold rice pudding, and chocolate brownie sundae, were better (and bigger). Service wavered between keen and offhand. Another downer: all that glass, plus marble and wood tables and a low ceiling (with yellow 'waffle' design) mean the acoustics are terrible. D&W is open 24/7, so breakfast or late-night snacks are further possibilities.
Venue name:
Duck & Waffle
Contact:
Address:
40th Floor
110 Bishopsgate
London
EC2N 4AY

Cross street:
Heron Tower
Opening hours:
Breakfast served 6-10.30am, lunch served 11.30-3.30pm Mon-Fri. Brunch served 9am-3.30pm Sat, Sun. Dinner served 5.30pm-11pm, limited menu served midnight-6am daily
Transport:
Tube: Liverpool Street tube/rail
Price:
Dishes £17-£38
Menu:
View Menu
Do you own this business?
Average User Rating
3.8 / 5
Rating Breakdown
5 star:

20

4 star:

22

3 star:

7

2 star:

7

1 star:

4
Great place to eat, the food is really different and I really enjoyed the flavours. I myself cant go past anything that has 'creme brulee' in the title even if it is 'foie gras' inspired and let me tell you I was glad I had it. However when it came to the drinks side of things that's where they get you. A bottle of wine being minimum £50 and the cocktails are well, erm hard core being the only phrase that can do them justice. All in all my friends and I will be returning as its a great atmosphere and relatively okay for the price if you convince yourself its for an occasion. Agree with previous comments that the food is 'heavy' so consider sharing a starter and main and desert some way or another if not just to be able to try more things then save the ££ for the wine. Not day to day budget friendly but splash out and book a table at crazy o'clock as its the reason I wanted to check it out cos its open 24/7.
Food was good, our waiters were really kind and polite but the manager slightly ruined our experience. We got in with a reservation for 10.30am on Wednesday 8/11 and we got a table in the middle of the room. However, as soon as we started to look at the menu, 2 tables by the window became available so we kindly asked to be seated in one of them. Our waiter said that would be possible but then came back after speaking with the manager saying that it wasn't going to be possible after all. After that, during our meal, 3 more tables became available and for one hour no one was sat there so in total, there was 5 tables by the window available just empty!!! At the end of our meal, we were given a feedback card and obviously after this situation we wrote our feedback and also our experience about not being able to move to 1 of the 5 window tables available. Our waiter, politely handed over the card to his manager, who, after reading it threw it in the bin straight away! As you can understand, we don't expect this from a restaurant like Duck & Waffle and being the first time there, we were not impressed that we weren't even given a reason why we couldn't move tables and that the manager treated us unkindly. For this reason, we are attributing it only 2 stars.
Views with a side of incredible food, don't forget to take Rennie with you.
Didn't get to eat as my friend and I were told we'd have to wait an hour before even getting on the waiting list. Opted for a cocktail at the bar, both of which were appalling. The ristretto negroni is an abomination I'm sorry to say, truly foul.
However, the saving grace were a couple of portions of the crispy pigs ears. Smokey and crunchy, coupled with the views, just about brought me back round. I will try D&W again, but I'm not desperate to rush back.
Amazing food. Amazing view. Great service and reasonable! Would highly recommend it.
Views amazinggggg.. Food, interesting and actually good value for money.. Service, omg so bad.. So so so badd.. Really spoilt the whole experience.. Its as if they've employed people based on how lazy they are, or may be they provide service based on a certain threshold of spending, beats me!!! Didn't even go while it was busy *grrr* Still, despite that.. Its worth a visit
Breath taking views, amazing cocktails and fabulous concept royally ruined by incompetent staff - who sat us down late, with little apology, we had to ask for menus, to order drinks and they managed to miss items off our order. When chased an apology seemed hard work. The manager made good by making allowances off our bill but then preceded to forget our order of wine – almost laughable! Having been to Sushi Samba and had impeccable service I was shocked! Id pay the extra and go there next time!
Every dish is absolutely delicious and creative associations of ingredients will surprise you. Go for a late lunch and watch the view change as the night comes. Have a cocktails looking down at the City later at the bar.
Went for my husbands birthday, and although the food wasn't amazing, the concept and creativity behind it was great! The service was fantastic and all the stuff friendly and helpful, and eger to please. The view is breathtaking! I'm sure if it's possible to go just for drinks, I would however love to just sit back admire the view and sip on a cocktail!
Amazing food amazon views. Great ambiance. Strongly recommend it.
Really excellent lunch, the food was tasty, view outstanding and the price was reasonable.
Amazing, yes simple but very clever! Very good food, nice restaurant and great, friendly service... did I miss something, aww yes, the view. Brilliant place!
Innovative food, great service, and the best view of the best city in the world. Makes you proud to be in London.
Show More
More venues
Sponsored listings