Late-night bars and pubs in London
Now London has its 24-hour tube at the weekends, you have no excuse to go home to bed. Hit up these late-night bars and pubs in the capital to quench your thirst into the early hours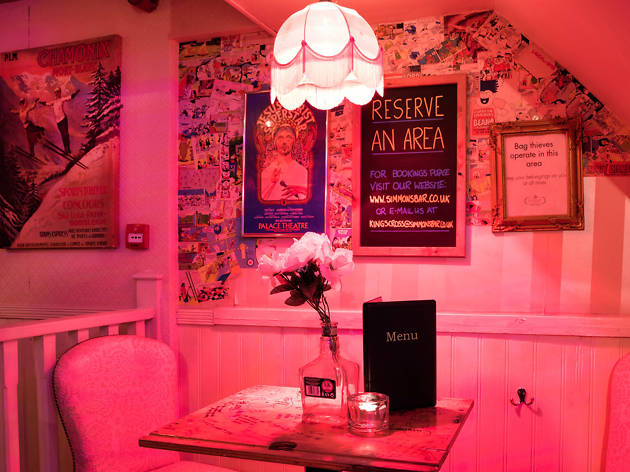 With the 24-hour tube at weekends, you can plan proper nights out in London. Our glorious capital isn't best known for its late-night drinking spots, so to help you avoid the hapless plod around town looking for more liquor, here's our guide to London's late-night bars and pubs.
Late-night bars in central London
Until 2am
This blue-painted (natch) venue benefits from a late licence (2am on Fridays and Saturdays) and a specialist music policy. Overall, a likeable student-bohemian vibe sets this place apart from the trendier spots along bar-lined Kingly Street.
Read more
Until 2am
Looking for the ultimate nightcap? You've come to the right place. Black Rock is a small whisky bar with a great USP, housing an old oak tree that acts as a table but also doubles as a vessel for two 'whisky rivers' you can drink from. Dram, girl.
Book now
Read more
Until 2am
This is a pretty romantic place for a nightcap. Choose indoors in the library-like interior or take a seat on the twinkly, cosy, vine-clad terrace. Tipples take their names from writers and thinkers who made up the Bloomsbury Set.
Book now
Read more
Venue says: "Accessed through the meat locker… a secret world full of quirky cocktails, metre-long pizzas and live entertainment!"
Until 2am
Don't come here looking for a quiet late-night drink. This is a gaudy, balls-out kind of bar with a wild Italian theme. Banquet on metres' worth of pizza and gallons of prosecco and indulge in an immersive evening out.
Buy tickets
Read more
Until 2am
Creative cocktails served in crazy glassware, a 1920s theme with flapper girl service and a modest look lit by flickering candles. There's a lot to love about this Clerkenwell hangout. And it stays open until 2am at weekends.
Book now
Read more
Until 2am
If you're feeling a bit drowsy post-midnight, hit this Waterloo bar plastered in neon and glowing from head to toe. It's one hell of a wake up, as are its sugary drinks from a playful cocktail menu and its tongue-in-cheek music selection... at least, we hope it's supposed to be tongue-in-cheek.
Book now
Read more
Until 2am
Located in a former Midland Bank, Nickel is less about exchange rates and more about hot dates. It's open until 2am at weekends if you fancy feeling flash in among your late-night crew. Nightcaps include whisky cocktails and a banging grapefruit negroni.
Read more
Venue says: "Join us every Wednesday for live music, unparalleled views of London and a special Grey Goose cocktail menu with drinks at £10. Book Now!"
Until 2am
Indulge in sky-high, late-night merriment at the Mondrian Hotel's rooftop bar the Rumpus Room. It's a mega-stylish spot for cocktails, flirting and fun on a terrace overlooking St Paul's Cathedral.
Book now
Read more
Show more
Late-night bars in north London
Until 2am
There are a few beacons of hope along Seven Sisters Road, such as the Bedford Tavern. It attracts a mixed crowd of long-time residents and younger newcomers to Finsbury Park. All seem to be completely at home in the darkly painted room, drinking craft beers into the early hours.
Read more
Until 2.30am
Tufnell Park has a welcoming dive bar in Aces and Eights, where rock 'n' roll plays on the jukebox, pizzas fly from the oven and whiskeys are served by the dozen. With all that party to be had, it's a ruddy good job Aces and Eights stays open until 2.30am on Fridays and Saturdays.
Read more
Until 3am
Housed in a large building, the King's Cross branch can feel a little tumbleweedy on quiet nights, but from Thursday to Sunday the bar usually has DJs keeping things lively until 3am. And it becomes quite the raucous joint, as it's one of the few open late these days in such a heaving part of town.
Book now
Read more
Venue says: "Open until late with live music, we're the perfect host for celebrations. Book a birthday party on Fridays and get a free round of shots!"
Until 3am
This iconic Camden venue has live jazz and DJs until 3am on Fridays and 3.30am on Saturdays. There are around 50 bourbons in a variety of categories, so you probably need all that time to 'explore' the extensive menu.
Buy tickets
Read more
Until 3am
Its rock 'n' roll theme may be retro, but the late opening hours at Joe's on Chalk Farm Road are nothing but forward-thinking. The joint stays swinging (often quite literally when the Lindy Hop lovers stop by) until 3am every single day of the week. We're thrilled somebody is maintaining Camden's reputation as the place for a late-night knees-up.
Read more
Until 3am
This DJ bar still attracts a studenty, music-savvy crowd to what looks like a cross between an old-style corner newsagents and a Shoreditch-like retro bar. Fantastic Four comic albums, board games in tatty boxes and furniture both wobbly and ratty are juxtaposed with a disco ball and a United Nations of beer cans on display. As for actual liquid nectar, drinks include cocktails and taps of Amstel and Tiger atop a tiny bar, behind which packets of Refreshers and Wizz Fizz offer childhood allure.
Book now
Read more
Until 3am
Few bars stay open late all days of the week the way Slim Jim's Liquor Store does. This Upper Street haunt is alive and kicking until 2am from Monday to Wednesday, and then keeps its doors open until 3am from Thursday to Saturday. This makes a 1am closing time on Sunday look modest (it's really not in Islington!). Drop in for DJs, cocktails and quality whiskeys.
Read more
Until 4am
The Dead Dolls House has moved from its supposedly temporary Hoxton base (which actually lasted 18 months) to this sprawling three-storey site, formerly House of Wolf. Expect the same mix of live jazz and resident DJs until 4am on Fridays, Saturdays and Sundays.
Read more
Until 4am
The oak panelling and plethora of leather sofas gives The Winchester a country-house-hotel feel, with space to lounge, a dining area on ground level and room to jump around (mind your head!) downstairs. It's open pretty much all day at weekends so manages to surf from lunch to sub-bass driven beats at 2am.
Read more
Late-night bars in east London
Until 2am
Frozen banana daiquiri to perk your evening up? At Bad Sports, the good times keep rolling until 2am. Come for banter from bar staff, insanely good cocktails and, inevitably, shots.
Read more
Until 2am
Given its location right by Old Street station, Canvas Bar is definitely worth knowing about for fans of spontaneous late-night carousing. You could crawl there from the tube in three minutes and carry on until 2am.
Read more
Until 2am
An Art Deco cinema that's been transformed into a multi-purpose bar, come for DJs until 2am come weekends and cocktails served from the ticket booth.
Read more
Until 2am
A popular bar in the heart of Shoreditch. Great for group outings, especially if you're up for sharing pizzas and getting up on that dance floor.
Book now
Read more
Until 2am
Open until 2am on Thursdays, Fridays and Saturdays, Ridley Road Market Bar always has a queue winding down the road as soon as night falls. But it's well worth the wait to get a spot on the dancefloor underneath the mirror ball for a spot of cosmic disco. Grab a ginger mojito and let the good times roll.
Read more
Until 2am
Tunes range from disco to R'n'B, the cocktails are off the hook and the punters are hella friendly. Ruby's is a late-night go to for many as soon as the weekend hits.
Book now
Read more
Until 2am
Speakeasies sure do suit an after-hours visit. Pop down to Worship Street Whistling Shop for Victorian-styled cocktails and dark goings-on until 2am on Fridays and Saturdays.
Book now
Read more
Until 3am
This Kingsland High Street hangout is a bit of a face on the east London party scene. In true Dalston style it's home to all sorts: popular with a large and diverse LGBT crowd, but welcoming to all and everyone. DJs – mostly local, many well-known – keep feet dancing with sets from Wednesday through to Sunday.
Read more
Until 3am
The George Tavern is thought to be one of the oldest pubs in London, with the current building dating back to the Georgian era. The historic feel has been meticulously preserved, making it a late-night spot that's full of character (and characters).
Read more
Show more
Late-night bars in south London
Until 2am
This pub on Borough High Street is one of the few in the area that's still jumping beyond midnight. When you're in a bleary-eyed state, getting up on Blue Eyed's late-night karaoke stage seems like a very good idea indeed.
Read more
Until 2am
Out on the town in Tooting? Carry on the party at Brick & Liquor, where classic cocktails have been given a twist (and a pun). Opt for a glass of Pisco Fever, perhaps?
Read more
Venue says: "Punktastic at Four Quarters, Phaedra's Love, James Hunt, Free. 7:30-10:30pm."
Until 2am
A dedicated classic and retro arcade games bar, The Four Quarters is the place to go if you want to brush up on your 'Street Fighter II' skills or just revel in nostalgia by playing 'Pac Man' until your eyes go square. They certainly will if you're playing until 2am.
Book now
Read more
Until 2am
Hard to spot but impressive once you find it, this converted tram shed incorporates a cavernous, chandelier-lit main bar and a smaller mezzanine, filled with decorative quirks. It's a laid-back bunch that mingles here into the wee hours on Friday and Saturday, either parked on turquoise-topped bar stools or lounging on the banquettes and antique armchairs.
Read more
Until 2am
Make a late-night trip to this Crystal Palace ale pub with eight pumps, craft beer in the fridge and a 1950s pinball machine you can stay glued to until 2am on Fridays and Saturdays, if you're that way inclined.
Read more
Until 2.30am
There's a lively roster of events at this Queen's Road Peckham pub, as well as a menu of jerk chicken treats to fuel you until the wee hours. Get on the dance floor for hip hop, R'n'B and disco nights that suit the young neighbourhood pretty well.
Read more
Until 3am
At around 3am at weekends, rowdy drunks spill onto the pavements of Clapham High Street from scores of bars and clubs. A few are for the discerning drinker; many are not. Fu Manchu raises the bar, even if a themed drinking spot is hardly an original idea. There's Chinese screens, dim sum snacks and cocktails with an Asian bent. DJs take over from 10pm and last until 3am on Saturday.
Buy tickets
Read more
Show more
Late-night bars in west London
Find bars and pubs for all times of day
London's drinking scene is one of the best in the world, with boundary-breaking cocktail bars taking mixed drinks to the next level, while traditional pubs bring you back down to earth in the best possible way. Should you be looking for the perfect pint or a cocktail beyond comprehension, our critics have rounded up their favourite bars and pubs across the capital on Time Out's list of the 100 best bars and pubs in London.
Read more
Sponsored listing
The Pepys Riverside Bar & Dining
The views are quite the draw at this pub and dining room right on the river - get the right seat and you can cast your eye all the way from Bankside down to London Bridge, and The Shard spiking the London sky. Inside looks good too though, with generous leather chesterfields, exposed brickwork, filament lightbulbs and interesting art all part of the recent refurb. Food comes from a varied menu ranging from burgers, dogs, charcuterie boards and salt and pepper squid to rib-eye steaks, pan-fried sea bass and calves' liver and bacon served with grilled tomatoes, a herb mash and a red wine jus. Stone-baked pizzas prove popular, with margheritas alongside marinaras, calzones and spicy diavolos - chorizo and chilli providing the heat.  Cocktails range from a maple old fashioned to espresso martinis, a house bloody mary and a candy floss - a mix of Beefeater gin, passion fruit liqueur, strawberries and cream. A range of mojitos are on offer, too. Wines take in the big-hitting regions of the wine making world, while beers are sourced from well-known and lesser-known breweries.