Late-night bars and pubs in London
Now London is getting a 24-hour tube at the weekends, we've gathered up late-night bars and pubs in the capital where you can quench your thirst into the early hours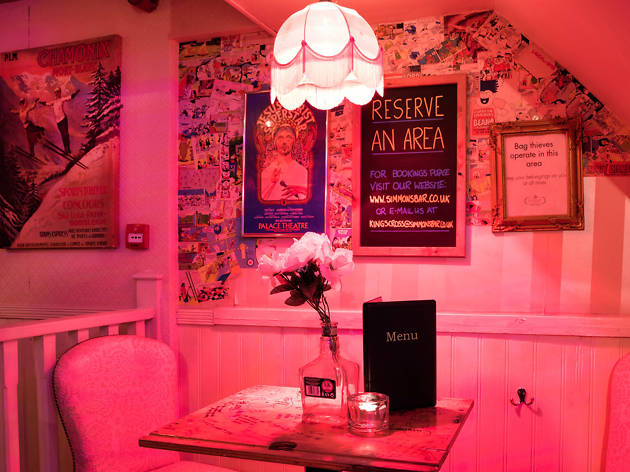 As the 24-hour tube gets going at weekends, it's time to plan proper nights out in London. Our glorious capital isn't best known for its late-night drinking spots, so to help you avoid the hapless plod around town looking for more liquor, here's our guide to London's late-night bars and pubs.
Late-night bars in central London
Until 2am
This blue-painted (natch) venue benefits from a late licence (2am on Fridays and Saturdays) and a specialist music policy. Overall, a likeable student-bohemian vibe sets this place apart from the trendier spots along bar-lined Kingly Street.
Read more
Until 3am
The Crobar is a modern legend of London's late-night inner-city life. The cramped, dingy split-level premises boast a fine jukebox, an extensive range of bourbons behind a well-stocked bar, and attitude (and amplitude) by the crateload. Its patrons tend to be of the black-clad, tattooed and intensely loyal kind. It's impossible to have a bad night out at this place; long may it rock.
Read more
Until 3am
El Camion is Mexican-themed but, unlike the kitsch Baja Californian restaurant above – where you can corral generous burritos, tortas and tacos – it's more a discerning basement drinking den downstairs where Día de los Muertos (Day of the Dead) iconography sits above a series of snugs. The drinks are overseen by maestro mixologist Dick Bradsell, there's swift and smiling table service, and it's open late.
Book now
Read more
Until 3am
A buzzing three-floor joint filled with trendy groups and dating couples absorbed in lively chatter. The door policy is a little strict at times, so perhaps it's not best suited for spontaneous trips. But if you're planning a late-night soiree, book a table and sip on outstanding cocktails.
Read more
Until 2.30am
A cheesy soundtrack of dance floor fillers and, um, Queen hits keeps central London party people going until 2.30am on Fridays and Saturdays and 1.30am during the week. People clamber up the stairs to the first floor for a boogie once other Soho and Fitzrovia joints have long shut up shop for the day.
Read more
Until 6am on Fridays and Saturdays
Balans is famed for moving seamlessly from dinner in the evening to late-night sessions to early-morning imbibing. A good selection of the global wine list is available by the glass, including champagne. But cocktails prove most popular, with frozen daiquiris and various martinis alongside an apple and elderflower collins, a passionfruit and pineapple swizzle and a monkey gland - Broker's Gin, absinthe, orange juice and grenadine.
Read more
Open 24 hours
One of London's few famed 24-hour spots, this historic Soho café was established in 1949 by Lou and Caterina Polledri, and quickly became a social hub for the Italian community in London. Despite several upgrades to the decor, much of the original fixtures still remain, from the red and white formica to the Gaggia espresso machine and the flooring.
Read more
Late-night bars in north London
Until 2am
There are a few beacons of hope along Seven Sisters Road, such as the Bedford Tavern. It attracts a mixed crowd of long-time residents and younger newcomers to Finsbury Park. All seem to be completely at home in the darkly painted room, drinking craft beers into the early hours.
Read more
Until 2.30am
Tufnell Park has a welcoming dive bar in Aces and Eights, where rock 'n' roll plays on the jukebox, pizzas fly from the oven and whiskeys are served by the dozen. With all that party to be had, it's a ruddy good job Aces and Eights stays open until 2.30am on Fridays and Saturdays.
Read more
Until 3am
Housed in a large building, the King's Cross branch can feel a little tumbleweedy on quiet nights, but from Thursday to Sunday the bar usually has DJs keeping things lively until 3am. And it becomes quite the raucous joint, as it's one of the few open late these days in such a heaving part of town.
Read more
Venue says: "Don't miss our Fever Tree ultimate gin and tonic summer bar every Thursday, Friday, and Saturday evening from June 8 to August 26."
Until 3am
A little drop of late-night sophistication is to be had at The Booking Office inside St Pancras International Station. The cocktail list, drawn up by Nick Strangeway and the late Henry Besant, gives a prominent place to traditional punches served in mugs. Knock 'em back until 3am on Thursdays, Fridays and Saturdays.
Book now
Read more
Until 3am
Its rock 'n' roll theme may be retro, but the late opening hours at Joe's on Chalk Farm Road are nothing but forward-thinking. The joint stays swinging (often quite literally when the Lindy Hop lovers stop by) until 3am every single day of the week. We're thrilled somebody is maintaining Camden's reputation as the place for a late-night knees-up.
Read more
Until 3am
This DJ bar still attracts a studenty, music-savvy crowd to what looks like a cross between an old-style corner newsagents and a Shoreditch-like retro bar. Fantastic Four comic albums, board games in tatty boxes and furniture both wobbly and ratty are juxtaposed with a disco ball and a United Nations of beer cans on display. As for actual liquid nectar, drinks include cocktails and taps of Amstel and Tiger atop a tiny bar, behind which packets of Refreshers and Wizz Fizz offer childhood allure.
Book now
Read more
Until 3am
The oak panelling and plethora of leather sofas gives The Winchester a country-house-hotel feel, with space to lounge, a dining area on ground level and room to jump around (mind your head!) downstairs. It's open pretty much all day at weekends so manages to surf from lunch to sub-bass driven beats at 2am.
Read more
Until 3am
Few bars stay open late all days of the week the way Slim Jim's Liquor Store does. This Upper Street haunt is alive and kicking until 2am from Monday to Wednesday, and then keeps its doors open until 3am from Thursday to Saturday. This makes a 1am closing time on Sunday look modest (it's really not in Islington!). Drop in for DJs, cocktails and quality whiskeys.
Read more
Venue says: "Free birthday bubbly for parties booking in for drinks at Blues Kitchen Camden on Friday nights. Get in touch for more details."
Until 3.30am
This iconic Camden venue has live jazz and DJs until 3am on Fridays and 3.30am on Saturdays. There are around 50 bourbons in a variety of categories, so you probably need all that time to 'explore' the extensive menu.
Book now
Read more
Until 4am
The Dead Dolls House has moved from its supposedly temporary Hoxton base (which actually lasted 18 months) to this sprawling three-storey site, formerly House of Wolf. Expect the same mix of live jazz and resident DJs until 4am on Fridays, Saturdays and Sundays.
Read more
Late-night bars in east London
Until 2am
Open until 2am on Thursdays, Fridays and Saturdays, Ridley Road Market Bar always has a queue winding down the road as soon as night falls. But it's well worth the wait to get a spot on the dancefloor underneath the mirror ball for a spot of cosmic disco. Grab a ginger mojito and let the good times roll.
Read more
Until 2am
Given its location right by Old Street station, Canvas Bar is definitely worth knowing about for fans of spontaneous late-night carousing. You could crawl there from the tube in three minutes and carry on until 2am.
Read more
Until 2am
Speakeasies sure do suit an after-hours visit. Pop down to Worship Street Whistling Shop for Victorian-styled cocktails and dark goings-on until 2am on Fridays and Saturdays.
Read more
Until 3am
This Kingsland High Street hangout is a bit of a face on the east London party scene. In true Dalston style it's home to all sorts: popular with a large and diverse LGBT crowd, but welcoming to all and everyone. DJs – mostly local, many well-known – keep feet dancing with sets from Wednesday through to Sunday.
Read more
Until 3am
The George Tavern is thought to be one of the oldest pubs in London, with the current building dating back to the Georgian era. The historic feel has been meticulously preserved, making it a late-night spot that's full of character (and characters).
Read more
Until 3am
This basement bar on Curtain Road has just extended its opening hours for the summer, so stay for cocktails that are strong, simple and on the sensible side of surprising until 2am during the week and 3am on Fridays and Saturdays.
Read more
Until 3am
Nightjar opened in 2010 and has become such a huge success that it now operates an online-only booking system, and charges your credit card if you don't show up. It takes away much of the spontaneity of late-night drinking, but it truly deserves its reputation as one of London's best bars – so book ahead.
Read more
Until 3am
The Shacklewell is usually crowded, but generally convivial, welcoming a hipster-ish crowd to gigs seven nights a week. There are also club nights, magazine launches and afterparties, all benefitting from a late licence (the pub stays open until 3am on Fridays and Saturdays).
Read more
Until 3am
The name of this Rivington Street cocktail bar comes from a common abbreviation of New Orleans, Louisiana. The Big Easy influence doesn't stop there though, with a soundtrack of jazz, blues and rock 'n' roll alongside a cocktail list inspired by the southern US city. Drop by for a Sazerac and just you try leaving before 3am.
Read more
Until 3am
A minimalist daytime bar and café that goes all edgy come evening, when other venues in the area have closed for the night. There are quality DJs, winning cocktails and the kind of debauchery Dalston is known for – last time we were here, we left covered in glitter. We're still unsure how or why.
Read more
Until 4am
Perhaps Mare Street's late-night booze house The Dolphin is notorious for all the wrong reasons, but for many, it's an end-of-the-night institution worth saving (thousands signed a petition to stop its closure). Open until 4am and with the cheesiest tunes in the area, it's always party o'clock here.
Read more
Until 4am
London's trend for pub-clubbing continues. During the day, The Horse & Groom is a good old East End boozer, but at night, the two-floor space turns into a disco hotspot. Thanks to some quality programming, some of the scene's best DJs, including the likes of Fabric's Craig Richards, Secretsundaze's James Priestley and the legendary Greg Wilson, have played in one of the pub's three rooms.
Read more
Venue says: "Duck & Waffle Local is a chef curated, fast casual restaurant featuring a duck driven menu with the highest quality, freshest ingredients"
24 hours
Although a 24-hour restaurant and bar sounds rock 'n' roll, just try rocking up. Duck and Waffle isn't the best place to play it casual, so maybe make a reservation for late-night revelry if you fancy getting high into the wee hours (40 floors high, to be precise).
Read more
Venue says: "To celebrate this year's tournament we will be serving a special Wimbledon inspired 'Centre Court Specials' menu from 3rd-16th July, 9am-6pm"
24 hours
Immediately opposite the main entrance to Liverpool Street station, this 24-hour café also serves local craft beers, English ciders and wines. It's probably more convenient for a late-night feed than for getting tanked up, but there's no denying its convenient location.
Read more
Late-night bars in south London
Until 2am
This pub on Borough High Street is one of the few in the area that's still jumping beyond midnight. When you're in a bleary-eyed state, getting up on Blue Eyed's late-night karaoke stage seems like a very good idea indeed.
Read more
Until 2am
A dedicated classic and retro arcade games bar, The Four Quarters is the place to go if you want to brush up on your 'Street Fighter II' skills or just revel in nostalgia by playing 'Pac Man' until your eyes go square. They certainly will if you're playing until 2am.
Read more
Until 2am
This bar is so trendy, you're best advised to book a table in advance. A sole bartender mixes creative drinks, and the artfully distressed interior suits late-night liasons. Small plates save the day if you're feeling peckish too.
Read more
Until 2am
Hard to spot but impressive once you find it, this converted tram shed incorporates a cavernous, chandelier-lit main bar and a smaller mezzanine, filled with decorative quirks. It's a laid-back bunch that mingles here into the wee hours on Friday and Saturday, either parked on turquoise-topped bar stools or lounging on the banquettes and antique armchairs.
Read more
Until 2am
Make a late-night trip to this Crystal Palace ale pub with eight pumps, craft beer in the fridge and a 1950s pinball machine you can stay glued to until 2am on Fridays and Saturdays, if you're that way inclined.
Read more
Until 3am
At around 3am at weekends, rowdy drunks spill onto the pavements of Clapham High Street from scores of bars and clubs. A few are for the discerning drinker; many are not. Fu Manchu raises the bar, even if a themed drinking spot is hardly an original idea. There's Chinese screens, dim sum snacks and cocktails with an Asian bent. DJs take over from 10pm and last until 3am on Saturday.
Book now
Read more
Until 3am
Underneath the revered Angels & Gypsies tapas restaurant in Camberwell's Church Street Hotel, this cocktail bar looks the part, with enough backlit stained glass to get Richard Dawkins on his knees. The superb drinks show real invention too, with the menu claiming that they take inspiration from local south London. Stay drinking until the very unholy hour of 3am on Fridays and Saturdays.
Read more
Until 4am
A Brixton institution from back when Coldharbour Lane was somewhere people feared to go, Dogstar is a big, three-floor street-corner pub exuding the urban authenticity loved by clubbers. Earning the accolade of being London's first ever DJ bar, Dogstar has managed to sustain a loyal following over the decades. The atmosphere can be intense, but it's never less than vibrant. Get down early to avoid a door charge.
Read more
Until 4am
Ekcovision recently opened under the railway arches on Brixton's Atlantic Road, sporting a short cocktail list and a 1920s theme. Likely to be a big draw for Brixton regulars is the bar's late opening hours, with drinks pouring freely until 4am on Fridays and Saturdays.
Read more
Until 6am
Okay, so you may have to pay a small charge on the door on Fridays and sign up to become a Canavan's club member, but who wouldn't want to join the gang at this pool-hall-turned-disco? It stays open until 6am, plus there's plenty of genuine, scruffy charm, cheaper booze than most and a down-to-earth approach to some superb electronic music.
Read more
Late-night bars in west London
Find bars and pubs for all times of day
London's drinking scene is one of the best in the world, with boundary-breaking cocktail bars taking mixed drinks to the next level, while traditional pubs bring you back down to earth in the best possible way. Should you be looking for the perfect pint or a cocktail beyond comprehension, our critics have rounded up their favourite bars and pubs across the capital on Time Out's list of the 100 best bars and pubs in London.
Read more
Sponsored listing
Barrio Shoreditch
This Shoreditch High Street spot is the east London outpost of the Barrio chain - a group with three bars specialising in cocktails, DJ sets, live music and food of a Mexican inflection.  There's a Latin slant to much of the music, with special events, DJ nights and live sets welcoming all things samba, a few Cuban beats, homages to Mexico and nights given over to the tango. They get the odd (relatively) big-name DJ in, too.  Cocktails prove big sellers - especially during the popular happy hours. Expect tequila, rum and cachaca to play lead roles in Brazilian ladys, pinata palomas, hand grenade highballs and the Barrio zombie - a sharing cocktail served in a porcelain lucha libre mask. Bites to eat include tacos, quesadillas, empanadas and nachos.
Venue says: "Our flagship cocktail bar, cantina and club features colourful quirky interiors, delicioso cocktails, live entertainment and DJs 'til dawn."