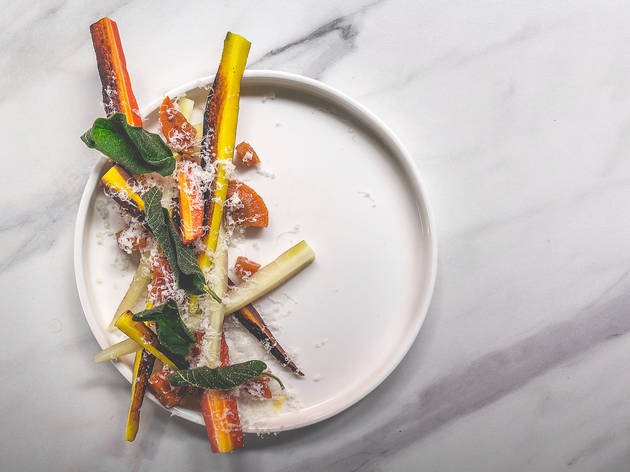 1/3
Photograph: Smoke and Salt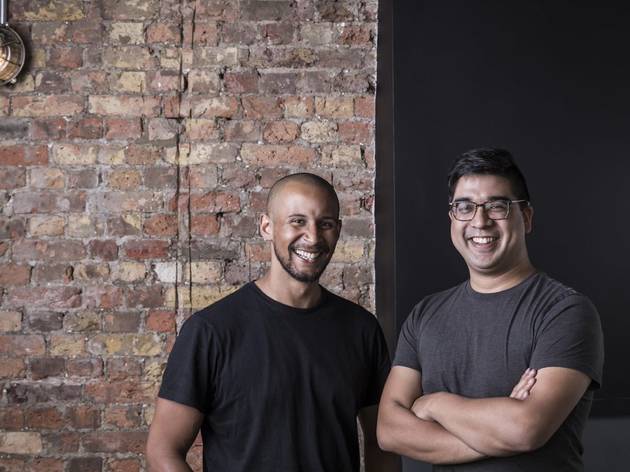 2/3
Photograph: Smoke and Salt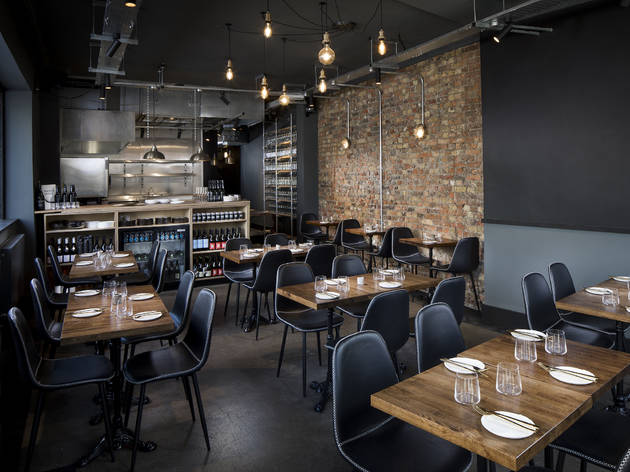 3/3
Photograph: Smoke and Salt
How to make Smoke & Salt's salt-baked carrot recipe
Re-create one of the signature dishes from this much-loved south London restaurant

Smoke & Salt is a big deal. Not only does it sit high on our list of London's best restaurants, but it was also recently named as one of chef James Cochran's favourite Black-owned restaurants. Run by Aaron Webster and Remi Williams, this Tooting-based restaurant focuses on small plates created with traditional methods like smoking and curing. As part of our Black LDN series, in partnership with Google, we asked the two chefs to share the secrets behind their salt-baked carrots with carrot buttermilk and sage.
Remi and Aaron say: 'Salt-baking is an age old method of cooking – the salt crust protects and enhances the flavour and the produce and we think it works really well with carrots as they tend to be on the slightly bittersweet side. Pepping them up with the salty crust, and pairing them with meaty sage, tangy cheese and rich, sweet carrot-y buttermilk, this is a great little gluten-free dish.'
Serves four.
500g heritage, colourful carrots, washed
Salt crust
500g chickpea (gram) flour
145g salt
100g sugar
175g egg white
75g water, cold
Carrot buttermilk
500g carrot juice, store-bought is fine
250g buttermilk
25g lemon juice
2g salt
Carrot vinaigrette
20g honey
5g English mustard
40g rice vinegar
80g vegetable oil
2g salt
Sage oil
175g vegetable oil
100g baby spinach
50g sage, leaves only
Ice
Garnish
20g sage, leaves only
50g firm, aged goats' cheese like the one from Quicke's Farm
First things first – tip your carrot juice into a pan and bring to the boil. We need to boil this carrot juice until only 50g remains, which may take up to an hour but you should be left with almost a caramel-like orange, carrot-y smelling syrup. Be careful you don't burn this. You can also use freshly juiced carrots if you have access to a juicer. Set this reduction on the side to cool.
Next, take your washed carrots and lie them in a large, high-sided baking tray. Preheat the oven to 180 degrees.
To make the salt crust, in a bowl you should weigh the dry ingredients – chickpea flour, salt and sugar – and give a little stir so they're evenly distributed. Next, add the egg white and cold water and mix with your hands until you get a sandy textured dough. Spread this salt crust all over the carrots in the baking tray, getting in between them and ensuring no carrots are exposed to the oven's heat.
Place the baking tray in the oven for 35 minutes and then take a skewer and pierce right through the crust and the central carrots – they should be soft and yielding, if they're still raw in the middle, allow to cook for another ten minutes. Remove the whole tray from the oven and allow to cool on the side for an hour.
Once the salt-crust carrots have cooled slightly, using your hands start to break open the salt crust. We're trying to extract whole carrots from the melee here. You may end up snapping a few in half – it happens.
Next, we're going to discard the salt crust, so rinse the carrots under some cold water to remove any excess salt – if some of the carrot skin falls away here, that's okay too. Drain your washed carrots and place into a container in the fridge.
Let's also make our green sage oil. You could just infuse olive oil with some sage leaves, and maybe even a clove of garlic at this point for an easy-flavoured oil, but in the restaurant we make a vibrant green sage oil.
Here's how – take a medium-sized heavy-based pot and put it on the heat. You'll want this pan to heat up for at least ten minutes and be screaming hot (turn that kitchen fan on); meanwhile, in a blender, blend the oil, spinach and half the sage (25g) until the leaves have broken down into the oil and everything has been fully blended (about three minutes). Next is what seems the counter-intuitive step – pour this oil and leaf mixture, carefully and confidently, into your very hot pan. Be warned – this will generate a lot of steam, bubbling and noise.
You want to stir this hot oil mixture with a spatula until all bubbles have ceased – this means that the water has been driven out the oil and will allow us to preserve the colour and flavour of the oil for longer. When this happens, drop in the remaining sage leaves and pour the contents into a heatproof bowl set over a bigger pan filled with ice and water. Stir this every five or so minutes. Once the oil is cooled, strain through a double layer of muslin and keep cold in the fridge (ideally in a squeezy bottle).
We need to mix the carrot buttermilk, so take the carrot juice reduction and mix this with the buttermilk, salt and lemon juice to get an awesome carrot buttermilk. It should be sweet and salty with a hint of that vegetal carrotyness. The best part is that it should be a beautiful pastel orange colour.
Next, we need to take the carrots and quarter them lengthwise so we get nice long batons. These will be grilled later so they're warm when we serve them.
Whip up the vinaigrette – in an old jam jar or into a squeezy bottle go all the ingredients bar the oil. Give it a good shake to dissolve the honey and mustard in the vinegar. Once this is done, add the oil and shake again. Set aside, we'll re-shake this when we use it later.
We also need to fry sage – we can do this in a deep fat fryer or in a little pot with oil. Heat the oil to 180 degrees and fry the sage leaves. If you're doing this in a little pot, I'd fry them 2-3 at a time and remove with tweezers or chopsticks. If you're going deep fat fryer, throw all the leaves in. The sage only needs about 20-30 seconds of frying, then out on to kitchen paper and seasoned with some salt. Ensure the leaves have room to drip their oil off and for evaporation of water in the leaf to finish. This should give us lovely sage crisps.
We first need to get the grill or griddle pan ready to go – this dish is perfect if you've already got the barbeque on. Take your carrots and use 6-7 batons per person, dress in a little veg oil and grill until they have some nice charred marks. They are already cooked and so only need 3-4 minutes on the grill to warm through. Remove from the grill, shake up the vinaigrette and liberally coat the carrots in the vinaigrette.
On the plate (or on a big platter in the middle of the table), pile up the carrot spears, place some buttermilk on the plate as a kind of dipping sauce and drizzle over the green sage oil for that visual contrast. Top this off with a few crispy sage leaves and a good amount of grated cheese and a few sprinkles of crunchy sea salt.
We're all about championing the people, communities and businesses that make London such an incredible city. And that's just one of the reasons why we've created this hub dedicated to some of the Black-owned businesses we love, in partnership with Google. Here you'll find everything from profiles of business owners to a very cool interview with Ashley Walters – the guest editor of our latest mag, which is dedicated to Black-owned businesses. We think you'll like it.
And remember: just because we may not be able to visit these businesses right now, there are still plenty of ways you can show your love. Click-and-collect, order takeaways, buy online and give them a Google review.
Best selling Time Out Offers
Support Time Out
We see you're using an ad-blocker. Ad revenue is Time Out's main source of income. The content you're reading is made by independent, expert local journalists.
Support Time Out directly today and help us champion the people and places which make the city tick. Cheers!
Donate now