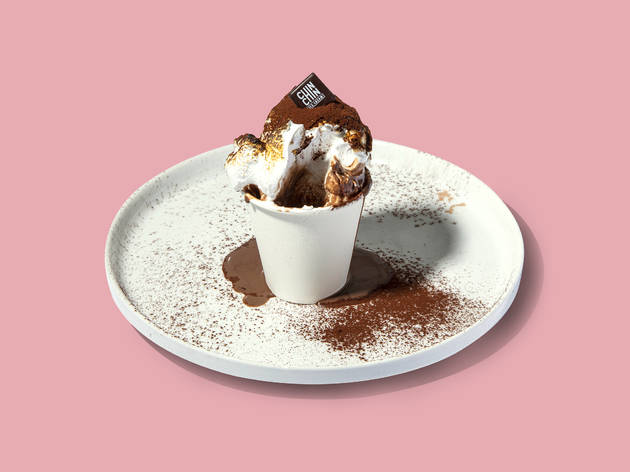 Hype Dish: Chin Chin's scarily OTT hot chocolate
Chin Chin co-founder Ahrash Akbari-Kalhur explains the origins of the cult hot chocolate
Chin Chin is famous for its incredible nitro-blasted ice creams. In fact, as a result of Lockdown 1 (and just in time for another one), its latest trick is to send ice cream in the post. But its most 'grammed dish isn't a towering sundae: it's the OTT hot chocolate. 'We always served hot chocolate,' says co-founder Ahrash Akbari-Kalhur. 'But we had this sorbet with marshmallow cream. Then it rained for a month and people only ordered hot chocolate. We had litres of marshmallow, so we scooped it on to hot chocolate instead.' As Chin Chin marks ten years, he talks us through it.
The chocolate
'We use a Valrhona 80 percent chocolate. We make small batches in the old-fashioned way – on the stove with constant attention. It takes an hour to make five or six litres.'
The marshmallow
'Our marshmallow fluff is a secret recipe. We scoop it on top of the hot chocolate, then bring a blowtorch to the party for that fuzzy campfire feel.'
The hype
'It took a while for word to spread, but then it went viral and, honestly, it's kept our business going. One freezing cold January day we had people queueing in the snow for it.'
The extras
'Some customers add our ice-cream toppings to their hot chocolate. The truffle crumble, which we make with black truffle, works a treat: it's salty and earthy.'
The logistics
'We serve it in a cup within a bowl. The bowl is essential: sometimes it squirts everywhere when you dig in. We suggest using a spoon: that way you get a bit of everything.'
Currently available for takeaway (£4.95) or as a DIY starter kit (£9.95), which you can order online.
We dissect what London's much-loved dishes are made from.