Le Relais de Venise l'Entrecôte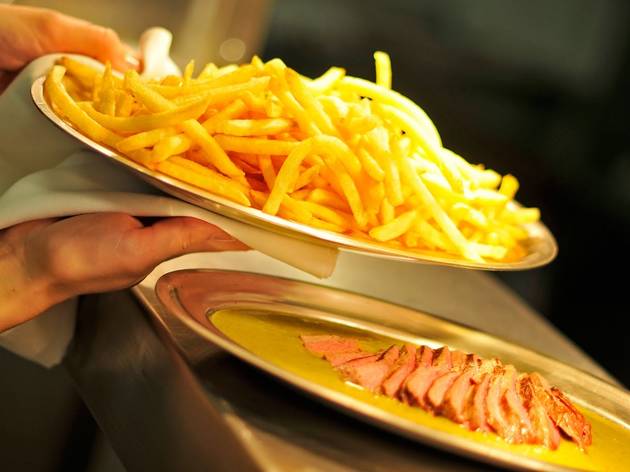 Time Out says
This French mini-chain of no-booking, no-choice steakhouses knows how to pack 'em in. When we arrived at the Marylebone branch at 6.40pm, there were two couples queuing in front of us. There's a perception that the salad-starter and steak-frites main is a bargain. We wouldn't agree, but that's immaterial because we're not keen to return. Tables are packed so close together that we felt self-conscious about conversing, and our neighbours would have had to move their table if we'd wished to visit the loo. Our food was variable. The vinaigrette was good, but it dressed a salad containing too high a proportion of insipid iceberg lettuce. The steak was tasty and accurately cooked, yet chewy. It's served in two rounds, and that brought one of the few high points in our meal: a second helping of the divine frites. Also in the realms of the divine: the desserts, especially a mind-blowing praline ice-cream. The low point of the evening was the service, which started out brisk and efficient but swiftly descended into a combination of neglect and rudeness. The house wine is cheap. By the time we left, the queue looked like being a one-hour wait. Some people clearly love this place – but not us.
Details
Address:
120 Marylebone Lane
London
W1U 2QG

Transport:
Tube: Bond Street tube
Price:
Set meal £23 2 courses
Contact:
Opening hours:
Lunch served noon-2.30pm Mon-Thur; noon-2.45pm Fri; 12.30-3.30pm Sat, Sun. Dinner served 6-10.45pm Mon-Thur; 6-11pm Fri; 6.30-11pm Sat; 6.30-10.30pm Sun
Do you own this business?
Average User Rating
3.2 / 5
Rating Breakdown
5 star:

2

4 star:

4

3 star:

1

2 star:

2

1 star:

2
My first time here - loved the portions of chips and steak and what is that secret sauce all about its amazing
The queue outside says it all and the steak and frites are awesome. The wine list is as one might imagine; very good and even the house wine is delicious. The silver service by impeccably turned out waitresses and the interior design of the restaurant really transforms the place and you leave forgetting that you are in London - albeit in villagey Marylebone. Very highly recommended.
Pretentious, over-rated, over-priced, and the lack of choice makes this place very unappealing. The steak is no better than average, and you have to have the sickly sauce whether you like it or not (I prefer to taste my steak, not have it washed away with a sauce) and the frites might as well have been bought from McDonalds and cooked a bit more! Lumps of bread thrown at your table on a single plate, no butter! And you have to queue to get in to this place? There are plenty of restaurants offering good food, good service and decent prices nearby, and even pubs cooking far better steaks, with a choice of cut, choice of sauce (if you want it) and served with a choice of vegetables. I will give this unfriendly, uninviting excuse for a "restaurant" a wide berth in future.
As good as the original restaurant they have in Paris, love it here!
You can't miss the point with this restaurant. The main attraction is the fact that you line up, shuffle in, make no decisions, eat steak and frites, eat more streak and frites. The place is crammed which gives it a slightly manic but fun atmosphere. I love it but I suppose you need to know what to expect first otherwise you might get a shock.
Drop the pretension substitute the steak for chicken reduce the price by two thirds and to be honest your not a million miles away from Nandos. Still the place was full just like Nandos usually is but that tells you little.
Hmm. An interesting venue. I was told many good things about this restaurant, but it seems my expectations were set too high. Upon entry a great French atmosphere ensues, immediately encouraging guests to relax. So far so good. The first let down is upon seating, where cheap paper table covers make the restaurant feel more café than Parisienne dining. The tables are small, bringing the elbows into play and anyone of 6ft plus will struggle to get legs comfortably under the table. Service is fairly quick, though quiet waitresses will struggle to be heard among the buzzing background. Menu is simple, salad and then steak frite, cooked blue / rare / medium. Wine list is small so those with a finer palate will struggle. It is also confusing, in a restaurant where choices are limited and steak is cheaper than elsewhere, why does the wine increase in price so quickly? The Medoc was £36, and tasty but this was the next up from house, and a £55 option just did not seem worth it. Bread is served, simple French baguette sliced, though not all the way through, annoying when only one plate in a table of 8 is placed. No butter, although they use it to cook in the kitchen they will not offer it to you with the bread. Shame. A very annoying point. Salad was green fresh and leafy, and is so common in France, covered in dressing. A Dijon spice to the covering was overpowering at times. No real care to how it landed on your plate. Main is served steak frites, mine Blue. Now the real test of a steak restaurant is to get warmth into a blue steak without cooking it, and for a restaurant that only serves steak, I was disappointed. The Rare steak equally lacking in warmth. Dressing is applied to the steak if you asked for it or not and chips are thin cut and a touch over fried. Second portions of steak are brought round on a serving platter, though don't be surprised if the waitress leans straight across you to serve the inner table. Dessert is in French on the menu, a touch i actually like and there are a couple of very sickly looking very tempting options including a meringue ice cream tower with chocolate sauce. My simple chocolate and vanilla ice cream was just right in terms of amount and flavour to cleanse the palate, though fitting the spoon in the wine glass it was served in was a touch more difficult. All in all a mixed experience, a confused restaurant that errs too far into the cheap and cheerful for me to attend as a dining experience, though if all you want is steak and chips in a nice atmosphere for a reasonable price, give it a go. Oh and they don't take bookings.
Snap up exclusive discounts in London
Time Out's handpicked deals — hurry, they won't be around for long...