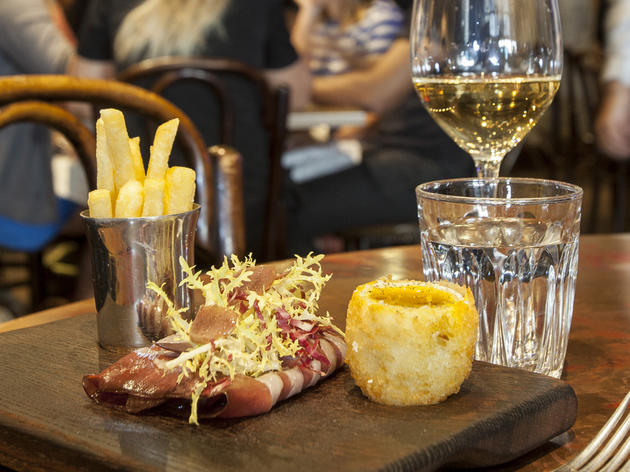 1/3
© Rob Greig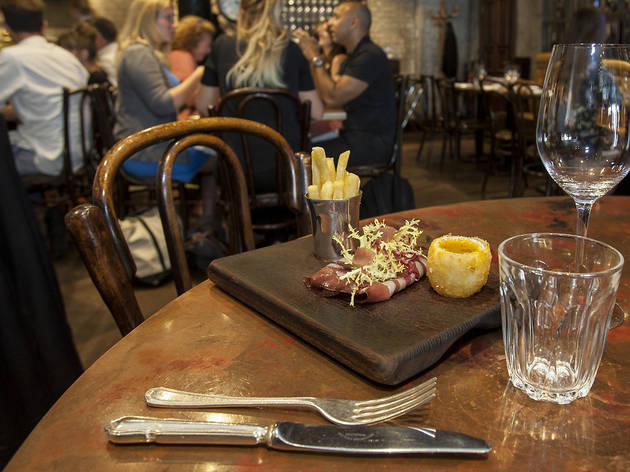 2/3
© Rob Greig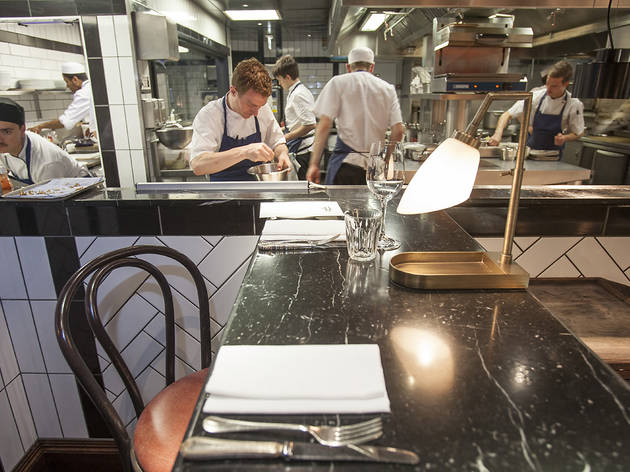 3/3
© Rob Greig
Time Out says
Under the gifted guidance of Paul Hood, one of Jason Atheron's talented team, imaginative modern cooking from a kitchen brigade at the top of its game.
It's not easy to open a spate of brand-new restaurants and maintain high standards, but chef-patron Jason Atherton has clearly moved on from being the sorcerer's apprentice (under Gordon Ramsay) to being the sorcerer himself. His Little Social deluxe bistro only opened in March 2013, right opposite his fine dining Pollen Street Social in Mayfair. He followed this up, weeks later, with an even more ambitious restaurant in Soho, by delegating the chef role to his buddy and long-time head chef at Pollen Street Social, Paul Hood.
The ground-floor dining room has a mirrored ceiling to create the sensation of space in a low room; upstairs is a smart cocktail bar, called the Blind Pig, which also has a separate entrance. Most of the action is in the dining room, though, with a kitchen brigade who are clearly at the top of their game.
Smoked duck 'ham', egg and chips is a dish that's typical of Pollen Street Social's playfulness. 'Ham' is cured and smoked from duck breast on the premises, served with a breadcrumbed duck egg that's molten in the middle, but with an aroma of truffle oil. Umami – savouriness, the taste that enhances other flavours – was also plentiful in a roast cod main course that uses powdered Japanese kombu seaweed in a glaze, served with a creamy sauce of roasted cockles and just-in-season St George's mushrooms.
Presentation is a strong point of Hood's dishes, just as they are for his mentor Atherton. A starter of 'CLT' – crab meat, a fan of blonde castelfranco radicchio leaf, and heritage tomatoes, which had been blanched to remove the skin, was given a further umami hit with a roast tomato vinaigrette.
The desserts also showed inventiveness, imagination and attention to detail. A honey almond sponge, inspired by the version at Pollen Street Social, was nicely paired with a scoop of goat's curd ice cream.
On our visit the service was sweet and eager, and the dishes arrived fast. If you visit the basement (where the duck smoker as well as the loos are housed), this will give you a chance to look straight through the glass-walled private dining room towards the kitchen, which is in full view of the 'chef's table'. On our visit, chef Paul Hood and his team were working their magic with a spell-like calm. Gone are the days of shouty chefs as role models; the quiet achievers who play nicely and play together are currently coming out on top.
Details
Address:
58-59 Poland Street
London
W1F 7NR

Transport:
Tube: Oxford Circus or Tottenham Court Road
Contact:
Do you own this business?
Special offers
Pre theatre: 2 courses £22
From a Set menu. 3 courses £28, 3 courses & a cocktail £36 and 3 courses and a carafe of wine (for 2 to share) £38. Terms and Conditions: Maximum of 4 diners. Includes VAT, excludes service. Valid For: 1 - 4 People Mon-Sat 6:00PM-6:30PM
Offer valid until
Jan 31 2020
Average User Rating
4.5 / 5
Rating Breakdown
5 star:

14

4 star:

6

3 star:

0

2 star:

0

1 star:

1
The 'Social Eating House' does stay true to its name: it is not only located on one of the most well-frequented streets in Soho (Poland street), surrounded by bars of all interests, but it really is a place for socializing. Not necessarily with the fellow diners (who seem to be in the mid-30s and up age categories) but with the waiters and sommelier and the other "supervisors" who carefully stroll around the tables, asking you how your special cognac cocktail or lamb neck fillet is. It makes me you feel cosy and looked-after, which is a rarity in today's fancy and poshy-posh restaurants. We shared two jars of salted cod and duck rilliettes and thought that serving such small starters in "grandma's" jam jars was a funny invention. Something special to start with. Then we took the lamb neck fillet which was meltingly tender and had a perfectly tasty sauce with it. The risotto could have had more twist (or just a pinch of something exotic!), but it went down very well nevertheless. The other main dish we ventured was the cod with the chestnuts, cabbage, and bacon and some incredible sauce. We almost wished we could have had just simple spaghetti with a casserole-quantity of this sauce! The cod was of course very fresh and smooth. There was no space for desserts so we decided on continuing with the drinks and ended up having 6 cocktails. After a slight disappointment of not finding a cognac-based cocktail on the menu, the sommelier reminded us that the bartenders are happy to present us with any known or imaginary cocktail we would like. So we ended up having the Japanese cocktail and a refreshing Singapore sling at the end. Overall we would highly recommend the Social Eating House. It is worth trying for its cosy but not over-trendy atmosphere, for the excellent food quality, and of course for those divine cocktails that make you forget that your dinner that started with a full jar ended with several empty cocktail glasses!
Spot on. Finally someone in Soho got it right. I was already a fan of the Atherton ethos-- top quality cuisine in a more casual setting, inventive dishes, creative presentation at affordable prices-- and this one ticks all the boxes, and but goes well beyond. The athmosphere is remarkably warm and welcoming, like Little Social, but more refined and original-- doesn't feel like an imitation of any existing styles. I was greeted by the smooth and charming general manager Antoine and led to a decompression stop at the ground floor bar, where the young and polite Lorenzo, a good listener, successfully tweaked a house cocktail to reflect my tastes. I stayed on safe turf, opting for a Mint Julep-inspired mix, but I watched my neighbours order outlandish concoctions, such as the Chernobyl, a phosphorescent self-proclaimed "thermonuclear daiquiri", and "serial killer", cleverly served up in a milk-container-shaped glass with a seriously stylish oversized candy-cane striped straw. We were seated at the downstairs at the (quite elegant) chef's table and got to watch all the action—a concept I was looking forward to since I dined at Atheron's restaurant in Hong Kong (much more informal but equally inspired). I was struck by how quiet the large kitchen staff managed to remain despite the frenzied activity. A far cry from the Ratatouille-style yelling and pot slamming one associates with professional kitchens... felt more like being at a well-rehearsed ballet, with people gliding across the stage with seemingly effortless ease. My friend, a top lawyer from New York, where she is very much on top of the food scene, loved it too and couldn't wait to spread the word. You start off in lieu of amuse-bouche with a choice of foods in jars to share. Cornish mackerel tartare with horseradish cream met with our highest praise-- tasty but refined. The oh-so-smooth salt cod brandade with potato chips was a close second. I didn't enjoy the spiced aubergine, which to my taste was more spic-y than spiced, but my dinner companion loved it. Marie, in charge of service was attentive and thoughtful throughout. All the senior staff seems to be super pro, having logged in experience at iconic shops like Gordon Ramsey and Bar Boulud, known for their uncompromisingly rigorous standards. For starters, I would highly recommend the "wild mushrooms on toast from a bag with cep puree"-- pure unadulterated mushroom bliss. The CLT, a deconstructed Colchester Crab, Lettuce & Tomato with roast tomato vinaigrette -- apparently a signature dish -- was a light delight: most noteworthy were the interesting varieties of rare tomatoes in all shapes and colours, implying that they have terrific off-the-beaten-path suppliers. For mains, being typical ladies, we talked ourselves out of the "macaroni and cheese with shaved mushrooms" and shared a "south coast turbot, brown shrimp, cucumber charlotte potato, mousseline sauce" and a "bakes curried hake, roasted cauliflower and cheese". Both were truly tasty, though I had a slight preference for latter and kept fantasizing about decadent macaroni. I consider myself quite knowledgeable about wine, but I found Angelika, the young Sommeliere to be serious and earnest, so I let her guide me-- my companion wasn't drinking so I stuck to her by-the-glass suggestions, and ended up with a house white from Anjou and an Austrian Velvet Pittnauer red to pair with the fish (weirdly, the vintage was nowhere to be found on the bottle)- The wines were fine, especially for BTG and small price points, but next time (which I hope is soon), I look forward to exploring the proper wine list, which contained a bunch of gems. I had a chance to chat with Laure, the on-the-ball uber-sommelier that runs all the Pollen Street wine works, about her growing wine list, and really liked her easy-going but edgy ethic... a refreshingly far cry from the stuff old-school style married to Grands Classiques. By desert time we were stuffed to the gills but forced ourselves to make room for a "light" selection, opting for the Szechuan and sea salt baked pineapple, lime and coconut, in lieu of the chocolate extravaganza. I was enchanted with the latter: paper-thin pineapple carpaccio with an extraordinary flavour and texture... a very elegant way to finish a delightful meal. We popped in to the upstairs cocktail lounge area to take a peek: tres chic. A trendy take on wood panelling, a much welcome departure from the grimy Soho scene. All in all, my guest and I had a remarkably enjoyable evening, and I was really surprised that the restaurant was already humming despite the recent opening, that must be very tricky to achieve: an indication of a serious and experienced team behind the scenes. It already had such an obvious and distinctive vibe... real pros. Kudos to Michael West, Jason Atherton and their dynamic team strike again—an impressive and enviable batting average! I'll be back....
Good spot for nibbles and yummy cocktails.
This was my first experience of a Jason Atherton restaurant & I wasn't disappointed. The food was absolutely exquisite. It totally surpassed the menu's depiction. It was good value too being a set menu. The staff were friendly & the atmosphere was relaxed. A modern gem in Soho.
As a bit of an Atherton groupie, this is my favourite of his London establishments. I had the privilege of being on the chefs table recently and to see the level of complexity, precision and care that goes into every plate is quite remarkable. My only learning is to not go with fussy eaters the intricate and often usual flavours are not to everyones taste.
Superb Jason Atherton establishment with a great buzzy atmosphere. The mushrooms-in-truffle-oil-in-a-bag starter is one of the best starters I've had in a long time followed by the Romney Marsh slighly salted lamb, washed down with a fantastic, relatively low priced Bulgarian Sauvigon is a killer combo. The food is so good that the bill can start to rack up quite quickly. If you go prepared to spend at £150 for two people you'll have a great time. It's a restaurant for a great occasion that you've just got to try out...as with all Atherton establishments.
Great restaurant. Really recommend for business or social.
Highlights for me - the mushrooms in a bag and the duck and egg and chips starter.
I was particularly impressed on one occasion when I said to my wife I really fancy steak but it's not on the menu and the waiter said let me check for you, he same out of the kitchen with a rib eye steak on a board and said we have this for you sir - so I ate off menu. Awesome. (It was pricy though - more than the equivalent steak at Hawksmoor)
There has always been a buzz
Definitely go!
Me an my wife went for a late, long lunch. We couldn't have been more impressed. The atmosphere was busy an buzzy yet more then enough space to have a private and intimate lunch. Service had high standards but was relaxed - all the little touches you would expect from top notch service but delivered in a relaxed, fluid style.
The food? To die for. My wife had the excellent value lunch menu - hake and a risotto dish which was subtle yet so flavoursome. I opted for the rib-eye. The duck fat chips actually ADDED to the flavour of this exquisite steak - cooked to perfection with a fresh salad and stunning bernaise. This was, bar none, the best steak I had in my life.
Dessert was again excellent. My deconstructed lemon meringue pie was a proper pudding!! Refined, each element stood out and, what often is missed on high quality establishments.... a dam decent portion! My wifes' plum tart again was excellent and she enjoyed her cheese board.
On top of not being judged for ordering a pink drink (I like pink lemonade OK!?) we thoroughly enjoyed our meal at the Social Eating House.
The food is great, but might be a bit overpriced for what it actually is. You seem to pay for the ambiance as well. It was a bit noisy, I could not hardly speak with my company without shouting.
Been here twice now and Impressed to say the least, from the amazing cocktails we started in the blind pig bar upstairs to the amazing food on the chefs counter downstairs in the kitchen. We will be back again and again
My second experience of Jason Atherton's restaurants is almost as good as the first one :D what a pleasant surprise. This is a more casual, affordable a place for a quick lunch than somewhere like Pollen Street Social, and fits in very nicely with the vibe of the local area. I'm now addicted to the bar upstairs, where you can get really quirky, playful drinks that are superbly well-made for under a tenner... a pretty mean feat nowadays. Even their Probiotic is probably the nicest non-alcoholic cocktail I've ever had, which is saying something for a boozehound like myself. Similarly, the winelist, while a lot smaller than the one at PSS, seems to follow a similar pattern of cherry-picking unusual wines at modest prices. On my last visit, I had a particularly good Austrian wine called Theodora that was probably the most interesting white I've tried all year (and I drink a fair amount being a sommelier). But yes, onto the food :) a little more bistro-style than Atherton's other offerings, this is more about comfort food than fine dining. The little jars we had to start were excellent, the pork rilletes pretty much textbook, except for the little twist of mini onion rings dotted on top. After that, my girlfriend and I both had the wild boar raviolo, which was amazing... rich and herby wild boar ragu, with a garlicky tomato sauce base and meltingly soft pasta, with a little pepper grinder filled with dehydrated pig heart and kidneys on the side to add a touch of gentle offal flavour. I'd be surprised if that doesn't make Time Out's Top 10 dishes this year. For the maincourse, I had the cote du porc, basically a good-sized porkchop with perfect smoky caramelisation from the grill on the outside, amazingly tender on the inside, which came with a wonderful white polenta (or grits, as Americans call them). Very good indeed. My lady opted to go for a lighter dish in the Monkfish, which was served unusually with an Asian-spiced chicken jus. Despite the cognitive dissonance I had at trying to reconcile fish and poultry in my mind together, it was a perfect pairing, the aromatic and savoury flavours of the sauce bringing out the inherent meatiness of the fish. The roasted courgette it sat on was lovely too. For pudding, we decided to share a Strawberry Mojito Sundae, which tasted exactly as it sounds. Very refreshing, and made me wish most bars could summon a drink that good in liquid form, let alone as a sundae. So, all in all, a fabulous meal, far more affordable than I expected, paired with some of the best wine I've found in central London yet.
I am a new, self-proclaimed foodie, I have been to over 40 restaurants in the last 2 months to catch up to my more knowledgeable colleagues in the field. This is right at the very top of my list. Put aside the charming decor, brilliant service and experimental cocktail list for a second. The food... ugh... the food is outstanding. I had the lamb neck fillet for main and it was just perfect, not very heavy, full of taste. I asked the waiter to remove the parsley spread but he seriously recommended keeping it even after insisting I didn't like green foods, he was absolutely right. This restaurant is an absolute MUST.
Really cool place with amazing food. The ambiance is just great. Start with a drink upstairs and finish by an amazing dinner downstairs. You will be surprised by the quality of their food!
This was very much 'all that' - one of the most memorable and impressive meals I've had in a long time. Being delicious is one thing, but distinctive is quite another and our meal had both - though the starter (had to go with the duck, smoked ham, eggs and chips mentioned in the review) , cocktail and dessert shone far more than the fish dish we had for main. We arrived at 7.30 on a Thurs not expecting there to be room, but they found space at the Chef's Table downstairs, mentioned in the review, which I'm sure was far more fun than the normal restaurant would have been. A very special meal indeed!
Dreadful!! The only good thing about Social Eating House is the bar and even that is not great - faux-hipsters serving stupidly small cocktails in a near-empty bar (7.30pm on a Thursday). Resturant really wasn't up to scratch - lots of staff but not one person seemed to be able to look after us. The first waiter to take my wine order had a black eye (nice!) and couldn't tell the difference between a house wine and the Pollen Street blend. Food was OK but certainly not worth the price tag - only one rather lame vegetarian main course option that I could easily have made at home (Mac n' Cheese, hardly breaking any boundaries). The biggest tell-tale sign was a half-filled dinnng room with people taking photos of their food, annoying. Don't waste your time, try Claude's - a million times better, both in terms of quality of staff, food, atmosphere and price.
Snap up exclusive discounts in London
Time Out's handpicked deals — hurry, they won't be around for long...