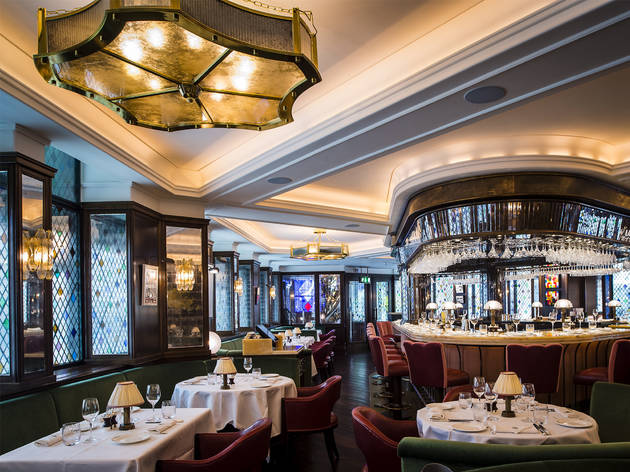 Time Out says
One of the grand dames of the London restaurant scene, recently refurbished and relaunched.
Once upon a time, if you were a celeb, you went to The Ivy. That was back when Chiltern Firehouse could still send a fire engine if your kitchen was ablaze. In the 1990s and 2000s, pretty much all you had to do to be a celeb was to go to The Ivy, and then be papped as you left. It was exclusive in the wrong sense of the word.
But times have changed. The celebs have gone elsewhere. And now – after an expensive five-month refurb – The Ivy is once again open for business. It's ready for you and me, without the three-month wait once endured by us hoi polloi. Getting a table still isn't easy, though I eventually secured seats at the bar.
Mind you, it remains a parallel universe. When you arrive, you're made to feel like you've arrived by the charming maitre d', smiling waitresses attentive wine waiters. The room was always a looker, but it's been scrubbed up, and it's now even better than before. The feel's still classic and timeless: dark wood, flattering lighting, well-chosen art, green leather seating, smartly attired staff. A huge new central bar allows good views of the beautiful mullioned stained-glass windows.
The new menu combines old Ivy favourites with some recent additions. The famous shepherd's pie is there, with its rich browned-meat flavours, along with old-fashioned seafood dishes such as plaice with earthy brown shrimps, doused in a buttery sauce. The Ivy made its name on this sort of comfort food: it's like what you might get at a top boarding school, only better.
New dishes have also been included to modernise things a bit. Tea-smoked short ribs is a Chinese dish popularised by Hakkasan. The Ivy's version was a little dry and chewy, a little sweet, although tasty. But it stood out among the heirlooms – it just didn't seem to fit in.
Our meal made it clear that you still don't come to The Ivy for brilliant cooking, but complaining about that would miss the point of the place. It's a wonderful experience despite some culinary shortcomings. The room is beautiful, and the staff hospitable till the moment the doorman waves you off. This is why The Ivy remains a treasure: five-star service and a room so good you barely notice the three-star food.
The Ivy says
The Ivy has been a firm fixture on London's dining and social scene since its foundation in 1917. With its shimmering central bar and signature harlequin stained-glass windows, the restaurant is the epitome of glamour, serving seasonal menus featuring Ivy classics alongside modern British dishes.
Details
Address:
1-5 West Street
London
WC2H 9NQ

Transport:
Tube: Leicester Square tube
Price:
Main courses £13.75-39. Meal for two with wine and service: around £120.
Contact:
Opening hours:
Mon-Wed noon-11.30pm; Thur-Sat noon-midnight; Sun noon-10.30pm
Do you own this business?
Rating Breakdown
5 star:

9

4 star:

7

3 star:

3

2 star:

2

1 star:

1
Really classy. The decorariton takes you back to the 80s.
The food, although quite expensive, is very good, specially the breakfast and brunch menu.
Strongly recommend trying the yogurt and the avocado, spinach benedict eggs
Food is very disappointing, shame compared to its cafe yes the cafe in Richmond which has far superior food and warm service as expected!
Spent 2 hours at the table with a 3 course meal with cocktails and wine only to be rudely told to shuffle out of the restaurant.
If you're not a celebrity, don't expect any common courtesy or manners from the staff although you've spent the equivalent bill. Sad to think that the staff are stuck in a fictitious world which I would like to remind them that they are just serving in.
Loved it! High quality modern and traditional british food served from profesional staff in a glamorous restaurant.
Highly recomend this place if you are in London!
Tucked away behind Liverpool street, this is a nice find for a classier evening apero or a lazy brunch on a hot summer's day. The Ivy city garden feels much more spacious and inviting than its neighbouring cocktail bars and restaurants. You'll be able to find plenty of seats inside and outside, as well as a wide range of drinks and food (try the baked sweet potatoes with kale pesto and yoghurt or the caramelised hazelnut goats cheese salad and you will not be disappointed). The venue tends to be more pretentious side of the spectrum, as you can tell from the uniforms worn by staff as well as by the clientele, which tends to be quite dressed up. Coupled with the stylish and quasi-opulent decor, reminiscent of Fitzgerald's 1920s New York, the Ivy stands out as a venue for a more special night out or a celebratory weekend treat.
Despite living in London for over six years I had never been to the Ivy, and we took the opportunity to go when family from up North were in London for a birthday treat. It was the perfect setting for the occasion, and everyone thoroughly enjoyed themselves. The venue is beautiful, art deco with an imposing bar in the middle of the restaurant. The food was delicious with a wide range on the menu. I went for sesame prawns and John Dory with girolles and rainbow kale and it was stunning. We all had something different and everyone loved it. We all ordered from the A La Carte Menu and the bill was around £300 for the 4 of us, but they do offer a great value for money pre-theatre menu too.
The Ivy is a true classic, an institution and everyone should go at least once.
The Ivy has to be on everyone's wishlist if you haven't been there. Try Bang Bang chicken starter followed by Shepherd's Pie for culinary heaven.
I don't get the hype for this place. I've lived near the Ivy in Beverly Hills and now near this one in London, I've been to both. I think it's an over-hyped eatery that gets too much publicity, it's only popular because it's frequent by celebs. That's exactly the type of place I want to avoid! But again, I'm a little biased and do not adore it. I did like the venue and stainless glass inside! If you want to go there, go there cause of the venue and not the food. If you want memorable food, forget it and go somewhere else.

I love the new design of the Restaurant in particular the centre bar where you can dine while looking across the whole restaurant. The Art Deco decor and the buzzy vibe go along way to making this one of my favourite dining destinations and they actually also have a relatively priced pre-theatre menu so for a quick bite before the theatre its a great option for a boozy business lunch it works and for a nice romantic evening dinner with a bit of celeb spotting it's perfect.

The Ivy with its amazing reputation hardly needs reviewing. But it is exactly therefore that I feel it is worth saying that unlike so many places it lived up to, no, outdid expectations. Not and easy feat when expectations are so high. What makes a difference at a place like this, is that on top of the great decor, Art , incredible and simple yet oh so great food ( I genuinely don't think I can enjoy banger and mash anywhere else again!), cocktails, wine and to die for desserts (ooops, we tried it all) is the impeccable friendly service. Not a hint of snobbery. We hadn't booked and weren't dressed for the occasion, yet they sorted out a table for us, and treated us fantastically. All-round wonderful night!
Just as good as before but with a big, glitzy, new bar. The service was impeccable and the food was great. The shepherds pie never fails to deliver on taste!
This is still a great place to eat. The recent refurb means the dining area is bigger with a bar in the middle which gives the room a good focal point. From the minute you walk in you feel you are somewhere special so it's great for a special celebration or not if you aren't paying! Lots of things on the menu looked great and there was plenty of choice. There are still quite a few old classics on the menu so I was rather boring and went for the fish and chips but was very pleased with my decision. Spotted a few celebs so clearly word is out that this is still one of London's gems.
Favourite resturant in London- great food and wonderful unintrusive service -has never disappointed