Heads up! We're working hard to be accurate – but these are unusual times, so please always check before heading out.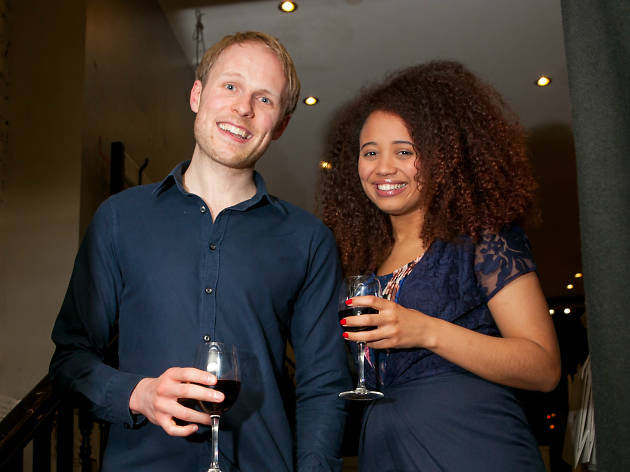 Date night: Dinner in a shop
Every week, two lucky Londoners get to have a night or day out - and it's on us! We sent Michael and Rebecca on a blind date, but did they click?
The venue: Dinner and drinks at pop-up restaurant Back in Five Minutes.
The couple: Michael (29) works for an NGO and lives in London Bridge. Rebecca (33) is a management accountant who lives in Crystal Palace.
First impressions
Michael said: 'My first impression was "Shit, I'm late!" But my first impression of Rebecca was "Wow, massive hair!" In a striking way. She was very pretty, but she's not the kind of person I'd normally find attractive at first glance.'
Rebecca said: 'At first I thought: Oh, he's tall! I try not to judge people by just looking at them. He's not really the kind of person I'd normally find attractive. I do like tall guys, and he was the right kind of tall. I just wasn't initially attracted to him.'
Chemistry
Michael said: 'The date was fine. We stayed quite late but there probably wasn't much chemistry, and you can't fake that. At one point she pulled a cucumber out of her handbag. She was looking for her phone and thought she'd found it, but it was a cucumber.'
Rebecca said: 'He's an interesting guy, he does some Brazilian martial arts dance thing called capoeira, and that's on my to-do list now. Oh, and I pulled a cucumber out of my bag instead of my phone! It's because I have a daughter who likes cucumber.'
Afterwards
Michael said: 'We just got on the train and went home afterwards. I had to ring her phone so she could find it, so we do have each other's number, but I don't think that counts as an exchange.' 3/5
Rebecca said: 'We had good banter, but I don't think there was a romantic spark. We talked for the whole evening, so at least we had things in common. He's a nice guy: I'd recommend him to someone else.' 3/5
Ever worry about what to wear on a first date? Check out Time Out's new dating advice section.
Do you deserve a blind date care of Time Out? Send a couple of recent photos and a short bio to dating@timeout.com.