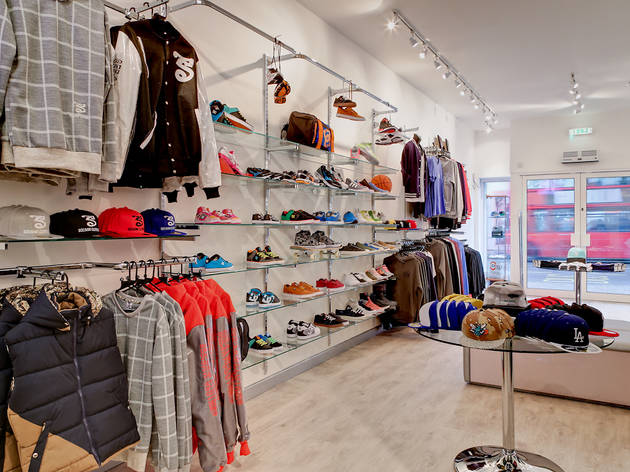 'I've watched this place grow from a white room to what it is today' says Latrice, a 25-year old from Dalston, as we stand outside Circle Sports, a new shop on Kingsland High Street. Latrice, along with a crew of young people from across London, is part of an initiative that helps get young people in to work, and focuses on 'social buying' – essentially regular shopping, but with the profits going towards supporting the community.
For the past few weeks, Latrice and several locals between 18 and 25 have been setting up the shop, practising serving customers and sorting out any teething problems. New Era caps have been neatly stacked on tables, DC skate shoes artfully placed on glass shelves. The sleek, minimalist store, stocked with well-curated designer sportswear and graphic T-shirts, wouldn't look out of place in Shoreditch's hip Boxpark. Except this shop is different – it's staffed by young people that would otherwise be unemployed, or whose job here is giving them their first wages. Funding for the project has come from all over the place – it's the second store for Circle Sports, an enterprise started by entrepreneur Turly Humphreys to enlist disaffected youth into providing a service, and giving them all the life-skills they need to set them up for productive lives. Humphreys opened her first Circle store just off the Edgware Road in 2010, with funding from industry as well as Westminster.
The new store has also had a lot of charitable investment – Argos provided the shop fittings, while Land Securities, M&S and John Lewis are also helping with resources and funds. The latter are advising on how to turn the organisation into a proper co-operative, so that its young team have a real stake in its success. Humphreys feels that young people are misunderstood. 'Politicians want them to go away,' she says, 'but young people only disengage when they don't know what to do with themselves. They think, There's nothing for me, especially in the current climate.' Which is where initiatives like Circle Sports can help. Participants, who are recruited through Job Centres, spend ten weeks in the programme, which involves training in employability skills – goal-setting, CV writing, confidence-building – and two shifts a week on the shop floor. After the ten weeks are up, most have an interview or two in the pipeline – and some have gone on to jobs at companies like Channel 4 and Publicis.
This is no standard charity project. The shop is an attraction in its own right. 'We've made a conscious decision not to cheapen our product,' says Humphreys. 'As well as recognised labels – Converse, New Era – we stock niche brands and emerging young designers. We want it to be a really cool shop.' And it is. Latrice agrees: 'It's nice to be able to walk past the shop and say – "I've been a part of that." I'm really proud of it.'
Venue name:
Circle Collective
Contact:
Address:
136 Kingsland High St
London
E8 2NS

Opening hours:
9am-6pm daily
Transport:
Dalston Kingsland Overground
Do you own this business?
You may be interested in: