Columbia Road Flower Market guide
With thousands of flowers crammed into one noisy Victorian terraced street, London's Columbia Road Flower Market offers an authentic taste of the Old East End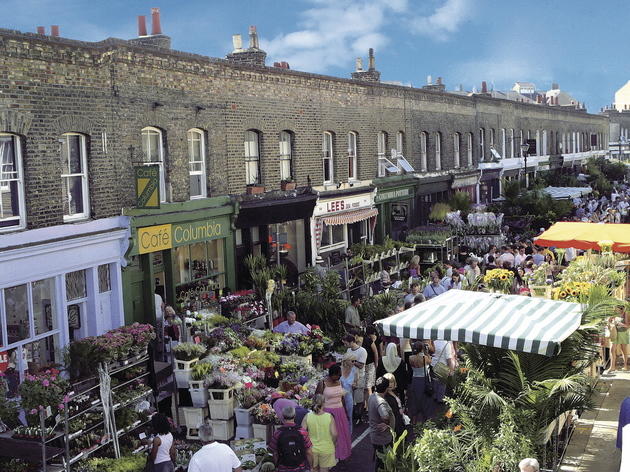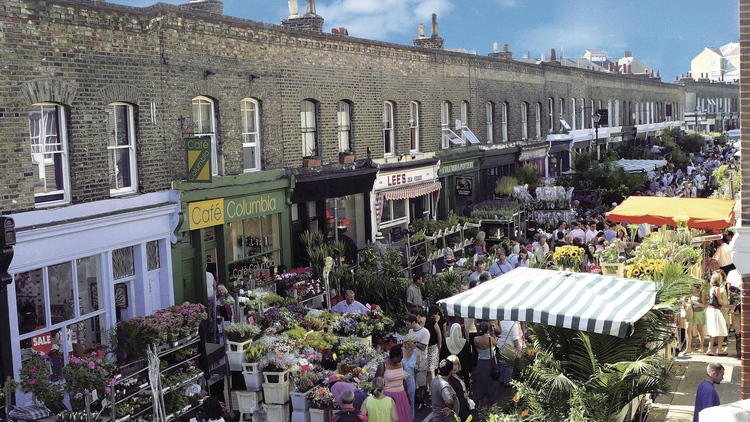 The lowdown
If the sight of a thousand varieties of exquisite flowers and exotic plants doesn't excite you, then the cacophony of a dozen different east London and Essex accents calling out 'Three for a fiver!' will. Despite developing a reputation as a tourist trap in recent years, Columbia Road was bustling with bleary-eyed locals when we visited on a recent Sunday morning.

The flowers and plants are some of the best – and cheapest – around, and it's a mean-hearted Londoner who doesn't head home with their arms laden with a begonia or five. Columbia Road is also home to some of our favourite independent shops in London. Avoid the crowds by going first thing in the morning (from 8am). Otherwise, try your luck at the end of the day (from 2.30pm) when the stallholders madly reduce their prices. If you're caught short among the pot plants, there are toilets on the corner of Ezra and Ravenscroft Streets.

Don't miss…
Coffee from UK barista champion Gwilym Davies, who has a stall in the corner of the Ezra Street yard-market. The great independent shops alongside the stalls, such as Ryantown, Lapin & Me, Treacle and Bob & Blossom.

Downside...
Buying a small tree as soon as you arrive, as you'll be stuck with branches in your face all morning.

Refuel at…
If you're feeling peckish, head straight to the Ezra Street yard-market for bacon and egg rolls, otherwise consider the organic salmon and cream cheese bagels from nearby Jones Dairy Café. You can't go wrong with a top-notch roast at the Royal Oak for a Sunday lunch.


Columbia Road′s top stalls
Cut flower stall
For some of London's best gladiolis look out for the orange stall umbrellas (just before you hit Ezra Street). There's also a dazzling array of more unusual flowers, like pink and white snowberries and stems of anemones, all for bargainous prices.

FJ Harnett and Son
If you're after pot plants and bedding at good prices, stop at the very first stall on the left-hand side, just outside the Fleapit Café on Columbia Road. Stall owner Matthew Harnett grows all the plants himself in Essex. Throughout autumn and winter, keep an eye out for giant-headed pansies, winter-flowering cyclamen, heather and silverleaf. The stall itself is one of the oldest at the market, having been passed down from father to son over three generations.

Vintage china and enamelware stall
Columbia Road isn't just about the flowers. Seek out the small yard-market around the back of Ezra Street for more goodies and vintage bric-a-brac. Pick up some great '50s enamelware in pretty pastels from £6 (we've seen similar pieces go for £16 in interiors shops), as well as vintage chocolate and toffee tins from £5.


Trader tips
Our insider
Karine Candice Kong is co-founder of www.bodieandfou.com, a concept store for design lovers in search of cool, modern designs for the home and unique gifts.

When should you visit Columbia Road Flower Market?
'The market starts at 8am every Sunday and it's best to get there as early as possible, It gets very busy if the weather is quite nice. It winds down about 3pm.'

Top spots
'One of my favourite shops is Vintage Heaven at No 82 – it's the perfect place to snap up vintage treasures. The Yard on Ezra Street is a mini-fleamarket that has some great things and is always worth a look. Rob Ryan makes intricate and delicate paper-cut art and we have some of his work in our Bodie and Fou online store. His shop is called Ryantown at No 126. Campania at No 95 is a little greasy spoon café à l'Italienne, full of charm and inspiration. Ben Southgate at No 4 The Courtyard on Ezra Street is a great shop for industrial furniture and old-school maps.'

What should you avoid?
'Don't buy plants and flowers from the first stall you see. Walk around and check out a few stalls before buying to compare prices and quality. If you buy bulk quantities don't hesitate to bargain. Columbia Road Flower Market is a great place to go if you are doing your garden up.'

Top tips
'Don't forget to take your camera and don't rush. Columbia Road is a unique place with a very special atmosphere, so take your time. There are a lot of interesting characters and it's a very creative place to hang out.'

Columbia Road Flower Market, Columbia Rd, E2 (http://columbiaroad.info). Old St tube. 8am-2pm Sun
Sponsored listing
Liberation
Scala, Milan and the English National Opera in London? Then have a look round Liberation, the flagship store for rubber innovators Libidex. The shop carries a wide range of off-the-peg clothing for women and men that's ready to wear if you're ready to dare, or commission something custom-made after trying on items to see what flatters and flaunts. Celebrity customers include Julian Clary and Lady Gaga, and Libidex have also worked with fashion houses including Vivienne Westwood, Dolce & Gabbana and the late Alexander McQueen, although they greet everyone who walks through their doors with open arms and a welcome warmer than the inside of a freshly grilled cheese toastie. Libidex is a particularly good label to check out if you're after rubber tights, stockings, socks, or leggings; they were the original pioneers of new ways of tailoring latex legwear that have now become industry benchmarks, and the fit around the legs and feet of their garments is still exemplary. Don't bother checking out hose in every area code – just head to Covent Garden and make your stems stunning at Liberation.
Venue says: "Liberation - the Libidex fetish shop in London's Covent Garden"