Heads up! We're working hard to be accurate – but these are unusual times, so please always check before heading out.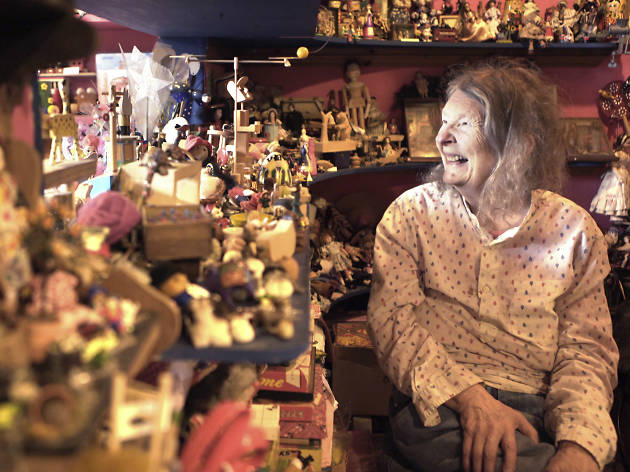 Meet the woman behind London's most magical toy shop
Behind an inconspicuous shopfront in Gospel Oak lies Kristin Baybars's jam-packed toy haven. This is her London story
I was born at the end of 1935 in a Tudor house in Suffolk. I grew up surrounded by beautiful things – my father was Blair Hughes-Stanton, one of the best wood engravers of the twentieth century. My mother, Ida Graves, was a poet who sewed and made things for me. I started making toys when I was young, because I knew I wanted to do something with my hands and had a Victorian sewing machine. Being a wartime baby, I had very little, but it was toys I loved.
I moved to London in my mid-twenties and settled in Camden Town. In the evenings I made "ostrobogulous" toys, a term my mother used to mean 'harmlessly mischievous', and sold them in Heal's on Tottenham Court Road. Heal's said this was its first ever toy department, but it was just my stand – though it was very successful!
'There must be hundreds of thousands of toys here'
Throughout that time I was a member of the British Toy Makers Guild. I became horrified by how dismissive buyers and collectors were to makers, myself included. So I decided to open a little shop. I wanted to communicate with craftsmen and be constructive about their work – even when I didn't like it!
I started with a shop on Inverness Street in Camden Town. In the late '70s, I moved to Mansfield Road in Gospel Oak, in a shop two doors down from where I am now. I bought my current shop in 1986 with the help of friends, and I've been here ever since.
Over the years, the shop has evolved into a grotto. There must be hundreds of thousands of toys here – below what's on display, there are drawers and drawers full of them. We give people a lot of choice, although we don't stock trends or fads: a remote helicopter is the most gimmicky thing we have. Things are priced by cost, unless we really love it and don't want to let it go.
'I'm astonished by how much people enjoy coming in'
The shop isn't marked properly from the outside because it takes the right sort of person to be curious enough to know what's going on. The window display virtually hasn't changed since we moved here. It didn't even change when we had to replace the glass.
I've always bought more than I've sold, and I only buy what I like – usually from about three or four British toy makers – including rare wooden things made in this country. In England, one has to incorporate beauty into a toy for it to be successful.
Even with all the shifts around how people buy toys, and with Amazon changing everything, I'm astonished by how much people enjoy coming in. We have lots of regulars, especially in the doll's house world – many of whom got into it because of their children. That's the best bit: seeing the look on people's faces when they walk in. And I don't only mean the children, but the adults too.
Kristin Baybars' shop is at 7 Mansfield Rd. Her life and work is the subject of the film 'A Pathway of Crumbs'.
For more unique London voices, sign up here to get Time Out features straight to your inbox.
Now meet more incredible Londoners
If you've read our regular 'My London Story' feature in the free Time Out London magazine or online, you'll know that there's no end of fascinating, inspiring people in this city of ours. From activists to hairdressers, mermaids to hedge-trimmers and aviators to refugees, we've met some incredible Londoners this year. Here are a few of the best.