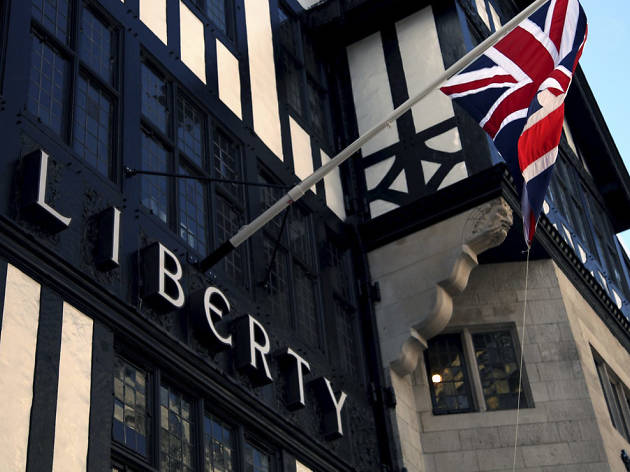 1/11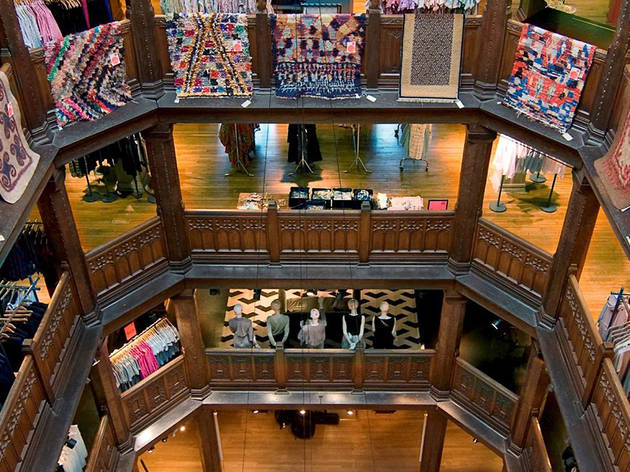 2/11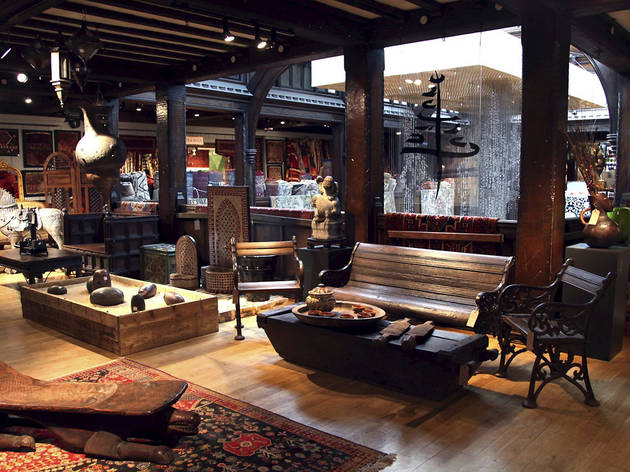 3/11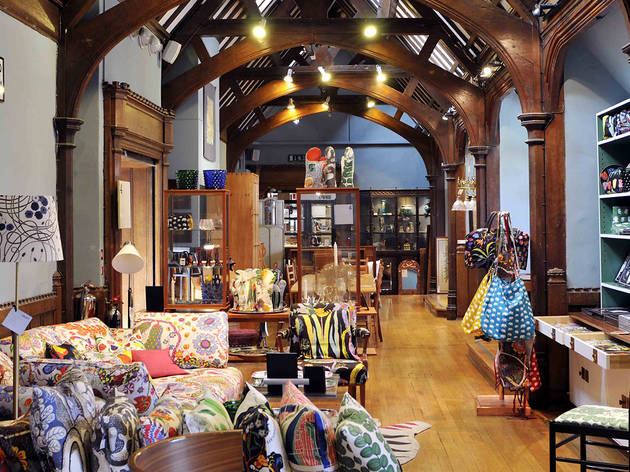 4/11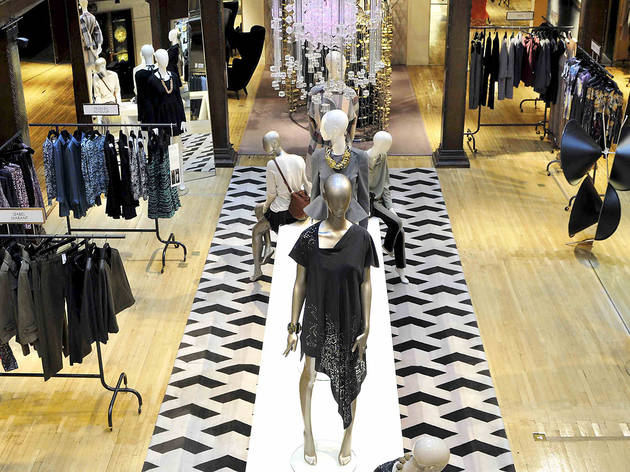 5/11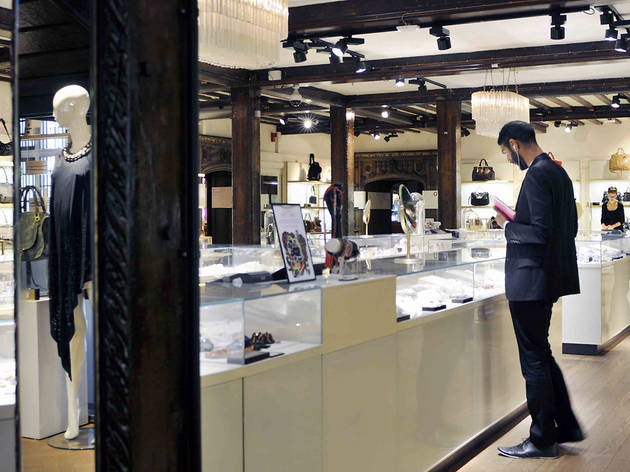 6/11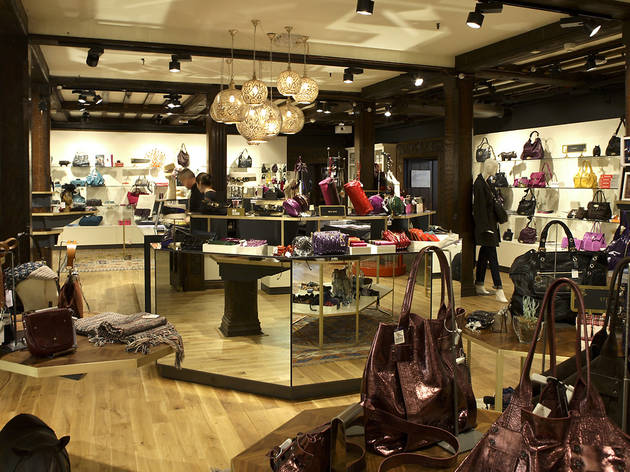 7/11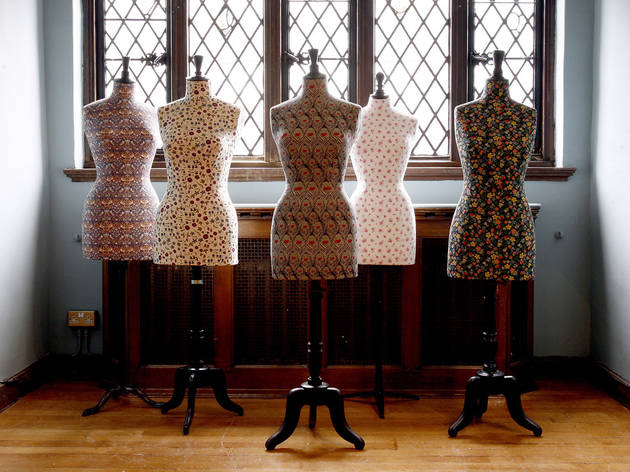 8/11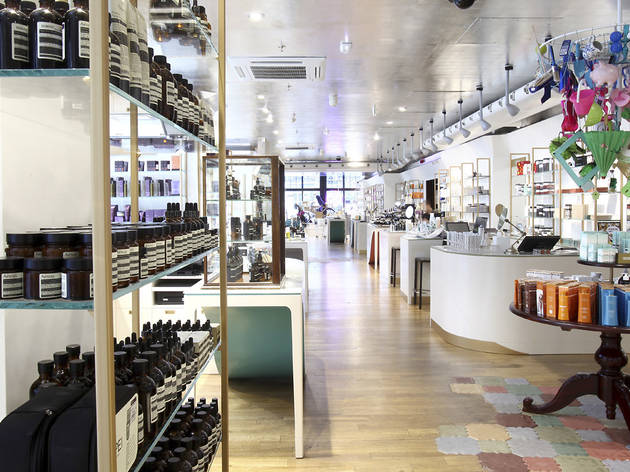 9/11
© Rob Greig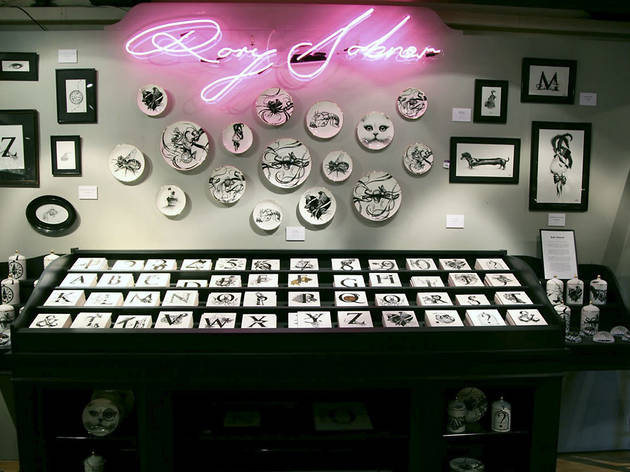 10/11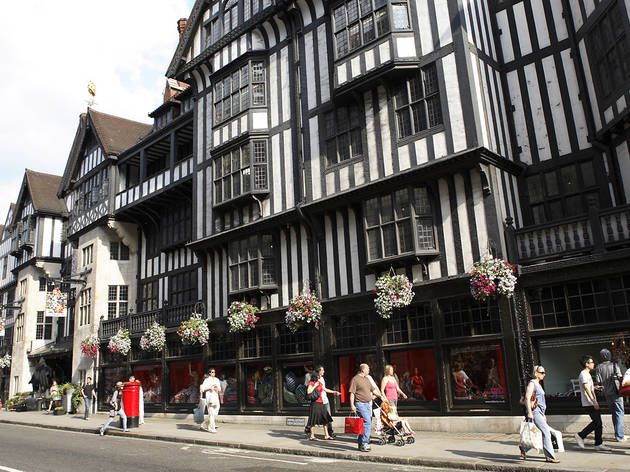 11/11
Time Out says
Liberty was founded in 1875 - when founder Arthur Lasenby Liberty borrowed £2,000 from his future father-in-law and took a building on Regent Street with just three staff - but the present Marlborough Street site, with its ships' timbers and leaded windows, was built in the 1920s. The interconnecting jumble of rooms, with the odd fireplace and cushioned window seat, makes for an intimate feel – as if you've strayed into a private room in a stately home. It's not an accident, Arthur wanted customers to feel as if they were exploring someone's home, keeping the shopping galleries small, albeit linked to three rather grand atriums.
Although Liberty trades well on its history, it constantly squeezes innovation into its wood-panelled rooms. Over the years Liberty has launched its own clothing and homeware lines, most recently including its own ready-to-wear line this year, designed by head of design Holly Marler. Formerly at Temperley and Alexander McQueen, under Lee McQueen himself, Holly has an eye for charming and thoughtful detail. Liberty fabrics can now be spotted a mile off by those in-the-know and can be worn as easily as a wardrobe staple as a wall covering.
Alongside one of the best edits for fashion shopping in the world, its expansive beauty hall juxtaposes world-renowned makeup and skincare brands beside lesser-known, but equally high quality, offerings.
Piercing expert Maria Tash, widely worn by celebrities and members of the fashion community, has her own parlour on the ground floor, while those who want a remodel for their home rather than their body can head up to homeware. Renowned for their unparalleled selection of rare finds, remarkable antiques and future-facing interior designers, the home department caters to even the most weird and wonderful visions.
The men's floor showcases emerging designers as well as British staples, and offers the modern man a Pandora's box of clothing, footwear and accessories, from brands including Matthew Miller, Études Studio, Marni and Wood Wood.
But for all its pomp and fizz, Liberty doesn't take itself too seriously – there's a genuine sense of whimsy in its approach to retail. Collaborations with world-renowned brands add Liberty flair to iconic and much-loved clothing and accessories, and the stores collaboration with Florence and the Machine singer Florence Welch last year garnered lots of notable fans. It also hosts Open Call workshops for entrepreneurs to pitch new products more easily than ever before. To take part artists, creators and designers need just upload a photo of their unique work to Instagram using #LibertyOpenCall for the chance to have it immortalised in iconic Liberty Fabric. Visitors can also have their moustache expertly trimmed and waxed at Ruffians barbers or their barnacles plucked off by expert chiropodists in the Margaret Dabbs Sole Spa.
Unapologetically eccentric and truly innovative, Liberty is a London icon.
VIDEO: Time Out's guide to Liberty, the best shop in London
As featured in the 100 best shops in London
Details
Address:
Regent St
London
W1B 5AH

Transport:
Tube: Oxford Circus
Contact:
Opening hours:
Open 10am-9pm Mon-Sat; 11:30am-6pm Sun
Do you own this business?
Average User Rating
4.6 / 5
Rating Breakdown
5 star:

16

4 star:

8

3 star:

1

2 star:

0

1 star:

0
Liberty is a beautiful Tudor-style department store not far from Oxford Circus. Strolling through its 5 floors you'll find classic and eclectic designers' clothes, stationery and greeting cards for whatever event you're planning on attending, a café, flowers and plants of a wide multitude of colors and now, since we're close to Christmas, half a floor dedicated to baubles, trees and Christmas decorations able to satisfy even the more difficult tastes. Surely the store is pricey, but it's well worth even just a visit to admire the beautiful building and its often peculiar products.
This is a pricey but classy establishment. The real star of the show is the beautiful building. Liberty is more quirky & has more character than the other department stores. It's unique selling point is it's heritage with Liberty prints & William Morris being timeless classics
I have been hunting over London to find a stockist for Escentric Molecules perfume, which contains the Iso E molecule, when spritzed reacts personally with your pheromones creating a unique and addictive fragrance. So happy to have found it here, GO Liberty!
So many times I've walked past Libery but never imagined what I'm missing out on!
A gorgeous interior setting and a carefully curated selection of beautiful things on display, Liberty feels more like a museum than a department store. It's hard to describe the historical draw (it's been here since 1875!) from the moment you step in. Even just looking at the building is worth it - gorgeous wall carvings and wooden stairs, with a balcony-style display, almost reminiscent of Shakespeare's Globe. And then, of course, there are the *things* - luxurious draperies (of which you can order a tailor-made shirt), gorgeous fashion, stylish interior design and, of course, luxurious edible goods from chutneys and teas through biscuits and crackers and sweets.
Naturally, the best bit is the recently opened Christmas display - it's never too early to start, and with life-size reindeer, giant, cosy stockings, Christmas treats and decors and baubles of endless variety, it's sure to leave you drooling and covered in glitter. If you're after a bit of early Christmas magic, this is the place to be!
Liberty is a department store like no other. From the moment you see the tudor exterior, followed by the smell of the heavily perfumed main entrance from the abundance of flowers surrounding the door, you know you're in for a treat. Half shop, half working museum I can't help but spend more time looking at the architecture instead of the merchandise it houses. I recommend going a couple of times to really appreciate your surroundings. Take your time strolling from one room to the next as it really is a maze, and each room offers its own unique twist that altogether makes up this exquisite store.
Like the store itself, the products inside aren't what is found in any run of the mill high street store. They are all individually chosen to be inkeeping with their surroundings. Personally I go straight to 4th floor, arguably the most well known of all the floors, it is a collection of different items for the home, sourced from all over the world. From armchairs to tables, cushions to ornaments, and loads besides. It is simply a treasure trove, and even that doesn't do it justice. Finally don't forget to peek, and even buy, the world famous Liberty print scarfs. I like to think of them as the opitomy of Liberty, and you'll know why when you see them.
This place is just so quintessentially British and if you are a visitor why shop in a chain super store when you can go up and down the oak staircases and wonder through racks and racks of interesting clothes brands.
Liberties is full of treats which will probably aspire you to work harder so you could afford them. This is my go to place when there's sale on. The items are unique and most likely you wont be able to buy them elsewhere.
I hope this shop never shuts down as to me its a staple of London Shopping.
A beautiful building between Oxford Street and Carnaby street, shopping in Liberty is a visual treat. Highlights include their trademark fabrics, a great range of jewellery, homeware and the annual Christmas shop. They also offer a generous loyalty scheme, which rewards you with vouchers for what you buy and have some great collaborations (recently Uniqlo and Havianas).
I really like liberty. It has a Victorian-esque feel about it. However , its filled with the 20th century. You will find all your designer gear here from muimui to givency and the staff are relaxed yet friendly. .......they have a lovely gift/cars shop which has some of the most creative cards I've seen! Its never over crowded and it smells lovely. Great store for shopping!
Wonderful store, well worth a visit just to see the building. Everything is of a very high quality and the staff are very helpful. The Christmas shop is particularly special!

Hands down my favourite shop in London. The building itself is quirky and charming while the collections are carefully curated. The staff are incredibly helpful and the Liberty Loyalty card offers the best shopper benefits around. Private shopping events, purchase bonuses and discounts are just a few of the perks. If you're lucky enough to see the Christmas shop you're in for a treat!
What a wonderful shop! Has every single thing you need under one room, ranging from affordable prices to extortionate prices, but it's amazing to see all the designer clothing/accessories, and how they have been displayed about the room. The Chocolate room is amazing, and not too pricey! Lovely shop, great staff, well worth a visit!
Amazing building, great location and best offer! Love it! ;)
good but i would love to do business with you