London's best beauty shops
Want to get your face on fleek? Look no further than the best beauty shops in London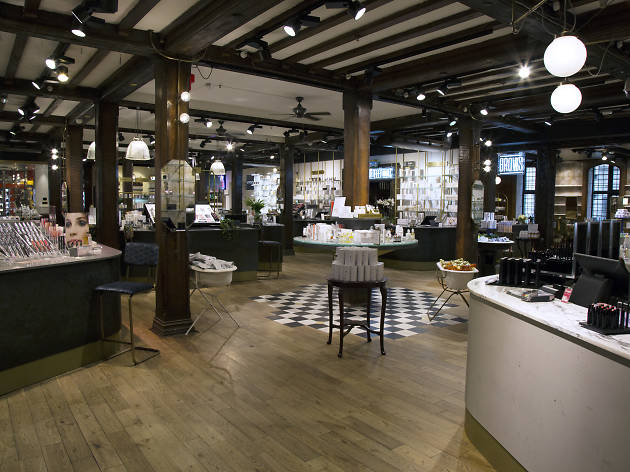 From organic pharmacies stocking products that are free of parabens, sulphates and other nasties, to full-on beauty emporiums with rainbow walls of colour, the capital has a wealth shops to fix your face. Here's our pick of London's best beauty shops.
RECOMMENDED: The best nail bars in London
The best beauty shops in London
Sometimes vloggers actually get it right, and that's definitely the case with Charlotte Tilbury's high-end make-up line. It's been a couple of years since the celebrity make-up artist (she's Kate Moss's fave!) launched her beauty store and it's one of the most hyped online. Known for her skincare and bombshell-worthy lipsticks and eye shadows, her products might be pricy but they're the best in the biz.
Read more
This make-up shop has the feel of a high-end store like nearby Mac or Benefit, but the product prices rarely hit a tenner. There are big well-lit mirrors to play with shimmer eyeshadows, multicoloured lipsticks and everything else on offer (and take selfies after!) and the staff happily offer up advice. You can even book to get your eye make-up done for £15 of products.
Read more
If you're looking for expert advice on what will be good for your skin type before you splash out £50 on a moisturiser, then Space NK is your go-to shop. Like a pharmacy but full of high-end make-up and skincare products, its expert sales assistants will talk you through the pros and cons of one brand vs another without trying to push you either way. It also looks like the future.
Read more
A leftfield choice, sure, but if you care as much about what's in your products as how they make you look then nowhere beats this hipster supermarket's beauty section. Organic, paraben-free, sulphate-free, vegan – you name it, it's got it. The assistants know their stuff, and they stock everything from Jason shampoo for a fiver to pricier Neal's Yard stuff. Oh, and you can pick up some organic veg while you're there.
Read more
This south London beauty wholesaler is one of the few Afro-Caribbean hair specialist shops in London owned by an Afro-Caribbean woman. Sandra Brown Pinnock started the business as a hair extension company before developing her own product when she was disappointed by the quality of other brands. XSandy's stocks super-reasonably priced and great-quality hair extensions, wigs and treatment products.
Read more
If a great beauty shop equals department store luxe then Liberty offers both a beautiful environment and an unrivalled selection of beauty products. The people who work there always take the time to consult you. Plus, while you can pick up a £70 moisturiser there they also have more affordable cult products like Weleda skin food for £9 and Pixi Glow tonic for £18. (And they always have great deals on.)
Read more
Venue says: "Unique gastronomic experience featuring Norwegian king crab and hand-selected, dry-aged Nebraskan Angus beef."
The aesthetics of London's beauty stores usually lands somewhere between 'futuristic pharmacy' and 'glitter kingdom'. Beast is distinctly macho, though. Its 'aim is to change the way men shop for beauty' and it does that with stainless steel cabinets and four clearly labelled sections: 'Body', 'Hair', 'Shave', 'Face' and 'Fragrance'. While that might sound like the changing rooms of a boxing gym, this is a strictly Lynx-free zone. Stocked products come from boutique luxury brands like Penhaligon's, Bad Norwegian and DR Harris.
Book now
Read more
Want to indulge in a day of treatments? Harvey Nichols's beauty lounge recently had a refurb and is now an ideal spot for every pamper sesh of your dreams (and others you haven't even imagined yet). For example, why not have a facial using LED lights to brighten your complexion? Experimenters, welcome to heaven.
Read more
If you like your skincare fuss-free then Pearl Pharmacy is for you. While it might not look like much from the outside it stocks all the French brands you've stocked up on in Sephora on holiday: Nuxe, Vichy and Bioderma. It's also now home to beauty salon Total Body Care which offers everything from fillers to lash tinting.
Read more
Show more
Indulge in more retail therapy
We've managed to whittle the list of thousands down to the 100 best shops in London. There's something to please every taste and budget, including a selection of the best department stores, quaint little boutiques, cavernous thrift stores, chic homeware outlets and designer fashion shops.
Read more
Sponsored listing
Pure Vinyl Records
Situated in Brixton's Reliance Arcade (one of the trio of covered markets) Pure Vinyl Records does exactly what it says on the tin. The small, narrow shop is lined with wooden crates stacked with new and second-hand LPs, EPs and seven-inches. Owing to the tiny space, the walls are also lined with records. If you're after some soul, funk or reggae in particular, then Pure Vinyl will serve you well. But a good dig will unearth a few other genres, including hip hop and rock, plus some local artists.
Venue says: "Specialising in soul, funk, rhythm and blues and reggae."