Heads up! We're working hard to be accurate – but these are unusual times, so please always check before heading out.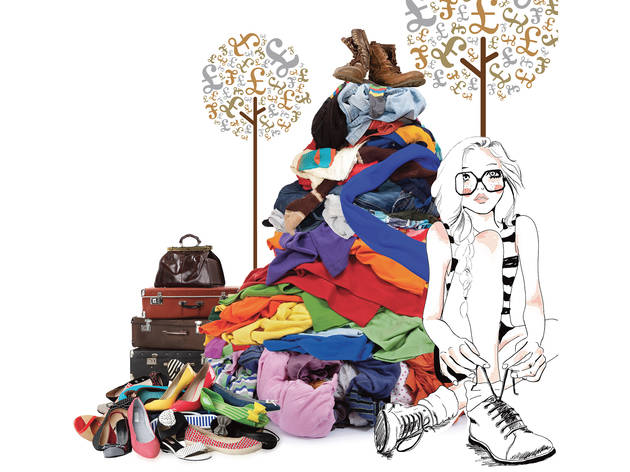 London's best fashion exchanges
From car-boots to swishing: how to swap and sell your way to a better wardrobe
Skint? No room in the cupboard for your new sales buys? Take a lesson in making money and space with our guide to swapping, selling and exchanging your fashion faux pas.
The car boot sale
The saying 'one man's trash is another man's treasure' never rings truer than at a car-boot sale. Accessories – especially designer ones – do particularly well here, so dig out those unflattering sunglasses, abandoned bags and poor-fitting belts, and grab your car keys…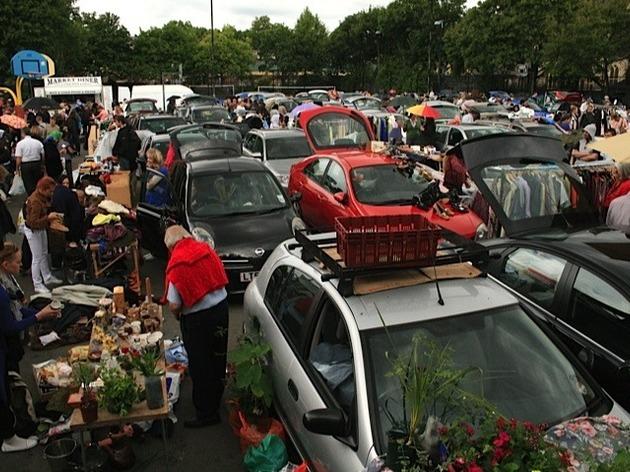 You'll be sure of good footfall at this perennially busy south London car-boot. Its scale is vast, and sellers range from locals clearing loft junk to serious secondhand traders. You can pre-book a pitch online or arrive on the day and queue for a 'walk-in' pitch priced at £10 for a table-sized area.

www.batterseaboot.com Battersea Park rail. Sundays.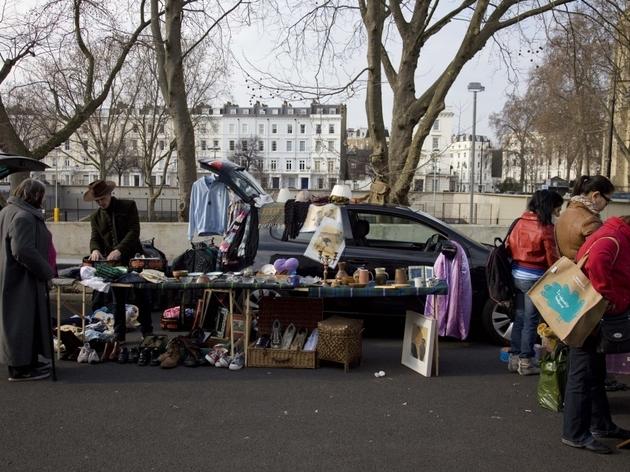 The salubrious central London location of this event means shoppers are willing to part with a fair amount of cash in return for quality vintage and high-end clothing. Retro garb is especially popular here, as is granny-style crockery and homeware.

www.capitalcarboot.com
Pimlico. Sundays.
Princess May draws an appropriately hip Stoke Newington and Dalston crowd at its lively sale for vintage and valuables. There's usually a great choice of costume jewellery. 50p entry (£3 before 9am).

www.thelondoncarbootco.com Dalston Kingsland Overground. Saturdays and Sundays.
Seasoned car-boot trader Mercedes Simpson (co-founder and director of Paper PR) shares savvy seller knowledge

1. 'A table and rails are essential: they make for much easier browsing and you can often charge more if you have a tidy display.'
2. 'Always have a float of change – there's nothing worse than losing a sale because you can't break a 20.'
3. 'Don't bombard people as soon as they approach your table. If people think you're desperately trying to flog them your old rubbish, they will often walk away.'
The exchange shop
Feeling guilty about those Chloé shoes you only wore once? If you have unwanted designer (or even high-end high street) pieces lurking in your wardrobe, get them washed, ironed or dry-cleaned and take them to one of London's dress agencies.
This West End stalwart is always worth a rummage and as with all exchange shops, it only buys stock in excellent condition. Designer shoes and quality high street frocks and coats are currently being snapped up, though don't expect to make more than 30 percent of what the store will sell the item for.

www.bangbangclothingexchange.co.uk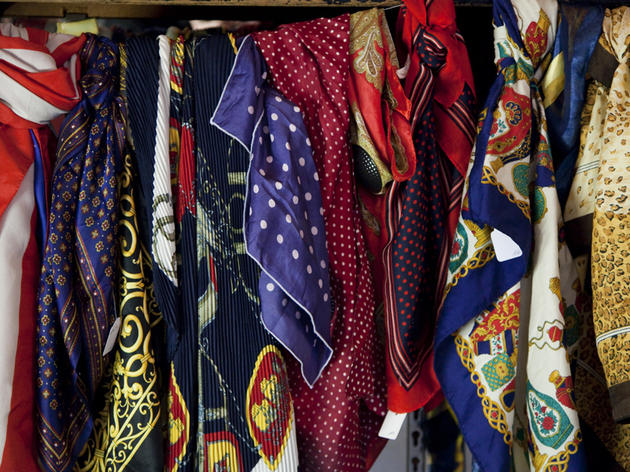 This style bloggers' favourite is interested in good-quality secondhand pieces by labels such as Chanel, YSL and Issey Miyake. Strut buys seasonally, so only takes in winter clothes now. If the buyers are interested, they'll offer you 25 percent of the final price.

www.strutbroadway.blogspot.co.uk
More generous than most consignment services, The Dresser offers a 50/50 deal, writing you a cheque for half the sale price if your garment sells within eight weeks. Make an appointment to show your seasonal, preferably designer pieces. Vintage doesn't cut it here, so make sure your items are less than two years old.

www.dresseronline.co.uk
Founder of vintage designer emporium High Fashion Society, Yoanna Hanchard, offers valuable advice.

1. 'Choose a reputable shop with an online presence like High Fashion Society. It's the easiest route to reaching a lot of people.'
2. 'When selling designer items, make sure you have an authenticity card and original dust bags. These will help determine the price and heritage of the item.'
3. 'Build a reputation. Buyers are reluctant to part with money unless purchasing from a trusted seller.'
The swap party
Swapping clothes at a dedicated party (aka swishing) is the quickest method of refreshing your wardrobe and taking an ethical approach to filling it with new ones. There are usually some basic rules in place: everything must be washed and in nearly-new condition, no T-shirts, vests or underwear, and think quality, not quantity.
Held once a month at the Britannia pub in Victoria Park, this swishing event invites you to bring seven items which are then graded red (for high street) or blue (for designer). You get red or blue stamps back to 'spend' at the sale. Nearly-new coats, shoes and boots are going fast at the moment.


www.mrsbears.co.uk
Homerton Overground.
This non-profit swishing collective hosts regular free events in Dalston where you can take quality, unwanted clothing and swap it for new threads. Leftovers are donated to clothing charity Traid. You won't make any money – but you'll leave with a warm feeling in your heart and homemade cake in your belly.


www.swishing.gr
The Grafton Clothing Exchange
This popular monthly Saturday swap party in a pub accepts a maximum of ten items including shoes and accessories. You're allowed to take away as many items as you brought – and you only have to pay for your beer. A good way to spend an afternoon, we think.


www.thegrafton nw5.co.uk
Kentish Town West Overground.
Joanne Walters, founder of Mrs Bear's Swap Shop, suggests good swapping practices.

1. 'If you bring good quality, you'll take home good quality. You'll also receive more stamps for swapping.'
2. 'Don't be afraid to try a new look or experiment with your style – you can always re-swap items next time!'
3. 'If you're coming with a friend, get them to look out for pieces that will suit you too while they rummage the rails.'
The online auction
If you have the time and inclination to photograph your clobber and create a listing – and be prepared to sell your cast-offs internationally – you may soon be mailing your hard-won H&M x Maison Martin Margiela bag to a fashion-obsessed design student in Brisbane for five times the original price.
It's unlikely you'll get more than your item was originally worth through this online store (there's also a central London boutique), but you will get a decent percentage of the profit. Sellers are screened for their style credentials before being allowed to post their items on the site: you'll make between 65 to 85 percent of the sale price.


www.buymywardrobe.com
This London-based online shop, apparently the 'UK's first trainer consignment store', deals in super-rare sneakers sourced from private international sellers. Send ETC your pre-loved trainers and they'll clean them up and find you a buyer who's prepared to pay over the odds, taking a small-ish 20 percent cut for the trouble. Best sellers right now: limited-edition Nike and New Balance styles.


www.etcstore.co.uk
A bit like a French eBay dedicated to fashion – and obviously way more chic – Vestiare Collective is where stylish label lovers part with their unwanted fashion. The accessories selection is particularly strong – a quick click revealed a Hermès leather belt for £120, a pair of Sandro studded boots for £150 and some Vanessa Bruno pumps for £130. Mais oui!
www.vestiairecollective.com
James Stewart, director of consumer-to-consumer selling at eBay, has top tips for selling through online auctions.

1. 'Timing is key. Listings that end in the middle of the night will be seen by fewer people.'
2. 'Make sure you're on hand after the sale to provide great customer service. This will ensure positive feedback.'
3. 'Use your mobile for ease. The eBay app is free and you can list an item in just 60 seconds using barcode technology.'