London's best shoe shops
Where to find covetable footwear in the capital, for men and women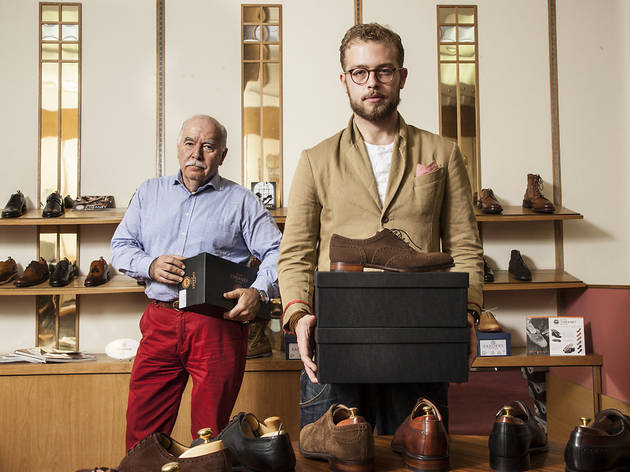 Whether you're in search of sparkly stilettos or sturdy sneakers, London is head and feet above the rest. From the world's biggest shoe deparment to quirky boutiques, we've rounded up the capital's ultimate footwear finds.
Think we've missed one of London's best shoe shops? Let us know in the comment box below.
201 Regent Street, London, W1B 4NA

Church's has been around for years, so long in fact that they were one of the first companies to distinguish between left and right feet and design shoes accordingly. Worn by politicians, celebrities, diplomats and probably James Bond, Church's classic styles are a true investment. The Regent Street store is well worth a visit to chat with the knowledgeable staff and soak up that irresistible smell of expensive leather.
Read more
87-135 Brompton, London, SW1X 7XL


In London, Harrods is the final word in luxury and the store's shoe departments are no exception. The women's section is fitted with gold-seamed marble floors and glass shelves and the men's section is an education in old-world glamour – at the entrance you'll find Gucci loafers and Tom Ford brogues on display aloongside orchids and bamboo shoots. The Harrods men's bespoke tailoring service is on the first floor: enquire about the exclusive made-to-order shoe service from Nick Tentis and Ferragamo.
Read more
35 Carnaby Street, London, WC1 7DP


Irregular Choice sells all sorts of weird and wonderful shoes as well as a small range of equally unusual clothes. Ascend the neon flashing stairs and check out the new floor.
Read more
1 James St, London, WC2E 8BG


Behold, a shoe chandelier! If you thought such things were limited to your dreams you're in for a treat at Kurt Geiger's new Covent Garden flagship. As well as Kurt Geiger and KG ranges, the store also stocks Prada and Marc Jacobs for women and Hugo Boss and Paul Smith for men. The accessories are great, too.
Read more
5 Mount Street, London, W1K 3NE


It's understandable to expect great things from the first stand alone shop from the shoe designer championed by Isabella Blow and Philip Treacy and you're unlikely to be disappointed – rotations of around three months see new installations in the building. Kirkwood's studio is above the shop so particularly keen beans can look out for the designer himself.
Read more
13-14 Portsmouth Street, London, WC2A 2ES


Japanese shoe designer Daita Kimura spends his days making avant-garde footwear in his basement workshop and concocting equally memorable names for his creations, such as 'Big Foot for Smelly Foot' (yes, really!).
Read more
61-63 Monmouth Street, London, WC2H 9EP


Poste Mistress on Monmouth Street is high street stalwart Office's sexier, cooler sister. Finely treading the line between powder room and brothel, Poste Mistress is best known for its own-brand vertiginous heels but the shop also stocks an impressive range of designers such as Vivienne Westwood, Marc Jacobs and Stella McCartney alongside fetish-worthy pairs.
Read more
128-130 Regent Street, London, W1B 5SE


Although the shop layout may not be much to write home about, at the Regent Street store the shoes speak for themselves. Having successfully shaken off its Hampshire mummy reputation, in the last few years Russell & Bromley has gone from strength to strength, a testament to which is the enduring popularity of their Chester loafers. As well as beautiful flats for men and women there are extremely comfortable heels. Our tip? Head to the High Street Kensington store on a quiet afternoon to browse in peace or take advantage of the brilliant fitting service for children.
Read more
400 Oxford St, London, W1A 1AB


Comprising six shoe galleries and 11 boutiques, the Shoe Galleries at Selfridges is the biggest shoe department in the world and stocks everything from Vans to Louboutin. The use of 'Galleries' isn't completely unjustified; each gallery has been created with the brand ethos in mind, for example Prada's jewellery box-inspired gallery and the Repetto space that's complete with theatrical red velvet curtains and chandeliers. Particularly remarkable is the designer room (beside a 'suspended garden of Eden') where couture shoes from the likes of Balenciaga, Rupert Sanderson and Givenchy are displayed on marble slabs and the service is second to none.
Read more
See our full guide to London's best shops