Heads up! We're working hard to be accurate – but these are unusual times, so please always check before heading out.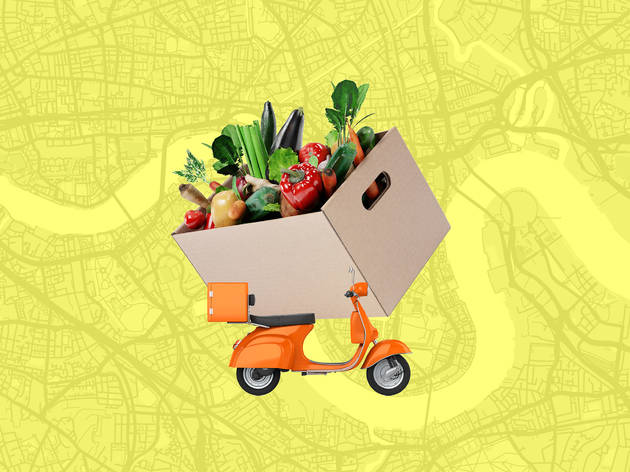 The best fruit and veg boxes you can get delivered in London
Stay healthy and support the city's greengrocers with these cardboard bundles of nourishing joy
Still stuck indoors? Well, we can't do anything about that, for now, but we can ensure we don't slip on our five a day. The easiest way is to sign up for one of these pre-packed fruit and vegetable boxes that will be delivered straight to your door.
Many of the traders on this list have spent years supplying markets, hotels and restaurants with fresh produce. Now they're supporting their local communities by doing the same for your average Londoner (that's you).
We've done our best to tell you what you're getting from each place, but details change all the time, so we recommend you check their websites for up-to-date info regarding the contents of each box, delivery times and anything else you're concerned about.
While you're here, why not also have a look at our list of local businesses selling all sorts of specialist groceries? If it's meat or fish you're after, check out our guide to London butchers and fishmongers who will bring their wares to you. Or, to satisfy your sweet tooth, shops and restaurants that will take their desserts on the road. And if you don't fancy cooking, there's always our directory of brilliant restaurants still delivering food across the capital. Chow!
This article includes affiliate links. These links have no influence on our editorial content. For more information, click here.
London's best fruit and veg boxes
They say 'We bring the best of the organic world from farmers, makers and bakers to homes up and down the country in our sunny yellow vans.'
Price for a box There are boxes of various sizes with various contents, but the minimum order is £12.
Delivered to Throughout England and Wales. Delivery charge is £1.50 no matter how much you spend.
They say 'All Greens boxes are made up just before delivery with seasonal fruit from Britain and beyond by our expert greengrocers.'
Price for a box Fruit boxes start at £20. Milk and eggs can be added to each order.
Delivered to Central London, E, N, NW, W and SW postcodes, plus most SE and some TW postcodes.
They say 'The best fresh fruit and veg and more. Hassle-free deliveries. Honest service.'
Price for a box If you choose a pre-packaged option it'll cost you about 20 quid. The mixed fruit and veg box looks fantastic: a mix of essentials as well as earthy stuff like parsnips, swedes and more. The build-your-own option gives you a minimum spend of £18 and features loads to choose from.
Delivered to W1, WC1, WC2, NW1, EC1, EC2, EC3, EC4, E1, E2, SW1, SW8, SE1, SE11, SE16, SE17 are all free delivery. All other London postcodes incur a £5 delivery fee.
They say 'Contact-free home deliveries of the finest produce and kitchen essentials delivered directly to your door in London and the Chelmsford area.'
Price for a box These guys recently stopped doing pre-packed boxes, but there's still a great range of fruit and veg (and more!) to build your own with. Minimum order is £30.
Delivered to Selected London postcodes throughout the week, as well as Chelmsford.
The Covent Garden Fruit Co
They say 'Fresh, seasonal fruit delivery to your London office from Covent Garden Market. Fruit boxes, eco-friendly bags and fruit baskets.'
Price for a box £11.95 and up for pre-packed. The option's there to create your own too.
Delivered to All of London, but check postcodes before ordering. Orders over £16.95 are delivered free of charge.
They say 'A comprehensive box of fresh fruit and vegetables. Dairy products can be added to orders. Special products can be added on request.'
Price for a box From £30. Extras like eggs can be added.
Delivered to All of London, but best to check for less central postcodes.
They say 'We offer two box sizes full of fresh fruit, vegetables, herbs and pantry goods which you could use for cooking, baking, frying or making delicious smoothies.'
Price for a box Fruit and vegetables from £25, with a £15 'essentials' add-on, if you need it.
Delivered to CR4, CR7, E1, E2, E8, EC1, EC2, EC3, EC4, N1, N5, N7, N16, N19, NW1, NW3, NW5, NW6, NW8, SE1, SE4, SE5, SE11, SE14, SE15, SE16, SE17, SE19, SE20, SE21, SE22, SE23, SE24, SE26, SE27, SW1 to SW19, TW9, TW10, W1, W2, W4, W6, W8, W10, W11, W12, W14, WC1 and WC2.
They say 'A family-run business that has been delivering the finest grass-fed organic meat to households throughout the UK for 12 years.'
Price for a box Just £11.95 for a small but handsomely packed veg box. For under 20 quid there's also the Friday Night In box, which features salad, loads of potatoes, mushrooms, tomatoes and two grass-fed steaks. Lots of options, and it all looks like great value.
Delivered to All over the UK, standard delivery costs £3.95. For orders over £80 (easily done with these guys) it's free.
They say: 'We're a North London based fruit and veg box company that's been delivering from 2009. We work with over 150 British producers and specialise in seasonal and local produce.'
How much is a box? Box price range £4.65 to £18.95
Delivery: Minimum order £15. Delivery is £2 to most London post codes. Their map is here.
They say 'Delivered by hand straight from the land.'
Price for a box Just £10.45 for the alluring Standard Fruit Bag. For just over 20 quid you can net yourself a Big Vegetable Bag which contains no less than nine types of organic vegetable in 'generous quantities'.
Delivered to London, Brighton and the South East of England.
They say 'Offering a home-delivery service with various items plus a mixed fruit and veg box, delivered free within one to two days.'
Price for a box From £22. You can also get 30 eggs for a tenner!
Delivered to All parts of central London and many parts of Greater London.
They say 'Enjoy the best of British and beat those isolation blues with our local & wild treats delivered to your door.'
Price for a box The farm-fresh veggie collection is £25, and you'll be thrilled to know you can add a black Australian truffle for an extra £70!
Delivered to Twickenham-focused, but also to south-east, south-west and central London. £5 delivery charge.
They say 'We supply the finest fruit and vegetables, as well as dairy products and frozen foods, delivering seasonal produce straight to your door in recyclable cardboard boxes.'
Price for a box Either fruit or veg from £20.
Delivered to Everywhere in Zones 1-6.
They say 'Fresh fruit and vegetables picked daily and delivered to your door across London.'
Price for a box Two options for you: regular for £39.90 or large, for bigger families, priced at £59.90.
Delivered to Free delivery for all of London.
They say 'Originally, we are a wholesale business supplying the best restaurants and hotels in London with the freshest, most delicious ingredients. Now, you can access these goodies too, and have them delivered right to your door.'
Price for a box The Perfect Veg Box looks like a steal for £18.50. The Gourmet Box at £55 is a lot of fun too.
Delivered to Most north- and south-London postcodes.
They say 'Suppliers of worldwide fresh produce to the hotel and catering trades. Now offering home delivery'
Price for a box From £25.
Delivered to London and the Home Counties, six days a week.
They say 'With a delicious selection of fresh fruit & vegetables to choose from, you can enjoy the convenience of delivery direct to your home.'
Price for a box The sweet-treat specialists have pivoted to health-giving goodness. The fruit box is £27.99 and contains 12 types of, you guessed it, fruit. Looks good. For a few quid more, the mixed box contains a lighter mix of veggies (broccoli and asparagus!) too.
Delivered to UK-wide, seven days a week with contact-free handovers.
They say 'We take produce from producers that relied on farmers markets and restaurants and deliver to your doorstep.'
Price for a box A seasonal fruit and veg box is only £16. You can also top up your package with all sorts of cheeses, juices, cured meat and fish, herbs and goodies sourced from local suppliers.
Delivery It supplies residents of N1, N4, N5, E8, N6, N7, N8, N19, NW1, NW3, NW2 and the surrounding areas, and charges a delivery fee of £4.99. Or you can do click and collect and pick up your bits from its nice pop-up shop in Canonbury for free.
They say 'Nova Blooms have access to fresh fruit and veg suppliers as well as knowledge of the trade and the infrastructure required to help meet the demand for fresh grocery deliveries.'
Price for a box A reasonable £20 for 4kg. You can also build your own from scratch.
Delivered to Apparently within 48 hours, across all of London.
They say 'London's first and only food-waste-fighting fruit and vegetable subscription box, that helps save our planet by rescuing surplus and imperfect produce directly from farms.'
Price for a box They start at just £10.99, but the larger ones (£18.49) contain nine varieties of seasonal and local veg and four types of fruit.
Delivered to Most London postcodes, but check the website's list to be certain.
They say 'Our regular portfolio of clients include hotels, restaurants, cafes and offices throughout London. We have put together a collection of Household Bundles for you to stock up on the essentials.'
Price for a box The Household Bundle is £30.
Delivered to Most London postcodes (but do check). Ortaggi aims to have orders delivered within three working days.
They say 'Oui Chef Boxes deliver the best-quality seasonal produce daily, direct to your door.'
Price for a box Fruit boxes from £25. Basics like eggs and pasta can be added. NHS staff get a meaty discount.
Delivered to All London postcodes.
They say 'A box of as much locally sourced fresh fruit and veg as possible, mostly from Sussex but sometimes a little further afield, plus some staples we know you've been missing.'
Price for a box £15 for the small one, up to £20 for a larger, week's worth of fruit and veg.
Delivered to London (within the M25) and to Brighton. The contents of the boxes can vary, and delivery slots cannot be guaranteed. Regular, weekly boxes can be arranged.
They say 'The founders of Ripe have been supplying London's best chefs and food writers for over 30 years, and are now on a mission to deliver seasonal fruit boxes and healthy snacks across London.'
Price for a box From £21. Choose a box and then add extra fruit.
Delivered to Most London postcodes.
They say 'Set boxes packed with the best organic food. We've designed a range of boxes to suit your needs.'
Price for a box The medium-sized seasonal organic veg box is a very affordable £15.35.
Delivered to Citywide. There is, however, a delay for new customers signing up.
They say 'Our main products are boxes featuring between 18 to 22 different fruit and veg, however we also do all daily essentials such as bread, milk and eggs. Plus a load of homemade goodies.'
Price for a box A pasta collection is £15. Fruit and veg £25.
Delivery to Your doorstep the next day if your order is placed before 1pm (Tuesday to Saturday). Most of London is within range of its vans.
They say 'All the best fresh ingredients to create tasty and filling salads, with fine combinations of flavours and textures.'
Price for a box The fruit box for two is £14.50. There's also a sort of ultimate salad box for £36 which contains everything you need to create the Spier's range of zingy plates at home.
Delivered to Free delivery to most of SE, SW, EC and WC, much of W, some E, N and NW1.
They say 'We have curated a nutrient-rich box including a different signature pot from Spring Green with fruits, vegetables from one of our favourite suppliers Natoora and many other delicious things from a variety of our incredible suppliers.'
Price for a box The Rainbow Box, which feeds between two and four people for a week, is £49.
Delivered to All of London. For every tenth box sold, one box is donated to an NHS worker at St Thomas' Hospital.
They say 'Offering a bespoke order service supplying fresh fruit and vegetables, with free delivery to certain London postcodes.'
Price for a box An essentials box costs £15.
Delivered to From Monday to Wednesday it delivers to north and south-west London. From Thursday to Saturday it delivers to south, south-east and east London. Delivery is free of charge, and within one to three working days.
They say 'We are now offering home delivery of our premium fresh fruit, vegetables and salad boxes. We are also now delivering a range of essentials including milk, bread, cheese, butter and eggs.'
Price for a box The fresh salad box is only £16.95.
Delivered to N2, N3, N6, N8, N10, N11, N12, N22, W9, NW3, NW7, NW11, N13, N14, N20, N21, EN1, EN2, EN4, EN5, E4, E11, E18, IG5, IG6, IG7, IG8, IG9 and IG10.
Support Time Out
We see you're using an ad-blocker. Ad revenue is Time Out's main source of income. The content you're reading is made by independent, expert local journalists.
Support Time Out directly today and help us champion the people and places which make the city tick. Cheers!
Donate now