Heads up! We're working hard to be accurate – but these are unusual times, so please always check before heading out.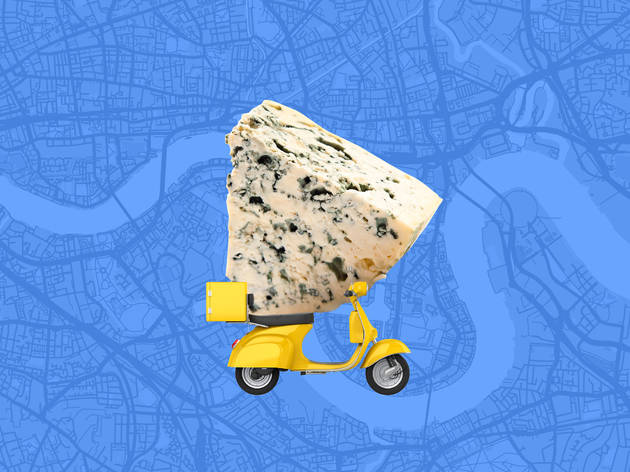 The best ways to get your groceries delivered in London
Just because you're shut away indoors at the minute, it doesn't mean you should go without your charcuterie and fresh pasta
London's good for bits and bobs. Need to pick up some coriander seeds and oolong tea? Chances are somewhere around your ends has them. Lockdown means you might not always be alright to just 'pop out' though, so we've put together this list of local London businesses that are putting a shift in to get all sorts of ingredients to the capital's population of cheese fanatics, coffee freaks and budding chefs.
We've done our best to keep this list accurate and up-to-date, but details change all the time, so check websites for the latest information regarding delivery details. We'll be adding to this list regularly, so keep your eyes peeled – or if you know of a company that should be included, please get in touch and let us know.
While you're here, why not also have a look at our list of the best fruit and veg boxes that can be delivered? If it's meat or fish you're after, check out our guide to London butchers and fishmongers who will bring their wares to you. Or, to satisfy your sweet tooth, shops and restaurants that will take their desserts on the road. And if you don't fancy cooking, there's always our directory of brilliant restaurants still delivering food across the capital. Tuck in!
The London businesses delivering top-quality food and groceries
They say: 'Bringing Mediterranean and Middle Eastern ingredients to your table since 1991.'
Why buy? Give Belazu a whirl if you're in the market for specialist ingredients like harissa pastes and premium olive oils.
Delivery: Free shipping for orders over £40.
They say: 'Enjoy the Cafe Murano experience at home.'
Why buy? Pasta, pasta kits and all manner of sauces from Angela Hartnett's south-east London Italian restaurant. Not just pasta either. Wines, cheeses, flour and fresh veg are all available.
Delivery: To postcodes within a three-mile radius of the Bermondsey restaurant. Collection is also available.
They say: 'We are an eco-friendly, speciality coffee roaster based in the heart of Penge, south-east London.'
Why buy? A fantastic weekly, bi-weekly or monthly coffee subscription service. The good stuff comes packaged in reusable tins. Your first monthly order is free.
Delivery: Free local bike delivery across south-east London.
They say: 'We'll take you on a voyage of discovery and introduce you to some of the most exciting flavours and fascinating stories from around the chocolate world.'
Why buy? It's a craft chocolate subscription service! The reviews have been good too, so if you're into your dark stuff, give it a look.
Delivery: Still aiming for next-day deliveries, despite everything.
They say: 'The finest raw vegan chocolate made in the UK.'
Why buy? Compostable packaging and ethically sourced ingredients. Not to mention a great line-up of not-for-kiddies choccy products.
Delivery: Free shipping on UK orders over £40.
They say: 'You can get any groceries from our farm shop shelves delivered to your door – from fresh fruit and vegetables to organic cheese, fresh meat and fish, artisan bread and pastries.'
Why buy? The phenomenal selection. Daylesford's bread and meat sections will have you impulse-purchasing flank steaks and pumpkin sourdoughs.
Delivery: All of London. Free delivery for customers living near Daylesford farm shops.
They say: 'We specialise in trading only the most exquisite authentic Italian food and wines.'
Why buy? The Borough Market regulars do a mean line in high-quality cheeses, oils and cured meats.
Delivery: Only to the areas surrounding Borough Market. Orders can also be picked up (in a contact-free fashion) from its shop.
English Cheesecake Company
They say: 'Premium, handmade cheesecakes and desserts delivered to your door.'
Why buy? You thought you knew cheesecake? Unless you've seen this site, you did not. It doesn't just do one thing, either. There's fudge cake too! All made by hand in north-west London.
Delivery: As per usual, but now with a handy 'leave the cake on my doorstep' option.
They say: 'A collective of young passionate individuals dedicated to producing and bottling the highest quality milk and cream.'
Why buy? Unhomogenised milk! The way nature (but not the government) intended. Loads of fancy butter, cheese and the like. Bonus: coffee and chocolate.
Delivery: All across London (but do check the website first).
They say: 'Mixing the quality and ethics of a farmers' market with the ease and range of an online supermarket.'
Why buy? Sustainably sourced produce that's bought from farmers for a fair price. Not to mention the mind-bogglingly huge range of products.
Delivery: Across London. You get a free three-hour slot if you spend more than £60, under that, it's £4.
They say: 'Instant whole plant smoothies, made from freeze-dried fruits and vegetables.'
Why buy? It's still important to get your five a day. And these genius sachets of freeze-dried plants are a great way to go about getting them.
Delivery: Across the city, business as usual for Foga.
They say: They're La Fromagerie, they don't need to say anything, do they? The highest quality cheese and wine, delivered to your door.
Why buy? The gift boxes of wine, port and of course cheese are top-notch. It's worth noting too that they're also now selling a range of fresh and dried goods, although what's available changes daily so best to check first.
Delivery: La Fromagerie will deliver to the areas close to their Highbury and Marylebone branches. Check the website for details.
They say: 'Our mission is to enable people to order and receive their favourite groceries whenever and wherever they need it.'
Why buy? Grocemania works with various shops in your area. Just tell them where you live and you'll be able to get deliveries sent to you pronto.
Delivery: Free when you spend more than £30. Orders can be made over the phone or by app, and are dropped off sometimes less than an hour later by courier.
They say: 'The Grocery List presents a curated list of quality local suppliers offering delicious, sustainable and personal products in an online directory.'
Why buy? All food is here (plus wine, flowers and wellness products). Buy your bread, meat, veg and deli treats knowing that you're supporting independent producers and other small businesses.
Delivery: Most of the suppliers on the list handle their own delivery, so check individual websites for details.
Hack & Veldt Delicatessen
They say: 'An independent delicatessen located in the heart of Chiswick on Turnham Green Terrace.'
Why buy? A great selection of antipasti, charcuterie, cheese and fresh produce like pasta and pies made in its kitchen.
Delivery: Locally to a mile around Turnham Green and Chiswick. A £3.95 fixed delivery charge.
They say: 'We offer beautiful top-quality produce to be delivered straight to your home. We provide not only fruit and veg, but we have the essentials such as bread, milk, eggs, pasta as well as vegan alternatives such as oat milk, soya milk and tofu.'
Why buy? To support an old-school London business that's been supplying Covent Garden for decades.
Delivery: London and the Home Counties. Minimum spend is £20.
They say: 'Our ice cream breaks convention, and to break convention we constantly find new ways to refine our craft. From the tools we use, to the ingredients we select, everything has been meticulously planned and sourced by us for the finest results.'
Why buy? The Lionel Messi of ice cream. Meticulously engineered for unbeatable results. These artisans pride themselves on going the extra mile to deliver next-level desserts. The cornflake flavour is not to be missed.
Delivery: Next-day, right across London. Minimum order is four 500ml tubs. You'll make quick work of them.
Ichiba online market place
They say: 'London's first Japanese grocery delivery service across London - delivering over 600 groceries, fresh sushi, sashimi, sliced fish & meat, curries and noodles too!'
Why buy: It's the Japan Centre, pal! Top-notch produce, sourced from the best places in Asia. The meat and fish counter looks especially good.
Delivery: The minimum order is £25 and the local delivery charge to 'main London postcodes' is £2.99.
They say: 'We are a food and drink grocer with next-day, contact-free delivery slots, for homes including #shielding communities.'

Why buy? Need to stock up on the basics fast? These guys might be your knights in shining armour. Everything from Belgian waffles to bleach.

Delivery? They aim for next-day delivery across all of London from their Enfield branch.
They say: 'Everything you'll buy from us at Joy is good for you - no frills, no additives, just really good local food from trusted suppliers and excellent producers in Kent.'
Why buy: Free-range excellence from the Stevie Parle. This is tip-top produce, featuring meat, fish, fruit and veg, meal kits, deli and bakery. The selection is really colourful, varied and interesting, so have a gander why don't you?
Delivery: Twice weekly (Wednesdays and Saturdays) for orders across London.
They say: 'King's Fine Food was founded on the "Food of the Kings", as the delicacy is known, and continues to be the largest importer of caviar into the UK. Founder, Laura King, is renowned as one of the UK's leading caviar experts.'
Why buy? You want caviar? You'll be happy here.
Delivery: Everywhere. But operating a reduced delivery service because of, well, you know, the current situation.
They say: 'We select a range of up to 30 cheeses to have on our counters. These change regularly depending on quality and season. Having a small and variable selection ensures only the best and highlights the romanticism and quality of seasonal, handmade products'
Why buy? Only a few years old, but already a Chelsea institution, London Cheesemongers are serious about their craft and offer a wide range of dairy products as well as gift boxes.
Deliver: Same-day courier services are available for anywhere in London. Anyone living locally gets a free bicycle courier service thrown into the bargain.
They say: 'From our central London base we deliver top-quality, competitively priced dairy products, provisions and speciality cheeses six days a week.'
Why buy? A brilliant selection of British and Continental dairy goods. If you ever wanted to own two-and-a-half kilos of mozzarella, now's your chance.
Delivery: London postcodes as well as Barnet, St Albans and surrounding areas. Minimum order is £15.
They say: 'We roast the best coffees in the world. Better than Fairtrade, single-origin, peng-ness.'
Why buy? Top tea and choc-choc, as well as the main event: single-origin coffee available as beans or ground (check out the lavish and informative write-ups of each variety on the website).
Delivery: Its Brick Lane location is closed but L&S is still sending out bags of the good stuff from its Walthamstow premises.
They say: 'A place where muntjacs follow their dreams and where our family's passion for tea has been handed down through generations of farmers in Taiwan.'
Why buy? No, we don't know what a muntjac is (okay, we do), but these guys do a great line in tea care packs, ranging from £10 to £30.
Delivery: Free UK delivery for orders over £25.
They say: 'A new food delivery service, bringing the UK's most exciting small independent food and drink brands straight to your door.'
Why buy? Your favourite indie sauces, snacks, drinks and whatnot, available to buy in nifty bundles (the 'working from home' box looks good to us).
Delivery: UK-wide delivery in two to four days, £20 minimum spend.
They say: 'Minor Figures' products are equally at home in the aisles of a major retailer, and behind the bar at the best coffee shops around the world. The only constant is that all our products are 100% plant based with no added sugar.'
Why buy? Aside from their own line of coffee, you've also got limited edition blends, by guest roasters, and a very fetching range of sweaters.
Delivery: Yep, and they'll even throw in a case of Oat M*lk if you buy the guest roast.
They say: 'Monte's Italian Delicatessen is a family-run purveyor of fine Italian food, drink and gifts located in the heart of Islington.'
Why buy? Monte's never used to do deliveries, but right now you can order its high-quality Italian produce from anywhere in London. A brilliant range of sauces, pastas and olive oils.
Delivery: Citywide, but expect a bit of a delay.
They say: 'A craft roastery, based in south-east London. We roast the very best beans in small batches and deliver your coffee to your door.'
Why buy? A great range of single-origin coffees and special blends. A subscription service is also available.
Delivery: Free, all across London. Very nice!
They say: 'We source seasonal produce that highlights the true cost of farming, protects the land from soil depletion and favours sustainable, nutritionally dense crops.'
Why buy? This was previously an industry-only app, for high-class chefs, now available to the London public. The food is absolutely top-notch, ultra-fresh stuff that's come straight from small farms.
Delivery: Zones 1-4, and depending on where you live, orders can be organised for the next day. Delivery charge is £6 but there's no minimum spend.
They say: 'Selecting and maturing the best cheese. Selling our cheese at its most delicious. Protecting the future of raw milk cheese. Engaging the technical and scientific community. Championing farmhouse cheesemakers.'
Why buy? A central London institution, it's hard to imagine Covent Garden without these legends. Check out their selections, where cheeses of the same type are grouped together and sold in small batches.
Delivery: UK-wide, but expect a two-day margin of error, compared to what you'll be told at checkout.
They say: 'I am from the Loire Valley in France and been surrounded by cheese and wine from an early age. That is why I have chosen to share my passion and knowledge to Londoners through cheese and wine tastings.'
Why buy? Geoffrey Nivard will send a cheese care package right to your front door. You can choose a package from between 20 and 35 quid.
Delivery: Anywhere within Zones 1-3.
They say: 'We are a corner shop and restaurant located in Peckham, London.'
Why buy? Any food selection organised by sour, sweet and savoury is alright by us. If you're local, give them a shot.
Delivery: Usually between three and five working days. Spend more than £30, get a bit of free saffron.
They say: 'Homemade is the way we appreciate food and it's the way we transmit passion and knowledge.'
Why buy? Based in Brockley, this deli spin-off of a locally loved restaurant does a great line in fresh pasta, ragu and more.
Delivery: Only within a mile-and-a-half radius of SE23. Ordering is done over the phone, like in the early twentieth century.
They say: 'Our aim is simple; to source and supply the world's best tea, directly from farmers and their tea gardens.'
Why buy? These guys deal directly with tea growers the world over, and source some of the most interesting leaves on the market, all while ensuring the suppliers get a fair deal out of it. All products are free of herbicides and pesticides.
Delivery: It's free shipping for orders over £25, and monthly subscription boxes are available.
They say: 'Re:Store is one of a growing number of zero-waste shops, helping people access a more conscious way to shop, with no single use packaging in sight.'
Why buy? The Hackney champion is doing a great job supporting the community. Ethically sourced wholefoods, nuts, pasta and more.
Delivery: East London only, and orders may take longer than usual to arrive.
Ridiculously Rich Brownies
They say: 'Our approach in the kitchen is perfectionist, experimental, flavour-obsessed, and motivated by all things indulgent'.
Why buy? A subscription brownie service is sort of a no-brainer. All the cakes are carefully handcrafted in Wales. And there are a lot of them. The crème brûlée brownie looks enticing.
Delivery: Three to five working days across the UK.
They say: 'Fresh, fine products delivered on a daily basis.'
Why buy? A great range of fresh produce as well as dry goods from this local supplier, with more than a century of experience.
Delivery: Minimum order £35. Delivered within ten miles of SW8.
They say: 'A special home-delivery menu, made to last three days. You can order breakfast, lunch and dinner packs, put together by our chefs.'
Why buy? The fact you can order restaurant-quality ingredients, designed to help you create restaurant-quality food is great. It's not the cheapest, but the results should be spectacular.
Delivery: Within six miles of SW18 1SN.
They say: 'Healthy tomato base sauce for every day cooking.'
Why buy? Sure it's just a tomato sauce. But it's, like, a really good one. Made by hand, locally, without sugars or preservatives.
Delivery: Orders are sent out in weekly batches.
They say: 'With more than 100 herbs, spices and blends, Spice Mountain is home to one of the greatest collections of flavouring imaginable.'
Why buy? Bermondsey's finest spice shop is possibly London's finest too. More varieties of salt and pepper than you ever knew existed.
Delivery: Expect a week's wait.
They say: 'A true cornucopia of pantry items, fresh curries and sauces, marinades, homemade Thai kombuchas, and Thai pastries.'
Why buy? Rosa's veteran Natalie Tangsakul was about to open her restaurant, Talud, when the crisis kicked in. She's since pivoted to 'Thai deli'. The range of fruits, vegetables and spices on offer is immense.
Delivery: Kensington and Chelsea, Imperial Wharf, Fulham and then south of the river into Clapham and Battersea.
They say: 'Michelin-starred chef Theo Randall's Kensington restaurant is bringing the best of Italian-inspired produce to people's homes, with a range of hampers filled with fresh produce from high quality meats and root vegetables, to pastas and Italian wines and beers.'
Why buy? If the produce is good enough for Michelin-starred Theo it's good enough for us. Check out some of those pre-prepared boxes. Lush.
Delivery: Via Deliveroo, across west London and some adjacent areas.
They say: 'We pride ourselves on being an authentic "Pastificio" making fresh pasta following the most traditional Italian recipes.'
Why buy? A phenomenal selection of filled and plain pasta (including vegan options), all handmade on the day. Check out the 'meat bundle'.
Delivery: The full range goes out to all of central London. A reduced range beyond that.
They say 'A family-run Italian cheese, charcuterie, pasta and general Italian pantry supplier to some of London's top restaurants.'
Why buy? High-quality Italian produce, from the people who supply some of your favourite pasta places. Check out the range of pancetta, speck and prosciutto. Extensive!
Delivery Orders over £100 qualify for free delivery. Otherwise, it's £7.99. Details on the site.
They say: 'We bring to our range a fresh choice of flavours and textures for our customers. To do this we create our own recipes using the amazing milk from a single herd of cows that graze the fields of Rye, East Sussex.'
Why buy? Also known as The Urban Cheesemaker, Wildes is an award-winning independent artisan cheesemaking company based in Tottenham.
Delivery: Nationwide.