Heads up! We're working hard to be accurate – but these are unusual times, so please always check before heading out.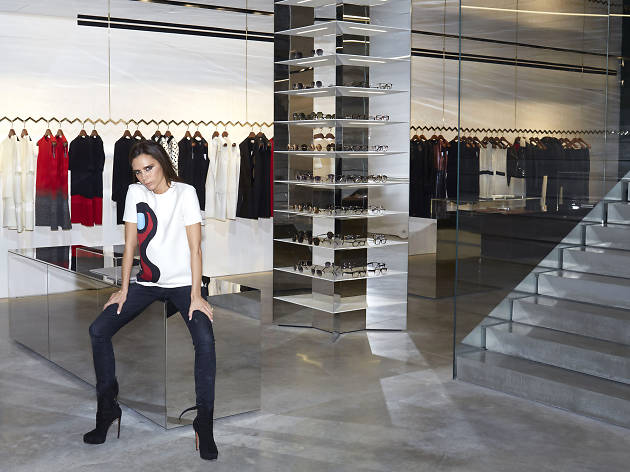 Victoria Beckham interview: 'I want to meet my customers'
It has taken a year for Victoria Beckham to transform an old fishing apparel shop into Mayfair's latest luxury outlet. She gives Time Out a guided tour
There aren't many moments in my career when I've been driven to wish David Beckham would just bugger off and leave me to it. But the footballer and I have arrived at Victoria's dramatic, ambitious first store at the same time, and she has opted to catch up with him rather than me. Well, wouldn't you?

The longer the married megastars linger on the vast concrete staircase just out of earshot, the less time I get to talk shop. But we could all learn a lesson in time management from VB – in the time it takes most of us to wait for a bus, the designer might have designed a new fashion line, released a perfume and squeezed in a workout at Barry's Bootcamp, the formidable Euston gym she patronises when in town.

When my rival finally swings off with a chirpy 'see you for dinner after football', Victoria Beckham – neat in work-mode black and tottery boots – is profusely apologetic, and gets straight down to business. 'Shall we do a tour of the store?'

It has taken a year to transform No 36 Dover Street from a traditional fishing gear shop into the VB mothership, and the designer chose a conceptual female architect Farshid Moussavi (who also worked on the Olympic park). The risk of commissioning someone who had never worked in retail before has paid off – the space is stunning, with a dramatic atrium that runs the height of the building. 'It's cool, isn't it?' says its owner, gazing down to the basement that will serve as a space for pop-ups and a personal shopping suite. 'When we first found the space, I looked at the three floors and said I want to just drill right through them.'

The ground floor currently houses a wall of luxury accessories and an edit of the slightly cheaper Victoria by Victoria Beckham label, while the first floor features her catwalk collection – also recognisable from its many outings on Hollywood's finest. The devil, as with all VB handiwork, is in the detail. She points out a hanging zigzag rail in the same 'rose gold. Oh, I'm sorry, "blonde" gold, we use on our product. The metal is in Vs for Victoria'.

If Beckham's career trajectory is an unusual one – Spice Girl, Wag, mother, model – she now has found her feet. As we glide around the store, she flags up minute details of clothing and setting in full fashion lingo – she designs 'pieces', the emphasis is on 'showcasing product', she has done a 'huge buy' for the store, and anticipates a 'substantial pre-collection' any time now.

You don't get fluent in fashion by selling your signature: Beckham has studied the business she has undeniably conquered. Her company made £15.4 million in 2012, just four years after her first collection was launched. It's worn by everyone from J-Lo to Beyoncé, and elicits enthusiasm from even the most tight-lipped fashion editors.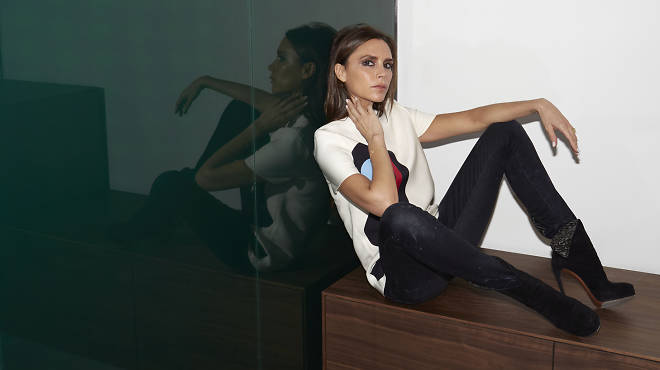 Her experience as a devoted shopper has obviously inspired some of the features in store. She points out a capacious changing room, currently requisitioned as an office ('sorry, it's a bloody tip. I need to get a Hoover round it'), and a selection of her make-up on a mirrored table. In each room, as well as jumbo mirrors and careful lighting, there are chairs and benches 'for a child to sit on'. Over by the rails, there is more seating – 'so that a husband can wait while his wife is looking at a dress'.

There are more nods to the idea of the indulgent husband – assistants are trained to spot a helpless man, and 'help them select the right piece, take them through the collections'. I briefly picture my own husband being presented with the perfect £2,000 dress, and instantly dropping dead. But of course, in Beckham's target audience, this is exactly what customers are looking for. 'I'm very lucky – David will go shopping for me. But I wanted men to know that if they come there will be fantastic assistance for them.'

Beckham is also sanguine about the inevitable window shoppers – looking for Victoria Beckham the celebrity rather than Victoria Beckham the luxury label. 'Everyone's welcome – whether they're coming to shop, or they just want to come and have a look around,' she says. She has joked in the press about getting her family behind the till – a likely story. But it's a fair bet that visitors to the store will catch a glimpse of its proprietress.

With the family seat firmly restored to London, the designer will be making frequent jaunts from her Kensington home. Which is why there was only one choice when it came to choosing a city for her store: 'I'm from London, I live here, my kids go to school here – I was brought up just outside the city and my parents used to drive us in at weekends. We'd get out the car and pose next to the soldiers, the horses. We'd go and see Buckingham palace and Big Ben – London has always been a huge part of me growing up – for me and David, really. It just felt like the only place I would ever do it.'

It also makes her desire to be hands-on a reality: 'I'll be here a lot because I want to meet my customers. I've always done lots of in-store events at my retailers around the world because it gives me very valuable information. I can give my customer exactly what she wants the next season.' She pauses, and her eyes skim the rails which are still being dressed for the shop's imminent opening.

'Obviously, I love shopping at other designers' stores, and wearing their clothes. But this was about creating a completely different experience.' If it involves being helped into a new frock by Mrs Beckham, it certainly will be.

Victoria Beckham, 36 Dover St, W1S 4FF. www.victoriabeckham.com