William Curley truffle class
We tried our hand at chocolate making with one of the City's best chocolatiers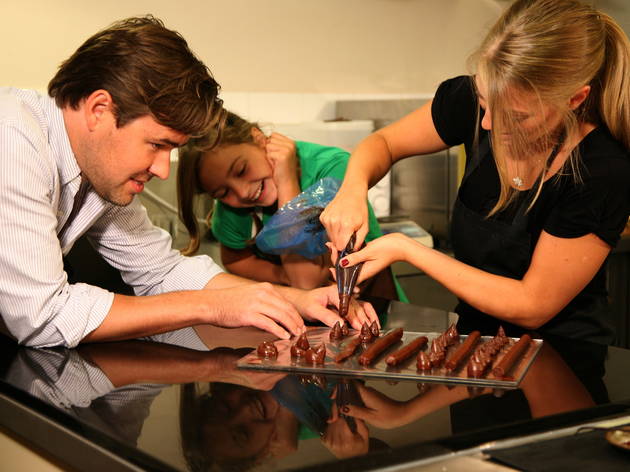 Christine Yeo got her hands dirty with a truffle-making class from one of London's top chocolatiers. But did it leave her wanting to lick the bowl? The class
William Curley: Truffle Class
The score
4 stars

The aim
Go a step further with homemade gifts – learn how to make presentable truffles for special occasions.

Cost
A two-and-a-half-hour session is £75. The classes are held every few weeks. The course isn't taught by Mr Curley himself, but by one of his chefs.

They claim
'You will be piping like pros before you know it, and once your ganache has set we will show you how to expertly roll and dust your truffles with cocoa powder before packaging them away into gift boxes and bags.'
Who goes?
Chocolate enthusiasts and truffle-making novices. The class also makes a great gift.
What we did
The class began with a demonstration of how to make your own ganache – the chocolate, cream and butter centre that defines a chocolate truffle. Anyone who was feeling adventurous could also add a pinch of tongue-numbing sichuan pepper to it at this point. Quantities are precisely measured out for you, so there isn't much room for getting it wrong. While our piping bag action wasn't as impressive as the pros (most of us were first timers), everyone had fun making truffles of different shapes and sizes. One man brought 'handmade' to a new level with a lumpy, soft-serve swirl.
Extras
While waiting for our ganache to firm up, we were treated to a show-and-tell talk on the chocolate-making process from bean to bar. Cocoa pods, beans, nibs, press cakes and butter were all passed around for sniffing and prodding. This class surpassed expectations as we were also guided through the process of tempering the chocolate we coated our truffles in. Rather than just learning how to make truffles for the family or for entertaining guests, we were taught how to make and appreciate quality truffles with a professional sheen, snap and taste. A real confidence booster for beginners.
We tasted
Chocolates with different cocoa percentages to find out our favourite intensity. While getting messy, the chef also handed out William Curley's couture chocolates for us to taste and discover flavour pairings which we could use for truffle making in the future.
Best tip
Be adventurous when it comes to flavour pairings – you may be surprised how some unusual combinations work together. Fish and chip flavoured truffles anyone? Hmm, maybe not.

Takeaway
A basic recipe that makes around 25 truffles, and your masterpieces are packed in pretty boxes for you to take home.

Where do I find it?
William Curley, 198 Ebury St, SW1W 8UN. 7730 5522, www.williamcurley.co.uk. Sloane Square tube.
London's best...
Rich, robust and deliciously decadent – London's chocolate fans have never had it sweeter
Read more
Recent years have seen an explosion of afternoon teas around the capital, but these are the best
Read more