Heads up! We're working hard to be accurate – but these are unusual times, so please always check before heading out.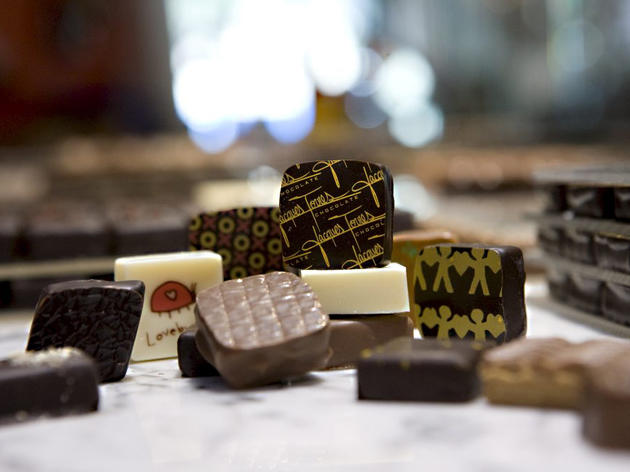 London's best chocolate shops
Rich, robust and deliciously decadent – London's chocolate shop scene has never been better.
July 2019: We've added Le Chocolat Alain Ducasse, an exclusive choc boutique run in tandem with Le Café Alain Ducasse. Find them both under the arches on Coal Drops Yard, near King's Cross station.
We're a city of chocolate connoisseurs – and London's got the shops to sate even the fussiest devourers of the good stuff. From purist-pleasing, super-dark chocolates and cream-filled white varieties, to highly artful creations and soul-warming hot chocs for frosty winter days, London's chocolatiers absolutely raise the bar when it comes to cacao. Scroll down for our list of the city's best.
London's best chocolate shops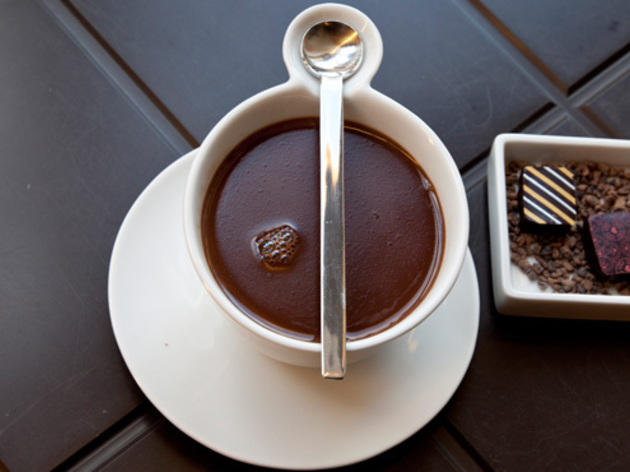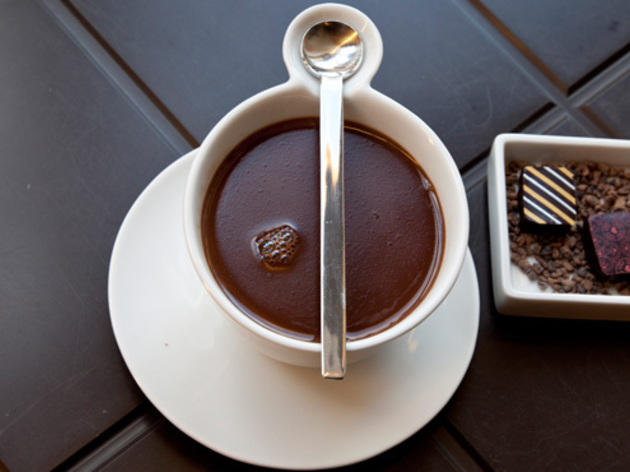 Ed Marshall
As you might guess from the name, the people behind this high-end mini chain take chocolate very seriously. Billed as 'adventurers in fine cocoa', it produces its own stuff from ground beans, rather than buying in couverture (high-quality processed chocolate) from elsewhere. The standard range is excellent (salted caramels, boozy truffles, honeycomb bites, cleverly filled 'thins' and pistachio pearls), but it's worth popping by the boutiques to see the seasonal treats and designs for occasions such as Halloween. We also love the options for people on special diets – including sugar-free bars, chocolates made from buffalo milk, and veggie specialities such as strawberry-coated 'mallows'. There are further shops in Chelsea and West Hampstead, plus an outlet in Selfridges and a pitch on Borough Market.
246 High Street Kensington, W8 6DN. 7348 0381. Tube: High Street Kensington
We can thank Edward VII for bringing Madame Charbonnel and Mrs Walker together back in 1875, and there's still a kind of magic about their vintage shop on Bond Street's elegant Royal Arcade. Cue lashings of Victorian nostalgia in the shape of their 'drawing room' and 'grand ballroom' collections (inspired by noble houses of the period), as well as seasonal treats such as vanilla raspberries or 'chorus line crackers' filled with sea salt caramel and praline. Best of all are its speciality truffle boxes, with flavours ranging from Chase vodka and rhubarb, Sipsmith gin and 'afternoon tea' to iconic pink marc de champagne. Otherwise, Charbonnel is rightly known for its 70 percent dark hot chocolate. There's an outlet on Canary Wharf and you can also buy C&W chocolates in John Lewis and Harrods.
One The Royal Arcade, 28 Old Bond St, W1S 4BT. 7318 2075. Tube: Green Park
Photograph: Dark Sugars
You'll can smell Dark Sugars before you see it. The scent of Ghanaian cocoa beans wafts up Brick Lane, making it nigh impossible not to pop your head round the door. Mounds of uncut truffle shards are heaped into mango leaf bowls or piled on cherry wood stands, ready to be bought as pick-and-mix boxes or individual items. Flavours are kaleidoscopic, from choc-overdose truffles to more left-field tastes like 'cinnamon cider' or 'Irish kiss pipette' with a squirt of Baileys on top. As a spin-off, founder Fatou Mendy also set up the Dark Sugars Cocoa House just down the road – a perfect spot if you want to groove to African beats, watch the bopping staff and sample some seriously good 'pitch black' hot chocolate (don't miss the winter-warming hazelnut praline riff).
141 Brick Lane, E1 6SB. 07429 472606. Shoreditch High St Overground
Residential Southfields is lucky to have this smart but friendly chocolate shop/café selling elegant handmade treats as well as tennis-themed morsels for the Wimbledon crowd. DeRosier's fresh chocs are currently produced using single-origin couvertures from Venezuela and Peru, with a choice of approachable flavours such as passion fruit, hazelnut praline or sea-salted caramel. We also love the bars wrapped up in colourful prints and novelties such as chocolate phones. If you want to linger, sit down with a cup of Climpson coffee or one of their hot chocolate beverages, made with real pieces of single-origin chocolate scooped straight from the tub and steamed with plenty of milk. They also serve a limited selection of cakes, brownies and sandwiches. DeRosier's 'chocolate and coffee' outlets can also be found at 380 Garratt Lane and 255-257 Wimbledon Park Road.
81 Revelstoke Rd, SW18 5NL. 8947 4456. Tube: Southfields
Born out of a love of the dark stuff, this bijou orange-fronted chop is all about Belgian chocolate – sold by the slab, the bar and the bite. The name translates as 'crazy appetite', although their delectable chocs are far from wacky: classic confections involving fruit, nuts, caramel, marzipan, coffee and caramel are the mainstays, but don't ignore special fruity confections such as sweet cherry mousse, strawberry buttercream or smooth banana ganache – not forgetting Easter eggs and a range of seven different chocolate hearts for Valentine's Day. They also do an extensive selection of sugar-free bars, hot chocolate sticks, truffles, florentines and pralines for those who need to avoid the saccharine stuff. The Belgian Ambassador (reputedly) loves their wares, and you'd be crazy to miss out.
4 Turnham Green Terrace, W4 1QP. 8747 8846. Tube: Turnham Green
Happily, you don't need to jump on the Eurostar to Paris if you fancy sampling über-chef Alain Ducasse's exclusive chocolat. Simply take a stroll up to the Coal Drops Yard development near King's Cross, where you'll find this dinky boutique nestling under one of the arches. The chocolate is special stuff, crafted from a workshop in a cobbled Parisian courtyard and available in three large 'families': single-origin ganaches, truffles and pralines à l'ancienne – all with a host of variations, flavours and textures. There are also loads of different bars, candied fruits, bite-sized dragées and fondants on show. If you crave caffeine rather than cocoa, head next door to Le Café Alain Ducasse – an upmarket store and coffee bar serving a unique range of quality blends and single-origin coffees from all over the world. Cafeliers take the place of chefs as the business of coffee-drinking becomes a dedicated haute-cuisine ceremony. Of course, chocolats are available to accompany your chosen brew.
Unit 15, Bagley Walk, Coal Drops Yard, N1C 4DH. 3668 7753. Tube: King's Cross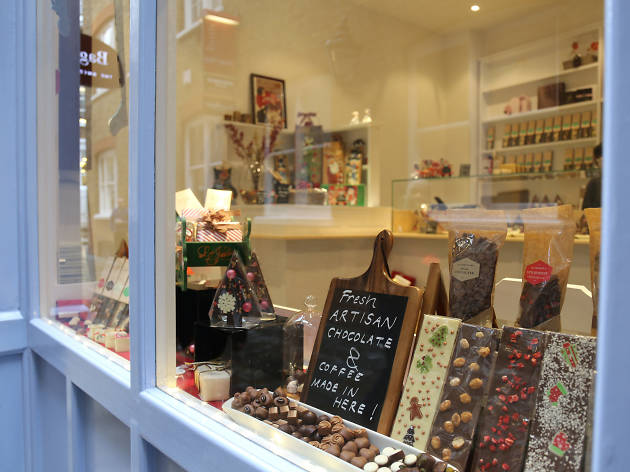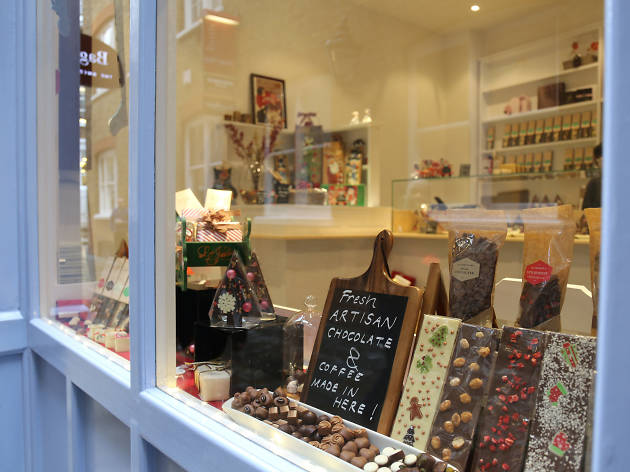 The chocolatiers of the title are Ivan and Harika Le Jeune, who spent 14 years learning their trade in Geneva before opening this little shop/café and workshop in Covent Garden back in 2013. They produce everything in a bespoke basement below the store, and their hand-crafted chocs are all about quality, innovation and attention to detail (inherited from their Swiss mentors). We adore their artisan bars (especially the blackberry and strawberry version), as well as their pralines, truffles, handcrafted slabs and novelties ranging from hand-painted 'goose eggs' filled with sweet goodies to festive chocolate log cabins and even a choc-filled mini pool table complete with a wooden hammer for smashing. You can quiz the chefs about recipes or just sit down with one of their legendary hot chocolates – made fresh with milk, pure chocolate and nothing more.
Note: at the time of writing, this shop was closed for refurbishment. Time Out editors, July 2019.
25 Rose St, Covent Garden, WC2E 9EA. 7240 0904. Tube: Leicester Sq
© Melange
Isabelle Alaya's Chocolate Boutique & Café has a casual community vibe, not only supplying Peckham residents with their regular fix of croissants, brownies and truffles, but also offering up chocolate-making sessions (at the owner's Chocolate Museum in Brixton), various chocolate and wine-tasting workshops – and even classes in painting with chocolate. Mélange's hand-layered Belgian chocolate slabs (milk, dark and white) have some inspired herbal and spicy flavour combinations: coffee and aniseed, coriander and grapefruit, lavender and lemon, cumin and mint, white pepper and vanilla – plus new hits such as rose and thyme or turmeric and truffle oil. There's an impressive range of veggie and vegan options too, as well as a line-up of sugar-free, dairy-free and gluten-free chocolate drinks, smoothies, frappés and French grocery items.
2 Maxted Rd, SE15 4LL. 07722 650711. Peckham Rye Overground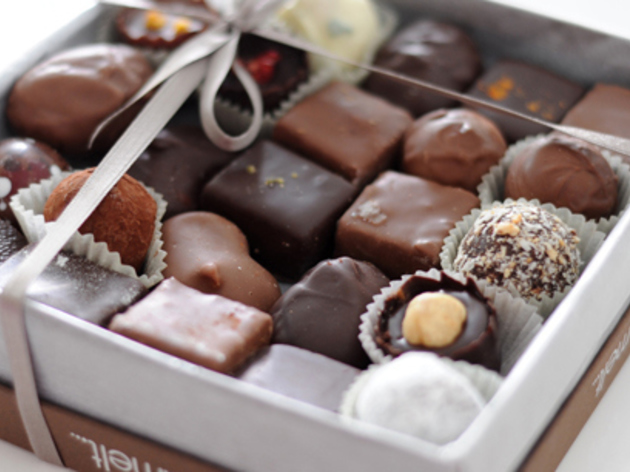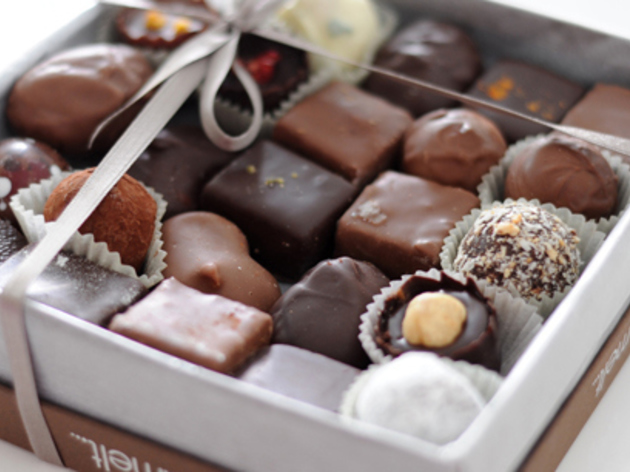 Chocolate is the only food that melts at body temperature – hence the name of this trendy outfit founded by Louise Nason in 2006. Colourfully glam packaging is bang on for this corner of Notting Hill, but there's real substance too. What's more, Melt's kitchen is in the shop itself, so you can watch your treats being made, or chat about flavour combos with the team of chefs and chocolatiers. We like zany ideas such as toast and marmalade, caramelised popcorn and pistachio blonde – and who can resist the 'Van Gogh blossom' wrapping around their vegan Easter eggs? They also sell brownies, mud pies and various prettily presented chocolate blocks for dissolving into cups of hot milk. There's an offshoot at 6 Clarendon Road, Holland Park and the owners also have a concession at Selfridges.
59 Ledbury Rd, W11 2AA. 7727 5030. Tube: Notting Hill Gate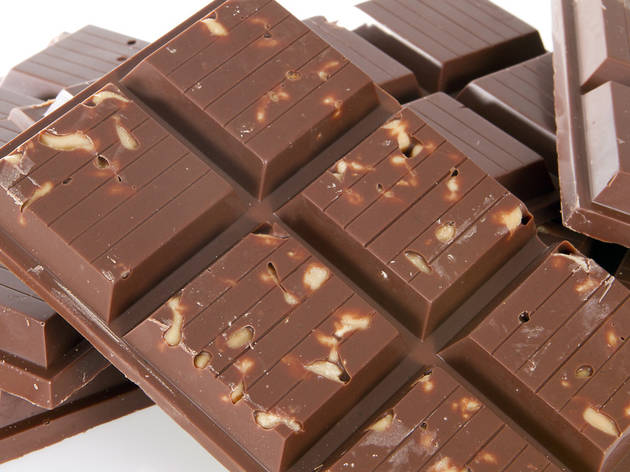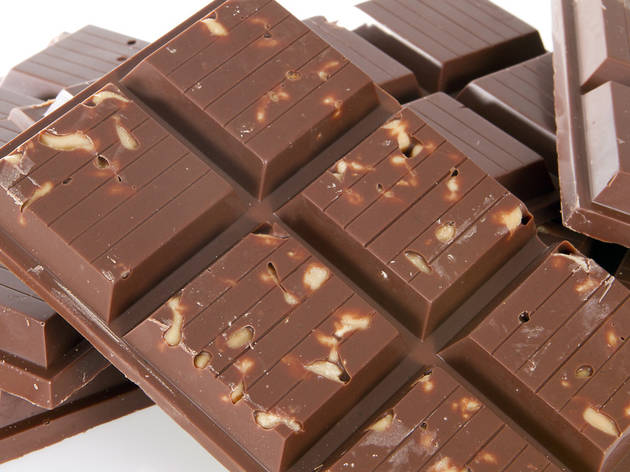 Montezuma's is to chocolate-making what Lush Cosmetics is to skincare: fun, quirky, and ethically minded. The shop specialises in delectable chocolate bars of every description, from 'Absolute Black' with hemp and sea salt, orange and geranium or peanut butter and truffle to white chocolate with raspberry and biscuit or Black Forest gateau (part of the Great British Puddings range). Also, look out for their London Transport Museum collection – bars inspired by the various tube lines (green peppermint for the District line, hot red chilli for the Central line etc). There are bags of 'Turtley' chocolate turtles for the kids, plus festival caramels, truffles, buttons and even bottles of chocolate lager. Montezuma's five-shop mini empire stretches from Kingston upon Thames via Chichester to Brighton.
8 Market St, Spitalfields Art Market, E1 6DT. 7539 9208. Tube: Liverpool St
Show more
Still craving something sweet? Find London's best ice cream
The scoop on the capital's best places for ice creams, sorbets and gelati.