London's best chocolate shops
Rich, robust and deliciously decadent – London's chocolate shop scene has never been better.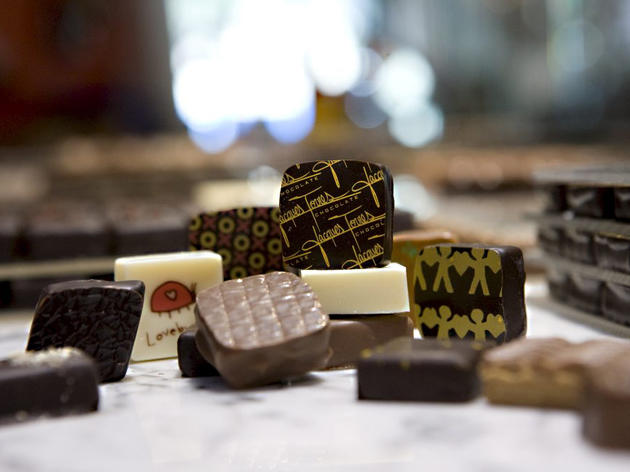 We're a city of chocolate connoisseurs – and London's got the shops to sate even the fussiest devourers of the good stuff. From purist-pleasing, super-dark chocolates and cream-filled white varieties, to highly artful creations and soul-warming hot chocs for frosty winter days, London's chocolatiers absolutely raise the bar when it comes to cacao. Scroll down for our list of the city's best. Think we've missed a great chocolate shop in London? Use the comments box below or tweet your suggestions.
London's best chocolate shops
Shopping, Chocolate and sweets
The name says it all – superb chocolate taken seriously. So seriously that they produce their own stuff from ground beans, rather than buying in couverture (high-quality processed chocolate) from elsewhere. The standard range is excellent, but it's worth popping by the boutiques to see the seasonal treats and designs for occasions such as Halloween. We also love the bars for people on special diets: they include chocolates made from buffalo and almond milks, as well as sugar-free options.
81 Westbourne Grove, W2 4UL. 0845 270 6996. Tube: Bayswater
We can thank Edward VII for bringing Madame Charbonnel and Mrs Walker together back in 1875, and there's still magic to be had at their vintage shop on Bond Street's elegant Royal Arcade. Cue lashings of Victorian nostalgia in the shape of their 'drawing room' and 'grand ballroom' collections (inspired by noble houses of the period), as well as seasonal treats such as the 'chorus line crackers' filled with sea salt caramel and praline. Otherwise, C&W's pink Champagne truffles are iconic – and rightly so.
One The Royal Arcade, 28 Old Bond St, W1S 4BT. 7318 2075. Tube: Green Park
One can't help but be distracted by the phantasmagorical cakes when visiting this Soho store/café, but there's a wide range of chocolate here too. Tongue-in-cheek items include various chunky bars, kitsch chocolate animals, buttons, truffles and the inevitable Choccywoccy Rocky Road. The no-bookings Bar au Chocolat is great for catch-ups – otherwise splash out by hiring the surreal Secret Room upstairs for a choc-fuelled private bash.
30-32 Fouberts Place, W1F 7PS. 7734 9713. Tube: Oxford Circus
Shopping, Chocolate and sweets
You'll smell Dark Sugars before you see it. The scent of Ghanaian cocoa beans wafts up Brick Lane, making it near impossible not to pop your head round the door. Mounds of uncut truffle shards are piled on cherry wood stands, ready to be bought as pick-and-mix boxes or as individual items. Flavours are kaleidoscopic, from choc-overdose truffles to more left-field tastes like 'cinnamon cider' or 'Irish kiss pipette' with a squirt of Baileys on top.
141 Brick Lane, E1 6SB. 7429 472606. Shoreditch High Street Overground
Residential Southfields is lucky to have this friendly chocolate shop/café selling elegant, on-trend designs, as well as tennis-themed morsels for the Wimbledon crowd. Their fresh chocs are currently made from single-origin couvertures from Venezuela and Peru, with a choice of approachable flavours such as passion fruit, hazelnut praline or sea-salted caramel. We also love the bars wrapped up in colourful prints and novelties such as chocolate phones. There's another nearby(ish) shop/café at 380 Garratt Lane, too.
81 Revelstoke Rd, SW18 5NL. 8947 4456. Tube: Southfields
Born out of a love of the dark stuff, this bijou orange-fronted chop is all about Belgian chocolate – sold by the slab, the bar and the bite. The name translates as 'crazy appetite', although their delectable chocs are far from wacky: classic confections involving fruit, nuts, caramel, marzipan, coffee and caramel are the mainstays, but don't ignore specials such as the Earl Grey ganache. The Belgian Ambassador loves their wares, and you'd be a fou to miss out.
4 Turnham Green Terrace, W4 1QP. 8747 8846. Tube: Turnham Green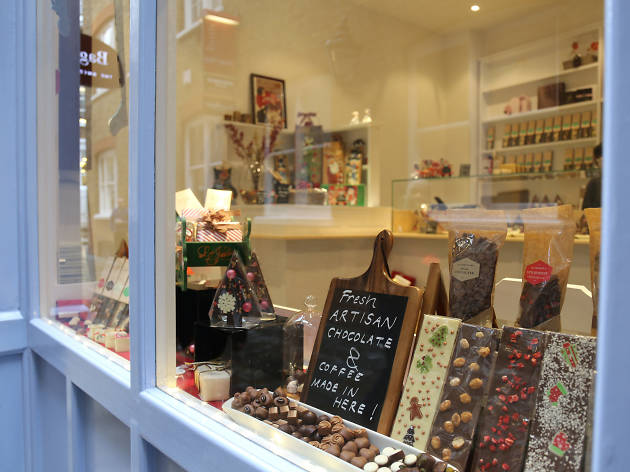 Shopping, Chocolate and sweets
Chocolate chefs Ivan and Harika Le Jeune learned their trade in Geneva before opening this little shop/café in Covent Garden. They produce everything in a bespoke basement below the store, and their hand-crafted chocs are all about quality, innovation and attention to detail (inherited from their Swiss mentors). We adore their artisan bars (especially the blackberry and strawberry version), as well as their pralines, truffles and novelties including the hand-painted 'goose eggs' filled with sweet goodies.
25 Rose St, Covent Garden, WC2E 9EA. 7240 0904. Tube: Leicester Sq
La Maison du Chocolat at Harrods
Born in Paris back in 1977, La Maison du Chocolat has conquered the world with its boutiques and online shopping facilities. Its Harrods concession gives Londoners a taste of chocolate heaven as they browse though the array of fancy candies, pralines, truffles, gourmandises and other tempters. As a starter, order the signature 'Coffret Maison Dark and Milk' – a box of delights that's guaranteed to have you hooked on the sweet stuff. Note that there's another concession in Selfridges.
Harrods, 87-135 Brompton Rd, SW1X 7XL. 7730 1234. Tube: Knightsbridge
Shopping, Specialist food and drink
Mélange has a casual community vibe, not only supplying Peckham residents with their regular fix of croissants, brownies and truffles, but also offering up chocolate-making classes (at the owner's Chocolate Museum in Brixton) and various chocolate and wine-tasting workshops. Their Belgian chocolate slabs have some inspired flavour combinations: coffee and aniseed, coriander and grapefruit, cumin and mint, white pepper and vanilla… and plenty more. There's an impressive range of veggie and vegan options too.
2 Maxted Rd, SE15 4LL. 07722 650711. Peckham Rye Overground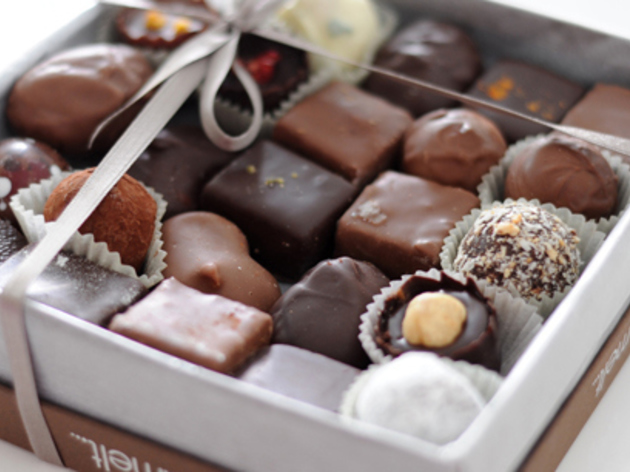 Shopping, Specialist food and drink
Chocolate is the only food that melts at body temperature – hence the name of this trendy outfit founded by Louise Nason in 2006. Colourfully glam packaging is bang-on for Notting Hill, but there's real substance too. What's more, Melt's kitchen is in the shop itself, so you can watch your treats being made, or chat about flavour combos with the team of chocolatiers. We like zany ideas such as toast and marmalade, caramelised popcorn and pistachio blonde.
59 Ledbury Road, W11 2AA. 7727 5030. Tube: Notting Hill Gate
Show more
Still craving something sweet? Find London's best ice cream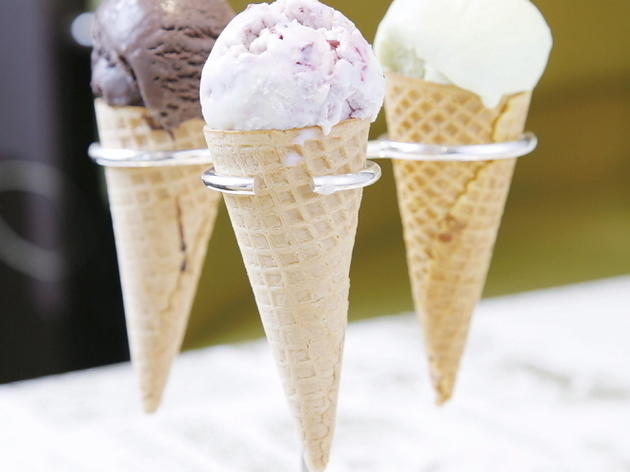 Restaurants, Ice-cream parlours
The scoop on the capital's best places for ice creams, sorbets and gelati.
Snap up exclusive discounts in London
Time Out's handpicked deals — hurry, they won't be around for long...