'I feel like we're in Fabric!' yells Anoushka Lucas excitedly, as waves of rumbling bass and screeching guitar drown our conversation.
The noise interrupting our chat at the venerable Wyndham's Theatre is the band soundchecking the wordless 'ballet' section of American director Daniel Fish's massively acclaimed version of Rodgers & Hammerstein's classic 1943 musical 'Oklahoma!'.
Like all of Fish's radical production, it's 'Oklahoma!', but not as we know it. Ballet interludes were a thing in old musicals that often get cut in revivals; Fish has kept this one in but made it aggressively challenging, an avant-garde dance solo set to mangled Hendrix-like distortion.
Elsewhere, it's a dark, difficult and brilliant take on this usually jaunty musical. Most of the traditional musical theatre bells and whistles – lavish sets, mass choreography, fancy lighting – are binned in favour of a take that emphasises how claustrophobic life must have been in a tiny frontier town, and how sex must have been one of the very limited distractions.
It played Broadway to great success, but the breakout star of its UK incarnation – which debuted at the Young Vic last year – is undoubtedly the idiosyncratic Lucas, who plays its chief female protagonist Laurey with a mix of burning intensity and disarming sweetness.
We have people leave at the interval a fair amount, which I personally find amusing
Now in her mid-thirties, Lucas spent her twenties attempting to become a success as a singer-songwriter – a frustrating process detailed in her debut play 'Elephant', which opened to warm notices at the Bush Theatre last year. Though nominally about a woman named Lila, 'Elephant' is largely autobiographical, taking us through Lucas's life from her scholarship education at a massively fancy French school in west London to her struggles with a music industry that couldn't work out what box to choose for the crisply spoken piano player with striking looks (her mother is French-Cameroonian and her father Anglo-Indian).
Theatre came to the rescue: years in on-stage bands and a major non-speaking role as Mary Magdelene in the Regent's Park Open Air Theatre's 'Jesus Christ Superstar' eventually begat an unexpected career as an actor. And 'Oklahoma!' is Lucas's breakout role: tough, charismatic and fragile as she makes her West End debut opposite Arthur Darvill's Curley and Patrick Vaill's Jud.
Ensconced in her extremely noisy dressing room, she's unpretentious and infectiously enthusiastic, the very opposite of a jaded industry veteran.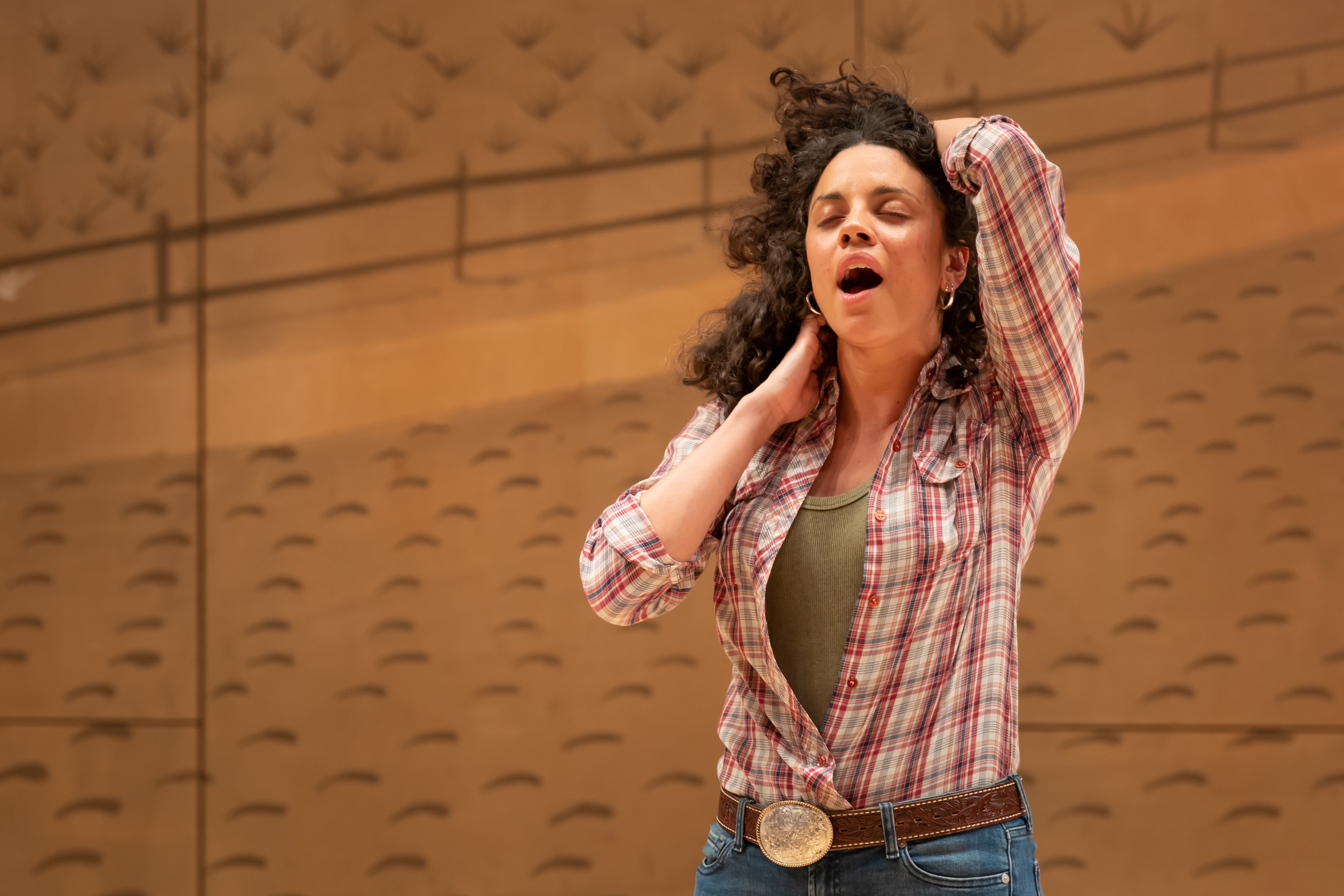 I feel like I know you already thanks to 'Elephant'. Why did you write it? Did you just really feel you needed to share your story?
'Well, I didn't think that. Lynette [Linton, Bush Theatre artistic director] did! I was trying to make sense of who I was, and that was prompted by the murder of George Floyd. I spent a huge part of my early life trying to pretend the colour of my skin was irrelevant, you know: I'm just a musical girl from west London! The fact I'm brown is irrelevant because racism is over! All the struggles I've experienced in life are because I suck! When I was growing up there was a very narrow picture of what Blackness was and I didn't see myself having many of those qualities, being very academic and loserish. People were just: Oh, you're so like Hermione [Granger]. But of course, there are just as many types of Black people as white people or Asian people, and I think the conversation has changed a lot in recent years.'
'Elephant' details your failed attempts to get into the music industry – are you bitter?
'I'm happy! I'm not bitter about it. It was very bruising at the time, from 25 to 30 I was rejected a few times after coming quite close to being signed, people saying: You're really good, you're really good… you're not good enough. But there is a much sadder version of my life story where I didn't see it wasn't working. I got out in time to preserve my genuine love of making music.'
When did you switch mentally from 'I am a singer-songwriter' to 'I am an actor'?
'I was really lucky that theatre came to me. I'm quite stubborn: I wanted to be a singer-songwriter in the face of constant rejection. I started playing in theatre bands as a way to actually be paid to make music. And then at end of my twenties I realised I was really lucky: I was being asked to audition for interesting things and I was getting the parts. I was like: This is going quite well and I'm not concentrating on it properly – I wonder what would happen if I concentrated on it properly?'
You've not actually had any training as an actor?
'No! None at all. I don't know that I have a process so much as just hoping for the best.'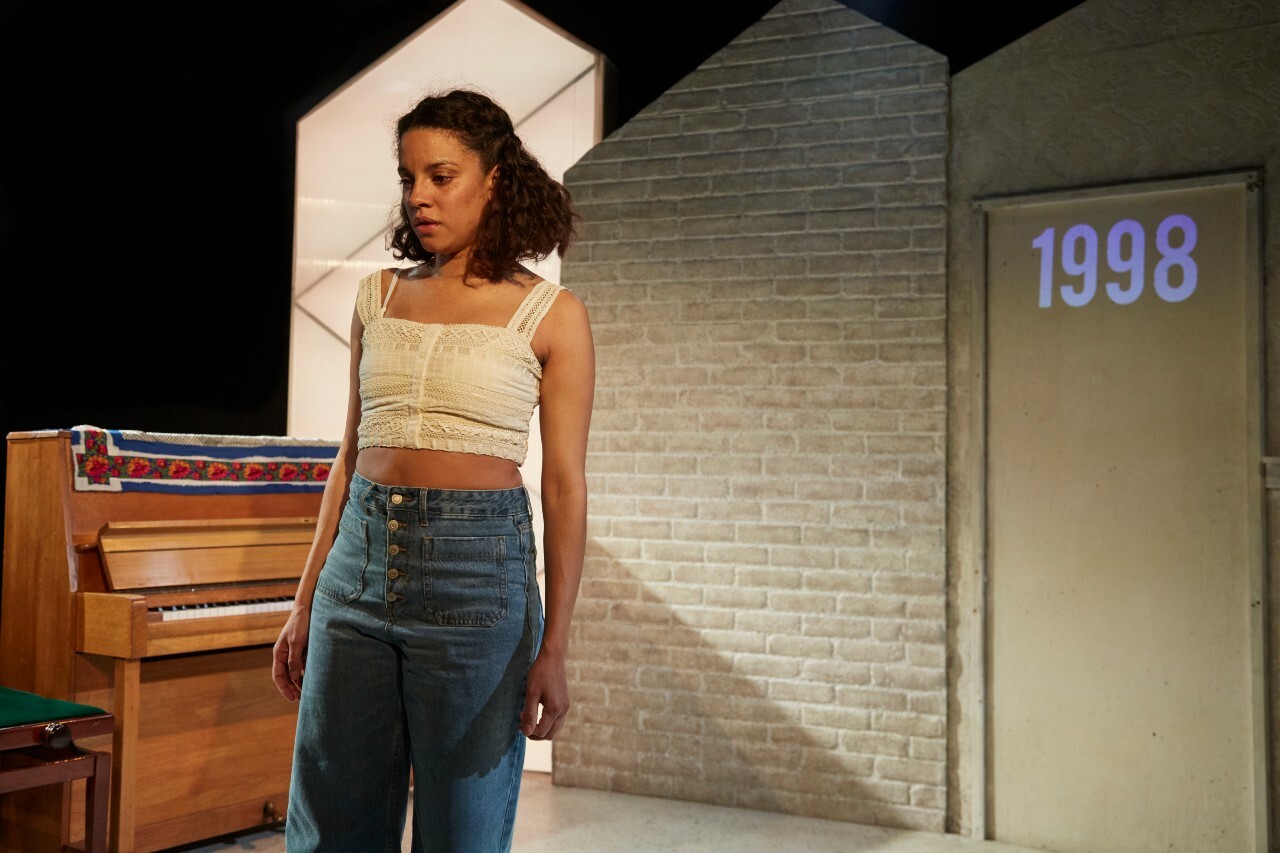 'Oklahoma!', then. Presumably you knew the classic 1955 film version. This is… different.
'My dad loves the film, we watched it loads when I was a kid. With this, my friend called me from New York and was like: "Noush, I've just seen this show, you have to audition for it when it comes to London," and I was like: What is it? And she said: "Oklahoma!" and I was like: I can't audition for "Oklahoma!". At the time I thought I didn't want to do musicals, I wanted to do plays. And he said, "No no, trust me, you're going to want to be in this one." Then somebody gave me the cast album and I was like: This is fucking cool.'
How do you explain Daniel Fish's version of the show to people?
'What Daniel's done is not changed a word of it, but stripped it back so you hear the text. It's incredibly simple. But it's much darker than when they were dancing the lines away and throwing their legs up in the air. When it was created, there was a certain way that romance and sex were presented on stage: it was really chaste. In this production, the basis of characters fancying people is that they want to have sex with them – and that's quite shocking, even though that's what fancying somebody means.'
Classically your character Laurey is an ingenue who is obviously destined for the suave Curley, while Jud is basically a creepy outsider who becomes obsessed with her. But here it's very different, much more of a tragic love triangle.
'In our version, Jud is strange but not unattractive and a sort of semi-viable option. Laurey as I play her is not a chaste virgin who doesn't know what she's doing when she's flirting with him. I think there is a genuine confusion in my Laurey about what to do because there are two men who are expressing their sexual interest in her and she doesn't have the space to think "Do I love that person?" about either of them. She's trying too hard to control it and then in act two she lets loose for ten minutes and it all blows up in her face, it goes horribly wrong and someone dies.'
It's been a hit in New York and it was a hit at the Young Vic last year and it has all these very famous songs in it… but it's a pretty challenging show, right?
'Yeah! We have people leave at the interval a fair amount, which I personally find quite amusing but I'm not opposed to it. We all know we're in a challenging version of "Oklahoma!" but I think that's great. There can be a tendency with musicals to put them on the same as they've always been done, over and over. But if anything's well written it should stand up to a proper interrogation. And the fact this does is testament to the quality of the original writing.'
You're still quite new to all this: this is your first time in the West End and by far the longest you've ever been in a theatre show?
'I'm a bit of a commitment-phobe. My agent was like, "Anoushka, can we talk you through this contract?" and I was like: Sure, what is it, three months? Nope. But it's great! I have a nice dressing room and I know how I'm paying my rent for the next ten months instead of borrowing off my sister, which is not a small thing – I've done a lot of prestigious theatre for not-prestigious money.'
What's next?
'I seem to constantly be playing trapped, angry women. And it's quite a good niche: Ibsen, Chekhov – there's some nice things there! I'm just delighted people are giving me jobs and I'd like it to keep coming.'
'Oklahoma!' is at Wyndham's Theatre until Sep 2. Buy tickets here.
The best new London theatre shows to book for in 2023.