Heads up! We're working hard to be accurate – but these are unusual times, so please always check before heading out.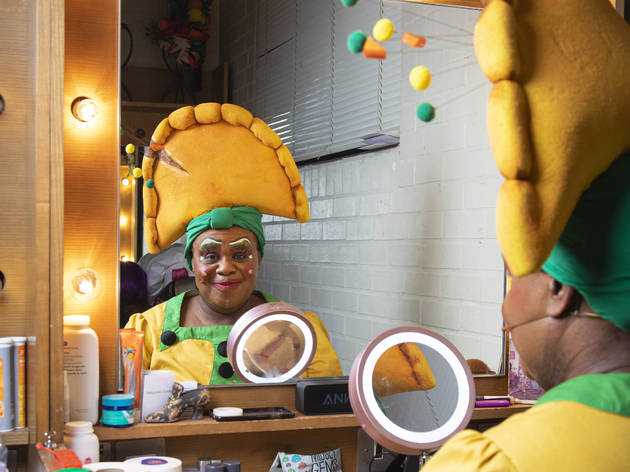 Behind the scenes of London's pantos
It's panto season (Oh no it isn't, oh yes it is etc etc). We meet the stalwarts and stars of London's best Christmas shows
It's not Christmas until you're shouting 'he's behind you!' at someone in a ridiculous costume on a stage. As the festive season gets in full swing, we meet the people behind London's pantomimes – from dames to songwriters to a master of puppets.
RECOMMENDED: Christmas shows in London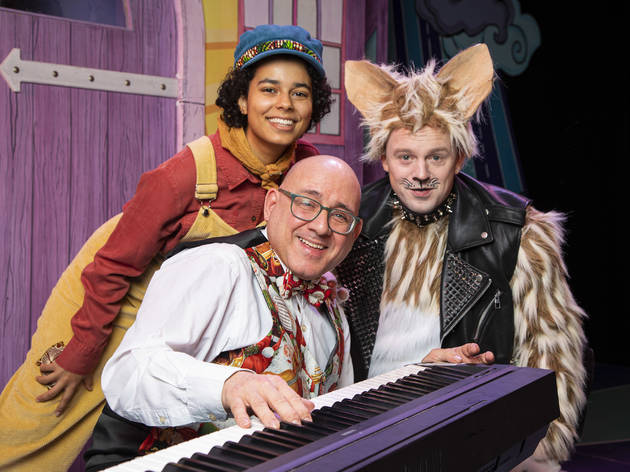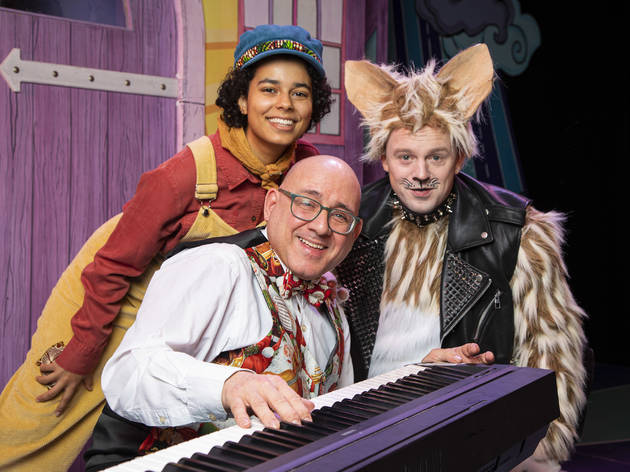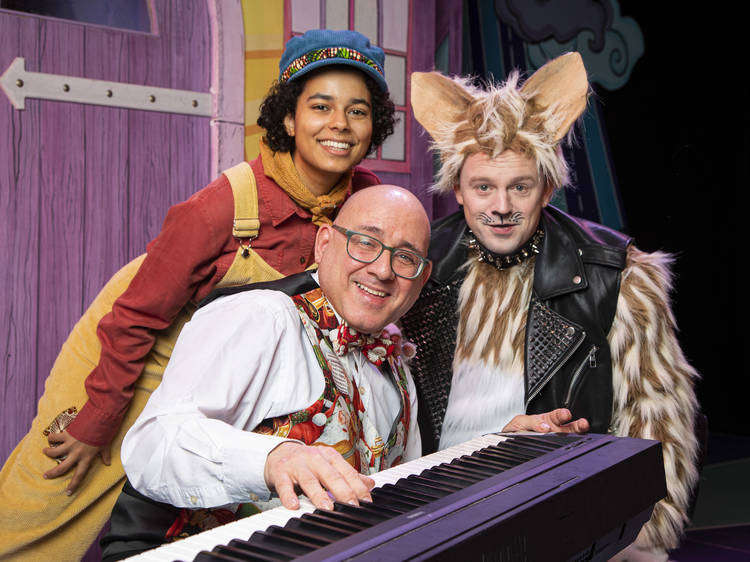 Andy Parsons
The songwriter: Robert Hyman
In 1998, a young-ish musician named Robert Hyman was asked to be the musical director of Theatre Royal Stratford East's pantomime. The following year he was asked if he would mind co-writing 1999's 'Dick Whittington', because why not? Twenty years and an Olivier nomination later, Hyman is still going strong and ready to unleash his latest 'Dick' on the world.
What was your first experience of panto?
'It was here! I was born in East Ham; Stratford East was the first theatre I came to. My mum told me that the first thing I ever did in theatre was come to Stratford and sit on the dame's lap.'
You've been writing the Stratford panto for 20 years now. How different is one 'Dick Whittington' to the next?
'This is my third "Dick". Oo-er! Next year will be my third "Red Riding Hood", but you take every one fresh. Look at the hundreds of different ways people perform Shakespeare. Audiences are very different to 20 years ago. It keeps you on your toes.'
What's the trick to writing a good panto song?
'Stratford is unique in that we don't do cover versions of pop songs. So that's important. It's about not forcing the number into the moment, it's about writing the number for a moment.'
Surely it's a nightmare writing songs that children will like?
'Musical tastes obviously change, and every year the kids like the tunes – that's a win. But I'm a musician and I love music: this year there's some old-school reggae, south London grime… it's all in the same show and it works.'
Why do you think kids are still into pantos?
'Kids today love stories. And with things like the Marvel films, they have got more sophisticated in terms of how they like their stories told. But kids get it. In panto, the vibrancy is something kids can latch on to straight away, it's as bright and in-your-face as a video game, with these very strong characters. The key to panto: know your audience! '
'Dick Whittington', Theatre Royal Stratford East.
Stratford. Until Jan 11.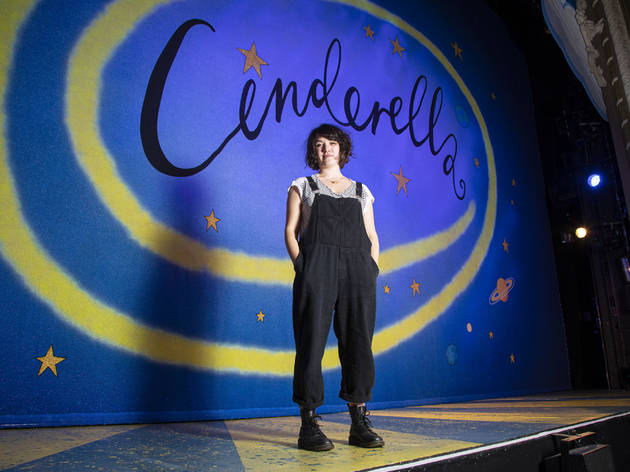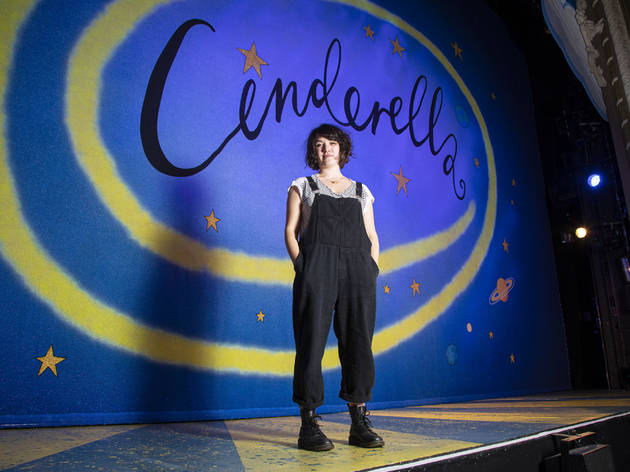 Andy Parsons
The writer: Jude Christian
The Lyric Hammersmith panto arguably started out as a sort of hipster prank. A group of avant-garde writers decided to do a pantomime. Everyone loved it. Writer, performer and director Jude Christian wrote this year's 'Cinderella'.
How did you get into pantos?
'In 2016 I got asked to be assistant director on "Aladdin" here, and [ultra-controversial play] "Shopping and Fucking", also here. I ended up in this weird cycle at the Lyric for years.'
How did you take to panto writing?
'I like things that are ridiculous. And in panto you can be like "Then a giant badger runs across the stage, destroys everything, leaves" and nobody questions the deeper meaning of it.'
With this one, who are you writing for?
'A London theatre crowd a bit – but, really, we want to represent Hammersmith.'
Are pantos political?
'I will put in jokes about Michael Gove taking cocaine or Boris Johnson being a complete charlatan. But it's more political to talk about things like "You know what's better than the pursuit of money? It's being kind to each other.'
Is it tricky appealing to all ages?
'There are very few things everyone in the room will know about. Last year we had a moment where somebody points at somebody's shoes and says "What are they?" And the young ensemble were like "No, no, it has to be 'What are those?' " Which is apparently a thing on YouTube. I was like "All right, weirdos." I put it in the show and the kids lost their minds.'
'Cinderella', Lyric Hammersmith. Hammersmith. Until Jan 5.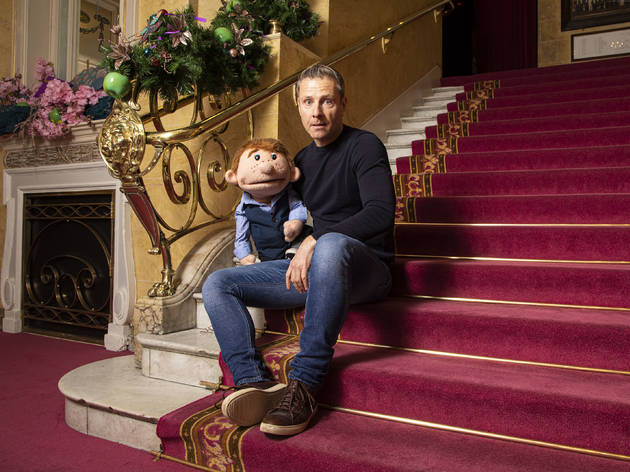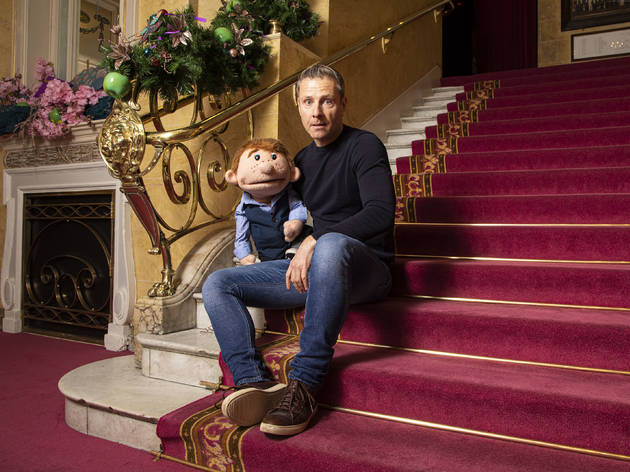 Andy Parsons
The master of puppets: Paul Zerdin
Closer to an old-school variety show, the Palladium panto is in no way subtle or subversive, and it is a lot of fun. 'America's Got Talent'comic and ventriloquist Paul Zerdin – and his puppet Sam – are among the comedy galacticos who've participated every year since it began in 2016.
You've done the Palladium panto four years on the trot: presumably you either enjoy it or it pays well?
'I really enjoy it! This is my twenty-fifth year in pantomime, and to be doing my twenty-fifth and my fourth in a row at the Palladium: it doesn't get any better.'
There's hardcore group who do the Palladium every year, do you enjoy working together?
'There's a really happy vibe: Julian [Clary], Nigel [Havers] and myself have been doing it since the beginning, and Gary Wilmot from the second year. When you do a new show and it's a new cast it's like the first day of school and you're like: Who won't I get along with, who's an arse? Well, nobody else is an arse, so it must be me.'
Can you remember your first panto performance?
'I was a kids' presenter at the time and I played Buttons in "Cinderella" at the Octagon Theatre in Yeovil. It was amazing. I was so guttedthat it was ending that I resolved to do it again the next year. I've done it every year since.'
'Goldilocks and the Three Bears' is a bit of a random choice for a panto, no?
'I've never done it but when I was starting out there were productions of "Goldilocks". I think Frank Bruno was in one. The story doesn't figure that heavily in the show anyway, it's all about the comedy and the routines, I truly don't think the punters mind.'
How does your puppet hold up over a run?
'Sam? He's made of sponge so he can take it, really. They can get a bit knackered, but the truth is I have a spare: he has a stunt double.'
'Goldilocks and the Three Bears', London Palladium. Oxford Circus. Sat Dec 7-Jan 12.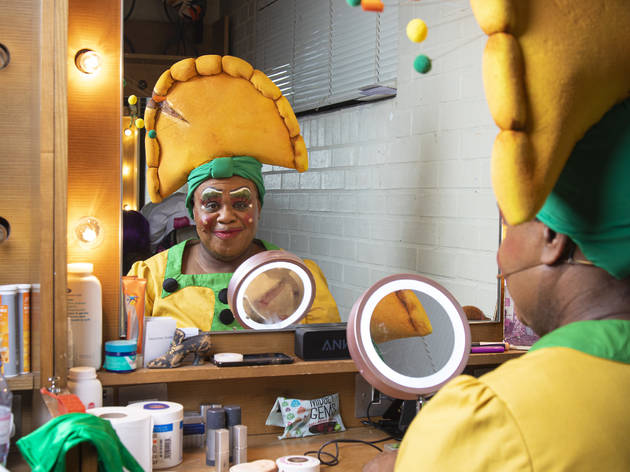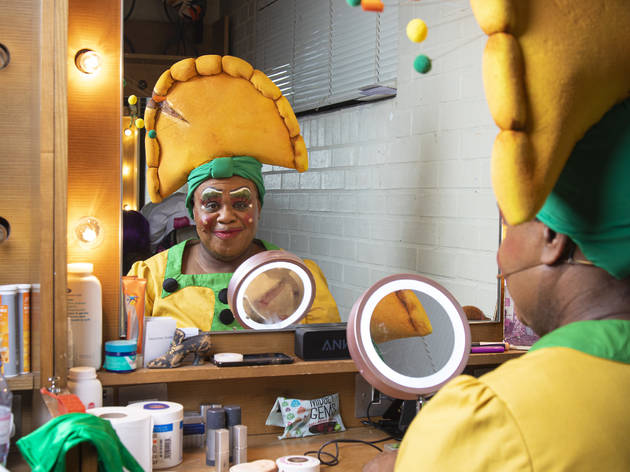 Andy Parsons
Larger than life and with the lung capacity of a whole choir, Clive Rowe is an Olivier-winning musical-theatre legend who leads Hackney Empire's iconic panto.
Can you remember your first time daming?
'I have no idea. I think it was "Dick Whittington". Because I've got no reason to remember, I've forgotten. Is that a horrible admission? I can say it was 1989 and people can say "Oh no it wasn't." '
Do you build a new dame character each year?
'It's the same dame in a different frock, but that's just between you and me [laughs]. I believe is that a community begins to love their dame and while I could go method on it and do a different character, I think the audience wants to feel it knows what the root of the show is going to be.'
Unlike many dames, you don't do panto every year, and are famously anti-'Cinderella'. Is it good to take years off?
'It's good to recharge then come back a bit more motivated. I don't miss it, because I only skip the shows I don't want to do. If they were doing "Mother Goose" without me, I'd miss it. With "Cinderella", I mean, I have enjoyed watching it, but I don't look forward to doing it in any way.'
Where do you stand on things like 'Peter Pan' and 'Snow White and the Seven Dwarfs', which Hackney never does?
'They're not true pantomimes – they're Christmas shows. And they're good Christmas shows. But there are really only five pantomimes, I think?'
'Cinderella', 'Aladdin', 'Dick Whittington', 'Jack and the Beanstalk' and 'Mother Goose', though a lot of theatres don't do that one…
'I know they don't. But they don't have a Mother Goose like me!'
'Dick Whittington and His Cat', Hackney Empire.
Hackney Central Overground. Until Jan 5.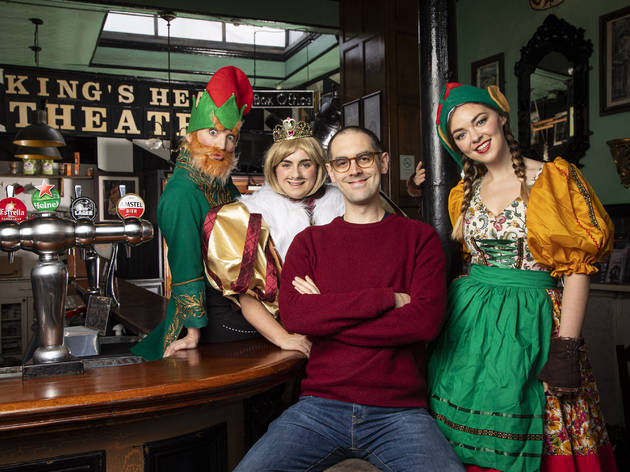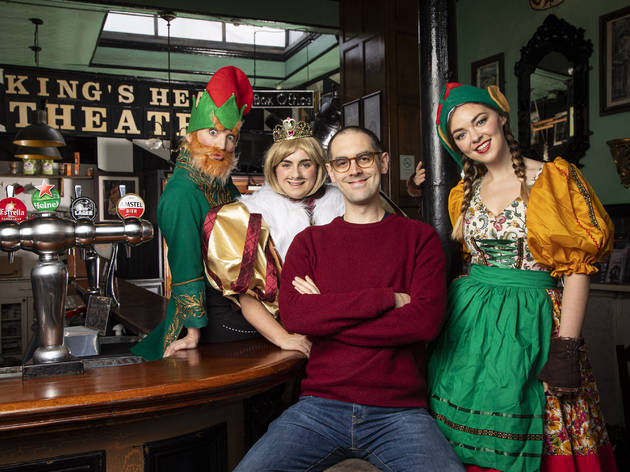 Andy Parsons
The tiny, tiny panto company: Charles Court Opera
Co-founded by artistic director John Savournin, Charles Court Opera do operas in pubs, so a pantomime holds no fear for them. Their annual Christmas blowouts have long given up on classic panto plots: this year they've adapted the New Testament for 'The Nativity Panto'.
Why do panto in a pub?
'When the company first began we were always prepared for performing works, be it operas or musicals on a more intimate scale, and it was always on our minds to do a pantomime in the same vein. Before we knew it our particular brand of boutique pantomime was born.'
What's the atmosphere like?
'In such an intimate space the audience has an incredibly large role to play. The atmosphere can vary from being just plain lovely to being bawdy and raucous. I think it really does feel like you've gone to see a stand-up show when the comic is having a good one.'
You're unique in not doing any of the traditional panto stories.
'When we first began, we did. But then we found we were starting to want to make changes to those stories and then found ourselves exploring titles that seemed more unexpected – such as, er, "Beowulf". There are lots that are in the bank for the future… We often laugh at the idea of "Great Expectations", where a narrator simply reads the book from cover to cover without explanation and, three hours later, leaves the stage. Makes us laugh, anyway.'
What can you tell us about 'The Nativity Panto'?
'The interesting thing about the Nativity is that it has the right ingredients for a pantomime: the hero, the heroine, the magical figure and a strong villain in Herod. I wouldn't like to give too much away, but the major thought was how to make a fun and tongue-in-cheek play while treating the fundamentals of the story with respect.'
Has anything ever gone horribly wrong?
'One year, our villain went on to deliver a monologue about his triumphs thus far, but couldn't remember a single word of it. After a pause, he panicked and shouted "JOHN! JOHN!"
I came on as the dame, asking "Who's John?" I suggested he bow and leave the stage. He received a round of applause at least.'
'The Nativity Panto', King's Head Theatre. Angel. Until Jan 11.
Find more festive shows
Turn those squirms of boredom into squeals of delight this Christmas at one of these charming theatre shows for very little ones.
Support Time Out
We see you're using an ad-blocker. Ad revenue is Time Out's main source of income. The content you're reading is made by independent, expert local journalists.
Support Time Out directly today and help us champion the people and places which make the city tick. Cheers!
Donate now