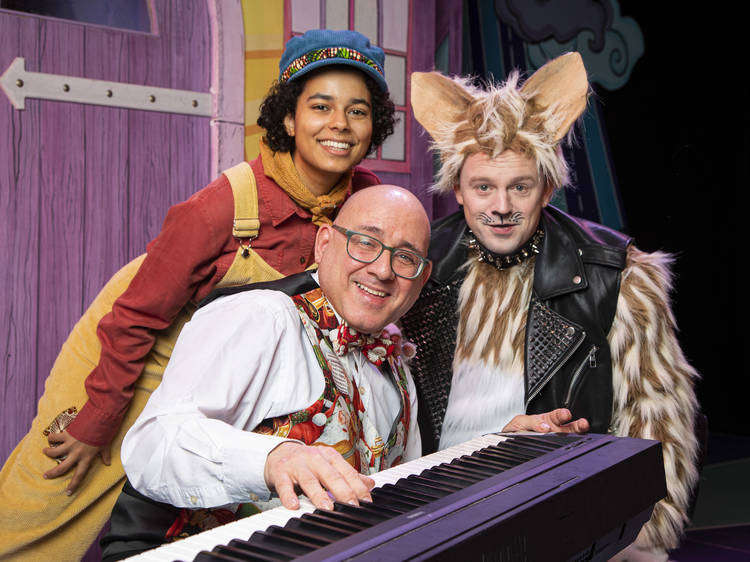 Andy Parsons
The songwriter: Robert Hyman
In 1998, a young-ish musician named Robert Hyman was asked to be the musical director of Theatre Royal Stratford East's pantomime. The following year he was asked if he would mind co-writing 1999's 'Dick Whittington', because why not? Twenty years and an Olivier nomination later, Hyman is still going strong and ready to unleash his latest 'Dick' on the world.
What was your first experience of panto?
'It was here! I was born in East Ham; Stratford East was the first theatre I came to. My mum told me that the first thing I ever did in theatre was come to Stratford and sit on the dame's lap.'
You've been writing the Stratford panto for 20 years now. How different is one 'Dick Whittington' to the next?
'This is my third "Dick". Oo-er! Next year will be my third "Red Riding Hood", but you take every one fresh. Look at the hundreds of different ways people perform Shakespeare. Audiences are very different to 20 years ago. It keeps you on your toes.'
What's the trick to writing a good panto song?
'Stratford is unique in that we don't do cover versions of pop songs. So that's important. It's about not forcing the number into the moment, it's about writing the number for a moment.'
Surely it's a nightmare writing songs that children will like?
'Musical tastes obviously change, and every year the kids like the tunes – that's a win. But I'm a musician and I love music: this year there's some old-school reggae, south London grime… it's all in the same show and it works.'
Why do you think kids are still into pantos?
'Kids today love stories. And with things like the Marvel films, they have got more sophisticated in terms of how they like their stories told. But kids get it. In panto, the vibrancy is something kids can latch on to straight away, it's as bright and in-your-face as a video game, with these very strong characters. The key to panto: know your audience! '
'Dick Whittington', Theatre Royal Stratford East.
Stratford. Until Jan 11.