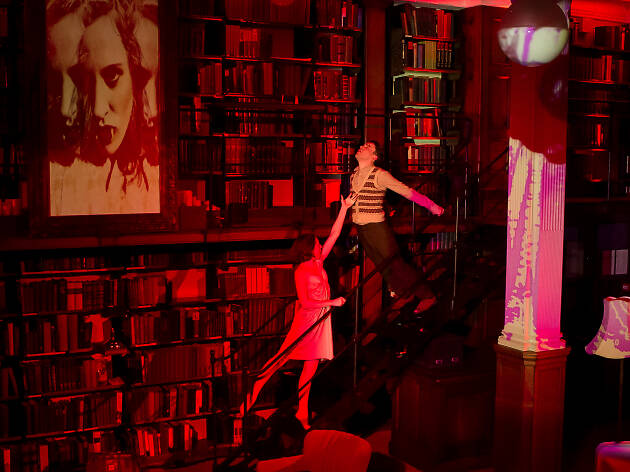 Time Out says
Friendly warning! We're working hard to be accurate. But these are unusual times, so please check that events are still happening.
This endearingly schlocky two-person take on 'Dracula' is staged in the library in which Bram Stoker researched his seminal vampire novel
Horror's coming home, it's coming home, it's coming – back to the very library where Bram Stoker researched 'Dracula' between 1890 and 1897. Oxford company Creation Theatre has pulled off two impressive feats here: firstly by persuading the members-only London Library to host a production in its historic Reading Room (where Stoker almost certainly boned up on Eastern Europe and the occult) and secondly by devising a version of the vampire story in which no one plays the title role.
In fact, Creation's site-specific 'Dracula' features just two actors, Sophie Greenham and Bart Lambert, playing Mina and Jonathan Harker in a sexually repressed post-war setting. Solicitor Jonathan hasn't been the same since his business trip to Romania, and a stay in Whitby to sort through the possessions of Mina's late friend Lucy Westenra isn't helping – especially when the weather turns, claustrophobia sets in and Jonathan's Transylvanian flashbacks start to get very real. Projected visuals help collapse huge chunks of backstory into effective, supernatural fever dreams, and there are even a few laughs in some original scenes by writer/adapter Kate Kerrow, as the recently hitched Harkers fail to seal the deal on the chaise longue in Lucy's library.
The weaker bits of Creation's production are when the plot strays from the Jonathan-and-Mina psychodrama, with Greenham and Lambert donning some iffy accessories and voices to play other characters from the novel. (As dodgy 'Dracula' accents go, Lambert's Van Helsing is a close second to Keanu Reeves as Harker in the Francis Ford Coppola movie.) Slicing things back might have made for a tighter, more atmospheric production than what we actually get – and there's extra ham in the John Carpenter-esque original score and occasionally stock-photo-library visuals. But it wouldn't be 'Dracula' without a bit of schlock – and if Stoker's ghost is still flitting about the shelves, he would no doubt approve.
BY: JAMES MANNING
Details