Moira Buffini interview: 'I couldn't bear Thatcher'
The playwright behind raucous smash comedy 'Handbagged' explains why she picked Britain's most powerful ladies for her leads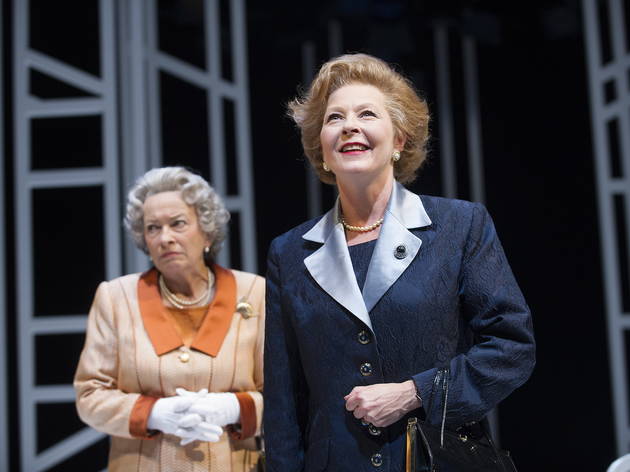 Moira Buffini (pictured below) is one of Britain's most successful playwrights, and her hits include '
Welcome to Thebes
' and 'Dinner' as well as the film '
Tamara Drewe
'. Her latest play '
Handbagged
' is a raucous comedy imagining a showdown between the Queen and Margaret Thatcher. After success at the
Tricycle Theatre
, it transfers to the West End.

Why write a play about Thatcher?
'I was asked to contribute to a season called "Women, Power and Politics". The only brief was the title and there's one gigantic figure staring you straight in the face: Margaret Thatcher. Much as I couldn't bear her, the challenge of writing her as a character was really quite amazing.'
Why did you decide to make the other character the Queen?
'I thought: Who's the other powerful woman figure from around that time? The gossip is that they had a difficult relationship, and when I found that neither of them had ever said anything about the other one publicly – Thatcher only mentions the Queen twice in her entire massive two-volume autobiography – I thought: That's interesting!'
Why do you think they disliked each other?
'Thatcher, I think, didn't like other powerful women. As for the Queen – this is speculation – but she is head of the church and I think she found Thatcher's lack of empathy quite un-Christian. She's also head of the Commonwealth, which had pledged to end apartheid, and of course Thatcher was absolutely determined not to have sanctions against South Africa.'
Did Thatcher's death have any impact on the play?
'She died just as I was writing it. It was like a scab had been picked off the '80s, people's feelings were so raw. And in the media all we were getting was, "What a figurehead for women," and I thought: Oh, come on, she came very close to being a dictator. It's a much more complicated tale and that's the one I wanted to tell.'

The National Theatre came under fire recently over its record with female writers – what's your take?
'If I thought the
National Theatre
was putting my plays on because I was a woman I'd be depressed – it puts my plays on, I believe, because they are good enough, and because I am a playwright who can write for epic spaces. I think it has been appalling how long it has taken the big spaces to welcome work by women. But there has been a change, and it's great, but if you're not vigilant it will go away.'
Get the best of London's theatre