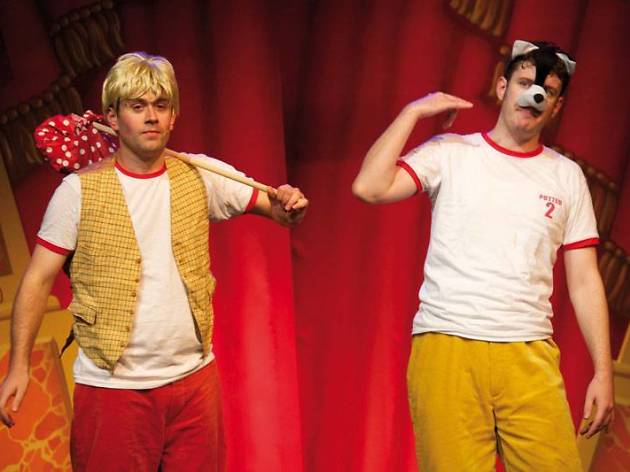 Time Out says
We're not getting many pantos this year – so at least we're getting this seven-for-one seasonal insitition
Now that London has moved into Tier 3, 'Potted Panto' will run online on the original dates, then enjoy an Easter run at the Garrick.
They've given us 'Potted Potter' and 'Potted Pirates'; now Daniel Clarkson, Jefferson Turner and their director and co-writer Richard Hurst are back, with a madcap dash through all the big panto favourites. Role-swapping, silly costumes and cut-price props underpin their knockabout two-man storytelling, and they have the direct appeal of a couple of overgrown kids engaged in a game whose rules they make up as they go along.
Jeff, shorter, more serious, is the theatrical glue; lanky Dan is the prankster, ever ready with a daft quip, a slapstick stunt and occasionally a naughty innuendo. The cleverly judged balance of childish simplicity and adult sauce means the show engages parents as well as their offspring. There's even a dash of satire: in 'Dick Whittington' a Boris Johnson wig turns the hero into a modern-day Lord Mayor of London.
Occasionally you suspect that they might be having more fun up on stage than we are watching them. But it's jovially done; and if it's a simple offering, there's a lot to like about a Christmas show that relies on wit rather than glitz.
Details