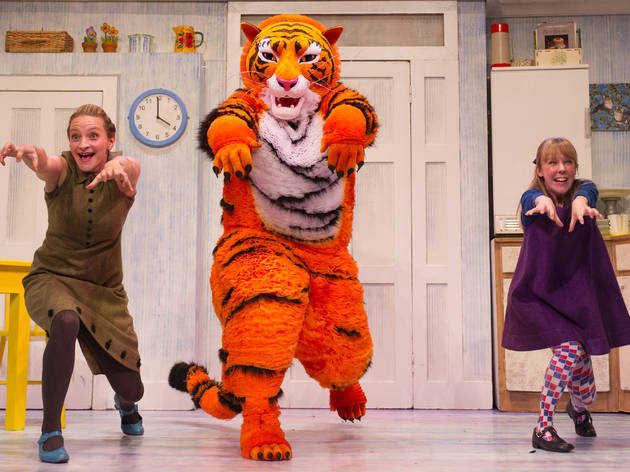 1/2
© Jane Hobson
Jenanne Redman (Mummy), Benjamin Wells (Tiger) and Abbey Norman (Sophie)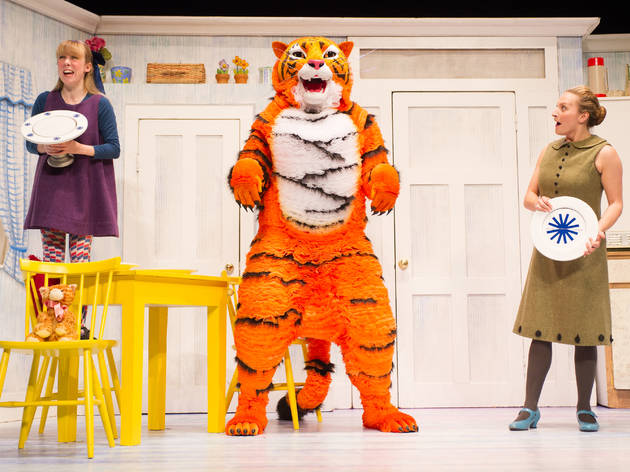 2/2
© Jane Hobson
Abbey Norman (Sophie), Benjamin Wells (Tiger) and Jenanne Redman (Mummy)
Delightful reworking of the much-loved book, which really soars whenever the tiger comes out to play
'The Tiger Who Came To Tea' will play Cadogan Hall in August 2016. This review is from the 2015 run.
As my son and I wait for the curtain to rise on David Wood's stage adaptation of the beloved Judith Kerr book, I wonder how my iPad-savvy four-year-old will react. Will the slight tale of a tiger's appetite cut it compared to the whizzing pixels that kept him entertained on the train up?I shouldn't have worried: the warm blend of humour, simple, catchy songs and delightful costumes kept him enthralled for the entire 50-odd minutes.

The book I remember from my own childhood springs to life: the low-tech set and detailed costumes boast the same charm as the original illustrations, particularly the titular tiger who is as charismatically ravenous as I remember. The inevitable additions to the source feel inventive and organic with a midpoint dance routine particularly hitting home.
Things slow a little whenever the striped star is off stage, but that just builds the anticipation for his return.

A cross-generational hit then, that's over too soon for both of us.
BY: MARCUS WEBB