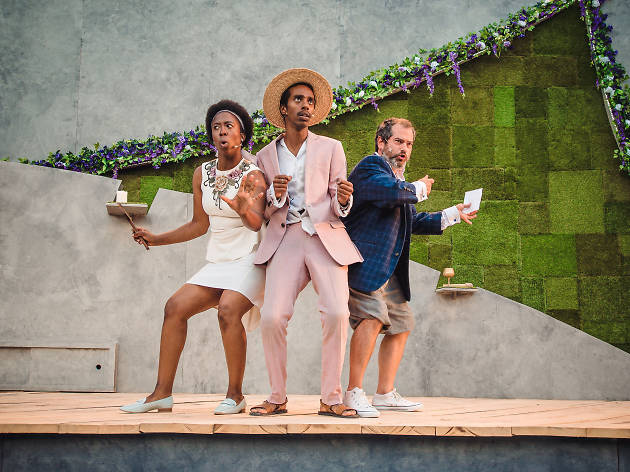 Time Out says
Friendly warning! We're working hard to be accurate. But these are unusual times, so please check that events are still happening.
This peppy outdoor take on Shakespeare's play is performed in a double bill with 'The Sea Queen'
Challenging gender roles is the theme of this summer's free double-bill of plays at The Scoop, the sunken outdoor amphitheatre right next to the Thames. The same director and cast double up for 'The Sea Queen' and 'Twelfth Night'.
New musical 'The Sea Queen' tells the true story of Grainne O'Malley. She was a 16th-century Irish captain who commanded a fleet of ships and proved to be a real thorn in the sides of the English. O'Malley's is a fascinating life to dramatize – not least as a reminder of the loooong history of Irish rebellion against English oppression.
But Daniel Winder's script is flat and the musical elements unmemorable. It all leans heavily on shout-outs to O'Malley's refusal to conform to the role of stay-at-home wife. It's obviously a strong message, but the production around it feels listless. It gets too lost in trade disputes, with not enough humour, for a show playing the 6pm family slot.
If the ensemble cast – aside from a dynamic Stephanie MacGaraidh as O'Malley – sometime feel underpowered in 'The Sea Queen', they've considerably warmed up by the more enjoyable 'Twelfth Night' at 8pm. At 90 minutes long, this is a whistle-stop tour through Shakespeare's tale of mistaken identity, which nevertheless finds time for an unlikely rendition of Beyonce's 'Single Ladies'.
Rae McKen directs this reduced Shakespeare energetically, as shipwrecked Viola, separated from her twin brother, Sebastian, dresses up as a boy and becomes Cesario, the Count Orsino's page and his go-between as he relentlessly pesters the Countess Olivia to return his affections.
'If you liked it, then you should have put a ring on it' is not the only liberty taken here. A reworked ending – which gleefully does *not* restore the heterosexual status quo of Shakespeare's original play – could have purists raising an eyebrow. And this does just sort of 'happen', as the production careens at speed (and a little shakily) into the final scenes.
But it's nicely irreverent, catching a spirit of mischief that works well against the sound of groups of Londoners drinking away their day at the bars behind the theatre. It's not the most sophisticated storytelling you'll see, but it's fun.
Details