Heads up! We're working hard to be accurate – but these are unusual times, so please always check before heading out.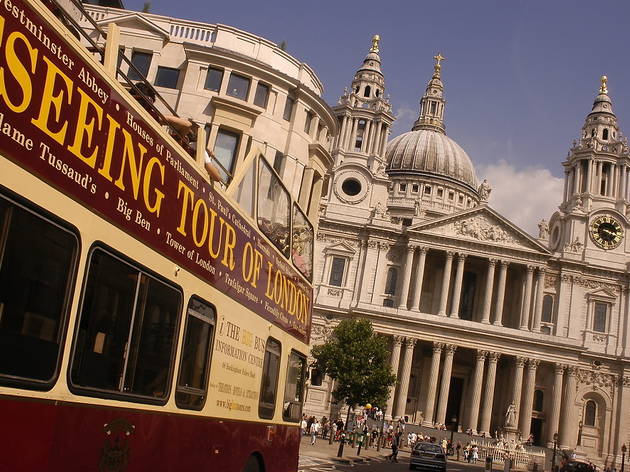 Five things you might not know about St Paul's Cathedral
It was built 350 years ago, after the Great Fire of London, and nearly 300 years later it survived the Blitz. St Paul's Cathedral is an iconic landmark, but here are some interesting facts you might not have heard before
Nestled in the City, an easy walk across the river from Tate Modern and five minutes from the Museum of London, St Paul's Cathedral is a brilliant place to start a day's exploring. Must-do experiences include climbing up to its beautiful Whispering Gallery in the dome (if you have a head for heights) and sitting in on one of the evensong sessions.
RECOMMENDED: The 100 best hotels in London
Five interesting facts about St Paul's Cathedral
Inside St Paul's Cathedral there's another St Paul's Cathedral. When the architect Christopher Wren was asked to design a new cathedral to replace the one destroyed by the Fire of London, he made a model to showcase his grand plans. It isn't quite like the masterpiece that got built, but it's a fascinating work and you can see it in the Trophy Room as part of the Triforium Tour.
The shop in St Paul's Cathedral has an 'OBE Collection' – giftware you can only buy if you are a member of the Order (that means if you have an OBE, MBE, BEM, GBE, KBE, DBE or CBE). How cool is that? But don't worry, there are keyrings, mugs and things for us normal folk to buy, too.
In fact, there's a Feed the Birds Collection of gifts for fans of 'Mary Poppins'. The steps of St Paul's were used as the location for that magical song in the 1964 film. Of course the actual scene was filmed at Disney's studios in Los Angeles, but no-one will mind if you want to sit on the steps and have a sing. You won't be the first. (Apparently 'Feed the Birds' was Walt Disney's favourite song).
Embroidery that was used as therapy for servicemen suffering shell shock after World War I has been used to create a commemorative altar frontal for St Paul's Cathedral. It's on display during the centenary period (until 2018).
Admiral Lord Nelson is buried at St Paul's Cathedral. Following his service, his tomb was lowered through a specially designed hole in the floor, and has rested ever since in a special chamber in the Cathedral crypt. You can see it on your tour.