Heads up! We're working hard to be accurate – but these are unusual times, so please always check before heading out.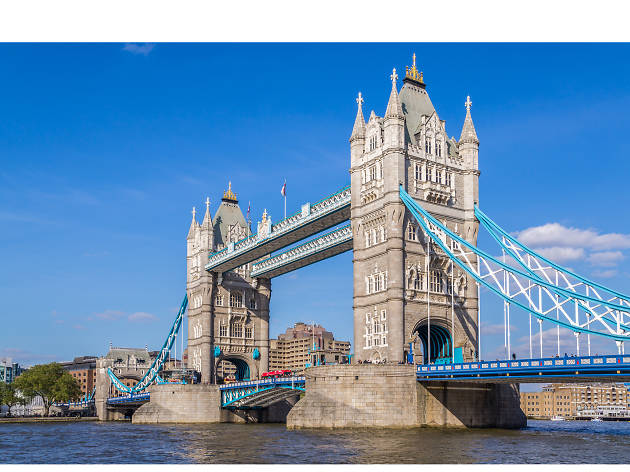 Five things you might not know about Tower Bridge
The most recognised bridge across the Thames is also the one that holds the most interesting stories. A perfect place to join a tour, or even a yoga session. Read on to discover more of its pleasures
This London mainstay is not as old as you might think, but its magnificent design, colourful paintwork, and the fact that it cuts in half and goes up in the air to allow tall ships to pass underneath, all helps to seal the Tower Bridge's place in legend. It's also possible to take tours of its walkways and towers, and see how those bridge lifts were originally managed, with all the might of steam-powered Victorian engines.
RECOMMENDED: The 100 best hotels in London
Five interesting facts about Tower Bridge
There used to be a morgue under the east side of Tower Bridge. You only have to read your Dickens to know that in previous centuries, shipping accidents, murders and suicides meant the Thames often washed up dead bodies. At this point on the river it was easier to retrieve them, so drowned bodies were stored here before burial. Walk around the base of the bridge on the east side and you'll find a sign for 'Dead Man's Hole'.
It's easier to see the Tower Bridge road being lifted than you'd think. Because tall vessels passing underneath the bridge have to book a 'bridge lift' in advance, the times that the road will be closed, and the two halves (bascules) will be raised, are published on the Tower Bridge website. Pick a spot on the south bank near the GLA Building or on the north side in front of the Tower of London to see the magic unfold for yourself.
The bridge lift service is free. Certain criteria have to be met (you can't just ring up and request a bridge lift for fun), but if you have a vessel that exceeds nine metres in height, you won't have to pay to pass under Tower Bridge. Lifts are available 24 hours a day, 365 days a year. How cool is that?
You can get a pigeon's eye view of the bridge being lifted thanks to the new, hugely popular glass walkway set 42 metres up. The walkway crosses the top of the bridge's towers so you can look straight down and see the bascules lifting, as well as the river and boats below. That's if the thought doesn't turn your legs to jelly, of course.
Tower Bridge hosts London's most spectacular toddlers' playgroup. Along with regular yoga sessions, the glass-floored high-level walkway is the setting for Tots at Tower Bridge family-play sessions.