Heads up! We're working hard to be accurate – but these are unusual times, so please always check before heading out.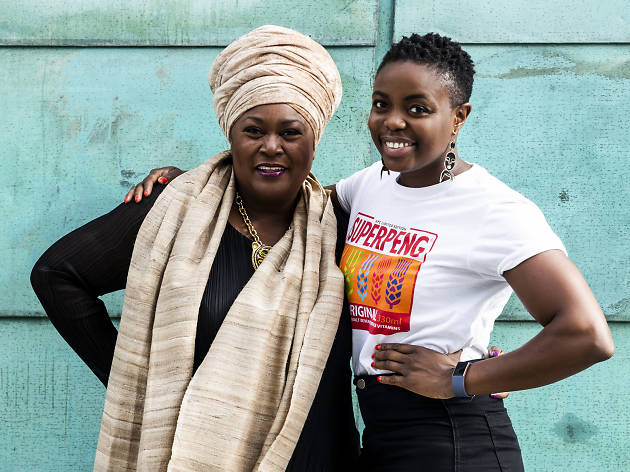 Five trailblazing Black women chat to the women who've inspired them
For our Black Girl Fest cover feature five trailblazers, and the Londoners who've inspired them, talk about their lives, careers and how London is transforming – for better and for worse
Kelechi and Jumoké (pictured above)

Kelechi Okafor, 32, is an actress, director and dancer who founded Peckham fitness studio Kelechnekoff. She talks to Jumoké Fashola, fortysomething, a jazz singer and actress who hosts shows on BBC Radio 3 and Radio London, and Jazz Verse Jukebox at Hoxton Hall.
They meet up in Peckham.
Kelechi: 'We started following each other on Twitter and had a conversation about Africanness and sexuality. How do you navigate Blackness, Africanness and womanhood in London?'
Jumoké: 'My parents are Nigerian but I was born here. Because I live in Peckham, I'm surrounded by Blackness. Sometimes racism is: "I've never had a connection with you and I don't know how to deal with it", so my role is to engage with that person – to understand whether they are inherently racist or acting out of ignorance. It's not an easy conversation. What I admire about you is you're like: "Not me, I'm going to call it." You don't hold back! I look at your Twitter feed and I'm like, "Girl!" I think we need both.'
K: 'I definitely think that we need both, we need balance. The reason I use social media the way that I do is because I want people to know that they've got a choice. I grew up in Peckham. I arrived from Nigeria when I was five years old. I've literally just moved up and down the road. It's interesting to me how it's changed. I just thought it was a little Lagos! The Peckham we're seeing now isn't the Peckham I remember.'
J: 'I moved to Peckham 14 years ago. Funnily enough, I remember complaining to my neighbour, going: "Just one coffee shop", and now...'
K: 'We're in one!'
J: 'There are good things about regeneration and there are bad things. I hope we don't get to the point where what makes Peckham Peckham disappears completely.'
K: 'I think that's what it is for me. I love Peckham so much. It's very important for me to stay rooted in Peckham, but how do you stay rooted in something when they are lifting out the roots from underneath you?'
J: 'I wanted to talk about the studio that you run. I came to one of your twerk classes and you tried to help me move my buttocks! It was the most hysterical thing.'
K: 'It moved, it moved!'
J: 'Honestly, like a millimetre! It was really ridiculous! I always bear in mind what you said about it being an act of activism. One of the things that struck me is that you offer yoga at a really low price in contrast to the studio up the road...'
K: 'A number of them up the road.'
J: 'There lies the dichotomy of Peckham. You have people like you who are trying to encourage people to experience something new in a way that is affordable. On that other hand, their yoga is elite. Thank you for offering that.'
K: 'It's a grassroots thing. We only make a change from the bottom upwards, so it was important for me to have a studio in Peckham. We must remain here somehow.'
Bakita and Angelina


Bakita Kasadha, 28, is an HIV activist, writer and poet from south-east London. She talks to Angelina Namiba, 51, who has been working in the HIV sector for 18 years on a range of initiatives. They meet up at the Southbank Centre.
Bakita: 'You moved to London many years ago, how do you think the city has influenced you?'
Angelina: 'I first came to London in 1989 to join my mum and to go to university. My very first memory was my mum showing me the street sign with our road name on it. I was living in Mombasa before and I would write letters to mum addressed to Albert Road. I love London, I feel like it's influenced me for the better.'
B: 'We met each other at an event and we're both HIV campaigners and activists. I've been openly living with HIV for the last two years but I've known you way before that. It's been amazing seeing you living your best life as a Black woman with HIV and seeing it can be done and it can be done positively, excuse the pun! There are so many questions: "Will we be accepted? Will we not?" It was amazing to see somebody who was older than me being open and doing their thing campaigning.'
A: 'I think you're inspiring not only for young people but for the older generation. I remember watching you starting to blossom as a young poet and a writer.'
B: 'Being HIV+ and a campaigner, it's been really beneficial to be in London in terms of access to different people who are HIV+. I think 40 percent of people who are HIV+ in England live in London. What's been your experience of HIV campaigning in London?
A: 'I was diagnosed a long time ago, in my early twenties. There were a few services around, but what we had would provide palliative care. In terms of being open about my status, I didn't just wake up one morning and then I was in the newspaper. It was a gradual process. Initially, I would just write my name as "Angie" and then the next article it would be "Angelina" and then a few months down the line, it would be "Angelina Namiba", and then in the next article, I'm on the cover of the magazine!'
Joy and Samantha-jane


Joy Miessi, 25, is a mixed-media artist whose clients include Asos, Nike and Gucci (read more about their work on p80). They talk to Samantha-Jane Ofoegbu, 38, a fashion designer and owner of United80, an independent shop in Brixton Village. They meet up there.
Joy: 'When I think of Brixton, I think of you. You've shown me around this area. More people need to know about how you support Black artists.'
Samantha: 'I'm from Liverpool but Brixton is like my spiritual home. I got an opportunity to have a space in Brixton Village when it was half-derelict – it had to be Brixton, it had that soul of London.'
J: 'What was it like when you first opened?'
S: 'That was 2010. I had a stall in Brixton in 2009 opposite the tube station. Brixton Village just had a fishmongers and fruit and veg stalls, like a traditional market, but there was nothing where we are now. I saw how empty it was, so we started United80 because it was at number 80 and we were united.'
J: 'I've always meant to ask what it meant! I remember meeting you. We sat by the café opposite your shop and I brought you some prints. When I told you I didn't have the money to get my prints done you were very supportive.'
S: 'I looked at the work and thought: This is amazing. When I saw the price I was like: "Yo!"'
J: 'It was really, really cheap.'
S: 'And you're above that. We all come from humble beginnings. We thought if we put a little money into putting Joy out, Joy will make that money back. Seeing your career grow is amazing.'
Tobi and Winsome


Tobi Kyeremateng, 23, is a theatre, poetry and festival producer from south London. She's also the facilitator of Black Ticket Project. She talks to Winsome Pinnock, 57, an award-winning playwright. They meet up at the Black Cultural Archives in Brixton.
Tobi: 'How much do you think London has changed in the past few years for Black women?'
Winsome: 'In terms of discrimination, some things remain the same, even though there are individual successes. People were very vocal about it when I was younger [in the '80s]. They were creating this new culture – Black Britishness. I think women like you are inspiring. Your generation don't wait to be given permission, you take the initiative.'
T: 'Have things changed in the theatre industry?
W: 'There was a big Black theatre movement. It was at its height in the early '80s and its demise was in line with [that of] the Thatcher regime.'
T: 'I feel like we've kind of come full circle. When I was growing up a lot of the work by Black artists would be American works. You weren't seeing "Nine Night", "Leave Taking", "Misty" – you just didn't see that in the theatre. In the last couple of years we've started to see more Black British work being on mainstream stages. The thing you don't see is that a lot of this has been in the works for a long time.'
W: 'We don't see the struggle that occurred before it goes on stage. But this summer was a really great summer for Black theatre. It was like play after play that was a success.'
T: 'I'm interested to see whether the canon changes in terms of what we consider classic plays. In school, it was Shakespeare – big up Shakespeare – but he's dead. I don't relate to that! I'm interested in young people reading plays like "Misty" and "Nine Night" and what impact that would have.'
W: 'I hope to see people like you. I want to see where you're going to be in ten years time. That's the future. There will be a change and it will be led by people like you.'
Tobi and Suzanne


Tobi also spoke to Suzanne, 53, an Arts Council England changemaker and commercial and brand director at Apples and Snakes where Tobi is a producer.
Tobi: 'We've been working together for a while, around 18 months. I've never met someone like you – and to have you in the workplace is a whole other level.'
Suzanne: 'I met you when we were looking for a new producer and I was just about to start working at [Deptford-based spoken word and performance poetry company] Apples and Snakes'
T: 'The interview was scary! It was you and Roger [an artist who's worked with Apples and Snakes].'
S: 'Roger is scary!'
T: 'I was surprised to see you both in that space. You just don't see black people on that side of the interview. So I was already like, "okay this is gonna be different!".'
S: 'When you joined, we had different generations working together. I definitely noticed that you had a different way of doing things. The thing we should do better is to work intergenerationally. We need to stop thinking about the millennials like this and the elders like that. It's a relationship like anything else.'
T: 'Usually it's like the workplace is here and the rest of my life is here. But now I feel like I'm able to kind of mould the two. I'm able to bring aspects of my real life into the workplace. You'll be like "what do you need for this to happen?" "How does you being a black woman affect this?".'
S: 'You're much more fierce about wanting to bash down the door but I think we need to do it together. If someone calls you an angry black woman, you know it's not true but it breaks your soul. If someone calls a group of ten black women angry, you're like "yeah what?".'
Veda and Annemarie


Corinne Allen, 23, is a singer and songwriter who goes by the name Veda Black. She has performed for Afropunk's Battle of the Bands and at Hootananny in Brixton. She talks to her mum Annemarie, 58, a dressmaker and designer originally from Jamaica. They meet up in Stratford.
Veda: 'We have a close relationship. I'm inspired by you and everything you've done.'
Annemarie: 'Excuse me? I'm inspired by you – you've sung since you were about three years old.'
V: 'Wasn't there a wig, a bikini and a trench coat?'
A: 'Your fashion sense! I'm not sure where you got it from. You wore a wig, a swimming costume and a pair of boots just going to the post office!
I liked you to express yourself.'
V: 'So, there are places that I can go to specifically for Black women. What sort of spaces were available for you growing up in London?'
A: 'My cousins were a part of a soundsystem. Women were the original DJs, they would play the music when their fellas were having a break. It would be like, "Come round, we're cooking and playing music." Or it would be at a church or the hairdressers. Things would evolve from there.'
V: 'What part of London was this?'
A: 'That was Bayswater and Notting Hill.'
V: 'What was your first experience of Carnival?'
A: 'We were selling food. It wasn't like it is now, where you have to get permission from the council. It was me, my sister and our friend – it was lovely!'
V: 'I know nan charged people £1 to use the toilet.'
A: 'When mum came from Jamaica she asked me, "Why don't you charge people to use the toilet? I'll sit here, the toilet is right there, why don't we just charge people?" My sister made enough money to buy a fridge!'
Photos: Krystal Neuvill
Read more from Black Girl Fest